Blackstone Group LP (NYSE:BX) is best known as the private equity group that "suckered" a lot of investors after it had its IPO at $31 a share, including sovereign fund behemoth China Investment Corp. (CIC), which subscribed to $3 Bil worth before that IPO. Shares fell to below $4 per share in the heat of the financial turmoil, and have risen more than threefold ever since... but are still way off from their highs. While the stock only provided a fleeting glimpse of its highs, it's not BX's fault that equity markets suddenly peaked in October 2008, and then Lehman collapsed close to a year later. It was a victim of a burst financial bubble. Private equity wasn't over-leveraged 30:1, the company kept itself liquid and invested in good quality assets. But can it ride the coat tails of a possible recovery in the global economy? It certainly could, and here are four reasons why.
1. New Fund of Funds Top Dog
According to the New York Times, BX's fund of funds unit's assets grew by 25% as of June to $25 Bil, this despite a massive $200 Bil that was withdrawn from the hedge fund portfolio industry. It overtook both HSBC (HBC) and Man Investments (both had assets that dropped by 50%). While technically UBS has more funds under management at $31 Bil, $16 Bil of that is not managed directly. This despite BX being known for private and real estate equity. I think the increase in BX's share is due to flight to quality, after some of the bigger funds were caught investing in Madoff funds.
2. CIC Puts MORE Money Where Its Mouth Is
According to the Wall Street Journal, CIC plans to put $500 Mil into the fund of funds unit of BX, this after reaching a deal to increase the upper limit of its stake in the group to 12.5% from 9.9%. CIC can buy the shares in the open market.
While CIC assets are officially close to $300 Bil as of end-2008, counting the domestic Chinese banks it has stakes in which can do foreign investments, CIC's war chest increases to $450 Bil. Right now, CIC is about 87% in cash, and Chairman Lou Jiwei has recently changed his tone from being cautious to being afraid of being left out of a global recovery.
The total amount that CIC has committed to investing in hedge funds is reported to be $80 Bil, and this could certainly increase given the amount of liquidity the wealth fund has. Well, given that China has recently been buying up everything from solar panels to distressed US real estate, BX's segments from real estate equity to fund of funds to acquisitions advisory can all benefit given it has the inside track with CIC's money already invested in its future. BX can also take advantage of this with its newly found leadership in fund of funds segment.
3. Private Equity Fills A Big Need During Recessions
When private equity puts in officers to sit at the board of the companies they buy up, the primary goal is to streamline company strategy to current industry challenges, make more efficient use of company technologies, and help identify and correct current problems with the company. In fact, the impression that private equities only help improve profitability through cost cutting is wrong. According to studies, revenue contributes to 52% of increases in EBITDA for private equity invested companies, with cost cutting only 34%. Given these qualities of private equity, BX can capitalize on the companies need to improve performance in the current economic environment.
Some may argue that the lack of financing for LBOs may hinder BX from buying intended targets... but the company is highly liquid (with credit facilities in place) and is poised to take advantage of bargain basement prices and lower interest rate environment. In fact, credit from your typical financial institutions are so scarce that the government has even turned to private equity to lessen the burden on the already stretched fiscal budget. Last August 26, the FDIC voted 4-1 in favor of lessening the capital requirements for private equity to invest in failed banks. So private equity firms like BX can potentially turns into financiers.
4. Private Equity Is A High Beta Play on Economic Recovery
Data shows that private equity are highly cyclical investments that have higher volatilities than GDP performance itself. Take note that in the chart below, the data for private equity investment growth is scaled down by 1/10 just so that the correlation to GDP growth can be illustrated. Private equity investment can easily increase in value more than 10x that of GDP growth!!!
Source: privateequitycouncil.org
Data also shows that private equity investment bounces back more quickly during the initial year after the end of the recession.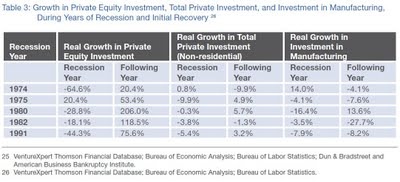 Most Recent Results and Valuations
Most recent results show remarkable recovery in BX's private equity and credit and marketable alternative assets segments. Only real estate equity, which is mostly commercial and hospitality real estate investments, are the only current drag. Valuation-wise, BX is sporting a more than 8% yield on its cash distributions.
Technical Analysis
MACD is above zero, and stock price is above all moving averages, indicating positive momentum. Usually, a stock that rises above the 130-day moving average, after having been below it, and then holds above it, is a major reversal signal. While it is currently in the $12-$15 trading range, I wouldn't be surprised if it breaks through resistance. Buy within this trading range with stop loss of $11.90 ($0.10 allowance).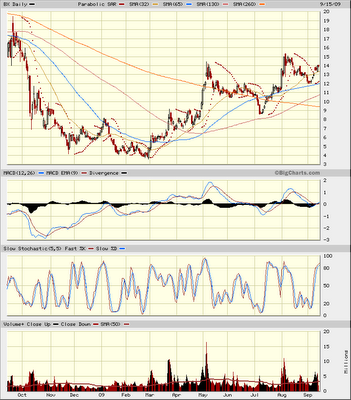 Disclosure: Author is long BX.