Sherwin-Williams (NYSE:SHW) announced good and bad news on its last quarterly earnings release. While the company's sales and profits both broke a new record for the quarter, the company announced that the Mexican competition bureau had blocked the planned acquisition of the competitor Comex.
Markets focused heavily on the bad news, and the share price plummeted 8% on the announcement. Was this reaction justified, or was the market overreacting creating a buying opportunity?
Comex Acquisition
The planned Comex acquisition was going to be an expansion of Sherwin-William's Paint Stores segment primarily in the South American markets. The current segment operates 276 branded stores and also sells through a network of 371 dedicated dealers who primarily stock Sherwin branded products.
Comex was going to add another 3,300 points of sale in Mexico, and a further 240 stores in the U.S. and 78 stores in Canada. Sherwin-Williams was relying on this acquisition to promote its own brand of products to parts of North America to which it currently does not reach. With a price tag of $2.3 B, Sherwin-Williams was going to greatly expand its reach across the continent, and add at least another $1.5 B in sales (based on Comex's 2011 results).
However, as announced in July, the Federal Competition Commission of Mexico blocked the planned acquisition by a vote of 3-2. Markets reacted with a share price drop of 8%, which has since only partially recovered. Sherwin-Williams was without a doubt disappointed with the decision, but expects to address the objections and remains hopeful that the transaction will in fact continue.
Q2 Earnings results
Sherwin-Williams announced another record-breaking quarter recently, with sales up 5.5% to $2.71 B for the quarter and EPS up 13.4% to $2.46 per share compared to the prior year.
Margin Analysis
Q2 2013

Q2 2012

First Half 2013

First Half 2012

Net Sales

2,714

2,573

4,881

4,709

COGS

1,480

55%

1,422

55%

2,685

55%

2,649

56%

SGA

837

31%

810

31%

1,616

33%

1,568

33%

Interest and Other

16

1%

13

0%

31

1%

22

0%

Income before taxes

381

14%

328

13%

549

11%

470

10%

Net income

257

9%

228

9%

373

8%

328

7%
Sherwin-Williams has been able to slightly improve its profit margin in the current half of 2013, leading to its record profit for the quarter. Furthermore, the company's gross margins have stayed put at 45% indicating that it is able to command similar prices for its goods in the market, which is certainly good news.
What I also like seeing is the stable Sales, General and Administrative [SGA] expenses in proportion to sales. This ratio shows that the company is able to continue growing sales without incurring disproportionate expenses in administration, which would defeat the whole purpose.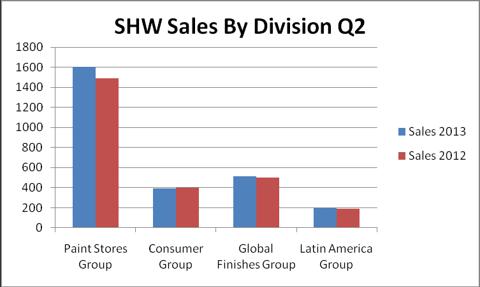 The only division to have lost sales in the current quarter was the Consumer Group, posting sales of $4 M less than the same quarter in 2012. The company's largest segment, the Paint Stores group, posted the largest gain in sales of 8.0%, which formed the bulk of the overall sales increase. The best part about this increase is that most of the increase in sales occurred at existing stores and the balance of which came from newly acquired locations. This organic growth presents a much healthier picture of the company as it is able to grow from within and not just through new locations and acquisitions.
Overall, Sherwin-Williams continues to carry on a very healthy business model and its growth in sales with the same margins allows it to continue increasing its profitability quarter over quarter. The company continues to project net income in 2013 of $7.45 to 7.55 per share over 2012's $6.02. Analysts have slightly revised their estimates from the $7.86 I reported on earlier this year to the current $7.67. With its current first half of the year at $3.57 (47.9% of target) per share, it is well on its way to achieving its target profit for the year, and will likely not have much trouble achieving this goal.
Share Price Implications
Since the announcement of the acquisition in November 2012, the share price has risen over 23%, or slightly ahead of the S&P 500 for the same period.

Following the announcement of the blocked transaction, the shares dropped about 8% on July 18, and have only recovered about half of this amount since. The company's current price of $175.50 represents a 23.55 multiple over the lower end of the guidance for 2013 earnings and a forward P/E of 19.07, well above the historical 15x.
This valuation is however more in-line with some competitors in the home improvement arena, with Home Depot (NYSE:HD) trading at a forward P/E of 18.48 X its 2013 projected earnings, and Lowe's (NYSE:LOW) trading at 17.49.
Conclusion
Sherwin-Williams continues to be an excellent company but a poor investment. It has a strong and proven track record of posting solid earnings and strong revenue growth. However, the valuation already incorporates this and then some; therefore I would not recommend a position in SHW at the moment.
Overall, I would recommend reconsidering SHW at a price closer to $140, which would bring the shares back to their average price-to-earnings ratio of 15. This is a change from my previous $150 target entry point, however without the upcoming Comex acquisition to count on to boost sales and earnings, there is not much of an argument left to justify overpaying for the company.
Disclosure: I have no positions in any stocks mentioned, and no plans to initiate any positions within the next 72 hours. I wrote this article myself, and it expresses my own opinions. I am not receiving compensation for it (other than from Seeking Alpha). I have no business relationship with any company whose stock is mentioned in this article.