Over the course of a few months, Document Security Systems (NYSEMKT:DSS) and its subsidiary Bascom Research, LLC have been on a tear lately reaching settlements with three of the five defendants in the Bascom case, in BroadVision (NASDAQ:BVSN), Jive (NASDAQ:JIVE) and Novell.
With the three companies already yielding to DSS, only two defendants of the original five are left - Facebook (NASDAQ:FB) and LinkedIn (LNKD). If for some reason DSS cannot come to a settlement with Facebook or LinkedIn, the Markman hearing has been scheduled for October 2, 2013.
Looking over the latest PACER (Public Access to Court Electronic Records) document, we see that DSS has indeed reached another agreement with a company. However, it's probably not with the company that you thought it was going to be. While many investors wanted to believe that DSS was continuing its hot streak of settlements, we read according to PACER that DSS and Salesforce voluntarily dismissed the case between each other.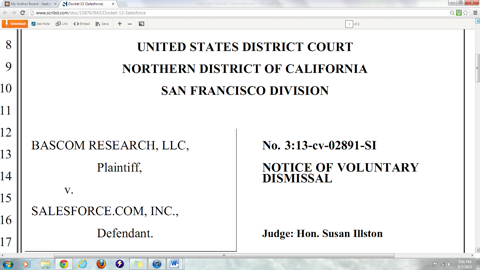 So why would DSS agree to this sort of thing when a part of their business depends on licensing and protecting patents? I have a few thoughts on this that I would like to share with you.
First, investors should not panic because this is actually good news for DSS. Let me explain. Ever since DSS announced its patent infringement suit against Salesforce on June 24, 2013, Facebook and LinkedIn wanted Salesforce brought into the suit with them. Because of the quick turnaround time, Salesforce needed more time etc. Because of this, the Markman hearing, which has been set for October 2, 2013, was in jeopardy of being delayed and likely pushed back possibly into the spring of 2014.
If this were to happen, DSS as a company as well as its stock price would have taken a hit. Investors by now know that IP companies tend to be volatile leading up to the Markman hearing and shares can receive quite the boost when the hearing goes in their favor. Just look at the recent examples of Vringo (VRNG) and ParkerVision (NASDAQ:PRKR).
Vringo: On May 22, 2012, Vringo closed the day at $2.72. The day after the positive Markman ruling Vringo closed the day at $4.36. The impact of the positive Markman hearing can be seen as shares of Vringo rose 60%.
ParkerVision: On February 20, 2013, the judge reached a favorable decision for ParkerVision. The stock climbed from $2.43 all the way up to close the day at $4.21. The impact of the Markman hearing amounted to a 73% rise in shareholder value.
So What Is A Markman Hearing?
A Markman hearing also known as a 'claim construction hearing' is important because it determines what language or interpretation the jury will hear when determining if the patents in question have been infringed or not. The Markman hearing sets the tone of the case as both parties agree upon the interpretation of what the patent actually says in order for the jury to reach a verdict.
The defendants in these types of situations want the judge to narrow or focus the language and key words within the patent. The plaintiff wants the judge to have a broad focus, which helps better suit them in the trial. What the judge rules determines how the plaintiff and the defendants argue their case.
What Happens When Markman Hearings Get Delayed
Speculative Investors like to play the Markman games because of opportunity to strike it rich. As you can see in the examples that I provided above, investors can profit nicely off of these rulings if played right. So what happens when a Markman hearing gets delayed?
Two months ago Worlds Inc. (OTCQB:WDDD) was informed that the Markman Hearing in its patent infringement lawsuit against Activision Blizzard, Inc. (NASDAQ:ATVI), Blizzard Entertainment, Inc. and Activision Publishing, Inc., which was originally scheduled to be held on June 27, 2013, was rescheduled to August 22-23, 2013. The delay was issued because of the crowded court calendar.
Remember time is money. Investors do not want to sit around all year when they can put their money to good use somewhere else. So what happened to the stock? Let's look at the chart below.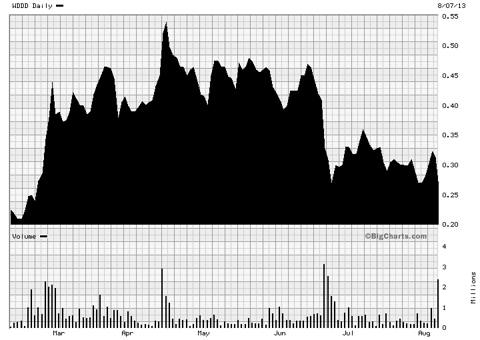 After the information was made public on June 21, 2013, shares of World tanked from the low .40's to the mid .20's for a loss of around 50%. Looking at the chart you can see that the stock hasn't been able to fully recover since that announcement. Even though DSS (for the time being) dismissed the case against Salesforce, because they won't be sacrificing a delay in the Markman hearing is great news for shareholders of DSS in my opinion.
Conclusion
As of right now, it looks even better that the Markman hearing will stay scheduled for October 2, 2013. This doesn't give the big players like Facebook and LinkedIn the chance to push back and delay the Markman hearing, which would have hurt the stock.
While some investors might freak out because they were counting on Salesforce (A $26 Billion company) they should be happy that the Markman hearing will not be delayed. Also, to the best of my knowledge DSS will still be able to resubmit the case against Salesforce without any restrictions or conditions. They will probably do so at a later point in time so it does not conflict with the ongoing case against Facebook and LinkedIn.
DSS and its subsidiary owns patents that are instrumental to social networking and aspects of enterprise networking. Bascom's innovations cover the manner in which users and application developers on the Facebook platform for instance make connections between "objects" such as photos, people, events and pages - which is the very essence of Facebook's business. Because of these things and the examples I have outlined, I feel that investors of DSS should be excited going forward. I've outlined many more reasons in my articles about DSS here, and here.
Investors are always reminded that before making any investment, you should do your own proper diligence on any stock mentioned in this article. Have a great day and as always, I look forward to hearing your thoughts or questions that you might have.
Disclosure: I am long VRNG, DSS. I wrote this article myself, and it expresses my own opinions. I am not receiving compensation for it (other than from Seeking Alpha). I have no business relationship with any company whose stock is mentioned in this article.