Signs of improvement are already present in the physical market. Gold price has fallen 18% YTD largely driven by ETF liquidations that have reached 454 tonnes so far in 2013 with the month of April being the heaviest selling month. ETF selling pressure faded significantly last May with gold experiencing an inflow. Goldcorp generated the best free cash flow given its favorable growth profile and anticipated operating and capital cost declines by FY14.
Gold price weakness and increased volatility has been a key driver of the sell-off in gold equities so far in FY13. Looking at recent physical market data, there are signs however, that ETF selling has begun to slow, and that other aspects of the physical market (jewellery and bar demand) have begun to pick up. Although gold ETF selling has put pressure on the gold price YTD, there is some positive incremental physical demand emerging which should start to support the gold price at these levels. Jewellery demand is up 12% Y/Y, which is largely attributed to the fall in the gold price, while gold bar and coin demand has increased 10% over the same period. Although central bank purchases are down year over year, they continue to remain very strong on a historical basis (Y/Y comparison is down as 2012 was a historically high year of central bank purchases).
The erosion of investor confidence in gold companies includes:
High relative valuations to other resource sectors, poor free cash flow generation (due to poor capital allocation decisions) and;
Commodity weakness that has exaggerated selling pressure on the gold equities.

Miners' ETFs have been one of the worst performers YTD, but with gold prices still above production costs, gold miners could still turn around. Gold prices are trading above miners' marginal costs,
Gold is trending toward its first annual decline in 13 years. Gold bullion prices have declined 23% over the first two quarters this year as investors shifted over to riskier equities during the bull market rally. SPDR Gold S&P 500 Trust ETF (NYSEARCA:SPY) dropped 23.9% YTD. Market Vectors Gold Miners ETF (NYSEARCA:GDX) fell more than 49% YTD.
The actionable thesis for this is that the bullish breakout scenario triggers should price push above the $130 level which could result in another "snap" impulsive rally. This same strategy is used when gold ETFs traded into the $125 pivot - bullish to target the present $130 level if above but bearish to continue the downtrend underneath.
Gold equities are more or less reaching an inflection point. Gold valuations are now significantly below historical levels and in-line with or at a discount to other resource sectors. These mining companies are starting to announce plans to preserve more capital. Recent developments in the physical market (specifically slowing of ETF selling) point to strengthening fundamentals are leading to stronger gold prices in the mid to long term. Looking at historical comparisons, North American gold stocks are trading at half of their 5-year average EV/EBITDA multiples (53%) and at 49% of their 5-year average Price-to-Cash flows multiples.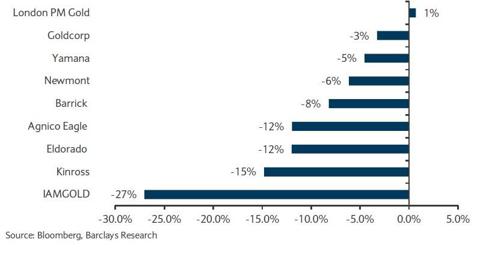 Gold stock valuations have to be compelling, versus other resource sector stocks in order to attract a broader investor base. Although the gold equities are inexpensive when compared to their historical trading ranges. U.S. gold equities are trading in-line with diversified and base metals companies and at a 13% discount to fertilizer companies on an EV/EBITDA basis. On a Price-to-cash flow basis, gold stocks are currently trading in-line with international gold producing peers, ahead of diversified miners (58% premium vs. a 5 yr. average 132% premium) and at a huge discount to fertilizer and base metals companies (19% and 28% discount, respectively).
A level valuation playing field with signs of operational improvement from gold companies could lead to a flow of capital back into gold equities. Peer stock comparisons revealed a compelling case for gold equities, as broader based investors can now compare gold equities on fair footing to other resource sectors like fertilizers. An inflection point could be reached if investors are confident that the gold companies are starting to show signs of operational improvement and better prospects for free cash flow generation.
Gold companies like Freeport-McMoRan Copper & Gold Inc. (NYSE:FCX) and American Sierra Gold Corp. (OTCPK:AMNP) have intensified efforts to preserve capital through cost cutting initiatives, project deferrals, and cancellations. Noted some declining capital expenditure of companies over the next few years as projects currently under development start entering production. Investors may well expect CapEx to decrease dramatically over the next few years as projects are completed. It was overall estimated by these companies that CapEx spending by FY15 to be 50% of FY12 levels. A lot of companies have recently announced deferrals of development projects that do not meet return requirements. These companies have deferred more than $20B in project CapEx. This trend will continue through the year and into FY14.
IAMGold Corporation (NYSE:IAG) is preparing a pre-feasibility study with a feasibility study expected to be complete by the end of FY13. The company has said that if the project economics do not meet IAG's return criteria that it will not move forward with a construction decision as well.
Meanwhile, South Africa and Africa remain the least attractive destinations for precious metals investment. South Africa fell 8 places to 65 out of 96 mining jurisdictions in the 2013 Fraser Institute survey. The combination of labor unrest and continued political uncertainty surrounding BEE structures, potential nationalisation and taxation changes weighed on precious metals market investment outlooks. There were likewise declines in the indexed scores of most major African mining countries with Mali in particular being negatively impacted by the 2012 coup d'état.
South African equities possess high political risk profiles. Despite AngloGold having significant geographic diversification (the company operates assets in 20 countries), the company (along with Harmony and Sibanye) still has a high political risk score (low Fraser PPI score) due to the low score assigned to South Africa and overall significant exposure to the African continent which accounts for approximately 54% of production. On this measure, it would appear valid that South African gold equities should trade at a discount to peers which operate in more stable jurisdictions such as N. America, Canada, and Australia.
Thanks. And good luck in your precious metals market investing and trading!
Disclosure: I have no positions in any stocks mentioned, and no plans to initiate any positions within the next 72 hours. I wrote this article myself, and it expresses my own opinions. I am not receiving compensation for it (other than from Seeking Alpha). I have no business relationship with any company whose stock is mentioned in this article.