The poster boy of the New Industrial Revolution (NIR) is 3D printing. But the NIR is about more than just one technology, it's about the convergence of several technologies including automation, laser cutting, 3D scanning, communications and software. This convergence makes the democratization and mass customization of manufacturing a distinct possibility within the near future.
With valuation metrics at multiples of those of the S&P 500 investing in NIR-related stocks is not for the faint-hearted - IPG Photonics (NASDAQ:IPGP) being a notable exception which, for a growth stock, has a reasonable trailing P/E of 21 and an S&P 500 beating PEG ratio of 0.56. (The PEG ratio adjusts P/E for expected growth).
| | | | | |
| --- | --- | --- | --- | --- |
| Select NIR stocks | Ticker | NIR sub-sector | P/E | PEG |
| 3D Systems Corp | | 3D printing | 113.53 | 2.34 |
| iRobot | | Robotics | 38.16 | 3.86 |
| Proto Labs | | Injection molding | 60.26 | 1.53 |
| FARO Technologies | | 3D scanning | 30.57 | 1.35 |
| IPG Photonics | IPGP | Fiber lasers | 21.41 | 0.56 |
| S&P 500 | - | - | 15 | 1.53 (est) |
Source: Yahoo! Finance
After taking a breather earlier in the year NIR-related stocks seem to be making a run towards breaching new highs. If you wanted to gain exposure to the NIR but were waiting on the sidelines for valuations to come down to earth you probably have that nagging feeling that you may have missed the boat. Below I propose a way to satisfy that itch without throwing your copy of The Intelligent Investor out the window.
The Revolution will spread from the cities
Manufacturing will increasingly become a tinkering, trial and error, creative process - much like a music band getting together to record an album: there will be a songwriter (CAD designer), musicians (engineers), lead vocalist (marketers) and producers (venture capitalists). This "band of Makers" will want to use a fully kitted warehouse where they can collaborate and compete with other multi-talented teams using CNC machines, 3D printers, laser cutters, injection molding and a Roomba® or two humming in the background to clean up the mess.
The NIR will lead to structural changes in industrial activity; these changes will in turn invigorate the development of new technologies thereby creating a positive feedback loop. One of the most significant changes we'll see is the return of manufacturing to high density urban environments. Only major urban centers have the diversity of human capital and niche demands in place to warrant the time and investment in custom made products - at least in the earlier stages of the NIR.
Research carried out by the Brookings Institution and the Pratt Center has highlighted the increasing role of local networks of small manufacturers, which they say will form the backbone of the new urban economy. Urban centers, they argue, favor the decentralized organizational form of 21st‐century production: supple, peer‐to‐peer networks, rather than large, vertically integrated, multi-tier entities. One of their core recommendations is that older industrial buildings should be renovated and divided to accommodate these smaller but more technologically advanced manufacturers.
And this is really happening. In October last year 3D printing service provider Shapeways opened its "Factory of the Future" in an old warehouse located in NYC's Long Island City. Similarly TechShop, an early mover in the NIR space has established workshops in places such as downtown San Francisco.
Although the convergence of technologies is democratizing manufacturing the paradox that future manufacturing will concentrate in urban centers points to an important constraint to true democratization - the availability of prime urban floor space, such as that pictured below. For investors this scarcity presents an opportunity for monopoly profits that cannot be easily competed away (what Warren Buffett popularly termed "an economic moat").
Prime 21st century manufacturing real estate: Long Island City, NY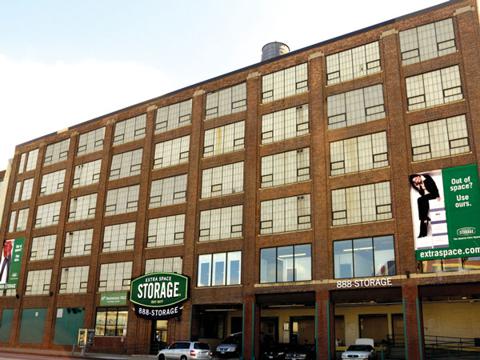 Source: extraspace.com
Enter the Self-Storage REIT
REITs are worth looking at as investments in their own right. REITs pay little to no corporate taxes and are required to pay out the majority of their profits as dividends thereby providing a steady stream of (re-investable) income. In addition REITs may offer some diversification benefits compared to non-real estate equities. There are several types of REITs but Self-Storage REITs by virtue of their business models have a significant legacy exposure to warehouse properties in, or near, urban centers.
The self-storage industry remains very fragmented - according to the Self-Storage Almanac the biggest player by far is Self-Storage REIT Public Storage Inc. (NYSE:PSA), which accounts for 5% of rentable square footage in the US. Fellow REIT Extra Space Storage (NYSE:EXR) comes a distant second with slightly over 2% of rentable square footage. Self-Storage REITs Sovran Self Storage, Inc. (SSS) and CubeSmart (NYSE:CUBE) each only own 1% of the market.
In narrowing down which Self-Storage REITs have a significant exposure to the NIR I looked at their presence in the loosely defined emerging urban NIR-clusters of California, New Jersey, New York, Massachusetts, and Maryland.
Floor space in emerging NIR cluster areas (CA, NJ, NY, MA, MD)
| | | | | |
| --- | --- | --- | --- | --- |
| Ticker | PSA | EXR | CUBE | SSS |
| Floor space (sqft) | 39,622,000 | 24,461,003 | 7,416,427 | 4,228,914 |
| % of total | 30% | 47% | 29% | 14% |
Source: PSA & EXR filings
SSS is focused on southern states with no properties in NIR-hotspot California. Although CUBE has a reasonable urban footprint (in relative terms) its lack of scale at just over 7.4m sqft will limit its ability to take advantage of the NIR. EXR, based on its high urban concentration profile, and PSA, for sheer scale of urban warehouse assets (that moat again) do, however, warrant further analysis.
| | | |
| --- | --- | --- |
| | PSA | EXR |
| Price | 161.42 | 43.13 |
| P/ FFO | 25.58 | 27.13 |
| Div Yield | 3.10% | 3.70% |
| Gross Margin | 69.4% | 48% |
| Asset Turnover | 0.18 | 0.13 |
Source: Yahoo! Finance; PSA & EXR filings
There is not much to distinguish PSA and EXR using traditional REIT metrics - PSA has an advantage in valuation terms (P/FFO) while EXR has a slightly more attractive dividend yield. PSA operates with far higher gross margins and is able to generate substantially better sales from its substantial asset base (Asset Turnover). In my opinion this makes PSA better positioned for the NIR economy. PSA has obtained a sustainable margin advantage from its extensive property assets, which give it access to locations in key urban areas and pre-existing brand awareness. Importantly, PSA also has a track record of upgrading its facilities to pursue higher margin self-storage solutions such as FDA-standard pharmaceuticals storage.
The Innovator's Dilemma
Given that there is nothing fundamentally wrong with PSA's existing business model there is a risk that PSA won't respond to the longer-term opportunities presented by the NIR. Existing customers will continue to demand plain-vanilla storage at affordable prices. This gives companies such as Shapeways and TechShop an early mover advantage as they expand in urban areas where PSA may already have a presence. The resulting increase in property prices may reduce margins in the long term by limiting PSA's ability to expand its property base further into urban areas where in the past it had been able to make opportunistic purchases of properties from distressed sellers (a problem management has already identified).
What mitigates this risk to a large extent is that real estate assets, unlike Sony's Walkman or Kodak film, can't get disrupted away. As property prices rise PSA will be sitting on a valuable portfolio of property in urban areas, which not long ago were undesirable. Given PSA's size it should be able to take advantage of rising property prices by buying out smaller competitors that struggle to reach critical economies of scale.
The question then is not how PSA will benefit from the NIR - but to what degree. There are two different scenarios that may occur: One in which PSA is an active participant in the NIR by offering managed facilities to new entrepreneurs; another in which PSA remains passive but benefits indirectly from rising property prices.
What makes me optimistic that PSA will take the active approach is that despite its REIT-status it has in the past added (non-storage) commercial properties as a separate business line. From that experience it would not be an insurmountable leap of the imagination to add to PSA's business scope small-scale manufacturing facilities - possibly in existing properties and even alongside existing self-storage. Smaller, less innovative, self-storage companies will more likely suffer the Innovator's Dilemma providing further opportunities for PSA to consolidate and expand.
European operations
PSA owns 49% of Shurgard Europe, which has 188 facilities in seven European countries. These operations account for only 7.5% of PSA's Net Operating Income. PSA itself takes a dim view of growth opportunities in Europe:
"Rising unemployment, a weak housing market and an increasing tax burden will likely preclude positive Same Store growth in 2013. (p6 2012 PSA Annual Report)"
Due to higher overheads and less favorable tax treatments gross margins in Europe (currently at 58%) will probably never match those of PSA's US operations. But from the perspective of the NIR-thesis there are reasons to be optimistic in the long run.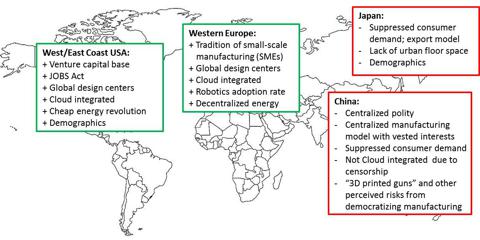 The map above points to a number critical factors present in selected world regions, which will be supportive, or detrimental, to the uptake of the NIR. I am optimistic that the US and Europe will enjoy a manufacturing revival of sorts, having institutional endowments in place that facilitate the NIR's creative destruction. By contrast, the centralized export-orientated manufacturing model that has been powering the Chinese and Japanese economies will start to act as a break to the adoption of the NIR there. As Nassim Taleb aptly put it - the only valid political system is one that can handle an imbecile in power without suffering from it. While not entirely immune to political dysfunction, the likely strong uptake of democratized manufacturing in Europe is a reason to be optimistic about PSA's European assets in the long run.
Conclusion
Value investors who have been looking for exposure to the NIR but will only invest in stocks at reasonable valuations, with a good dividend yield and a strong economic moat, may want to have a closer look at PSA. If property prices are the biggest impediment to the democratization of manufacturing, PSA will be in a unique position to take advantage. Whether PSA will seek to actively leverage its presence in urban areas, or whether it will benefit passively, remains to be seen. But PSA's legacy position in urban areas in the US and, to a lesser degree, Europe, gives it a unique exposure to some of the most fertile areas in the world for emerging NIR clusters.
The performance of a stock cannot be guaranteed. However, investing in PSA might be a value investor's opportunity to profit from the long-term growth opportunity presented by the NIR while being spared the ups-and-downs of the latest technology "hype cycle" so common with NIR-related stocks.
Disclosure: I am long IPGP, DDD, FARO, IRBT. I wrote this article myself, and it expresses my own opinions. I am not receiving compensation for it (other than from Seeking Alpha). I have no business relationship with any company whose stock is mentioned in this article.