China's trade data, which was released last night, was bullish and is pushing commodity prices higher, with the metals catching our eye this morning. Copper and platinum are the two that really stand out to us on the positive side. However, oil stands out like a sore thumb as it's one of the few things with a red arrow next to its name.
Yesterday saw some big moves in the smaller E&P names we follow, and although most of the news was good, there were some key points that disappointed investors and saw them push share prices lower. We highlight those names below, and think that these are situations where one could buy on pullbacks. We would not necessarily buy every name on a pullback, as we think there are some that are better buys than others. But if one was inclined to buy them, it would be OK to do so.
Chart of the Day
Copper is popping higher after the Chinese news and broke above the $3.20 level, which had been resistance over the past few sessions.
Click to enlarge images.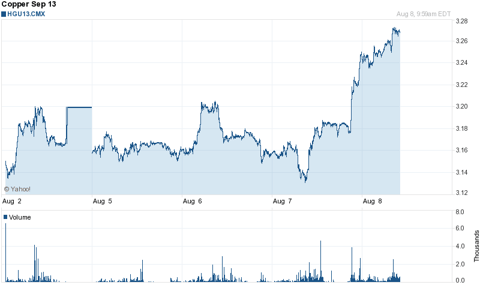 Source: Yahoo Finance.
Commodity prices this morning are as follows:
Gold: $1293.60/ounce, up by $8.30/ounce
Silver: $19.945/ounce, up by $0.437/ounce
Oil: $103.71/barrel, down by $0.66/barrel
RBOB Gas: $2.8745/gallon, up by $0.0034/gallon
Natural Gas: $3.248/MMbtu, up by $0.001/MMbtu
Copper: $3.268/pound, up by $0.095/pound
Platinum: $1469.80/ounce, up by $31.50/ounce
Oil and Natural Gas
SandRidge Energy (NYSE:SD) shares were lower yesterday by 9% as investors took profits on the back of the company's conference call. It beat on EPS, but investors and analysts alike want to see growth, and the company made clear that we would not see that until 2014 due to the Permian asset sale. What we did see this quarter were solid operating results, with production coming in a bit higher than expected from the company's Miss Lime wells in Oklahoma and Kansas.
Over time, it will be interesting to see how that production stacks up vs. expectations and the models that the company has for the breakdown of liquids and dry natural gas production. Long term, the conference call (transcript available here) gives us confidence in the company, but at this time we still see better opportunities elsewhere. Over the past five years, every pullback -- both small and large -- has been a buying opportunity. Keep that in mind for days like yesterday.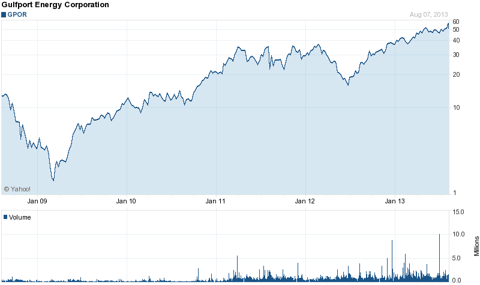 Source: Yahoo Finance.
Looking at the Utica producers, we had a mixed day yesterday. Gulfport Energy (NASDAQ:GPOR) disappointed investors with their full-year production guidance, which we thought would not happen as they essentially came in right at the high end of their quarterly guidance this quarter. To be clear, the company said that their exit rates would be in line with previous guidance. However, due to some drilling techniques they were implementing, they would not meet the actual production numbers because of lag times between now and then.
As the share price action on high volume yesterday indicated (shares were down nearly 7% with 7.9 million shares traded), investors were not happy at all. The company's conference call transcript is available here. One piece of good news for investors is that many of the brokerages that have weighed in have maintained their bullish views on the company, and some have even raised their price targets. Buying on weakness here appears to be the play, as it has been the play on every pullback thus far.
While Gulfport disappointed, Rex Energy (NASDAQ:REXX) gave investors good vibes. Shares rose $1.12 (5.51%) to close at $21.45/share on above average volume of 1.8 million shares after the company had an upbeat conference call (transcript available here). We already knew about the success of the Warrior South drilling and the wells being tied into the sales pipeline a bit late, but the company did supply further data on their other drilling operations. And, as we stated earlier this week, the entire portfolio is performing well. The inventory of wells they are bringing online appears solid and Rex continues to delineate rich areas in the Marcellus and Devonian. Continue to watch this name.
Rex shares continue to power higher. Our bet is that as the next round of wells waiting on completion come online, investors will be pleasantly surprised. This is a Utica story, a Marcellus story, a Devonian story, and, simply put, a production growth story.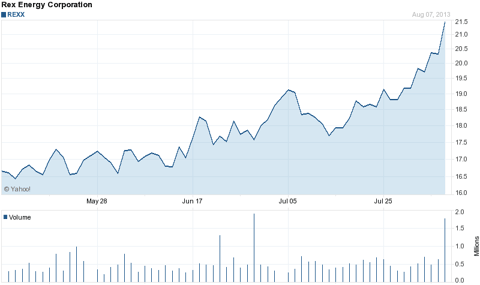 Source: Yahoo Finance.
Solar
First Solar (NASDAQ:FSLR) reported results that missed analysts' consensus estimates on the EPS figure by $0.11. Investors punished the shares by driving them down $6.28 (13.48%) to close at $40.47/share. SunPower (NASDAQ:SPWR) had previously reported solid earnings, so the miss by First Solar probably caught many by surprise. SunPower itself had some issues yesterday as its shares also fell, by about 10%, on volume of 9.5 million shares.
Readers are probably well aware by now, or at least should be, of our dislike for solar energy. We are not silly enough to go short the sector, but do stay away as we do not view these names as investments. Trades, yes; investments, no. The industry tends to trade as a group, and one company's good or bad news becomes the industry's news. There is a lot of fast money involved in this trade, and as yesterday showed it can move out quickly when the news begins to go against it. For those still with capital in the sector, please keep this in mind.
Disclosure: I am long GPOR. I wrote this article myself, and it expresses my own opinions. I am not receiving compensation for it (other than from Seeking Alpha). I have no business relationship with any company whose stock is mentioned in this article.