On Monday, Sasol Ltd. (NYSE:SSL) reported better-than-expected results for the fiscal year ended June 30, 2009, aided by robust performance from the company's energy businesses, partly offset by weak chemical operations. The South Africa-based petrochemicals group reported headline earnings per share, excluding one-time items, of R25.3 ($3.40), beating the Zacks Consensus Estimate of $3.00.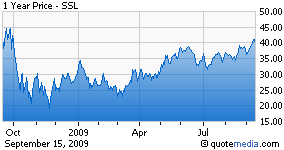 However, on a year-over-year basis, Sasol's adjusted earnings per share fell 33%, hurt by lower oil and chemical product prices, partially offset by a weaker Rand/U.S. dollar exchange rate. Operating profit declined more than 27% to R24.7 billion.

South African Energy Cluster

Within its South African energy cluster, Sasol Mining's operating income was up 14% to R1.6 billion, aided by increased turnover on the back of higher coal prices.

Sasol Gas generated operating profit of R2.4 billion, up 36% year-over-year, driven by higher gas prices and stable sales volumes.

Sasol Synfuels' operating profits rose by 30% to R25.2 billion, reflecting weaker exchange rates, partly offset by lower volumes and oil prices.

Sasol Oil reported an operating loss of R351 million as against an operating profit of R5.5 billion during the prior year. The loss resulted from the steep decline in product prices.

International Energy Cluster

Sasol Synfuels International recorded an operating loss of R235 million compared to an operating loss of R621 million in FY 2008. The improvement can be attributed to the successful production ramp up of the Oryx gas-to-liquids (GTL) plant in Qatar.

Sasol Petroleum International's operating profit was up 11% year-over-year to R1.1 billion, mainly reflecting higher sales volumes and the weakening of the Rand/U.S. dollar exchange rate.

Chemical Cluster

Sasol Polymers reported a 37% decline in operating profit to R946 million, pulled down by the sharp decline in polymer sales prices in the latter part of the year.

Sasol Solvents' operating income was down 79% from the previous year level to R495 million, as lower sales volumes and margins hampered profitability.

Sasol Olefins & Surfactants reported an operating loss of R160 million compared to an operating profit of R1.5 billion for the previous year, mainly due to inventory revaluations at lower product prices.

Operating Cash Flow & Capex

Sasol generated R48.2 billion in operating cash flow, a 39% year-over-year increase, primarily stemming from significant working capital improvements. The company plans to spend R15 billion in capital expenditures during each of the next two years.

Dividend

The company announced a final cash dividend of R6 per share.

Outlook

Looking ahead, Sasol management expects FY 2010 profits to fall from the current level, owing to weak oil and product prices and an unfavorable exchange rate. The company further warned that demand for chemicals (of which it is the biggest producer in Africa) will be low.

BEE Setback

Sasol informed that it is on the lookout for a new partner after Exxaro (South Africa's largest coal producer) pulled out of its Black Economic Empowerment (BEE) partnership with the company, citing tough economic conditions. The South African government is driving a BEE program, which mandates companies to sell a certain portion of their business to black investors, to include them in the country's mainstream economy after exclusion under apartheid.

Sasol Limited is engaged in the mining and processing of coal. It also produces chemicals, explores for and refines crude oil, and manufactures fertilizers and explosives. In addition, it converts coal to petrochemicals products, such as diesel fuels and gasoline.