Competition can kill you. Recently, I highlighted how Skyworks Solution (NASDAQ:SWKS), RF Micro Devices (RFMD), TriQuint (TQNT) and Avago (NASDAQ:AVGO) were making it impossible for Anadigics (NASDAQ:ANAD) to find a footing. This time, I'll look at the other side of the coin: Sometimes competitors get taken out - leaving a company a greater runway for growth. That's the case with Cornerstone OnDemand (NASDAQ:CSOD), the talent management SaaS company, which has found increasing opportunity for growth as its rivals get acquired one by one. This last quarter, revenue growth accelerated, climbing a whopping 66% Y/Y in large part because of weakened competition. The takeover of its adversaries disrupted Cornerstone OnDemand's space, leaving a virtual vacuum as the key personnel left. Gone are the former COO of Taleo and the CEO of SuccessFactors. Kenexa's innovators exited. In other words, as SAP (NYSE:SAP), IBM (NYSE:IBM), and Oracle (NYSE:ORCL) bought SuccessFactors, Kenexa, and Taleo, the talent went out the door. Simply, Cornerstone OnDemand is outcompeting the shells left behind.
Background
Cornerstone OnDemand provides talent management on the cloud using 4 platforms: Recruiting Cloud, Learning Cloud, Performance Cloud, and Extended Enterprise Cloud. Shares have appreciated over 170% since its 2011 IPO. Cornerstone OnDemand has a $2.5 billion market cap. This quarter, revenues reached $44.3 million, up 66% Y/Y and better than expected. Bookings rose 55% Y/Y. Non-GAAP earnings were a trace better than last year, coming in at -7 cents.
Weaker Adversaries Provide Opportunity
Cornerstone OnDemand used to compete against 3 independent SaaS providers - Taleo, Kenexa and SuccessFactors - before they were taken over. IBM bought Kenexa in 2012. Oracle acquired Taleo later that year. SAP grabbed SuccessFactors this year. These take-outs have worked to Cornerstone OnDemand's advantage. Every time, one of its rivals is acquired there has been an exodus of crucial personnel.
Example: Taleo
CEO Adam Miller noted in a previous call that Taleo is weaker since its acquisition:
Yeah, we're seeing less and less of Taleo. It's been almost fully absorbed into Oracle, and by that I mean most of the people from the former Taleo organization of the left and have gone on to other organizations, often outside the industry.
Example: Kenexa
Last year, Miller disclosed that IBM's purchase of Kenexa "opened up the market for us" as critical people left.
Example: SuccessFactors
Much like Taleo and Kenexa, SuccessFactors lost essential personnel.
But we believe there is something deeper going on in our space.

Following the acquisitions, the acquired company has began to transform in many of the key people who made this company successful and competitive leave for greener pastures. Atrophy powers the exodus and the competitors significantly weaken.

In May, SuccessFactors' CEO left SAP, not only he was the leader and a worthy competitor, but he was also the visionary behind the product and that their best salesman. It has been announced that their sales and service teams now report to the [Areva] management team and SuccessFactors' tech team now reports to the core SAP tech group. We believe it will be a few more quarters to see the full impact, but the exodus has begun.
In a nutshell: You can buy the building but the people are free to walk out.
The Weakened Adversaries
Moreover, Oracle and SAP haven't stepped up to the plate. They haven't been able to capitalize on their acquisitions, making Cornerstone OnDemand's job easier. In fact, the takeovers have reduced the competition.
The primary difference which I've talked about on prior calls is that whereas in the past we competed full with SuccessFactors and Taleo and every individual deal. Now, we're competing often with one or the other. If it's an SAP shop, we're obviously competing with them. If it's an Oracle shop, we're competing with Oracle Taleo, but they are not showing up at each others incumbent counts. And so our competition at the deal levels has been cut effectively by 50% and that's helped us to increase our win rates.

In the mid market space, it's been more dramatic. As you all know when you go to down market particularly in the small end of mid-market we're in the SMB space. Oracle and SAP do not pull well. And we are not seeing them competing in that segment anymore, not really as effectively at least.
The Next Upside Catalyst
Cornerstone OnDemand has been strengthened by the acquisitions of its rivals. The next step for company: raising prices now that the competitive landscape is in disarray. Cornerstone OnDemand sees a chance to lift prices:
The other factor here is that our industry overall and I am talking about talent management in general had started from very low price points. So when I walk around the floor of Dreamforce for example, and look at the ecosystem at Salesforce.com with many new cloud vendors emerging, using very point things in that case in the sales area, they are charging multiples of what we charge for our suite. In many cases, they are charging per month when we are charging per year. And as a result, I think there is lot's of opportunity to keep growing price points particular as the competition shrinks as we move down market and there is more of a Greenfield opportunity and as we expand our product footprint to include more products upfront.
Superb Growth
Cornerstone OnDemand raised revenue guidance for the rest of 2013, predicting a 56% Y/Y increase. Could the revenue guidance be too low? That's exactly what the analyst from Pacific Crest wanted to know. Cornerstone OnDemand's CFO indicated the company's outlooks "tend to be conservative."
Indeed, revenue growth has been superb: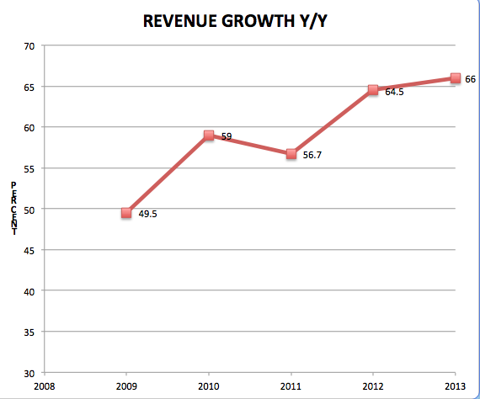 (Sourced from 10-Ks. 2013 is most recent quarter.)
While Cornerstone OnDemand sells at a high P/S valuation, it is less expensive than other fast growers, suggesting that shares have still room to go higher. For instance, LinkedIn (NYSE:LNKD) and Workday (NYSE:WDAY) are growing more slowly but trade at a higher P/S ratio. Surprisingly, NetSuite (NYSE:N) has a much lower growth rate but has the same P/S ratio as Cornerstone OnDemand.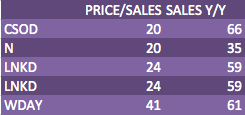 Cornerstone OnDemand is thriving against subdued competition. This growth story is nowhere near done.
Disclosure: I have no positions in any stocks mentioned, and no plans to initiate any positions within the next 72 hours. I wrote this article myself, and it expresses my own opinions. I am not receiving compensation for it (other than from Seeking Alpha). I have no business relationship with any company whose stock is mentioned in this article.
Additional disclosure: The opinions in this document are for informational and educational purposes only and should not be construed as a recommendation to buy or sell the stocks mentioned. Past performance of the companies discussed may not continue and the companies may not achieve the earnings growth as predicted. The information in this document is believed to be accurate, but under no circumstances should a person act upon the information contained within. We do not recommend that anyone act upon any investment information without first consulting an investment advisor as to the suitability of such investments for his specific situation.