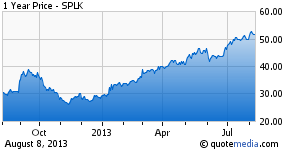 Splunk Inc. (NASDAQ:SPLK) is a growth company that provides a software platform to enterprises seeking solutions to their big data challenges. Splunk went public in 2012. After finding support at roughly the $27 level, the share price formed a double bottom with a minimum implied price objective of $53/share.
That is where investors should look for a top, of this overvalued company, to form. The share price is currently trading in that zone; thus, a top could form soon. Year-to-date, Splunk is up 78% while the S&P 500 is up 20% on a total return basis.
All of that said, at over 20 times sales and book value, this company is overvalued. Splunk probably won't grow into that multiple anytime soon. I think Splunk is benefiting from investor's optimism about the future of big data.
The investing strategy here is to get short, use solid money management skills, and cash in when the valuations decline substantially. As previously stated, Splunk is probably nearing a top. The share price can keep going up; hence, good money management skills (planning) are critical to the success of the mission.
Risks
Splunk believes that software piracy is and can be expected to be a persistent problem that negatively impacts its revenue and financial results.
Competitors including: IT departments of potential customers which have undertaken custom software development efforts to analyze and manage their machine data; security, systems management and other IT vendors, including BMC Software, CA, Compuware, HP (NYSE:HPQ), IBM (NYSE:IBM), Intel (NASDAQ:INTC), Microsoft (NASDAQ:MSFT), Quest Software, TIBCO and VMware (NYSE:VMW); web analytics vendors, including Adobe Systems (NASDAQ:ADBE), Google (NASDAQ:GOOG), IBM and Webtrends; business intelligence vendors, including EMC (EMC), IBM, Oracle (NYSE:ORCL) and SAP (NYSE:SAP); companies targeting the big data market by commercializing open source software, such as the various Hadoop distributions and NoSQL data stores; and small specialized vendors, which provide complementary solutions in enterprise data analytics, data warehousing and big data technologies that may compete with Splunk's software.
Splunk's operating results could be significantly impacted by unexpected shifts in the ratio between perpetual licenses and term licenses.
Splunk has a history of losses, and may not be profitable in the future.
The company derives and expects to continue to derive substantially all of its revenues and cash flows from sales of licenses of Splunk Enterprise products. As such, the market acceptance of its software is critical to its continued success.
If customers demand Splunk's software provide full functionality similar to its Splunk Enterprise product via a "Software-as-a-Service" business model, Splunk's business could be adversely affected.
Splunk has been, and may in the future be, subject to intellectual property rights claims by third parties, which are extremely costly to defend, could require it to pay significant damages and could limit its ability to use certain technologies.
Historically, the share price has been volatile, and probably will continue to be volatile; as such, shareholders could lose a portion or all of their investment.
Business Profile
Splunk provides an innovative software platform that enables organizations to gain real-time operational intelligence by harnessing the value of their machine data. Its software collects and indexes data at massive scale, regardless of format or source, and enables users to quickly and easily search, correlate, analyze, monitor and report on this data in real time. Splunk believes its software addresses the risks, challenges and opportunities organizations face with increasingly large and diverse data sets, commonly referred to as big data, and is specifically tailored for machine-generated data.
The core of Splunk's software is a proprietary machine data engine, comprised of collection, indexing, search and data management capabilities. Its software can collect and index hundreds of terabytes of information daily, irrespective of format or source. Its machine data engine uses its proprietary data architecture that enables dynamic schema creation on the fly, enabling users to run queries on data without having to understand the structure of the data prior to collection and indexing. Its machine data fabric for data collection and indexing delivers speed and scalability when processing massive amounts of machine data. Splunk's software leverages improvements in the cost and performance of commodity computing and can be deployed in a wide variety of computing environments, from a single laptop to large globally distributed data centers.
Splunk complements its core product with additional content ("apps" and "add-ons") that can be deployed on top of its core data engine. These apps and add-ons, which are generally available for download via the Splunkbase website, provide incremental functionality in the form of pre-built data inputs, searches, reports, alerts and dashboards. Most of these apps and add-ons have typically been available for free download, but there are also premium apps, developed by Splunk and third party developers in the Splunk community, who charge for content, such as the Splunk App for Enterprise Security and Splunk App for PCI Compliance. Splunk, along with a number of third-party developers and customers, have developed hundreds of apps and add-ons for specific use cases in its core and adjacent markets. Examples of apps and add-ons that it developed and currently offers include Splunk App for Enterprise Security, Splunk App for PCI Compliance, Splunk App for VMware, Splunk App for Microsoft Exchange, Splunk App for Microsoft Active Directory, Splunk DB Connect, Splunk Hadoop Connect and the Splunk App for Hadoop Operations. These apps make it easier and faster for its customers to extend the value of their machine data and the Splunk platform to solve specific use cases. This software content has also enabled Splunk to target new markets and disrupt markets traditionally served by point solutions. Often, as customers use additional apps, this generates expanded usage, licensing and revenues for Splunk's core platform.
In fiscal 2013 it released Splunk Storm that provides, on a subscription basis, a subset of its Splunk Enterprise software's capabilities as a cloud-based service and is presently tailored for cloud-based developers and applications running in the cloud.
As of January 31, 2013, Splunk had over 5,200 Splunk Enterprise customers, including over 60 of the Fortune 100. Splunk Enterprise customers pay license fees generally based on their estimated peak daily indexing capacity needs. Splunk Storm customers pay a monthly subscription fee based on the amount of data stored.
Splunk's goal is to make its software the platform for delivering operational intelligence and real-time business insights from machine data. The key elements of its strategy are to: Extend its technological capabilities; continue to expand its direct and indirect sales organization, including its channel relationships, to acquire new customers; further penetrate its existing customer base; develop additional solutions in adjacent markets as well as products that enable organizations to use its software in different ways; grow its user communities and partner ecosystem to increase awareness of its brand, target new use cases, drive operational leverage and deliver more targeted, higher value solutions and become the developer platform for machine data.
The key technologies are: Schema-on-the-fly; machine data fabric and search processing language.
The schema-on-the-fly feature collects and indexes data irrespective of source and format. Rather than requiring that data be input into a pre-defined structure, its software's schema-on-the-fly technology creates structure as it searches the data from a single query, allowing users to ask new and different questions at any time without having to re-architect a schema as would be required in a relational database.
The machine data fabric feature enables users to process machine data no matter the infrastructure topology, from a single machine to a globally distributed, virtualized IT infrastructure. This machine data fabric allows customers to address the complexities of handling massive amounts of real-time, dynamic, heterogeneous machine data. Its APIs enable users to forward data from Splunk's software to other parts of their IT network, creating a machine data fabric across the organization irrespective of whether the data is used by Splunk's software for analysis and reporting or as a conduit to other systems.
The search processing language provides a proprietary search language that is specifically designed for working with machine data. Its search language supports basic arithmetic operations to refine searches and conduct calculations with the results of a query in real time. Statistical and reporting commands native to its search language let users perform more robust calculations and analysis. Splunk's software can also learn about the structure of the machine data through the searches users conduct, allowing users to utilize the machine data structure and knowledge garnered by previous Splunk searches.
Splunk Storm is used by organizations developing applications on cloud platforms, such as Amazon Web Services, Heroku, Google App Engine and Rackspace. Splunk Storm enables users to diagnose and troubleshoot application problems, gain rapid visibility and insight into cloud-based applications and monitor critical business metrics for more effective operational intelligence.
What Employees and Customers Say
As with most things in life, there is the good and the bad. There are times when the bad outweighs the good; such is the case with the employee reviews. On the customer side, the good outweighs the bad. Combining both sets of reviews, I would probably say that the good outweighs the bad.
The employees like the compensation, the food, the games, the product, and the company. Employees don't like their boss's egos. There is a lot of comments about inexperienced managers with "big egos." Some people feel like they can't contribute suggestions because of senior management's egos. Also, some of sales people say the open source versions are competitive with Splunk's offerings.
To be realistic, I don't think there are going to be many senior managers with an extensive track records of success applying to a young growth company. Consequently, a young inexperienced management group with big egos who will probably grow into their roles over the next 2 years to 5 years is expected and is a yellow flag. It is not a red flag. Further, enterprises with $1+ billion of revenue are less likely to use open source software.
So, the customers like the products, and the employees like the products and the company. Thus, I like the products and the company. Also, Splunk was named a leader in the 2013 Gartner Magic Quadrant for Security Information and Event Management, according to the company's website.
Financial Performance Forecast
I think revenue growth will slow in fiscal 2014 to between 30% and 60% relative to fiscal 2013's revenue growth rate of 64%. That said, the market for Big Data analytic software is growing at a rapid pace, and I'm forecasting Splunk's revenue to grow at an above market rate, which means Splunk would be increasing market share. The financial performance forecast is bullish for the valuations.
The increase in fiscal 2013 revenue was primarily driven by an increase in the number of customers. As an investor analyzing a growth company, I prefer the increase in revenues to come from an increase in customers rather than an increase in prices. The increase in revenue is bullish for valuations.
A large portion of the increase in historic operating expenses are attributable to personnel increases, which represent variable costs. Consequently, Splunk's operating leverage is lower than it otherwise would be, if the increase in operating expenses were primarily attributable to higher fixed costs.
Splunk's sales, general and administrative expenditure is high as a percentage of revenue. Most of the expenditure is attributable to personnel expense. Splunk is strategically investing revenue in marketing to increase brand awareness, revenues and cash flow from operations, which could be bullish for the valuations. On the other hand, it could be a huge waste of capital that could be being put to better use.
Splunk has a substantial valuation allowances against its deferred tax assets. Currently, the company isn't expecting to release the valuation allowances. If management decides to reduce marketing expenditure, thus generating operating income, shareholders would benefit from low income tax expenditure related to the net operating loss carry-forwards.
In fiscal 2014, I expect revenues to continue to be driven by an increase in customers, operating expenses to remain a relatively high percentage of revenues, and the net loss to be a smaller percentage of revenues.
The change in the fair value of preferred stock warrants expense, which was about 40% of the loss before income taxes in fiscal 2013, won't occur in fiscal 2014. The resulting increased net income, all else equal, is bullish for the valuations.
So, I am looking for revenues in the $258.7 to $318.4 million range. The operating loss should be about 12% to 16% of revenues, and the net loss should be about 12.4% to 16.4% of revenues. The worst case net loss scenario using this model would be about $42.43 million.
At the end of the fiscal 2014 first quarter, Splunk had about $331 million of total cash; the liquidity position and solvency position are rock solid. There was about $46 million of operating lease obligations at the end of fiscal 2013; there isn't a need to adjust the liabilities to include the operating lease obligations given the significant amount of cash the company has on its balance sheet.
Also, deferred revenues are growing inline with revenues.
Valuations
Splunk is a growth company; thus, a discounted cash flow model wouldn't be appropriate for valuing the common equity shares. Also, given the company's limited trading history, some multiplier model valuation techniques would be inappropriate. So, I am going to use the enterprise value and multiplier models on a time series and absolute basis.
Splunk is valued at 23.5 times sales, 22.7 times book value, and 93.5 times cash flows. Also, shares of the company are trading near a peak in valuation. The multiplier models suggest Splunk is overvalued.
I estimate the enterprise value of Splunk to be $5.22 billion. That means Splunk is trading at an EV/sales of 23.8. If fiscal 2014 revenue comes in at the high end if my range, Splunk would be trading at an EV/sales of 16.4. Based on these measures, I would say Splunk is overvalued.
I wouldn't buy any shares of Splunk until they were trading at roughly half of the current valuation. At these valuations, Splunk isn't a takeover candidate for one of the larger technology enterprises. With a solid money management plan in place, Splunk would be an excellent company to sell short. Sales would have to more than double for this company to be trading at 10 times sales, at the current market capitalization.
Disclosure: I have no positions in any stocks mentioned, and no plans to initiate any positions within the next 72 hours. I wrote this article myself, and it expresses my own opinions. I am not receiving compensation for it (other than from Seeking Alpha). I have no business relationship with any company whose stock is mentioned in this article.