If you are looking to play for strength in the auto market, Gentex (GNTX), Zacks Rank No. 1 (Strong Buy) may be your ride. R.L. Polk recently reported that the average age of a vehicle on U.S. roads is a record 11.4 years. The average age has increased 11 consecutive years. Although auto manufactures have improved the quality and longevity of vehicles and fuel prices are historically high, replacement needs should be a supportive factor for auto parts manufacturers. The need to replace an aging vehicle fleet played out in July vehicle sales, which rose 10.9% year over year to a 16.1 mlu rate. Before the Great Recession, U.S. vehicle sales were able to touch an 18.0 mlu rate.
Background on Gentex
Simply put, Gentex manufactures rear view and side view mirrors that enhance the safety of driving. Furthermore, it recently purchased Homelink to enable drivers to communicate with their home security systems, lightening, door locks, and other radio frequency products. Gentex also has operations that manufacture dimming windows for the aerospace industry and fire protection products. These operations are very small sources of revenue at 2%, but they have shown extremely fast growth over the last year.
What Are the Positives?
Analyst earnings estimate revisions are trending upward. Analysts have revised earnings estimates higher for 2013 and 2014 seven times over the past 30 days, and no analyst has cut an estimate. The Zacks Consensus Earnings per Share Estimates for 2013 and 2014 have risen 9 cents to $1.34 and $0.10 cents to $1.45, respectively, over the past 30 days. Additionally, the most accurate forecaster is looking for a positive surprise with projections for 2013 and 2014 EPS of $1.36 and $1.55, respectively.
Valuation looks reasonable with the 12-month forward P/E ratio of 16.5 compared to a 10-year median of 21.3. Gentex has a dividend yield of 2.46% and a history of solid free cash flow to support the payment. The yield is very competitive to cash and most of the treasury yield curve.
Gentex has diverse geographical exposure, with 41% of its shipments to Europe and 19% to Asia-Pacific/other. The company should be able to benefit from what appears to be a cyclical upswing in the European economy and rising vehicle ownership rates in China. There is plenty of room for growth in South America and Asia-Pacific, where auto dimmer application rates are nearly 10% compared to 50% to 55% in North America. Gentex touts a 19% annualized compounded sales growth rate over the past 25 years. It has a track record of producing strong growth.
Technically, Gentex has consolidated in recent months. The consolidation, in the form of a downward sloping channel, looks like a pause before the uptrend restarts. Gentex is not technically overextended despite the overall equity market run-up in 2013.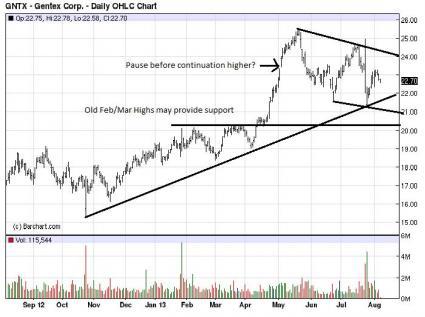 What Are the Risks?
Although analysts have tended to raise their earnings estimates for Gentex, they seem uneasy over the over the multiple paid for the Homelink acquisition. Furthermore, they were disappointed with the company's withdrawal of guidance by product line. There is some concern that automakers are putting pressure on suppliers and that this could weigh on the average selling price for Gentex.
The Takeaway
Gentex provides a solid growth story at a reasonable valuation and pays an attractive dividend. Don't look back and wish you had considered a position in Gentex.
Gentex: Free Stock Analysis Report (email registration required)