I can remember about 12 or 13 years ago going shopping for a great television for my beautiful den in my new home in Florida. I had my sights set on the state of the art big screen television with a picture that was unbelievable to all who saw it. It was the state of the art Plasma TV.
I went for my lungs on the whole entertainment system; $15,000 and that was a discount! Less than 2 years later I could have bought a better system called HDTV; high definition television, with a new improved screen called LED. The whole system would have cost less than $5,000.
Today, I can walk into a Costco and buy a 60 inch HDTV with an LCD screen, state of the art picture, and all the bells and whistles for $800.
The point of all of this is that we are now on the verge of the next generation state of the art television; UHDTV with an LCD screen, or even the next generation screen; OLED. The new technology is called 4K, UHDTV, to reflect the amazing increase in pixels, that give viewers an amazingly crisp picture never before seen.
While this should stimulate all television sales, and is not the faddish 3-D TV that requires those miserable plastic glasses, the real value for investors could be found in the shares of a company that actually makes the technology to give UHDTV life; Ambarella, Inc. (NASDAQ:AMBA).
About The Company
Much of what an investor needs to know about what AMBA actually does, can be found at the company website, but to offer a brief overview allow me to give you the short version.
The company manufactures semiconductors for HD video cameras. The cameras are widely used for sports broadcasting, which most of us know, offers perhaps the best HD viewing on television right now. The company has also developed an upgraded chip, A9, to be used not only for consumer cameras, but also for wearable video devices, security and automobile cameras and recorders.
Now, this new 4K technology is being manufactured for the next generation of television viewing, and AMBA is at the cutting edge with proven technology.
This Santa Clara, Ca. company was started in 2004 and won numerous awards for the technology prior to going public last October 2012, at an IPO price of $6.00/share
The success of the company is evident in the fundamentals as well.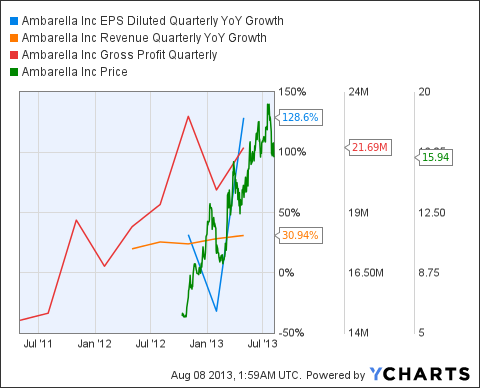 Earnings have sky-rocketed, revenues have jumped, gross profits have risen in tandem, and the share price has increased by over 150% as of today's price ($15.94).
AMBA has an enterprise value of only $352 million, but as a growth company has a very low forward PE ratio of 14.50.
Of the 27 million shares outstanding, insiders still hold over 43%, and institutions own another 10%. This leaves only 13 million shares on the open market right now.
The company has more than $104 million in cash available.
AMBA has ZERO debt.
To sum it up, AMBA has a hot technology for a brand new product group, and has a pristine balance sheet to boot. Not bad for a little company only 9 years old.
To me this smells of large profits for shareholders even at the current share price.
How Will The 4K, UHDTV Market Make Even More Money For AMBA?
Since this company already has a strong business in the camera and video recording business, as well as the best of breed technology to keep the lead in that business, revenues and profits should continue to grow rapidly.
Now that the technology is being used in the new 4K, UHDTV generation, the revenues and profits will only add even more dramatic growth for AMBA and shareholders. According to this report, more than 500,000 of these new televisions will be shipped worldwide this year and the growth will become dramatic rather quickly, especially as retail prices drop, as they always seem to do in the TV business. (See my own experience above)
Paul Gray, director of TV electronics research for NPD DisplaySearch. had this to say:
"Initially, we expect to see the highest 4K adoption in China, Japan and Western Europe, as these regions typically prefer the latest highly-featured products. On the other hand, North American consumers are generally more likely to delay purchases of new technology, like 4K, until prices fall. However, because demand is heavily skewed towards large screens in this market, there is a significant opportunity."
A quick look at a very compelling chart should tell the story as well: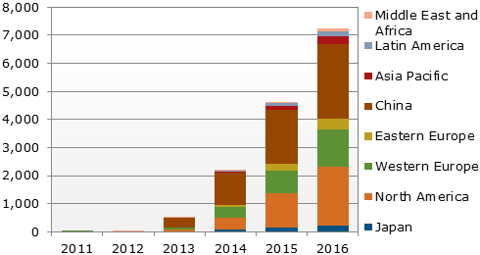 While US sales will likely take a bit longer to kick in, worldwide sales look to be enormous according NPD DisplaySearch. Quite frankly, AMBA is poised to grow right along with this business, and that means rapid growth in a brand new business for it.
The new screen technology, OLED, will simply add even more growth in the TV business. These televisions will also use the technology from AMBA, Source: NPD DisplaySearch Quarterly Advanced Global TV Shipment and Forecast Report: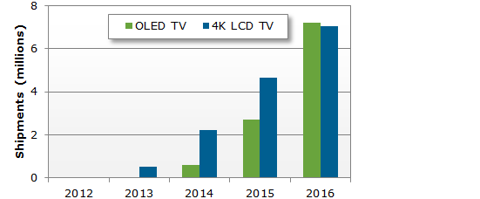 The Bottom Line
Based on the current fundamentals, the forward PE ratio, plenty of cash, no debt, and a brand new market ready to explode, ABMA appears poised for dramatic growth.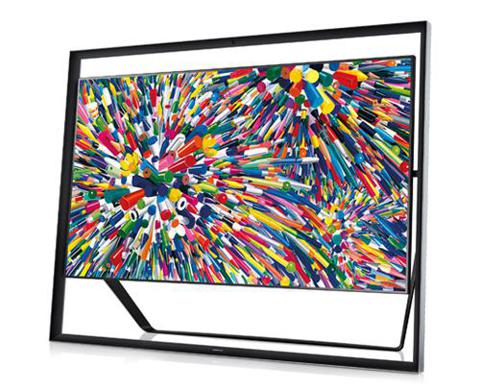 I believe this stock could double or triple within 24-36 months, if not sooner. I suppose I will be looking for yet another amazing TV breakthrough for my den once again as well.
Disclosure: I have no positions in any stocks mentioned, but may initiate a long position in AMBA over the next 72 hours. I wrote this article myself, and it expresses my own opinions. I am not receiving compensation for it (other than from Seeking Alpha). I have no business relationship with any company whose stock is mentioned in this article.