The chart shows the performance of semiconductor sector IPOs since the start of trading. Since InsideChips began tracking semiconductor IPO performance on January 1, 2005, only two companies, Hittite Microwave (NASDAQ:HITT) and Cavium Networks (NASDAQ:CAVM) fared well for investors who purchased the stock at the opening price.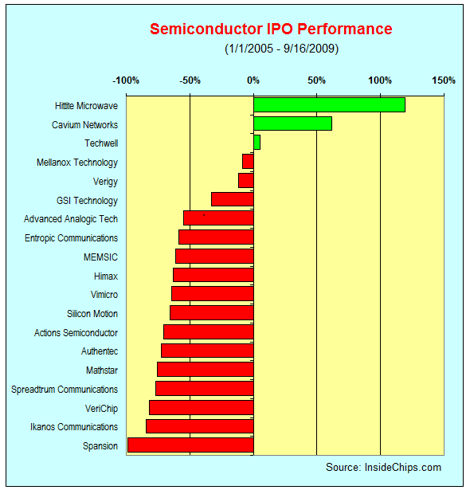 PixelPlus, a Korean supplier of CMOS image sensor and imaging ASICs, went public in December 2005 but was de-listed due to its financial condition. Qimonda, a memory spin-off from Infineon, went public in August 2006 but entered insolvency proceedings earlier this year. Saifun Semiconductors, an Israeli non-volatile memory IP provider, was acquired by Spansion (SPSN), a Japanese pure-play provider of Flash memory solutions. Spansion itself, which went public in December 2005, is mired in financial difficulties and is last on the performance listiing.

For now the IPO window is closed for semiconductor companies. The last semiconductor-related IPO was by MEMSIC (NASDAQ:MEMS) (Dec. 2007). For now, the exit strategies of 800+ venture capital backed semiconductor firms which are tracked by InsideChips must rely on the merger or acquisition route. Even there, valuations for a typical deal are in the $50 to $100 million range compared to $400 million during the industry's better days.