Summer Infant (NASDAQ:SUMR) designs, markets and distributes branded juvenile heath, safety and wellness products primarily to North America and U.K. retailers. These products include cribs, nursery audio and video monitors, safety gates, durable bath products, bed rails, booster seats, bedding, bouncers and other health and safety related products.
In summary, Summer Infant's target market is new born up to about 5 years old and mainly in the U.S. and U.K.
Summer Infant has a good story here and at the current share price in the $3.20-$3.30 range, provides a good entry point for strong gains into 2014. However, they need to be able to improve margins and maintain sales growth.
Summer Infant went public in 2007. Here is a chart of their stock since 2007: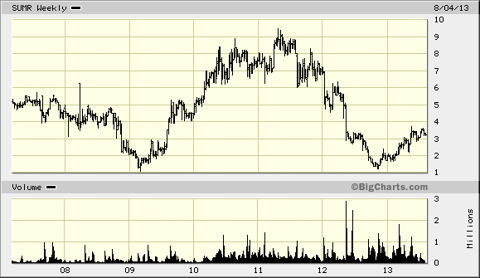 Summer Infant is currently below its price when it first went public and well below its all time high of $9.48 reached in 2011.
The shares of Summer Infant have taken long-term shareholders for a wild ride since going public in 2007.
Summer Infant's stock dropped from over $9 a share in 2011 to under $2 a share in 2012. Part of the reason was a slowdown in sales, declining margins, which led to losses in 2012 and also a big hit to the book value taken in 2012.
The net profit margins at Summer Infant since 2007 are as follows:
2007: 4.6%
2008: 3.1%
2009: 3.7%
2010: 2.8%
2011: 1.6%
2012: --- (losses)
2013: 1.3% Est. ($3.21 million net profit on sales of $242.29 million)
2014: 2.0% Est. ($5.36 million net profit on sales of $258.45 million)
We can see that margins were in decline all the way to 2012 when there were losses. However, margins are on the rise and expected to continue to rise. Margin expansion could be very bullish for shares of Summer Infant.
In the event that both the sales and margin expectations for 2014 are met, earnings per share could reach 30 cents.
At a P/E multiple of 15, shares could fetch $4.50 in 2014, which would be an upside of about 40% from the current price of $3.23 as I write.
Sales per share are as follows:
2007: 4.90
2008: 8.79
2009: 9.99
2010: 12.59
2011: 13.55
2012: 13.84
2013: 13.56 Est.
2014: 14.47 Est.
There has certainly been good progress on sales. Aggregate sales has gone from $68.1 million in 2007 to $247.2 million in 2012. Although sales are expected to drop in 2013 to $242.29, they are expected to rise in 2014 to $258.45 million.
The book value per share is as follows:
2007: 3.83
2008: 4.08
2009: 4.49
2010: 4.95
2011: 5.34
2012: 1.68
What happened in fiscal 2012, was as per the 10-K pg. F-14:
"As a result of its analysis and the valuation study discussed above, management determined the implied fair value of goodwill was zero and the Company recorded a non-cash goodwill impairment charge of $61,908 in 2012."
That is your reason for the drop in book value per share. There were 17.86 million shares outstanding in 2012 so a $61.908 million impairment charge was equivalent to $3.47 in book value.
Getting to the more recent operations of the business, the first quarter of 2013, the results were mixed. Sales were $59.118 million, down from $62.999 million. That's a 6.1% decline in sales.
The CEO, Jason Macari noted with regards to first quarter earnings:
"We made good progress during the first quarter toward improving our operations and bottom-line performance despite the soft retail market," said Jason Macari, President and Chief Executive Officer. "Revenue and gross margin increased from the fourth quarter, and we lowered both selling and G&A expenses on a sequential and year-over-year basis. As expected, revenues were down 6% year over year as we discontinued several non-profitable or low-margin products and began to exit licensing agreements. While most product categories were slightly down to flat during the quarter, higher sales from the Safety, Play and Nursery categories partially offset softness in other categories."
Net profits were $444k, which made the net profit margin a slim .75% of $59.118 million in sales. However, as noted by the CEO, overall gross margins increased on account of reduced SG&A expenses.
I noticed that cost of sales were down from $41.894 to $40.539 million, or a drop of 3.2%.
Cost of goods sold was 68.57% of sales in the 1st quarter of 2013 vs. 66.5% in the first quarter of 2012. That tells us that the cost of their goods, which they mostly get from China, is going up at a rate faster than they are able to charge customers.
Part of the reason could be the Chinese currency appreciation. The Chinese currency has been appreciating consistently vs. the U.S. dollar since 2005. As the U.S. dollar gets weaker vs. the Chinese RMB, the cost of buying goods from China goes up in U.S. dollars.
Here is a chart of how many RMB 1 US$ buys over the last 10 years: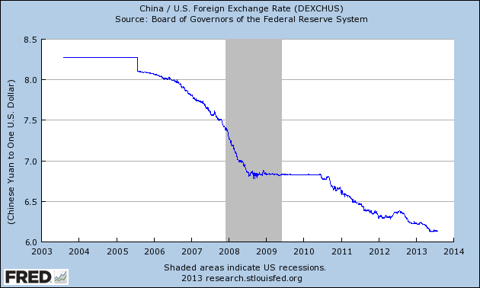 In order for Summer Infant to improve margins up to 2% by 2014, they need to continue to cut internal costs and or raise prices.
Summer Infant reports 2nd quarter results on August 14th. Estimates are for them to earn 3 cents per share on sales of $58.88 million. Sales are expected to be down 4.7% from a year ago, a little less of a percent than the first quarter decline in sales.
There are some other pros and cons with regards to Summer Infant's business worth noting.
Pros:
1. Birth rates have been declining in the U.S. thus reducing the number of potential new customers for Summer Infant. This trend is now expected to end. After hitting a 25-year low in the birth rate of 1.89 births per 1000 woman in 2012, the rate is expected to increase to 1.90 in 2013.
2. Solid brand name recognition and distribution network. As a Father of a 9-month old and another about to turn 3 next month, I can tell you I see Summer Infant's products all over the shelves at Wal-Mart, Babies "R" Us and other retailers and a good deal of their products are in our home.
Cons:
1. U.S. consumers are hurting as real disposable incomes are barely growing on account of higher taxes and not sufficient pay raises or job gains to offset inflation.
2. Summer Infant has a lot of debt. Here is a snapshot of their balance sheet as of March 31, 2013: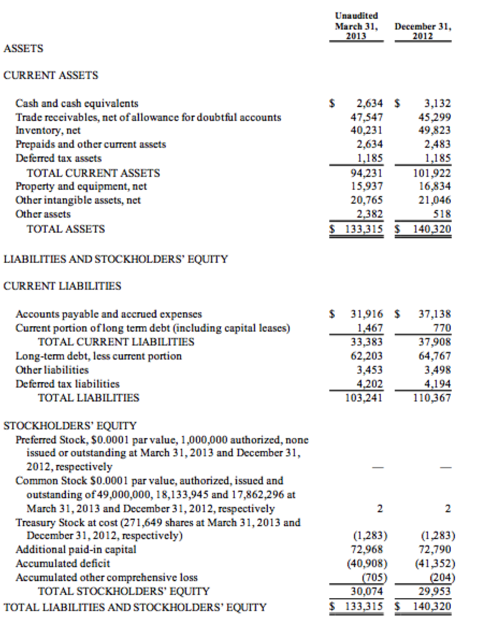 There is some good news about the debt however. CEO Jason Macari noted from the 1st quarter earnings results:
"At the end of February, as previously announced, we reached a major milestone when we entered into a new, fully underwritten loan and security agreement with Bank of America. We expect that as a result of the refinancing, our interest expense will be reduced by approximately $1.0 million in 2013 from our previous credit facility. We also have reduced our debt level, net of cash by $4.5 million since the end of Q3 2012."
Conclusion
While I would consider shares of Summer Infant to be risky on account of low margins and ever increasing cost of goods sold, the recent progress that's been made on internal cost cutting and changes in product mix provide evidence that management has a plan to revive margins.
What investors should want to see is increasing margins toward 2% for 2014. Meeting earnings estimates of 30 cents a share in 2014 could provide the basis for justifying $4.50 a share, which would be a gain of about 40% from today's price of $3.23 +/- 10 cents.
Ultimately, I would recommend shares of Summer Infant as a turnaround play assuming they can build up and repair their profit margins.
Disclosure: I have no positions in any stocks mentioned, and no plans to initiate any positions within the next 72 hours. I wrote this article myself, and it expresses my own opinions. I am not receiving compensation for it (other than from Seeking Alpha). I have no business relationship with any company whose stock is mentioned in this article.