Some commenters assert that high quality dividend growth stocks are priced at nosebleed levels that preclude meaningful capital appreciation going forward. Many dividend growth investors are concerned more with the income stream than the market price of their holdings, but lately I sense a certain nervousness in their discussions. This article presents factual information on the issue.
Methodology
My preferred valuation metric for stocks of this type is PE5 (forward 5-year average EPS). For the purposes of this article, the previous 4 years of GAAP EPS are combined with analyst consensus for the current year, and the average taken. High quality dividend growth stocks meet the following criteria:
5 years sequential dividend increases
beta < .80
Ranking on Portfolio123 Basic:Quality > 40 (of 100)
As a rule of thumb, I consider such stocks as being low priced when the PE5 is below 15, and high priced when it is above 25.
To answer the question, how many of these stocks are high priced, here's a chart. The data was developed using the screener at Portfolio123, and sampling at 2-week intervals:
This type of stock traded at premium valuations in 2004-2005, perhaps in a reaction to the excess of the tech bubble and ensuing crash. Equity investors fled to the safety of these familiar names.
As of this moment, there are 22 of these stocks trading at "nosebleed" PE5 multiples above 25. To get back to the 2004-2005 levels, this number would need to be consistently above 40.
Consequences of Overpaying
To illustrate the consequences of paying more than a PE5 of 25 for high quality dividend growth, here's a chart of a backtest. The investor rebalanced every 3 months, buying only stocks that had a PE5 greater than 25.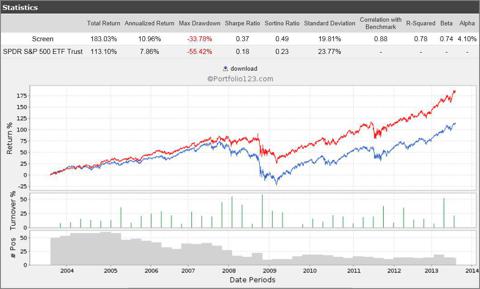 This is counterintuitive. I invite discussion and analysis.
For a worst-case scenario, if this investor had bought and held on 10/1/2007, here's how he made out: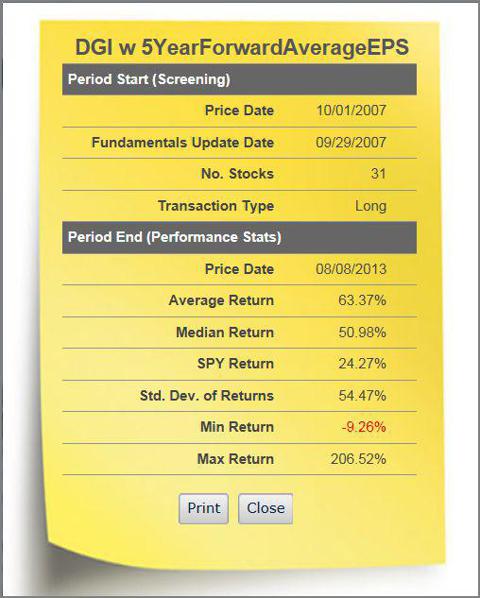 Again, I invite discussion and analysis. Here's what he bought: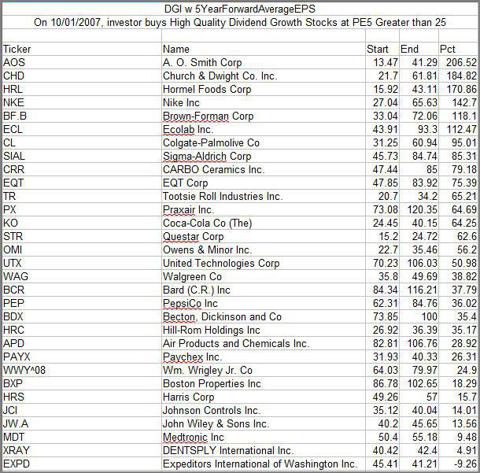 The start prices are adjusted for dividends and splits. I checked them against the adjusted historical share prices available at Yahoo Finance and they are close, but not identical.
Caveats and Reservations
Some of this flies in the face of common sense. Rather than just getting out the checkbook and paying as much as possible for high quality dividend growth stocks, I prefer introducing the historical average PE5 for the company in question.
As an example, please consider Procter & Gamble (NYSE:PG):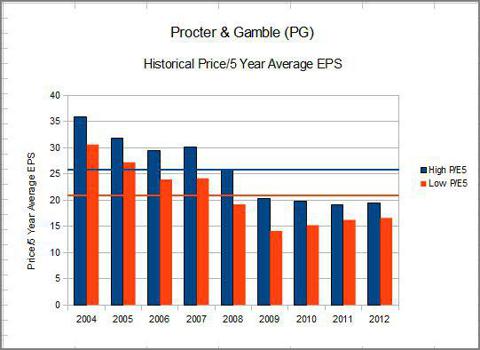 There was only one year in the past nine where an investor could buy PG at a PE5 less than 15. The historical average is 21.6. This presentation would look very similar for other high quality dividend growth names.
Disclosure: I am long PG, SPY. I wrote this article myself, and it expresses my own opinions. I am not receiving compensation for it (other than from Seeking Alpha). I have no business relationship with any company whose stock is mentioned in this article.
Additional disclosure: I'm a retail investor, and blog for the purpose of exposing my thought process to critical analysis from my fellow investors, and because I enjoy talking shop with commenters. I'm not giving advice.