We consider Phoenix New Media (FENG, or "the Company") to be the most unappreciated publicly traded Chinese media company and believe investors in FENG's undervalued shares will realize a 100% return over a 12-18 month period. Longer-term investors should compound further returns as multiple secular trends that benefit the Company continue to unfold over the next three to four years.
Despite FENG's attractive position as a multi-channel Internet company levered to inflecting mobile and online video trends, the Company has been largely ignored by the markets, as reflected in its industry-lagging valuation. As we will explain, concern over the media industry's exposure to the Chinese macro slowdown in 2012, a business model transition from 2G services to 3G in the company's mobile business (which generates approximately 40% of total revenue), and some non-fundamental factors (such as FENG's relative illiquidity and the liquidation of one of its VC investor's funds) depressed FENG's shares since its mid-2011 IPO.
Meanwhile, FENG has quietly strengthened its position as an iconic media company with the industry's most robust content-driven moat as well as the most diversified multi-channel revenues. We believe FENG is on a path to imminent, substantial, and prolonged value creation and recommend buying and holding its shares for at least 12 months and preferably several years.
Summary of Investment Thesis
Leading multi-channel media company levered to four of the most disruptive secular trends in Chinese media: (I) shift of advertising spend from offline to online, (II) proliferation of "smart" mobile devices, (III) the growth of online video, and (IV) the ongoing fragmentation of media distribution across channels and devices
Strengthening competitive moats underpinned by industry-leading content and the iconic Phoenix brand
Share gainer in oligopolistic industry with differentiated competitive position
Attractive fundamentals: trading at sell-side consensus forward 18.8x P/E (only 12.4x P/E ex-cash) and 10.4x EV/EBITDA multiples despite a cash-generative business model and outlook for sustainable 20%+ growth with expanding margins. Per our model, which calls for additional margin expansion, as we will explain, FENG's forward P/E multiples are 12.2x and 8.0x ex-cash. Robust, debt-free balance sheet with 42% of market cap in net cash
Highly under-monetized relative to peers (CPMs only 2/3 that of peers) and to its longer-term potential
The most attractive consumer demographics in the industry: highly educated (2/3 have college degrees versus just 11% of the overall Chinese Internet demo), aged 25+, wealthy (>4x income of average Chinese Internet user), and technology savvy (daily dwell time on iFeng.com is nearly double that of the average Chinese Website)
Strong management team with strategic investment and commercial backing from China's top-rated news broadcasting company, Phoenix Satellite Television Holdings Ltd. ("Phoenix TV"), which owns 52.3% of the fully diluted shares of FENG
What Really Matters
Although we have prepared a comprehensive case for the substantial appreciation of FENG's shares, we believe Pareto's Principle (80% of the effects come from 20% of the causes) particularly applies to investing. Investment success usually boils down to making a correct call on just a few critical factors that drive the vast majority of the returns. This is important to keep in mind as we analyze the rapidly evolving Chinese media industry because of the confluence of multiple momentous structural secular forces at play-it is easy to lose sight of the forest for the trees.
We believe the two factors that will matter more than all the others combined are:
FENG's ability to strengthen and sustain its substantial content-based moat
Continued success in transitioning its mobile revenue base from FENG's legacy 2G (feature phone-driven) business to its high-growth 3G (smartphone-driven) business
Background
Throughout the history of the media sector, the greatest value has been created by companies that dominate either one end of the media value chain (content) or the other (distribution). The relative power (and therefore worth) of content companies vis-à-vis distribution companies has varied over time with the state of technology innovation. During periods of high technology innovation, which has tended to disrupt media delivery, content companies have been forced to adapt to new technology demands, and during periods of relative stability in distribution, content has been king.
The advent of the Internet changed the media sector to such a degree that this balance of power has never been more difficult to analyze. First, the Internet provided the medium for a dramatic acceleration in technology innovation. Second, the Internet blurred the previously hard lines of separation between content and distribution. Third, the Internet democratized content by challenging the business model of paid content itself and by introducing search and social networks as gateways, thereby connecting consumers directly to an increasingly long tail of content. Finally, the Internet enabled consumers as key actors across the media value chain, especially in both content production and distribution.
The Importance of Content in the Chinese Internet Industry
In China, home of the world's most rapidly evolving media sector, the tide of relative value is shifting to the benefit of online content companies. As in the US and other developed markets, share of distribution was the most prominent initial battleground on the Internet. At first, it was access (subscribers), then it was home page views, then downloads (Internet-enabled software), then searches, and now, a combination of all of those through multiple channels: Web, mobile, software, and, increasingly, TV.
By now, the broad infrastructure for online distribution has been laid out by companies such as Tencent (OTCPK:TCTZF), Baidu (NASDAQ:BIDU), Qihoo360 (NYSE:QIHU), Sina (SINA), and Sohu.Com (NASDAQ:SOHU). Market shares are relatively stable, though still subject to occasional disruptions. The maturity of China's online distribution landscape is not too dissimilar from that of the US. The following two charts show this dynamic reflected in the market by way of multiple contraction. To normalize for variance in business models and the relative maturity levels between companies, we used as our common metric the forward sales multiples, since advertising revenue is a common denominator of media businesses.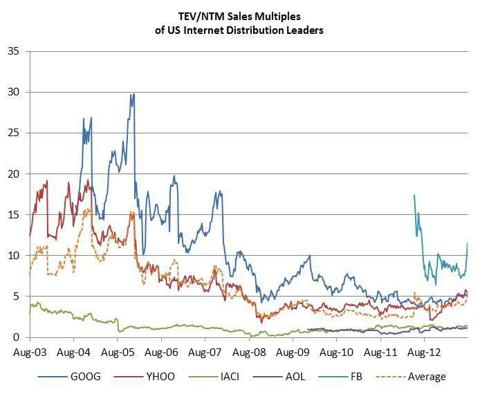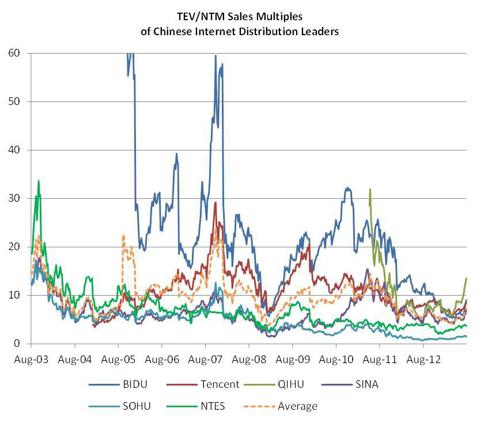 In content, however, unlike the US, China's battle for supremacy is just getting started. Specialists equivalent to American Internet content leaders such as Yelp (YELP), Zillow (NASDAQ:Z), TripAdvisor (NASDAQ:TRIP), and Netflix (NASDAQ:NFLX) are just beginning to emerge but have yet to take center stage. The US markets today are differentially rewarding new media businesses that are taking share of their respective verticals' online audience and demonstrating the potential for accelerating and sustainable content monetization, as the following chart shows.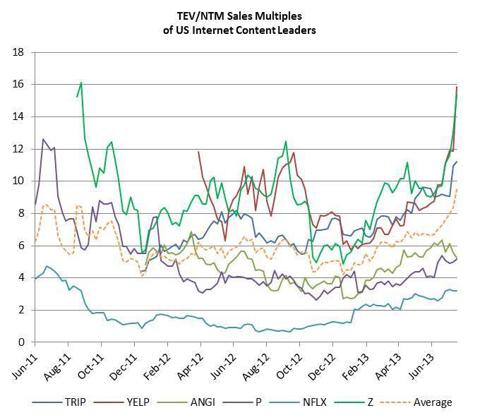 Content leaders in the US are experiencing multiple expansion on multiples of sales that were already nearly double that of the incumbent Internet leaders', and we believe the Chinese counterparts will experience similar value appreciation in the coming years.
Furthermore, we believe that the relative value of content will be even more pronounced in China as the leading Internet incumbents battle to retain share as content emerges in importance while also adapting to multiple coincident changes in the distribution landscape itself: the accelerated level (beyond US standards) of mobile device-driven audience fragmentation, the accelerated share gains (well beyond US standards) of online video content, a more fragmented social networking fabric (app- and software-driven via multiple products such as WeChat/Weixin, Weibo, etc. versus primarily Web-driven through the monopoly that is FB), and of course, government censorship (media is the most regulated sector in China).
Throughout the next multi-year evolutionary phase in China's dynamic media sector, much of the value creation will accrue to companies with compelling differentiated content-especially those that can adapt their content strategies to the rapidly growing mobile channel, which has already surpassed the desktop Internet channel as the primary gateway to Internet content (see chart below from KPCB).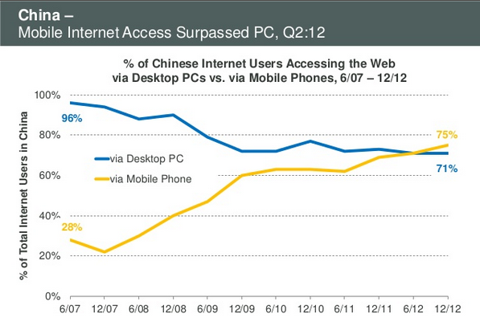 Our conclusion is not lost on China's Internet giants, as evidenced by the recent spike in M&A activity and corporate investment in Internet content (examples include the merger of online video leader Youku with rival Tudou and the hundreds of millions of dollars being invested in online video content-at a loss, we might add-by Baidu, Tencent, and Sohu) as well as mobile Internet (examples include Baidu's recent acquisition of 91 Wireless and the billions of dollars' worth of strategic funds earmarked for mobile acquisitions at BIDU, Tencent, and Alibaba Group, among various others).
Monetization always follows eyeballs, since consumers are much quicker to adapt to technological innovation than advertisers. The following charts from Miaozhen, the "Nielsen of China," illustrate the dramatic share gains in total Chinese Web impressions realized by Internet video and vertical content players, many of which did not even exist (or not with any kind of scale) five years ago.

The next phase of online advertising spend in China will be driven by the monetization of these emerging content impressions, and as content consumption via mobile devices begins to match, and might eventually even overtake, that of the Web, companies such as FENG with a demonstrated ability to adapt their differentiated content will benefit the most.
Unlike the aforementioned US Internet content leaders or Chinese video content leader YOKU, most of which trade at nose-bleed multiples that very fully express the speculative value of their longer-term monetization potential, FENG trades at depressed absolute and relative multiples that offer all of the upside from these mega-trends for free while providing a fundamental margin of safety. Ironically, as we will show, this is true despite the fact that FENG is showing more success in the monetization of its mobile efforts (which account for nearly half its total revenue) than any comparable Chinese or American company.
I. Company History
FENG was established in 1998 as a majority-owned subsidiary of Phoenix TV, now a separately traded public company listed on the Hong Kong Stock Exchange (Bloomberg ticker 2008 HK). Phoenix TV itself was established in 1996 as a joint venture between founder Changle Liu (45%), News Corp.'s Star TV (45%), and Chinese state-owned broadcasting company CCTV (10%, a stake which was subsequently sold to Bank of China Group Investment, an investment arm of state-owned Bank of China). Mr. Liu couldn't have chosen better partners: the world's most successful international diversified media company and the Chinese government itself. Unsurprisingly, the JV was a success, and Phoenix TV went public in 2000. In 2006, another state-owned entity, China Mobile, became the second largest shareholder of Phoenix TV.
Phoenix TV established FENG for three reasons. First, it recognized as early as 1998 that much of the future growth of Chinese media would occur through new media channels: the Web, mobile, IP-networked TV, and other disruptive channels of the future. Second, it recognized that building a leading company with a new media-focused mandate required separate management. Lastly, it recognized that bringing on different investors with more experience in the digital world was the optimal way to govern the company. Hence, after investment from Morningside, a leading PE/VC firm in the Greater China region and Bertelsmann Asia, FENG was subsequently spun off in 2007 as an independently governed and operated company. Intel Capital, which has since sold its shares, also invested in 2009.
FENG's largest shareholders include Phoenix TV, the aforementioned VCs, the management team, and indirectly, News Corp., China Mobile, and Bank of China Group Investment.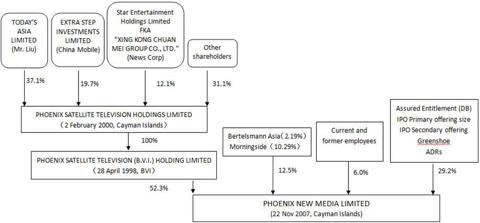 FENG's pedigree is noteworthy, and within the Chinese media industry, it is not only unique, but also a major source of competitive advantage.
II. Business Model
FENG operates various products that can be categorized into four core consumer offerings-Web portal, online games, online video, and mobile services-which we separate into three revenue categories: advertising, mobile, and online games. FENG primarily offers online games through its Web portal, though it has made significant investments in its mobile gaming effort, and management expects mobile games to make up an increasingly larger portion of the gaming revenue going forward. The mobile business, which is mid-transition, can be further divided into the legacy 2G (feature phone-based) business and the high growth 3G (smartphone-based) business.
We review each product offering and its business model below.
Web Channel: ifeng.com
Similar to Web portals operated by other industry peers such as SOHU and SINA, ifeng.com has over 40 interest-based verticals (such as News, Finance, Fashion, History, etc.), interactive services (blogs, message boards, and other online social features), and a Web-based online game platform.
The Web channel's primary business model is online advertising, with ads sold via rate cards on a CPM basis by a combination of FENG's own internal sales force as well as third-party agencies that charge commissions for their placements.
Although ifeng.com attracts a more targeted premium demo and offers highly differentiated proprietary news content, other online portals can be considered direct competitors, since they are all competing for share of online display advertising spend.
ifeng.com's online game platform allows for the incremental monetization of FENG's audience by operating third-party games that charge gamers for virtual goods (this has become the standard online game business model in China).
Online Video Channel: v.ifeng.com
FENG's video channel offers four different video products and services:
Free Online Video On Demand: Short clips of news programs, interviews, documentaries and professionally edited short-form programs
Live Phoenix TV Broadcasts: Live streams of Phoenix TV's flagship channels, the Phoenix Chinese Channel and Phoenix InfoNews Channel, to which FENG has exclusive access
Online Video Subscription: Advertisement-free premium content such as feature-length documentaries and exclusive online Phoenix TV programming
Pay-Per-View Services: Access to premium videos from vip.v.ifeng.com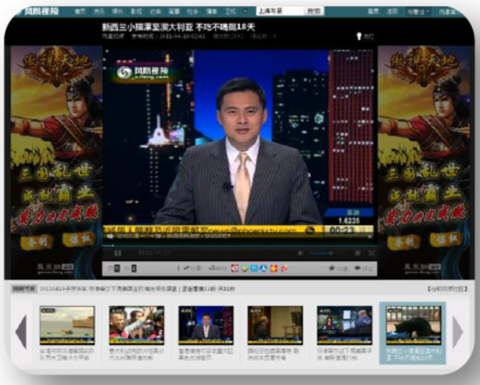 Unlike online video leader YOKU and the video divisions of diversified Internet companies such as SOHU (Sohu Video), BIDU (iQiyi), and Tencent (v.qq.com), FENG's video business is the only one in China that offers short-form video exclusively. Much of the recent jockeying for market leadership among Chinese video leaders has focused on the long-form video format, which is where most of the hundreds of millions of dollars spent industry-wide on bidding for third-party studio-developed content have been targeted. Despite forgoing the very expensive path to traffic growth of buying long-form video content, instead leveraging its existing content base in its online video offering, FENG's online video channel ranks as a top 10 property and is gaining share, ranked eighth or ninth depending on the third-party research firm.
FENG's online video business leverages three different business models: advertising, subscription, and on-demand/pay-per-view. Of note, it is the only currently profitable online video business in China.
Mobile Channel: 3g.ifeng.com, Mobile Value-Added Services (MVAS), and Mobile Apps
3G.ifeng.com is a browser‐based WAP portal site which targets both smartphone and Internet-enabled feature phone users. Similar to ifeng.com, the mobile site features an array of interest‐based and interactive verticals, as well as a mobile video product for watching free mobile video on demand (VOD).
Mobile applications for smartphones (3G) include:
ifeng Video: Video news and other video content
ifeng News: Text and image based news
ifeng FM: Audio news and other audio content
ifeng Book: Digital format books licensed from third party publishers
ifeng Weekly: Collection of digital version magazines
Mobile Value-Added Services (MVAS) include both FENG's legacy 2G and its thriving 3G business segments. Some representative products and services include:
Mobile newspaper service that reformats content for mobile users of China Mobile, China Unicom and China Telecom
Mobile video services offered via subscription or pay‐per‐view for mobile users of China Mobile and China Telecom
Digital book and other content though China Mobile's Digital Reading Platform
>150 mobile social games through telecom carrier gaming platforms
Wireless Valued Added Services (legacy 2G services) that includes personal ring-back tones, surveys, quizzes, picture downloads and MMS-based messaging services

Over time, FENG intends to fully transition out of its 2G business (a profitable "slowly melting ice cube"), which charges users for its products and services (e.g. SMS-based data products), in favor of its newer, high growth, 3G businesses, which operate a combination of advertising and paid service business models.
A minority of FENG's 3G revenue comes from an exclusive contract with China Mobile in which the Company provides SMS/MMS products and premium content to China Mobile's GoTone VIP users.
Below is a summary quarterly income statement which breaks down the revenue contributions for each major business on a quarterly basis from 2010 onward. We categorize FENG's business a bit differently than sell-side analysts or the Company itself does, because we believe investors should care most about the growth businesses, which we have separated from the legacy 2G mobile business and organized by major revenue segment to demonstrate the momentum in FENG's emerging businesses that is not as apparent when its revenue is simply categorized into either advertising or paid services. As discussed in the beginning of this section, we view FENG's business as having three major revenue segments:
Advertising: a steadily growing business with latent pricing power that is gaining share on both Web and mobile channels
Mobile: a combination of legacy 2G revenue (paid services) and high growth 3G revenue driven by smartphone applications/services such as mobile video, digital reader, and, increasingly, mobile games (mostly paid services)
Games and Other: a catch-all category for various Web-based paid service products and, mostly, FENG's online Web gaming platform, which was launched in 2Q12 and is quickly gaining share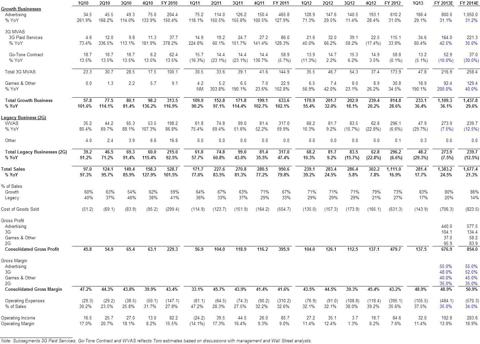 III. Competitive Position
Our bullish view of FENG's long-term prospects is based on two important competitive moats that differentiate the Company from every competitor: the Phoenix brand and FENG's multi-faceted content strategy, both of which appear to be strengthening over time.
The Phoenix Brand
American investors will be unfamiliar with the brand equity that Phoenix New Media and Phoenix TV enjoy in the Greater China region. Since its launch, the Phoenix brand has steadily gained consumer awareness, trust, and loyalty as the premium news and high end lifestyle brand in Chinese media. For the benefit of those who have not been to China to appreciate this, we note below a few of the numerous examples of third-party validation.
The World Brand Laboratory, the leading independent consultancy of brand valuation and marketing strategy in the world, ranked Phoenix as the #2 media brand in China, only behind the ubiquitous state-owned CCTV, in its "2012 China's 500 Most Valuable Brands" survey.
CTR China, the leading marketing information and insight provider in China and a WPP company (WPP is the world's largest media agency), found that a Phoenix channel was the #1 most-watched channel in 2H12, ahead of CCTV. Past studies by CTR have consistently shown this trend. CTR also found that Phoenix viewership by China's most sought-after marketing "demo," business executives, rose by 28% year over year in 2012.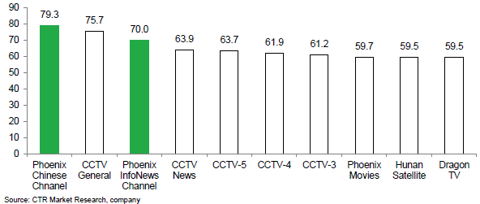 During the past decade, the three Phoenix channels have had more audience market share than all the other 28 foreign satellite TV channels that broadcast in China combined.
Unsurprisingly, FENG's online portal, ifeng.com, has gained commensurate stature online. ifeng.com is a general interest portal with over 40 channels that is anchored by its news channel, which consistently ranks as the #1 Web news channel in China. The popularity of its news channel has enabled the portal's other channels to benefit from substantial spillover traffic. Per iResearch's iUserTracker rankings of monthly unique visitation shown below, ifeng.com was the sixth most visited Chinese website of any kind, behind companies with market caps of ~$90 billion (Tencent), ~$47 billion , $4.9 billion , $2.4 billion , and ~$8 billion. FENG actually ranks ahead of companies with market caps of ~$8.2 billion (NetEase (NASDAQ:NTES)) and $4.2 billion (Youku (NYSE:YOKU)), the privately held Chinese e-commerce juggernaut Taobao (which is single-handedly responsible for doubling YHOO's market cap over the past twelve months), and the widely popular Weibo service (the "Twitter of China").
FENG's market cap? Barely half a billion USD, of which almost 40% is in net cash! If nothing else, FENG is probably the most egregiously mis-priced media company in the world on a traffic basis.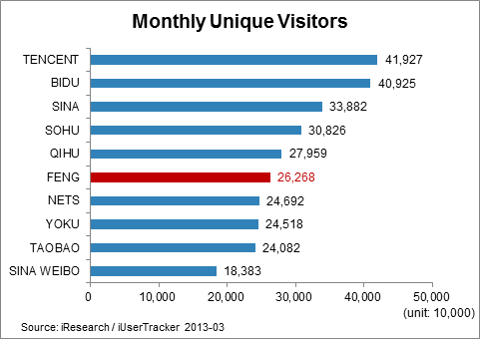 FENG's 3G mobile portal, ranked either third or fourth most trafficked mobile site by various third-party research firms, is even more relatively successful.
The demographic profile of FENG's users deserves special mention, and in this case, a picture really is worth a thousand words: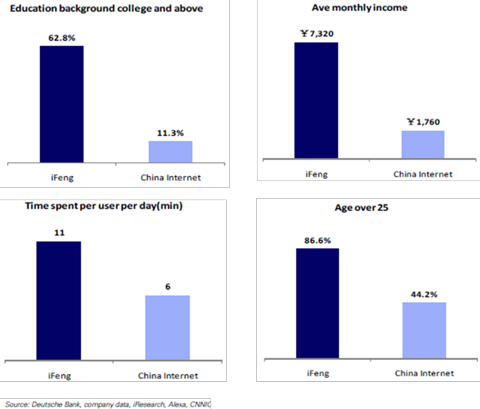 FENG's Best-of-Breed Content
FENG derives its content from four sources: internal production and editorial teams, exclusive access to content from parent company Phoenix TV, aggregation from commercial partners and other third parties, and FENG's users themselves (user-generated content). FENG employs a team of over 500 editors and reporters, aggregates content from over 400 TV stations and streaming media producers, cooperates with over 2,000 part-time video reporters, and moderates user-generated content submissions from a user base of over 262 million unique monthly visitors via the Web and 18 million unique daily visitors from mobile devices. Of note, FENG's content partners include the most prominent and reputable publishers, such as Reuters, Beijing Satellite TV, China News Service, and even top TV competitor CCTV.
The chart below, from 2012 (source: Morgan Stanley), shows the significant level of engagement that FENG's content engenders: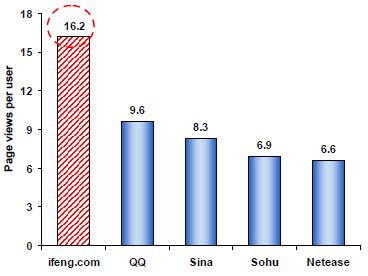 During a period in the evolution of Chinese Internet in which websites are losing ground to mobile sites, ifeng.com was the only top-five portal that is seeing month-over-month increases in time spent on its site. Unique daily visitors to ifeng.com grew 49% year-on-year in 1Q13, far outpacing all peers, to 34 million per day, and daily page views grew 11% year-on-year. FENG's online video channel saw even faster growth, with 61% year-on-year daily unique visitor growth and 63% year-on-year page view growth. As of 1Q13, ifeng.com surpassed Netease.com in visitation for the first time to become the fourth most trafficked portal.
Given the highly protectionist stance that the Chinese government has on Internet content and its censorship, we believe that FENG, as a result of its long-standing close relationship to the Chinese government, is uniquely positioned to continue to serve the Chinese Internet audience as the dominant source of worldwide news coverage in China.
Each of FENG's four content sources plays a key role in FENG's overall user acquisition strategy, as evidenced by the fact that the former two combined and the latter two combined each generate approximately half of all of FENG's users.
More importantly, each content source is a critical component of the virtuous cycle that is allowing FENG to gain share of audience during the most competitive era in Chinese Internet history. Its differentiated premium content attracts the largest affiliate network of producers and publishers that desire brand association with Phoenix, which in turn allows FENG to service its audience with the most comprehensive premium offering, which in turn attracts China's most desirable demo, which in turn contributes both highly qualified social/user-generated content as well as viral user referrals, which in turn attracts some of the world's most sophisticated advertisers and agencies, which in turn will allow FENG to offer its premium advertising product at a premium price, which in turn will fund FENG's content operation, and so on. As FENG scales, its moat strengthens by virtue of this positive feedback loop.
More than anything else, it is this last point that drives our differentially bullish view of FENG's terminal value. We believe FENG will continue to take share and be able to demand an effective CPM premium across all its advertising channels and products, not only by raising prices but also by bundling advertising across its various properties into a uniquely multi-channel ad product.
IV. Monetization Upside
As discussed previously, FENG operates both an advertising business model as well as a paid services business model. In this report, we will focus on advertising monetization, leaving upside from emerging services such as mobile and gaming for a forthcoming update. Therefore, we will only analyze a portion of FENG's monetization upside in this report.
FENG's management team has historically focused on gaining share of advertisers by offering substantial discounts relative to other top display advertising competitors such as SOHU and SINA, which has allowed the company to quickly gain large advertising customers across a variety of high-growth consumer segments: in order of largest to smallest, auto (29% of Q1 revenue), food and beverage (20%), e-commerce, medical services, financial services, IT, and other consumer goods.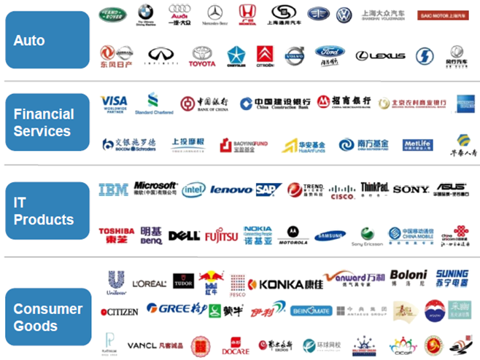 Approximately 40% of FENG's advertisers are large multinationals (Fortune 500 companies such as Unilever, IBM, BMW, Visa, GE, and their foreign equivalents) that can allocate substantially more to FENG, so there is upside for growth even without net customer adds as FENG gains share of customer wallet. However, customer growth is not a problem for the Company, which had 197 advertising customers in 2008 but ended 2012 with 522 (a CAGR of over 27%) and ended the first quarter of 2013 with 241, on pace to significantly improve on the 2012 number.
We have not been able to find any publicly traded online peers that are adding customers at this rate, so if FENG's customer growth is not actually industry-leading, it is certainly close to the top.
Average spend per customer has increased from 204,000 RMB in 2008 to 691,000 as of 1Q13, which represents an impressive 33% CAGR.
There are three key considerations in assessing FENG's advertising-related monetization opportunity: FENG's upside relative to current peers, relative to its own business growth, and, longer-term, relative to peers in developed countries.
As FENG's customer base has grown, the management team has slowly started to increase prices closer to their fair market rates. In 4Q10, FENG had a monetization rate of approximately 33% that of Sohu.com, 37% that of Sina.com, and 58% that of Netease.com. To provide some American context, a valid analog would be Forbes.com, the top business brand in online advertising, charging CPMs that are roughly one third those of Yahoo or MSN.com and half that of AOL. Forbes.com commands an approximate effective CPM of $136 compared to the average online display ad, which is sold somewhere in the range of $1-50 CPMs, depending on the quality of the site in question.
As of 1Q13, FENG had closed the mile-wide CPM gap a bit to a 35% discount to comparable peers. Testament to FENG's increasing pricing power, the Company's very low historical churn of under 5% was unaffected, and both customer count and average spend grew significantly throughout this period. FENG plans to close the CPM pricing gap sometime over the course of the next 24 months, and we expect that incremental monetization to be a key driver of margin expansion.
Of course, the most obvious source of growth for FENG is simply top-line growth. We've modeled about 30% growth in advertising for 2013 and 2014, in line with last quarter's year-on-year growth, which we consider conservative given the fact that FENG is gaining share in an online advertising market that iResearch forecasts to grow 36% in 2013, 34% in 2014, and 26% in 2015 (a CAGR of 32% between 2013-2015). FENG's advertising revenue grew 30% from 470 million RMB in 2011 to 610 million RMB in 2012, which was the toughest year for the Chinese media sector since the 2008 global recession. Of the top four portals-SOHU, SINA, NTES, and FENG, in that order-FENG's share of ad spend increased from 8.2% in 2011 to 9.2% in 2012 and continues to increase in 2013.
Another view of the secular growth offered by China comes from Magna Global, the strategic global media unit of Interpublic Group (one of the world's largest advertising agencies). Magna Global predicts that overall advertising spend will actually accelerate after 2013, from 11.6% to 12.1% and 12.6% in 2014 and 2015, respectively. Note that these growth figures are for overall media spend, of which Internet is quickly taking share from print, TV, and radio. Magna Global expects China to become the second largest media market by 2016 and points to two structural growth drivers that have reliably predicted accelerated growth in major media markets worldwide: low advertising per capita (0.46% of GDP versus 1.02% in the US), and a fast-growing middle class.
Where we differ most from sell-side analyst estimates is in our view of FENG's ability to leverage uniquely premium content and a uniquely high-end customer base to exert its media pricing power. Although we acknowledge that this may play out over the next few years and not quarters, every major developed media market in the world has ultimately rewarded the top properties with the top demos with the top prices. Given the rate card chart of US media market CPMs that we have compiled below, it is hard for us to believe that in two or three years, as the Chinese media market matures and advertising ROI becomes an increasingly important factor in budget allocation, FENG will be pricing its inventory at anything below a 50% premium to its current comps (as opposed to the egregious discount it offers today).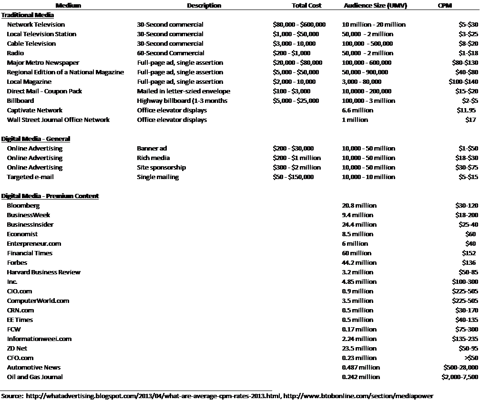 We believe that another important factor beyond premium audience and premium customers will drive FENG's long-term pricing power: a uniquely multi-channel offering. No other major media company in China can offer a combination of TV (which FENG can offer via parent company Phoenix TV), Web, mobile, and online video exposure, certainly not at the scale that FENG can. FENG is a company years ahead of the media convergence curve, and as we show in the chart below, even the most dominant players in Chinese news media have not proven their ability to operate and monetize a multi-channel offering as well as FENG: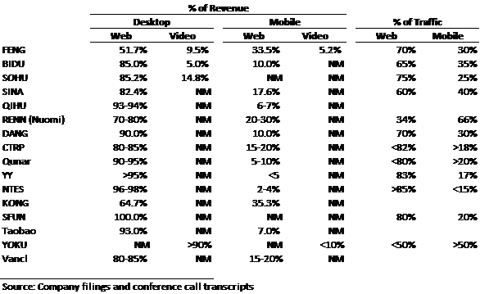 In summary, we believe that one of the largest reasons FENG has been overlooked is because investors do not appreciate the company's substantial monetization upside and the drivers behind it.
V. Source of Opportunity (Why FENG Is Cheap)
Why, then, is uniquely positioned FENG so cheap?
China taint. Although so far in 2013, investors have once again developed an appetite for the explosive growth available in the Chinese Internet sector, recall that the second half of 2011, when FENG went public, marked the beginning of the most bearish investor group-think in memory for Chinese equities. Chinese equity prices traded not on fundamentals, but on concerns over governance exacerbated by Chinese short sellers, concerns over the macro slowdown (to "only" 7% GDP growth), fear that the once-a-decade political transition of 2012 would bring about destructive policy changes, and of course, the technical market signals that sent Chinese indexes into a bear market even as US equities rose to all-time records. Not only was FENG in a bad neighborhood, it also received the full discount of being a small-cap, relatively illiquid stock.
Irrationally slow 2012 ad market. The fears of a Chinese hard landing and an uncertain policy outlook in 2012 were not merely at the forefront of investors' minds. Marketing departments worldwide too considered those risks as they cautiously allocated their advertising budgets, which resulted in the slowest Chinese ad market relative to expectations since 2008. The chart below, from the CTR China Advertising Market Year Book of 2012 illustrates this irrational contraction in ad spending relative to the economic realities (which are evident in retrospect but were not so clear as advertising budgets were being allocated in early 2012, when the prevailing market group-think pointed to a Chinese hard landing in 2012 as likely):

Much of the resurgence of Chinese media stocks in 2013 is being driven by the predictable snapback in ad budgets so far in 2013. Based on our due diligence, the feedback we received from AdMaster, one of China's largest digital advertising tracking service providers, is representative of the market consensus: In an April survey of over 350 marketing brands, 76% had or planned to increase their ad spending in 2013 by an average of 38% year-on-year. The strong top-line growth reported so far by companies in the sector such as FENG itself (in Q1) as well as its online peers BIDU, SOHU, SINA, YOKU, et. al. are not surprising given this ad snapback in 2013, which we expect to accelerate in the second half of 2013 as the positive effects of second-half seasonality kick in.
Transition to 3G. Approximately 40% of FENG's revenue is derived from the monetization of its mobile users. The rapid transition from feature phones (which use second-generation, or 2G, telecommunication networks), the dominant handset of the Chinese mobile market until 2011, to smartphones (which use the much faster 3G technology) forced any business dependent on mobile monetization, FENG included, to transition products and monetization strategies to 3G. As with any technology paradigm shift, monetization lags platform adoption, and FENG was temporarily caught in transition from a legacy business to an emerging business that is now poised for phenomenal growth in the coming years. Even the few investors who did enough work to fully understand this dynamic in FENG's business generally sat this transition out.
Intel Capital liquidation. Through late 2011, 2012, and early 2013, VC investor Intel Capital liquidated a portfolio of Chinese investments that included FENG. After conversion from common shares to ADS, Intel sold over 5.5 million shares in the open market during a five-quarter period when FENG shares had their lowest liquidity. The technical pressure from this liquidation, which had nothing to do with FENG as an investment in particular, contributed to FENG's weak performance throughout 2012. No other insider or VC has sold since the Company went public, and we have confirmed with the management team that this was an isolated event. Furthermore, FENG's liquidity has more than quadrupled so far in 2013 and continues to increase as larger institutions are beginning to accumulate.
Unappreciated stature as leading source of premium news and lifestyle content. It is difficult for investors without substantial on-the-ground experience in China's major media markets to understand FENG's competitive positioning. Ironically, it is the investor who lives in the US or another developed media market who is best suited to appreciate the long-term monetization upside of a company in FENG's competitive position, since the changes playing out in China's media pricing have already occurred in developed markets.
Unappreciated potential as a leader in China's mobile evolution. The hot investment theme of 2013 in Chinese Internet is mobile, so much so that the previously hated online gaming sector has approximately doubled in total market cap so far in 2013 from 2012 levels as investors buy the green shoots of growth of mobile gaming. Even a company as established as BIDU has appreciated almost 60% since announcing the acquisition of a mobile app store operator and then reporting better than expected mobile penetration. And, while FENG certainly has more work to do to fully transition out of its legacy wireless business, KONG, a pure-play mobile entertainment company that used to exclusively operate 2G services has nearly doubled in price this year on the back of its progress in transitioning to 3G.
VI. Valuation
Below are FENG's trading multiples as of 8/8/2013: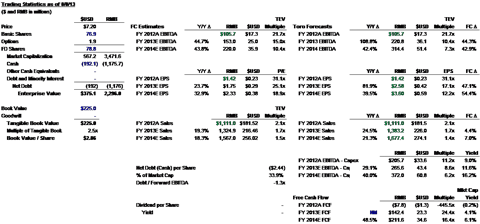 The valuation chart below shows that FENG is significantly undervalued when compared to Chinese or US peers alike. While comps are not always indicative of fair value, we note that one rarely finds relative mis-pricings of this magnitude for companies that are as important and prominent as FENG is in its industry.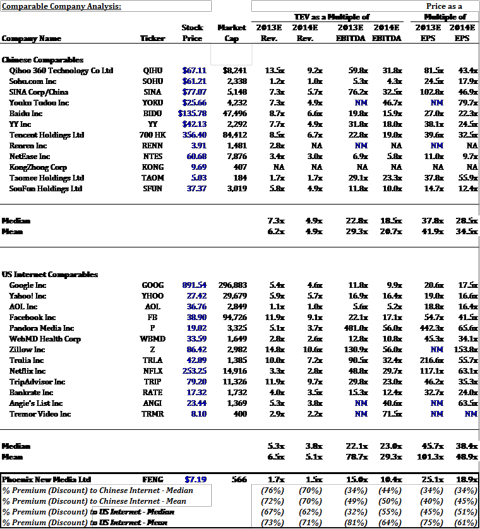 Multiple expansion alone could generate the type of upside we assign to this investment opportunity, and we believe a substantial re-rating is imminent as the Company continues to execute ahead of expectations. Already this year, the positive surprise of the first quarter results coupled with non-fundamental factors such as the increased trading liquidity and turn in sentiment over the Chinese Internet sector have begun the re-rating process.
However, it is the earnings growth potential that excites us the most. As long-term investors, one of our favorite investment strategies is buying secular winners during cyclical troughs, and then scaling our investment as the eventual snapback begins to get reflected in financial performance. That is precisely the opportunity with FENG right now. Below is a chart that shows the speed and magnitude of the margin snapback: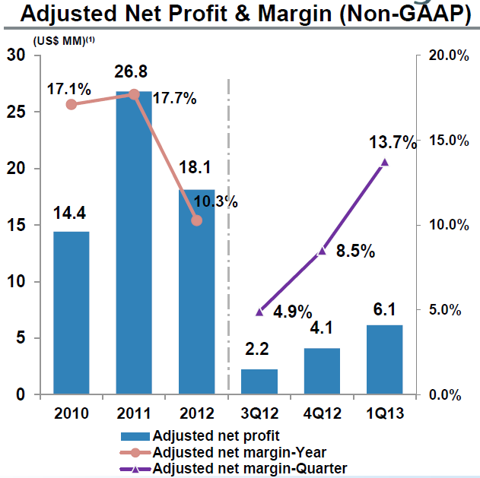 The Company is rebounding strongly from the temporary industry-wide contraction in ad spending in 2012, gaining traction with its mobile 3G initiatives, and has substantial heretofore untapped monetization tailwinds that should drive strong performance throughout the rest of 2013 and the foreseeable future.
VII. Key Risks
We believe FENG's attractive valuation, exceptional balance sheet, and cash generative business model offer a significant margin of safety, but investors should be aware of the following key risks:
Loss of exclusive content contract with parent company Phoenix TV. Although it is difficult to believe that Phoenix TV, both the founding entity and still majority owner of an asset as highly strategic as FENG, would somehow revoke or impair the contract that allows FENG exclusive access to Phoenix content, it is a possibility, however remote. The commercial contract between the two companies expires at the end of the first quarter of 2016, at which point we fully expect it to be renewed without any issues. Not only is Phoenix TV's equity stake in FENG approximately 15% of its own market cap, FENG is a critical component of its business strategy, enabling broader distribution of Phoenix TV content than possible through Phoenix TV's own audience reach and serving as an important brand-builder in an increasingly online world.
Unanticipated changes to government regulation of the media industry. Although this risk is not particular to FENG alone and applies to its entire competitive set, the media industry is a censored and highly regulated industry in China. We believe FENG's longstanding collaborative relationship with the Chinese government makes it one of the least likely to be negatively impacted by regulatory change, but the risk is nevertheless one to consider.
Unanticipated policy changes from mobile channel partner China Mobile. Although the legacy 2G MVAS business is increasingly less of FENG's revenue, there is risk that China Mobile, the most powerful carrier in China, might impose policy changes that negatively impact FENG's ability to monetize its 2G paid services. However, we note again that this is not a risk specific to FENG but rather, its industry, and China Mobile's equity stake in Phoenix TV and therefore FENG ameliorates this risk. Of note, Phoenix TV is China Mobile's only investment in the media sector.
Unforeseen senior management changes. Lily Liu, the former CFO of FENG, left this year to spend more time with her family. We have known Lily for several years and, as a young mother, we understand her decision and are confident that her departure was entirely driven by family and does not reflect on FENG in any way. COO Ya Li, who was the former CFO of the Company, has assumed her duties for the time being while an executive search is under way. Any further departures from the management team could impair execution.
VIII. Conclusion
FENG provides investors an opportunity to buy a secular winner coming out of a cyclical trough and gain exposure to some of the highest growth trends in global media without paying the nosebleed multiples often associated with such investment opportunities. FENG's robust balance sheet and highly undervalued market price offer an outstanding risk/reward profile ahead of what should be a banner year for FENG. As the Chinese media sector matures and the government does its best to transition the Chinese economy to one that is more overweight domestic consumption, we view FENG as a uniquely positioned beneficiary of both macroeconomic and disruptive technology trends that should persist for many years.
More simply, we feel that the ~40-70% discount to peers that the market is assigning FENG, the sixth largest Internet business in China (by traffic), by far the largest Internet market in the world (by traffic), is egregious, especially when an ex-cash equity value (or enterprise value) and the following facts are considered: FENG is well-diversified into mobile and online video, is profitable in every business segment, is taking share of Chinese Internet audience despite its already lofty top 6 position, is starting to exert its pricing power to expand margins into an ad market that is being driven by 30% secular growth, and is governed and managed by world-class directors and investors. $7/ADS simply does not compute, and we are calling for a substantial upside correction with a 12-18 month price target of $14 as the Company's value becomes undeniably apparent through its financial performance.
Disclosure: I am long FENG, BIDU. I wrote this article myself, and it expresses my own opinions. I am not receiving compensation for it. I have no business relationship with any company whose stock is mentioned in this article.
Additional disclosure: Refer to additional disclosures here: toroip.com/disclaimer-feng.html