Synopsis
China's smartphone market is huge. Local vendors are continuing to gain share. Apple (NASDAQ:AAPL) is managing to hold on to its high end market share, but local vendors are about to move upstream. Although Android now commands more than 68% of the smartphone market in China, it is not exactly turning out the way Google (NASDAQ:GOOG) may have wanted. Windows Phone share in China, what little there is, is currently skewed towards the high end. But the recent introduction of the Nokia (NYSE:NOK) Lumia 520 may change that.
China's Market Size Remains Staggering
The Chinese are expected to purchase 240 MM smartphones in 2013. To put this market size in perspective, India's market in 2013 is expected to be only 30MM smartphones. The global total is expected to be about 840 MM, which means that almost one in three smartphones sold worldwide will be in China. It is for this reason that no matter how fierce the competition is turning out to be, all major handset vendors are desperately trying to get a piece of this market, which is more than twice the size (by units) of the US market.
China OS Market Share Dominated by Android
The chart below shows OS market share in China's smartphone market in units as a percentage of new shipments. With respect to the installed base, Android recently crossed over 50% of the market.

Source: Kantar
We see that BlackBerry (BBRY) is all but gone and fully expect the 1.7% that Symbian has left to go to zero over the next few months.
Apple Market Share Range-Bound in China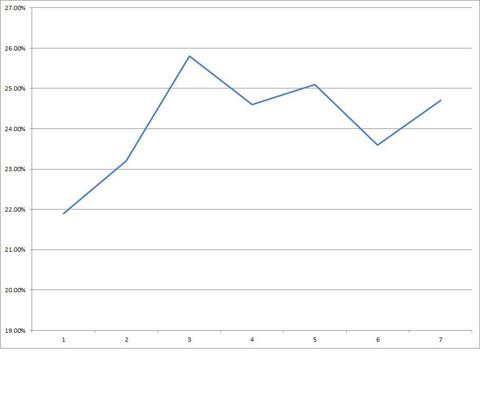 Source: Kantar
Although Apple's market share in China has seen modest ups and downs over the past two quarters, its overall units continue to see decent growth given that the market, overall, is growing -- thus stagnant market share does not mean stagnant sales. Given that much of the growth is taking place in the low end of the market where Apple does not currently play, these market share statistics suggest that Apple's market share at the high end remains quite strong in China.
The main issue for Apple in China is that Lenovo, Huawei, and ZTE are all creeping up the food chain. No longer satisfied with playing only on the low end of the market, these formidable competitors are starting to build more sophisticated phones. Because the Chinese market is driven so much by specs (bigger screen, faster processor, etc.), which consumers there equate as value for their money, Apple may have to increase its refresh rate to hold on to its high end share.
Impact of iPhone 5C
Apple is reportedly preparing a lower priced iPhone for the world market. It has been rumored to be in the $300-$400 range. However, news sources have suggested that this price range may be too high for the Chinese market. Thus, it is unclear what the presence of such a phone will have in China. My own belief is that such a phone would still help Apple consolidate its market share in the middle to upper part of the smartphone market without crushing its gross margins, which would be the case if the company decided to take on the lower end.
Windows Share Up-ticks as L520 Counterattacks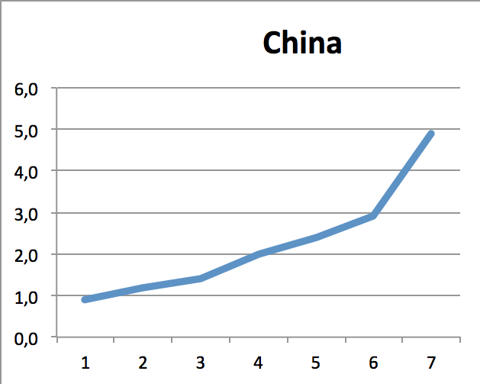 Source: Kantar; X-Axis: Dec 2012 - Jun 2013; Y-Axis: Windows Share
In the chart above, the Lumia 520 had been released for only two months. The knee of the curve in months 6 and 7 above, therefore, are directly correlated to the release of this low-priced model. We expect that sales continued to grow in the month of July and so expect that Windows market share in China probably up-ticked further heading into August.
Nokia's Chinese Prospects Bifurcated
The following chart shows the split of the Windows Phone market in China as a percent of the embedded base at the end of June: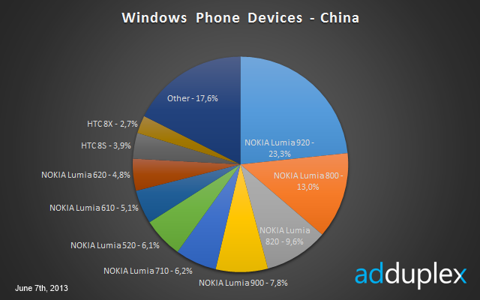 Source: adduplex
There are some oddities shown in this graph. First, we would expect a "poor" country like China to have a distribution that would favor lower cost phones. However, this chart shows that the high-priced Lumia 920 is the most popular Windows smartphone in China. In comparison, lower priced phones like the Lumia 620 have much lower share. The Lumia 520 was available for only a couple of months when this snapshot was taken. We expect that model to drive significant additional market share for Nokia in China in the coming quarter. With respect to the high end, the modest success of the Lumia 920 suggests that the Lumia 1020 should see some reasonable demand in China once Nokia releases it in China on August 9th. In fact, I will predict that over the next twelve months, Nokia will probably sell more Lumia 1020s in China than it will in the US.
My prediction is predicated, however, on the assumption that Nokia will not, once again, find itself severely supply constrained in China as it was on initial release of the 920 and especially the 920T. For those models, the local carriers had advertised heavily only to find no supply for several months. (There are, in fact three world markets for which the L1020 must start off with decent supply: China, Germany, and Holland.) Nokia cannot afford to frustrate its customers on two successive flagship product cycles. Given what is currently unfolding with the US launch of the L1020, it appears Nokia is ready to commit some capital to make sure initial supplies are ample this time around.
So overall, we believe Nokia is likely to gain some market share at the two ends of the Chinese market in the coming year. We expect Apple to target the middle of the market with its cost reduced iPhone expected later this year. As a combination of these two vendor trajectories, we expect Samsung (OTC:SSNLF) to lose some modest share in China for the rest of this year as we view its current monstrous market share there as unsustainable given the level of competition.
Local Vendors Taking Share
In a recent article on the Indian smartphone market, I outlined how local suppliers are taking massive market share.A similar thing is happening in China. However, there are two key differences:
Unlike in India, there are two separate, distinct groups of local vendors in China. The first group, Lenovo (OTCPK:LNVGY), Huawei, and ZTE (OTCPK:ZTCOY) have global scale and global ambitions. The first two of these, in fact, are neck-and-neck for third and fourth place among the leading handset manufacturers in the world by volume. There also exists a second group of vendors, mostly unknown outside of China like Yulong, Xiaomi, Oppo, Livall, and G'Five. This latter group is putting out cheap Android clones similar to what Micromax, Karbonn, and Lava are doing in India.
Whereas in India, the local vendors are bundling Android with Google's ecosystem (maps, search,and Chrome browser), the Chinese vendors are stripping the parent ecosystem from Android and inserting local flavors. (More on that in the next section).
Most Action at Low End
While all parts of the Chinese smartphone market continue to grow, the rate of growth at the low end of the market (sub $150 phones) is by far the fastest. Just as in India, it is here that most of the local vendors are taking share. A few weeks ago, Xiaomi, a local brand, released a new Android clone called "Red Rice" which a New York Times article recently dubbed "Blood Rice" because of the pricing pressure it was causing in the market. This well featured phone is being sold for $130. Therefore, the biggest chunk of the Chinese smartphone market (at least in terms of units and, therefore, market share) will belong to those manufacturers that can produce a reasonable quality low-end smartphone.
Android Sans Google?
Some readers may be confused as to why Google is listed in the title as having a difficult time of it in China. Despite the dominance of the Android operating system in the world's biggest smartphone market, Google is facing a difficult situation. Local vendors are extracting the Google ecosystem (maps, search, browser, etc.) from Android and inserting, instead, similar features from other vendors who are willing to pay the manufacturer to bundle their products into these Android phones.
I am not sure why Google permits this disemboweling of Android instead of tightly coupling the OS with the ecosystem software. Perhaps there is an anti-trust concern, perhaps there is some other issue preventing Google from locking the two together. Regardless, the present situation is an odd one -- technically, Google has huge market share, but the potential for profits seems negligible. It will be interesting to see what Google does on the follow up to Android to try and counter this trend by the local suppliers in China.
Conclusion
The local vendors are taking share in China like their Indian counterparts. Unlike the Indian vendors, however, the Chinese locals have some additional tricks up their sleeves -- they have managed to "de-Google" Android, serving up only the core OS while removing all the potential profit making parts of the Google ecosystem. Apple's story in China remains unfinished with many wondering what effect a mid-range iPhone will have with so much of the focus going to the low end. With respect to the Windows Phone outlook in China, we think the L520 will continue to do well and expect the L1020 to show surprising strength, albeit at a much lower volume than the L520.
Disclosure: I am long NOK, AAPL. I wrote this article myself, and it expresses my own opinions. I am not receiving compensation for it (other than from Seeking Alpha). I have no business relationship with any company whose stock is mentioned in this article.