A number of mining equity analysts provide data and price targets free of charge through Yahoo.com. We have been following the predictions of precious metals analysts throughout this year and have been giving monthly summary reports. This article will report on the price targets for selected gold mining companies and we will be noting target changes in comparison with results published in our June edition of this series of articles.
In response to some comments we have received, we would like to point out that many companies mentioned in this article may have more analysts following their progress than we mention. Not all of these analysts provide their targets to Yahoo.com, which is the source of the base data for this article.
As in previous offerings, the following companies were considered for the present article (in alphabetical order): Agnico Eagle (NYSE:AEM), Alamos Gold (NYSE:AGI), Allied Nevada (NYSEMKT:ANV), AuRico Gold (NYSE:AUQ), Barrick Gold (NYSE:ABX), Eldorado Gold (NYSE:EGO), Goldcorp (NYSE:GG), IAMGOLD (NYSE:IAG), Kinross Gold (NYSE:KGC), New Gold (NYSEMKT:NGD), Newmont Mining (NYSE:NEM), Randgold (NASDAQ:GOLD), Yamana Gold (NYSE:AUY).
Additionally, the following three stocks were added to our analyst watch list for this August edition: McEwen Mining (NYSE:MUX), Nevsun Resources (NYSEMKT:NSU), Primero Mining (NYSE:PPP).
The table below summarizes our data. The first three columns list the company name, ticker symbol and share price at the time of writing. Price targets (low, median and high) are listed in the following three columns. These targets are followed by a column giving the number of analysts providing data to Yahoo.com and the mean recommendation given by these analysts ranging from 1.0 (strong buy) to 5.0 (sell). This concludes the data sourced directly from Yahoo.com.
The following columns are colored in light green and contain data derived from our source data. These data points are given in percentages related to the share price at the time of writing. The column titled "median-price" gives the difference between the share price and the median target price. The column titled "high-low" gives the difference between the high and the low target. The last four columns titled "target change" document the changes in price targets since the May report with the last columns giving the average change over the low, median and high price targets.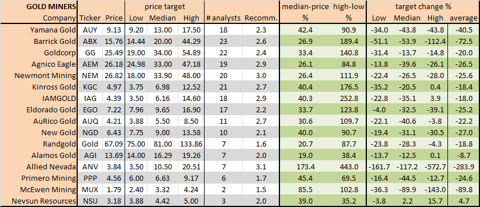 The column "median-price" lists the difference between the current share price and the median price target. Under normal circumstances we would view a large value in this column as an indicator for the potential of disproportionate gains over the coming year. However, the value in this column can also be influenced by recent catalysts moving the share price and analysts not having caught up with the event just yet. We mention this possibility since we believe that this is the case for Allied Nevada in the present data set.
The diagram below visualizes the "median-price" data as listed in the table above. As mentioned before Allied Nevada stands out. The share price of this company has fallen hard over the past few days on bad news and obviously not all analysts have updated their data just yet to reflect recent events. Coming in second in this ranking is McEwen Mining with a median price target more than 80% higher than the current share price indicating significant possible upside. It should be mentioned here that only two analysts are providing targets for McEwen Mining on Yahoo.com at present. Following these two companies is a group of six companies with very similar potential around the 40% increase mark. Alamos Gold has a share price that is closest to the median price target out of our sample.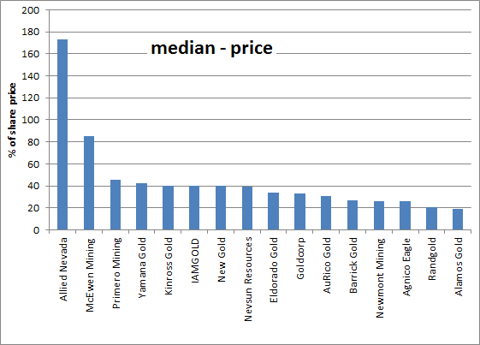 Column "high-low" measures the divergence in analyst opinions. The results from this column in the table above are visualized in the next diagram. Again Allied Nevada shows the greatest spread between high and low targets presumably for the reasons explained above. This is followed by IAMGOLD which we note has consistently had a rather high value in this particular evaluation. Analysts' opinions seem to converge most for Alamos Gold and Nevsun Resources.
Column "target change - average" gives a measurement for the change in targets during the past two months which have been characterized by significant volatility in the price of gold. Target cuts were most severe for Allied Nevada and we would opine that more target reductions are probably coming. McEwen Mining and Barrick Gold come in second and third at the bottom end of this ranking. On average targets dropped by 44.8% since the beginning of June.
On a more positive note, Nevsun Resources has seen targets increase during the past two months.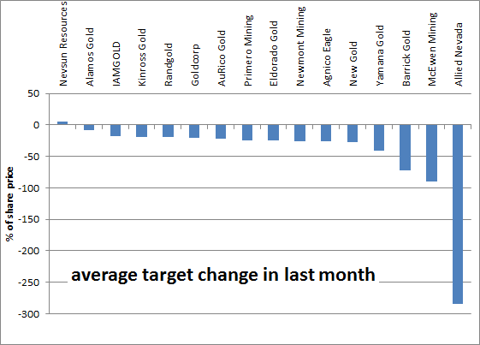 Finally, we would like to offer a visualization for column "Recommendation". Five companies are given a 2.0 or less indicating high expectations by analysts. The list is headed by McEwen Mining and Allied Nevada comes in last.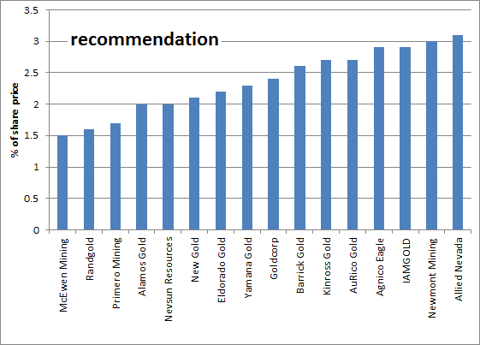 Our pick of the month
Analyst data would suggest that Nevsun Resources is most worthy of a closer look. It is scaling back gold production at the Bisha mine and will turn into a primary copper producer at the end of the year. In this sense, this pick is rather leftfield for an article on gold miners. However, gold production will increase again once they access deeper lying ore. Analysts seem convinced on the credentials of the company, even considering the country risk exposure. Nevsun Resources also pays a handsome dividend.
Disclosure: I am long AEM. I wrote this article myself, and it expresses my own opinions. I am not receiving compensation for it (other than from Seeking Alpha). I have no business relationship with any company whose stock is mentioned in this article.