The Buy Thesis
Medical Properties Trust (NYSE:MPW) offers a disproportionately strong risk/reward. Current market pricing provides an opportunistic entry point and its operational fundamentals portend tremendous upside. We will begin with a look at its history and detail how it is enhancing its growth trajectory. The buy thesis will conclude with a description of the catalysts that will enable the fundamentals to translate to shareholder returns.
History and trajectory of fundamental growth
Between 2006 and 2012, MPW consistently grew its asset base.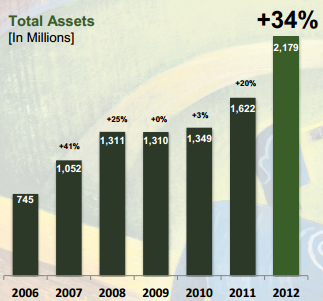 Such growth was fairly typical of REITs over this time period so this does not set MPW apart. Instead, Medical Properties' superiority lies in the translation of size growth to earnings growth. Through stringent acquisition criteria and clever leasing behavior, MPW was able to turn 34% asset growth in 2012 into 49% revenue growth.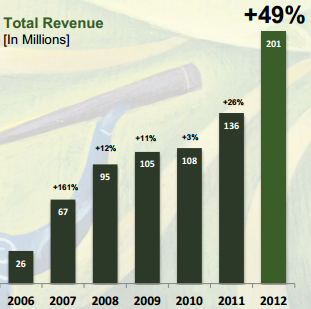 MPW has been equally adept at controlling costs. The 49% revenue growth in 2012 manifested in 53% FFO growth.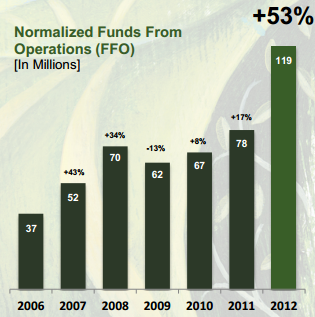 This history suggests strong fundamental performance through 2012, but of greater concern is whether it can be maintained.
Well, MPW released its 2Q13 earnings report earlier today (8/8/13) and it evinced continued success. In fact, MPW improved in almost every metric as we will demonstrate below.
Assets increased and liabilities decreased.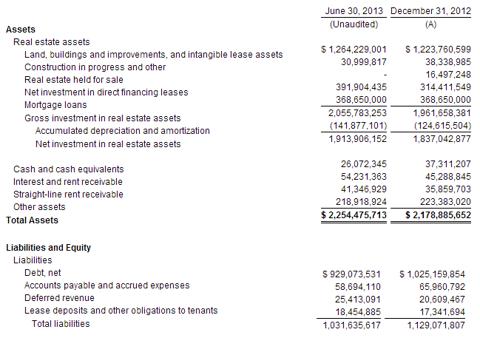 A lower debt to equity enhances compliance with debt covenants and improves access to capital markets. Admittedly, much of the balance sheet improvement was consequent to equity issuance. However, it seems as though the offering was not dilutive as the per-share metrics improves as well.
MPW's book value/share increased from ~$7.70 to ~$8.18.
FFO per share increased 9% from $0.22 in 2Q12 to $0.24 in 2Q13.
FFO payout for 2013 is projected to come in under 80%, while it was dangerously high in 2012.
In addition to a cleaner balance sheet and stronger earnings, MPW has extended its tradition of strict cost control.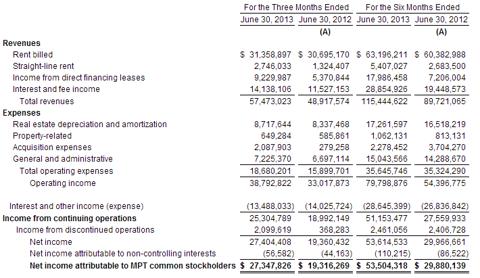 G&A and other operating expenses have grown at a slower pace than revenues. Net income to MPW's shareholders as a percentage of revenue improved 810 basis points YoY to 47.58%.
It seems as though MPW remains on the trajectory of fundamental growth and operational success, but the market thinks otherwise.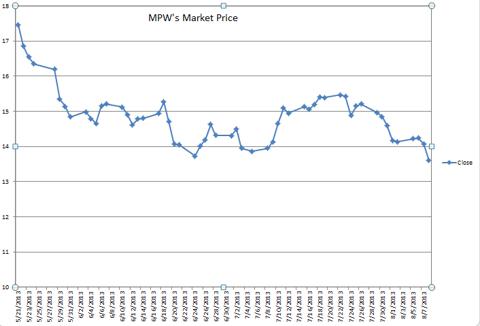 Since the Fed hinted at tapering in May, MPW has dropped 22.10%. Drops of this magnitude during periods of fundamental strength tend to be the source of opportunity. MPW is no exception.
The nature of this drop is the source of the near-term catalysts. I believe that when MPW demonstrates resilience to the sources of fear (interest rates and Medicare cuts), it will return to its pre-crash price.
Near-term catalyst #1: resilience to reimbursement cuts
Before we get into its resilience, it would be helpful to examine the context of the fear. Many speculate that Medicare and/or Medicaid reimbursement will be reduced in the process of transitioning to Obamacare. I believe much of the fears surrounding MPW have to do with its payor mix.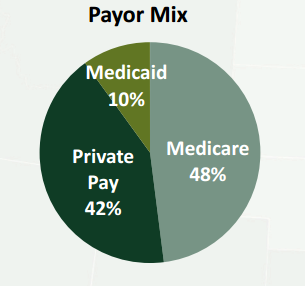 The proportionally greater drop of MPW seems reasonable in the face of this fear as it has a greater reliance on government reimbursement than some of the other healthcare REITs that are predominantly private pay funded. However, if we take the analysis one step deeper, it appears that MPW is actually the best positioned to handle any reimbursement turbulence. Allow me to elaborate.
Healthcare properties in the hospital spectrum tend to have better rent coverage than SNFs, ALFs or MOBs.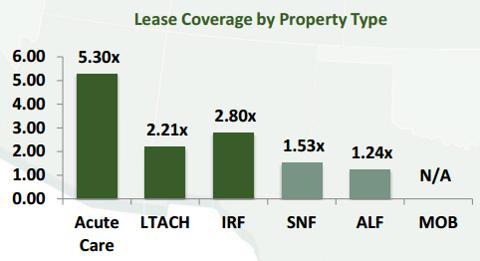 Fortunately, 98% of MPW's revenue comes from the hospital spectrum.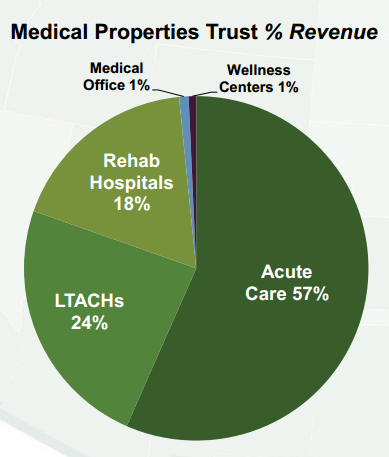 One would expect this to translate to superior lease coverage and it does.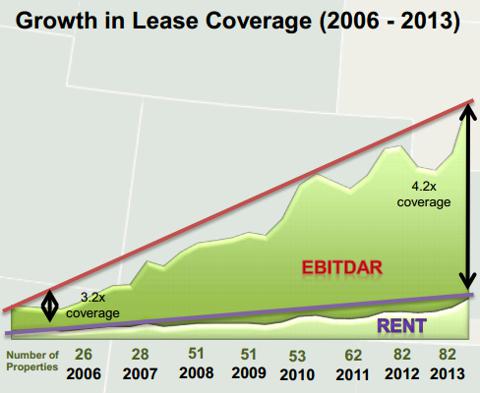 As the only REIT with a hospital focus, this advantage is unique to MPW and substantially reduces its risk relative to its peers.
Given an average EBITDAR coverage of 4.2X, MPW would be largely sheltered from any small to medium cut to hospital reimbursement. Its operators have sufficient profitability to absorb the cut without jeopardizing their ability to pay rent to MPW.
Even if reimbursement cuts manifest, MPW's revenues should be safe. As the market witnesses MPW's resilience, it will begin to undo the discount currently attributed to MPW's market price based on this fear.
Near-term catalyst #2: Interest rate immunity
There are essentially two branches to fears of rising interest rates: a higher cost of capital and less attractive returns relative to treasuries. MPW is nearly immune to both branches. We will begin with cost of capital.
89% of MPW's debt is fixed rate. Needless to say, this will not become more expensive if LIBOR or other variable rate metrics increase. The only way this debt could become more expensive is upon renewal. However, the majority of MPW's debt is very long term with most coming due after 2018.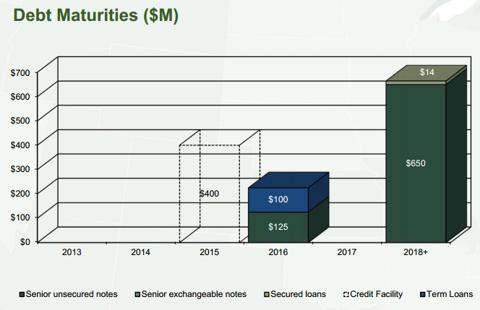 Additionally, MPW's current debt is rather pricey at a weighted average rate of 6.57%. Given the aforementioned substantial improvements to its balance sheet, MPW's should have access to lower rates. Even in a rising interest rate environment, MPW's cost of borrowing could potentially be reduced.
Clearly, Medical Properties is well fortified against the first branch of interest rate risk, but is it protected from reduced relative attractiveness?
The short answer is yes. Between rent escalators and a powerful acquisition pipeline, MPW's earnings per share are growing sufficiently fast to maintain and even increase its attractiveness relative to treasuries even If rates go up substantially. These growth catalysts are the subject of and will be explained more deeply in the following sections.
Long-term catalyst #1: built in rent escalators
MPW has exceedingly long leasing contracts with the majority of its rent expiring 2022 or later. This can be either a blessing or a curse as it both secures revenue streams but prevents raising rates in a higher rate environment.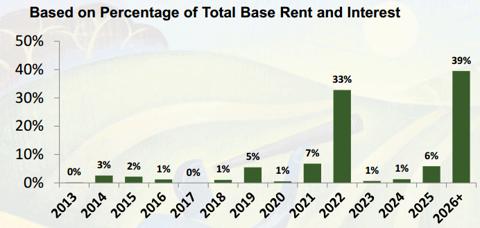 Thus, the market's concern and a contributor to the sell-off is the fear that interest rates will be sufficiently high that MPW's revenues are weak by comparison. However, these rents are not locked in at a fixed rate, but rather with powerful escalators.
One of the strongest aspects of MPW's management team is the clever way in which they construct leasing contracts. 100% of their leases have escalators of some kind with a majority being tied to CPI for inflation protection.

Overall, it has a minimum 2014 escalation rate of 1.61% and that is if inflation is flat or negative. If we were to see some inflation, MPW's annual rent escalation would be substantially higher. Additionally, this revenue growth comes without cost so it will translate directly to FFO growth. Assuming margins around 50%, MPW has built in FFO growth of 3.22% annually.
Unless something crazy happens, MPW's rent escalation will actually improve its spread relative to treasuries.
Long-term catalyst #2: robust acquisition pipeline
On the 2Q13 earnings call we received some color on the size of MPW's pipeline.
"Tayo T. Okusanya Analyst, Jefferies LLC -

Yes. Good morning, everyone. First of all, just congrats on the fairly large deal pipeline out there. That's good to see. Ed, in the press release, you do make some allusions to additional acquisitions beyond what you've announced so far and you've kind of given us some color about the $100 million to go to a new market but could you just kind of give us an overall sense of just how large the deal pipeline could be, beyond what you've announced already?

Edward K. Aldag, Jr. Chairman, President & Chief Executive Officer, Medical Properties Trust, Inc. -

Tayo, I can but what I can't tell you is how much of that, I think, will actually close or happen in 2013 versus 2014. But we are actively right now working on a number of acquisitions that include a portfolio of properties as well as individual properties that are in the neighborhood of $600 million to $800 million."
With a market cap of just over $2B, an acquisition pipeline of $600mm-$800mm is quite sizable. As always, we must make certain that this is accretive growth rather than just growth. Let us dive right in.
Healthcare properties in the hospital spectrum tend to sell at higher cap rates than SNFs, ALFs, or MOBs.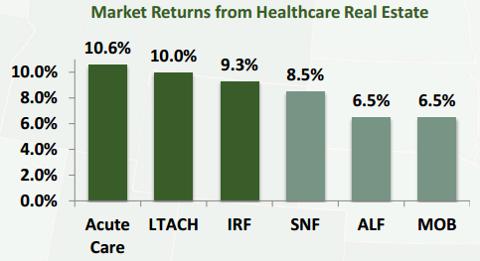 The general market cap rates for this sort of property are consistent with those hinted at by management in the High 8% to 11% range. MPW is acquiring in the 8% range if and only if the operator is of exceptional quality with a majority of its acquisitions targeted closer to 10 or 11%.
These cap rates seem highly accretive to me as MPW's cost of borrowing and cost of equity capital are both substantially lower than 8%.
Expect a minor bump in earnings as these acquisitions are made followed by a large and sustaining increase to FFO/share in 2014 and beyond.
Summary of the buy thesis
Analysis of MPW's business reveals it to be supremely resistant to the near-term environmental hazards. As MPW proves itself resilient to these risks, expect the associated price dip to be reversed. In the return to its pre-scare price, MPW is poised to provide shareholders with 28% upside. In the longer term, its growth prospects from the built-in escalators and acquisitions lend materially more upside. I would not be surprised to see $20 by 2015.
While I am strongly bullish on MPW, it would be unfair to present the buy thesis without giving appropriate time to the risks.
Risks and concerns
As much of this article was about how resistant MPW is to the typical hazards of the healthcare industry, it seems to have substantially less risk of this type than its peers. However, there are some risks unique to MPW that should be addressed.
Arguably, its greatest risk is a complete lack of diversification. Its properties are heavily concentrated in the hospital subsector of healthcare and its primary operators make up a sizable portion of its revenues. Thus, adverse events affecting either hospitals or one of its operators specifically could pose a major threat to MPW going forward.
This risk is substantial and should concern everyone invested in MPW, but I believe there is a strong remedy to the problem. Rather than avoiding MPW for its lack of diversification, investors can mitigate the risk by balancing its exposure with other holdings. Simultaneous holding of other healthcare REITs operating in the SNF, senior housing or MOB segments reduce the hospital and operator concentration of holding MPW alone. MPW makes an excellent pair with other healthcare REITs as it is largely resistant to the risks of the sector so the risks would be uncorrelated.
A second concern is that the sellers of hospital properties may refuse to sell at higher cap rates as would be typical in a rising rate environment. If this were to happen, MPW's growth pipeline could be reduced in magnitude and/or delayed. Consequently, the anticipated FFO/share growth could come in smaller or later.
The bottom line
Medical Properties Trust is not given enough credit for the stability of its portfolio and strength of its management. As it demonstrates resilience in the face of the present environmental hazards, I believe the market will stop attributing such a large discount. It has traded down to 11.2X FFO which is massively underpriced for a company of such quality in a sector that on average goes for closer to 16 to 17X FFO. This mispricing represents an opportunistic entry point into a high quality stock with substantial upside and less risk than its peers.
Additional Disclosure: 2nd Market Capital and its affiliated accounts are long MPW. I am personally long MPW. This article is for informational purposes only. It is not a recommendation to buy or sell any security and is strictly the opinion of the writer.
Disclosure: I am long MPW. I wrote this article myself, and it expresses my own opinions. I am not receiving compensation for it (other than from Seeking Alpha). I have no business relationship with any company whose stock is mentioned in this article.