The Chinese travel agency Ctrip (NASDAQ:CTRP) has been one of our best performers in the past 12 months. The shares more than tripled since we first suggested a buy at $13.69 almost exactly a year ago.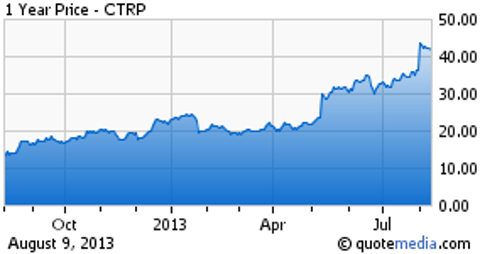 We are not terribly surprised at this as the company benefits from a number of strong trends:
The increase in number of people who join the Chinese middle class and the increase in their spending power.
The increase in travel and tourism expenditures in China as China slowly shifts from investment to consumption.
The shift from bricks and mortar travel agencies to on-line sites.
The shift from PC to mobile.
We believe that Ctrip is very well placed to benefit from all four of these trends and indeed, the shares jumped on another strong quarter and outlook at the end of July, beating both top-line and bottom-line by a considerable margin. However, as indicated in our first article, competition, and hence margin pressure, remains a concern, so let's start there.
Competition
At first sight, the industry has low barriers to entry, hence competition can be fierce. And indeed, fears of price competition have been around for quite some time:
Ctrip.com (CTRP -14.1%) is off sharply after Oppenheimer states a Ctrip exec disclosed the company's coupon program will extend to plane tickets. The firm sees this as evidence Chinese online travel firms remain mired in a price war. Ctrip's rally over the last 6 months had in large part been fueled by optimism industry price competition was cooling off. (SA market current)
The main on-line competitors are:
That is pretty serious competition, needless to say. Having the backing of Baidu or Expedia offers several advantages, but Ctrip is the biggest and most established company. It's quite difficult to compare Qunar.com to Ctrip, for the simple sake that Qunar is a private company. However, there can be little doubt that it constitutes serious competition:
In the fourth quarter Qunar became China's largest internet retailer of airline tickets - overtaking Ctrip, the dominant online travel agency. Qunar says it handled "up to 150,000″ flight bookings a day in December. (tnooz.com)
Its business model is a little different:
It provides information on flight tickets, hotels, packages, visa and other travel service, real-time price query and comparative information services, according to its website. (Bloomberg)

Qunar, which generates revenue through cost-per-click ads, says it will double sales this year to $160 million (tnooz.com)
So Qunar doesn't sell directly to travelers but operates a platform for third party suppliers (travel agents, etc.). This allows it to grow fast, and there are other advantages:
Qunar's model allows users to compare prices between many different travel agents, often allowing them to get lower prices than they might be able to find on Ctrip. (South China Morning Post)
Basically, Qunar is an aggregator or portal, it's like a shopping mall that merely collects rents and benefits from the fact that it doesn't sell its own stuff. Therefore, the platform is likely to be neutral in the eyes of the consumer, for whom it's a great way to do comparison shopping.
However, insofar as it facilitates market transparency, it is intensifying price pressures, but that's not a problem for Qunar. What Qunar wants is to be the biggest portal, plain and simple. Having fierce price competition on its platform merely helps that.
It's a difficult business model for Ctrip to compete against, even if there is overlap (Ctrip is also partly an aggregator). It could ultimately be difficult to match the breadth and depth of the offerings on Qunar.com, as well as the price transparency it offers, but there might be some interesting possibilities for a tie-up, which we'll discuss below.
Margin pressure?
We think these margin worries are a little overblown, for a number of reasons:
The shift to the internet provides the bigger players with important economies of scale and scope, which would be difficult to match for any new entrant.
Those economies allow Ctrip to match the competition for price and make their life difficult.
The company has built strong relations and co-opts a significant part of the competition simply by allowing it to use its engines.
The company is spending large amounts on product development and marketing.
Let's illustrate this with a few quotes from the Q2 conference call:
our strategy is always very consistent. We will match up any competition in the market to make sure our price is competitive (COO Jane Sun, Q2CC)

Over the past few quarters we have been investing heavily in enhancing our brand awareness (James Liang, Co-founder and Chairman, Q2CC)

Sales and marketing expenses increased by 25%... Product development expenses were up a whopping 49% (year-on-year) (James Liang, Co-founder and Chairman, Q2CC)

once customers trust your brand, it's associated with every possible travel product at the most competitive prices, they will have no interest or need to jump between different mobile apps (James Liang, Co-founder and Chairman, Q2CC)
And indeed, that trust seems to be working as Ctrip was awarded the title of the Best Online Travel Agency of the Year 2013 for the third consecutive year by Travel Weekly (Q2CC).
One could argue that Ctrip is executing an "Amazon-like" strategy. Like Amazon (NASDAQ:AMZN), they prefer growth over margins, as they heavily invest in their platform and applications, marketing, and new products whilst matching the competition pound for pound price wise.
This strategy produced growth at more than three times the growth of the overall tourism market (which is growing at 10%), according to COO Jane Sun in the CC. If Ctrip is growing faster than the industry, it's taking market share from the competition.
Let's look at those margins to see what the "damage," if any, is:
Gross margin was 75% for the second quarter of 2013, remained consistent with that in the same period of 2012... Operating margin was 16% for the second quarter of 2013, compared to 17% in the same period of 2012. (Company PR)
Those seem pretty good margins to us. Equally importantly, these are fairly stable. Volume growth exceeds revenue growth in most of their categories (most notably hotel booking, where commissions per booking were down a whopping 40%), a sign that there is indeed stiff price competition. However, stable margins show that this is offset by economies of scale and scope. G&A expenses were only up 14% year on year, a clear sign that economies of scale are kicking in.
In comparison, eLong's margins are significantly lower: gross margin is 56.1%, while operating margin is -9.4% and net margin is -1.1% (these are trailing 12-month margins). Guess who's going to be hurt first in any price competition?
During the CC, Fei Fang from Goldman Sachs concluded:
Ctrip has navigated through the intense pricing competition and emerged stronger
Indeed. Too bad that Goldman downgraded the shares in May on competition concerns. The shares were at $30 when they issued that. Perhaps they'll reconsider.
In short, we think the main concern for the company is being dealt with very well, at least for now, and the bigger they get, the easier that will become as the bigger the economies of scale and scope will become.
That doesn't mean that their position is unassailable or that there won't be margin pressure in the future, but the simple fact that they're growing much faster than the overall market without suffering from market pressure is a very positive sign.
So we can say that the strategy is very successful, what's more, margins and profitability are way above 'Amazon' territory, an indication of the strength of the economies of scale and scope, and/or a reflection of the possibility that tourism might not be such a hyper-competitive market as many seem to fear.
New product development
They are also developing many new products like:
The time and duration system for all travel packages (providing a transparent and reliable ranking system, helping customers to navigate and choose).
A corporate travel application.
An events ticketing and tour activities to 3000 attractions globally.
An express application (mobile budget hotel booking).
A train ticketing business.
Alliances
A great way to neutralize some competitors is to offer them using Ctrip's superior platforms, or enable them to list on the platform and applications of Ctrip. However, it can also work the other way around. For instance, Ctrip has begun to make its own offerings on the site of one of its biggest rival, Baidu owned Qunar.com:
Ctrip formally start offering some of its vacation packages over Qunar's platform over the weekend. The companies said the initial tie-up is limited to vacation packages, but that they are negotiating additional cooperation in the airplane ticket and hotel room booking areas. (South China Morning Post)
This is a very recent development, the article is dated August 6. It is surprising because the companies are fierce competitors and there has been a considerable amount of bad blood between them (there were some lawsuits from Qunar against Ctrip in 2011 and 2012).
On the other hand, the business models are, in a sense, complementary. Ctrip can just offer its packages on Qunar. The risk here is that this might open it to even more direct price comparison and competition, and it could even help Qunar to become the dominant platform.
A merger (or better, takeover) makes more sense, we feel. Here is the South China Morning Post on that possibility:
Such a deal would be relatively affordable for Ctrip, since recent media reports indicate Qunar is probably valued in the $1-2 billion range. Ctrip's latest market value stands at about $5.5 billion (HK$42.6 billion), and the company now has about $1.1 billion (HK$8.53 billion) in cash and cash equivalents on hand, according to its latest report.
The writer doesn't think this is likely, Baidu doesn't need the cash and there is fierce rivalry between the two companies, complicating cooperation. We fear Qunar's business model has some inherent advantages for customers as it enables them to directly compare offerings from multiple vendors.
Also, it has the financial backing of Baidu, and the latter can tweak its search results in favor of Qunar, so we see them as a long-term threat, and one to be taken seriously.
A direct take-over creates its own problems though, other vendors might feel disadvantaged to have to compete with offerings of the platform owner and the fact that they have to pay to be listed already puts them at a disadvantage.
Needless to say, this would only be a problem for Ctrip if competitors felt so disadvantaged that they would leave the platform altogether and set up a rival, which might be quite difficult to get off the ground, considering the size of Qunar and Ctrip.
From offline to online to mobile
Over 55% transactions were booked through online and mobile channels compared to about 45% a year ago (James Liang Co-founder and Chairman Q2CC)
China hasn't gone through an extensive PC based internet commerce phase pre-dating mobile internet use, like most developed economies. Mobile is likely to be even more important in China compared to many other countries as:
Mobile penetration rates are high compared to PC penetration.
Chinese commute much more by public transport, providing them with ample time to kill with mobile applications.
Mobile users tend to be more sticky and have higher conversion rates (compared to PC users).
Marketing expenses are less for mobile.
Here is James Liang, Chairman and CEO, from the company PR
Transactions from Ctrip mobile channels tripled year-over-year in the second quarter and contributed to over 20% of hotel booking and approximately 15% of air ticket booking.
Ctrip Travel is now the number one mobile app in the travel segment in China in terms of transaction value (according to James Liang, Co-founder and Chairman during the Q2CC). He also argued that "once they get to the mobile, they were probably more loyal and have lower marketing cost." Adding:
once customers trust your brand, it's associated with every possible travel product at the most competitive prices, they will have no interest or need to jump between different mobile apps (James Liang Q2CC)
Valuation
The company holds a whopping $1.1B in cash, restricted cash, cash equivalents and short-term investments. On 130M shares outstanding that's almost $8.5 per share (ADS). Against that, there is $250M in debt, almost $2 per share.
Analysts, on average, expect 91 cent per share profit this year, rising to $1.17 next year, which make the shares rather expensive, even if we deduct the net cash from the share price. However, in the same link you can also see how the company has beaten analyst expectations by a substantial margin the last four quarters.
On the other hand, the company is the leading on-line travel agency in China, operating in a sector that is likely to be growing for years to come. A considerable premium is to be expected.
Conclusion
The shares are no longer cheap, in fact, one could argue that they are fairly fully valued. However, compared to when we wrote our first article, we now know a lot more about the strategy used to deal with price competition.
We also have more confidence in its success. The company is matching price competition pound for pound. It's benefiting from economies of scale and scope, resulting in stable margins despite falling revenues per unit.
It's spending heavily in marketing and, especially, product development. It's partnering with potential competitors, letting them run its own engines. The company is growing considerably faster than the overall market, all these are signs of a well executed strategy and profiting from an already leading position.
We would prefer the shares to be cheaper to add, but those that bought when we first advised to buy a year ago at $13 and change can simply stay put, as the company is executing better than many (us very much included) anticipated, and the Chinese tourism market is likely to continue to grow for years to come.
However, one strategic threat is the rise of Baidu backed on-line aggregator Qunar.com, which could pose a serious long-term threat. This is definitely one competitor to keep an eye on, we hope they could come to some kind of tie-up between them.
Disclosure: I have no positions in any stocks mentioned, and no plans to initiate any positions within the next 72 hours. I wrote this article myself, and it expresses my own opinions. I am not receiving compensation for it (other than from Seeking Alpha). I have no business relationship with any company whose stock is mentioned in this article.