Today we highlight the demographic landscape of Ireland, a country we believe will continue to recover from the global economic downturn despite the negative press about its economy, unemployment touching 11.4 percent in April, and forecasts that the country's 2009 GDP may decrease by more than 8 percent.
Without a doubt the current recovery will take time to shed the excesses of the previous boom; However, the Irish luck has not deserted them. Why? It has one of the strongest demographic landscapes within Europe. Irish births peaked in 1981 at 72,800, which should allow its consumer spending cycle to remain positive until 2021 (peak births 1981 plus 40 years).
The New Ireland Fund ETF (NYSE:IRL) is currently trading at $8.42 versus its 2007 high of nearly $38. The shares fell nearly 92 percent from its 2007 high to its March 2009 low of $3.2, as investors priced in the next "Iceland." It is up 163 percent since the March lows versus the S&P Global ETF (NYSEARCA:IOO) return of 61.9 percent. While the shares have performed very strongly on a relative basis against the S&P Global index, it needs to be noted that two stocks–CRH and Ryan Air (NASDAQ:RYAAY)–make up nearly 31 percent of the fund.
Economic Background: 14th in Forbes 2009 Best Countries for Business:
Ireland is a small, modern, trade-dependent economy. GDP growth averaged 6% in 1995-2007, but economic activity dropped sharply in 2008 and Ireland entered into a recession for the first time in more than a decade with the onset of the world financial crisis and subsequent severe slowdown in the property and construction markets. Agriculture, once the most important sector, is now dwarfed by industry and services. Although the export sector, dominated by foreign multinationals, remains a key component of Ireland's economy, construction most recently fueled economic growth along with strong consumer spending and business investment.
Property prices rose more rapidly in Ireland in the decade up to 2006 than in any other developed world economy. Per capita GDP also surged during Ireland's high-growth years, and in 2007 surpassed that of the United States. The Irish Government has implemented a series of national economic programs designed to curb price and wage inflation, invest in infrastructure, increase labor force skills, and promote foreign investment. In 2008 the COWEN government moved to guarantee all bank deposits, recapitalize the banking system, and establish partly-public venture capital funds in response to the country's economic downturn. Ireland joined in circulating the euro on 1 January 2002 along with 11 other EU nations.

Demographic Landscape:
Irish Population
2009 Population 4,455,920
2025 Estimated Population 5,275,290 (Growth 18.4%)
Irish Generations
Generation X–1965 to 1984: 1,285,000
Generation Y–1985 to 2004: 1,109,000 (Decline 13.7%)
Generation Z–2005 to 2024 (Est.): 1,306,500 (Growth 17.8%)
Generation Blend–2025 to 2044 (Est.): 1,235,500 (Decline 5.4%)
Population over 65
Next year 11.5 percent of the Irish population will be over 65 years of age, and this is set to rise to 21.2 percent by 2044. In comparison Japan, the highest ratio in the developed world, is 22.5 percent rising to 36.4 percent by 2044.
Ireland's birth numbers peaked in 1981 at 72,800 versus a 2010 estimate of 68,400 (a fall of 6.0 percent). The number of children per women has fallen from 4.0 in 1965 to 1.9 and is forecast to fall slightly to 1.8 by 2044.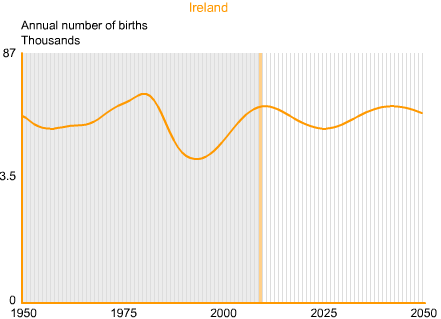 2025 Ireland Population Pyramid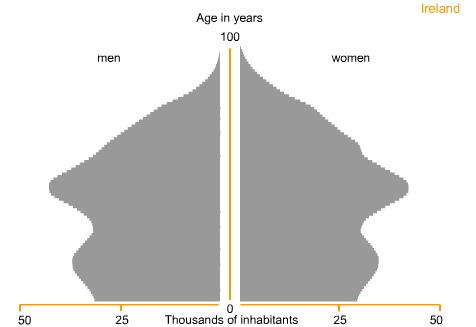 Source: UN 2007 and Insitut National d'Etudes Demographiques

The New Ireland Fund (IRL) relative to the S&P Global ETF (IOO)
The share price history of the New Ireland Fund has been of Boom, Bust and the Boom again, Bust and then?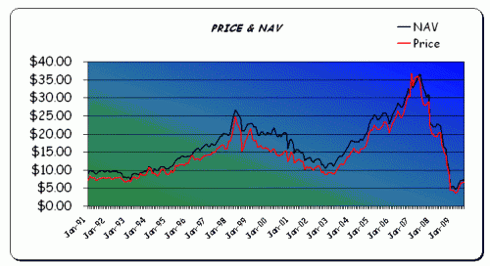 New Ireland Fund Fund (IRL) ETF Sector Breakdown:
The fund is broken down using different sectors to the S&P 500 Global ETF, making direct comparison is difficult. The top ten holdings show the fund is heavily weighted towards two stocks: CRH (construction and building materials) and Ryanair (transportation).