Investing in companies with sustainable competitive advantages and increasing margins is one of the best ways to out-perform the S&P 500. Specifically, companies with these positive attributes in a rapidly growing market-space can provide superior long-term returns.
The wireless phone and mobile data industry is growing at a rapid pace, especially on a Global scale. Cisco has developed the Visual Networking Index, and the Global Mobile Data Traffic Forecast Update. The most recent report published February 6th, 2013 demonstrates that Global data usage growth continues to outpace global GDP growth on a massive scale.
Here are a few key statistic takeaways:
· Global data on mobile devices grew nearly 70% in 2012, to 885 petabytes per month up from 520 petabytes in 2011
· Mobile network speeds increased by 112% in 2012, to 526 kilobits per second (kbps) up from 248(kbps) in 2011
· Smartphone data grew 81% in 2012; average usage ballooned from 189MB to 342MB per phone every month
· Tablet usage increased 250% to 36 million in the past year, furthermore; tablets generated 2.4 times more traffic than smart phones
Looking ahead:
· Global mobile monthly data traffic is projected to increase 10 exabytes (1 exabyte=1000 petabytes) by 2017
· In the next five years mobile network connection speeds will increase 700% from 2012
· By 2017 two-thirds of global mobile data traffic will be video
· Leading the mobile traffic boom will be Africa and the Middle East growing at 77% CAGR from 2012-2017
Source: Cisco Netowrk Update
Astonishing growth statistics to say the least, companies benefitting from this trend will be mobile chip makers Qualcomm (NASDAQ:QCOM) and Intel (NASDAQ:INTC), broadband service providers such as Cisco (NASDAQ:CSCO), and most importantly the wireless communications and broadband tower providers American Tower and Crown Castle (NYSE:CCI).
American Tower Corp. (NYSE:AMT) operates the largest portfolio of the wireless communications and broadband towers in the industry. Their primary business is leasing antenna space on multi-tenant communications towers to mobile data service providers such as AT&T (NYSE:T), Verizon (NYSE:VZ), T-Mobile (NASDAQ:TMUS), Time Warner Cable (TWC), and Vodafone (NASDAQ:VOD).
The industry business model provides that service providers sign five to ten year leases, with automatic rate increases of roughly three to five percent. This relatively stable revenue stream allows companies such as AMT to make long-term investments at attractive interest rates. When investing in companies that require large capital investments it is important to analyze long-term debt and interest expenses; AMT currently has a Debt/Equity ratio of 2.52. Should interest expenses rise significantly or business operations deteriorate and significantly impact free cash flow, AMT may be forced to raise equity by diluting existing shareholders to maintain appropriate leverage metrics for the rating agencies.
To analyze the trends in market sentiment towards AMT through the debt I determined the interest premium over the 10-year risk free rate. Data as follows:

The trend in the market premium demanded by investors has been in a favorable downtrend as follows: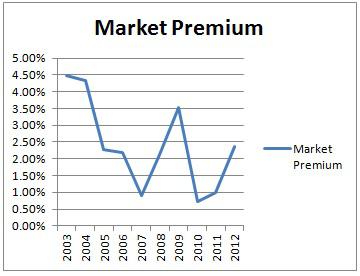 Revenue and profit have also increased substantially from 2003-2012. Analyzing the growth in revenue with the growth in expenses and income we see very attractive long-term trends in fundamental growth and profitability metrics.
We can see that revenue increased at a CAGR of 14.93% from 2003-2012, Net income increased at a CAGR of 56.03% from the first year of profitability in 2006 through 2012. Constructively, AMT's return on equity (ROE) has increased 60.49% from 2006 through 2012.
Data as follows:

The trends in revenue and net income are as follows: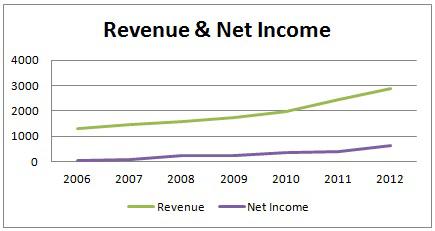 While the trends in Profit Margins and Return on Equity are as follows: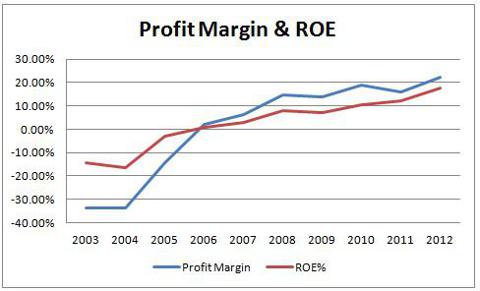 An important takeaway is that ROE has grown consistently with profit margins; this demonstrates that the company has been able to increase ROE without having to taking on excessive debt as this could potentially impact shareholders adversely in the future.
Conclusion:
American Tower Corp. is a leader in the global communications tower space, an industry in which demand is growing exponentially as referenced previously. They have a best-in-class portfolio of towers in U.S., Mexico, Brazil, Chile, Colombia, India, Peru, Ghana, Germany, Uganda and South Africa. American Tower continues to realize increasing demand as well as increasing tower rental and leasing rates. AMT has been able to manage a fairly leveraged balance sheet (Debt/Equity ratio= 2.52) while increasing margins and returns on shareholder equity. Investors may be deterred by bearish sentiments claiming "that this growth is already priced in and they are priced for operational efficiency", but I would argue there are few companies with such attractive fundamentals as well as exponential industry growth, it's difficult to argue with the data statistics provided by the Cisco® data study. Thus, investors will benefit in the long-term as AMT has out-performed the S&P 500 by a massive margin since 2003 as seen below:

In my opinion it is extremely unlikely that AMT's out-performance will not be continued for years to come. I am confident that any long-term holder of this company would adamantly agree with me, unless they were a short-seller of the stock and haven't covered since 2003.
Disclosure: I am long AMT. I wrote this article myself, and it expresses my own opinions. I am not receiving compensation for it (other than from Seeking Alpha). I have no business relationship with any company whose stock is mentioned in this article.