Sounds too good to be true! My first contribution on Seeking Alpha.
Before I get started, let me introduce myself. My name is Frank Grossmann and I am living in Switzerland. Until recent, I used to work as a chief scientist for an international digital imaging company. They have incorporated my software algorithms for digital image processing, which I had developed in my company Colour-Science.com. These algorithms perform image enhancement, red eye removal, and face or general pattern detection. However, my passion was always to search for patterns in financial data and to develop and back test intelligent, rule-based investment strategies.
The following strategy is one of my favorite rotation strategies, which many of my friends, customers and I have used now for some years.
The Global Market Rotation Strategy (NYSE:GMR)
The GMR Strategy switches between 6 different ETFs on a monthly basis. The back tested return of this strategy since 2003 is quite impressive.
Annual performance (OTCPK:CAGR) = 41.4% (S&P 500=8.4%)
Total performance since 2003 = 3740% (S&P 500=134%)
69% of the monthly trades have positive return versus 31% with negative return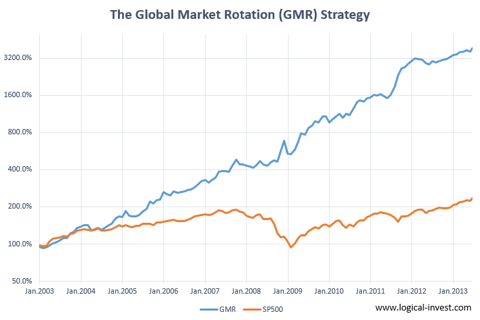 These global markets and ETFs are:
During market corrections I invest in:
US Treasury Bonds (EDV- Vanguard Extended Duration Tsy (25+yr))
Cash or SHY (SHY- Barclays Low Duration US Treasury)
For the design of a well performing rotation strategy, it is important that the selected ETFs are not too volatile, show longer-term visible trends and have a good market volume, so that they cannot be manipulated. They all should have more or less the same volatility. The 5 global markets ETFs fulfill this condition. They all are capitalized enough, so that they cannot be manipulated in the short term. They follow slightly different economic cycles and have long periods where one market outperforms the others until it becomes so overpriced and investors begin to remove their money from that market in order to invest in other cheaper valued markets.
Looking back 12 months, we see that the US market was the clear winner and the MDY S&P Midcaps performed +35%. In comparison, the ILF Latin America market lost nearly -10% and the more important EEM Emerging Markets ETF only made +3.5%. Rest assured that this outperforming will not continue forever. At one moment EEM, ILF or another ETF will bounce back and outperform the US market. This is the moment when I switch the ETFs.
However, switching between these markets alone is not enough to really get a good performance. By switching only between these 5 ETFs I would have made 21% annual return since 2003. Not too bad, compared to the 8.4% of the SPY S&P 500. But if I look at the charts, I recognize that during periods of big market corrections also all my 5 ETFs suffered big losses. Although these markets are globally distributed, the correlation between them is very high. The 60-day correlation is mostly higher than 0.75. This means there is no way to escape a market correction like the subprime crash in 2008 when the S&P 500 lost nearly 55%. To avoid this scenario, we would need to switch to some negatively correlated assets. The best are US Treasuries and if they do not work, then cash is an option as well.
Based on my strategy back tests, I have chosen the EDV - Vanguard Extended Duration Treasuries (25+yr) ETF. At the moment, due to rising yields, the correlation to the S&P500 is nearly 0 which is quite abnormal. Normally the correlation is between -0.5 and -0.75. However, I am sure that during a future market correction these correlations will go down very quickly.
When designing a good rotation strategy, the Return to Risk ratio (Sharpe-Ratio) is one of the most important numbers. The higher it is, the more return you will get for the risk you have within your investment.
Return to Risk ratio (Sharpe ratio)
| | | | |
| --- | --- | --- | --- |
| Strategy (investment 2003 - today) | Sharpe ratio | Volatility | Annual return |
| SPY S&P 500 investment | 0.38 | 20.3% | 8.6% |
| 5 Global Markets alone | 0.73 | 28% | 21.3% |
| 5 Global Markets + Cash exit | 1.25 | 23.3% | 33.8% |
| 5 Global Markets + Treasury | 1.38 | 25.6% | 41.4% |
| AGG - iShares Core Total US Bond (4-5yr) | 0.40 | 5.4% | 4.3% |
As you can see, a good rotation strategy is always better than the other strategies. Many conservative and cautious investors think that they have a small risk investing in a bond ETF like the AGG. However, if you compare the Sharpe ratio, you recognize that an SPY investment has about the same risk under the condition, that you invest only half your money and keep the rest in cash. The SPY investment return would be the same, because the annual performance was exactly twice the annual AGG performance.
With the Global Market Rotation strategy, you can reduce your risk and your volatility easily by just keeping a good part of your money in cash or short-term bonds.
Even if the volatility of 25.6% seems a little bit high, this does not mean that the strategy is risky. The 25.6% is the medium 20-day volatility since 2003, which is slightly higher because of the switching between the ETFs. However, it is much more important, what happens during a market correction. Here my strategy showed its strength in the past. During the S&P 500 market crash in 2008, the strategy produced a solid return of 55.5% while the S&P 500 was -36.8% down by the end of the year.
I consider such a strategy as quite a save, because the strategy will avoid big losses during market corrections. It will always switch quite early into treasuries or into cash for the case that treasuries would not anymore play the role of a safe haven asset.
Annual performance of the Global Market Rotation Strategy
| | | |
| --- | --- | --- |
| Year | GMR performance | S&P 500 performance |
| 2003 | 34.9% | 28.2% |
| 2004 | 24.6% | 10.7% |
| 2005 | 36.8% | 4.8% |
| 2006 | 39.4% | 15.8% |
| 2007 | 38.5% | 5.1% |
| 2008 | 55.4% | -36.8% |
| 2009 | 56.7% | 26.4% |
| 2010 | 40.0% | 15.1% |
| 2011 | 89.4% | 1.9% |
| 2012 | 14.2% | 16% |
| 2013 until end July | 19.4% | 21.2% |
How to rotate the ETFs
I rotate or switch the ETFs on a monthly basis. Every month I calculate a ranking of the 6 ETFs and based on the results I invest in the best ETF for the next coming month. I use a software, which I have written in Mathlab, to find out which the best look back period a and the best investment period b is. The period b will give me my investment return. The software just varies the look back period a between 1 week to 12 months for investment periods b of 2 weeks to 3 months. The software just loops through 10 years of historical price data and outputs a scatter diagram, which shows which a and b periods give the best positive return. The result is a 3 dimensional mountain diagram, which highlights the best periods. The investment period b is less critical than a. However b should always be shorter than a. One month for b is a good value for our 5 ETFs. The look back period a can make big differences. However, a normally lies somewhere between 1 and 5 months.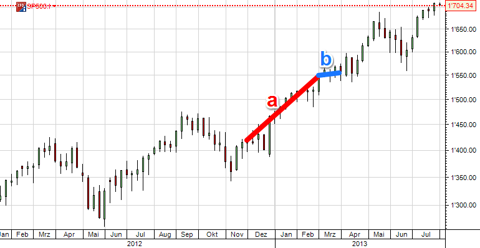 My Mathlab method is very interesting to test if an ETF can be used for a rotation or a trend following strategy. You cannot use an ETF if you cannot find a look back-investment period pair, which gives you a stable positive return. Also for some ETFs you get completely different returns, only by changing the parameter a little bit. Such ETFs are also not good for rotation strategies.
For example, it is nearly impossible to design good rotation strategies for commodities. They are too volatile and they can be very easily manipulated. Also, if you look back a and investment periods b are too short, it becomes difficult to achieve positive returns. The shorter the periods are, the more your performance becomes a function of the random market noise which overlays existing trends. This is why I am not a friend of intraday trading. In addition intraday trading is really a hard work. I'd rather make money without being shackled to a computer screen the whole day.
For the ranking, I also use the volatility of the ETFs. While this is not so important for the 5 Global market ETFs, it is important to lower the EDV ranking a little bit, according to the higher volatility of the EDV ETF. EDV has a medium 20-day volatility, which is roughly 50% higher than the volatility of the 5 global market ETFs. This results in higher spikes during small market turbulence and the model would switch too early between shares (our 5 ETFs) and treasuries .
This probably sounds now very complicated, but if you want to play this strategy on your own, you can get quite good results by just looking at the 3-month historical performance and then always invest the next month in the best of the 6 ETFs. This is something you can do easily by yourself. You will still make about 34% annual return per year. The additional annual return I get for these complicated calculations, however, is +7.4% which is also not too bad.
Here is an example of the investments since September 2012
| | | | |
| --- | --- | --- | --- |
| Date | Portfolio | GMR | S&P 500 |
| month | ETF | monthly return | monthly return |
| Sep.2012 | EPP | 2.8% | 2.5% |
| Oct.2012 | EPP | 2.5% | -1.8% |
| Nov.2012 | EPP | 1.8% | 0.6% |
| Dec.2012 | EPP | 3.8% | 0.9% |
| Jan.2013 | EPP | 3.5% | 5.1% |
| Feb.2013 | MDY | 0.8% | 1.3% |
| Mar.2013 | MDY | 4.8% | 3.8% |
| Apr.2013 | MDY | 0.6% | 1.9% |
| May.2013 | MDY | 2.3% | 2.4% |
| Jun.2013 | MDY | -2.3% | -1.3% |
| Jul.2013 | MDY | 6.7% | 4.8% |
As you can see, since January the strategy is invested in MDY. It is not necessary to switch the ETFs every month. I would say that you have to switch all 2-3 month on average. In addition, instead of buying the ETFs, you can buy Comex futures for some of the ETFs. This is what I do. It is the case for MDY and IEV (Europe). Instead of the EDV you can buy Ultra-TBonds, which are similar to the TLT ETF, but you have to buy about 1.5x your normal investment because EDV behaves like a 1.5x leveraged Ultra-TBond.
Disclosure: I am long MDY, ZIV, SLV. I wrote this article myself, and it expresses my own opinions. I am not receiving compensation for it. I have no business relationship with any company whose stock is mentioned in this article.