When taking on exposure to China, the world's second largest economy, exchange traded fund investors should take the time to peruse the various offerings, instead of diving into the first option they see or the most highly-traded fund.
Specifically, most China ETF investors would hone in on the largest offering in the space, the iShares China Large-Cap ETF (NYSEARCA:FXI), with $5.2 billion in assets. However, some argue that the $874 million SPDR S&P China ETF (NYSEARCA:GXC) could be a better fit, according to Murray Coleman for the Wall Street Journal.
Jerry Slusiewicz, president of Pacific Financial Planners LLC, is "very cautious about China in the near term" due to the current economic outlook. However, he likes the SPDR S&P China as a long-term play as long as China is "a key driver of global manufacturing growth over the next several decades."
Looking at the holdings, FXI is concentrated with only 25 components, whereas GXC includes 221 holdings. The iShares ETF's top ten holdings make up 62.0% of the overall portfolio while the SPDR ETF's top holdings account for 45.4% of the portfolio.
Additionally, FXI tilts heavily toward financials at 52.1%, followed by telecom services 17% and oil & gas 12.5%. In comparison GXC has a smaller allocation toward financial sat 32.8%, followed by information technology 15.8% and energy 12.1%.
Comparing costs, GXC comes with a lower 0.59% expense ratio, compared to FXI's 0.74% expense ratio.
On a performance basis, GXC has been outperformed, losing 5.0% year-to-date, rising 10.8% over the past year and adding 2.4% over the past five years. In comparison, FXI is down 12.0% year-to-date, up 2.5% over the past year and down 3.0% over the last five years.
SPDR S&P China ETF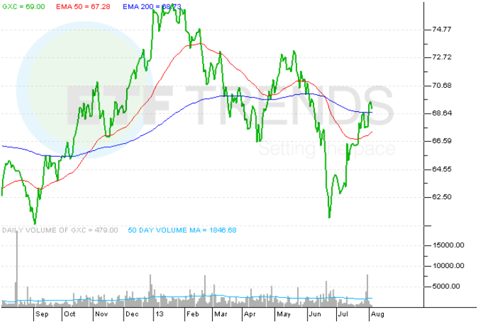 Max Chen contributed to this article.
Disclosure: I have no positions in any stocks mentioned, and no plans to initiate any positions within the next 72 hours. I wrote this article myself, and it expresses my own opinions. I am not receiving compensation for it. I have no business relationship with any company whose stock is mentioned in this article.