Despite the poor overall performance of the emerging markets this year, some areas in the developing countries have been outperforming, and with exchange traded funds, investors can cherry pick strengthening sectors.
Looking at the MSCI Emerging Markets Index, investors will notice that the energy and materials sectors have been the largest drag in the developing markets, writes Murray Coleman for the Wall Street Journal.
On the other hand, the technology sector has been one of the best performing areas in the emerging markets. For instance, the EGShares Technology GEMS ETF (NYSEARCA:QGEM) has gained 21.1% year-to-date, whereas the iShares MSCI Emerging Markets ETF (NYSEARCA:EEM) is down 11.0%.
QGEM has a heavy 52% allocation toward Chinese tech companies, which dwarfs EEM's 18.2% allocation toward China.
Chinese technology stocks have been surging this year, with Guggenheim China Technology ETF (NYSE:CQQQ) gaining 17.8% over the past month and rising 31.5% year-to-date.
Additionally, the EGShares QGEM and iShares EEM both are allocated to South Korea's Samsung. FTSE Indices consider South Korea a developed economy, and the Vanguard FTSE Emerging Market ETF (NYSEARCA:VWO) recently switched to an FTSE Index from a MSCI Index. VWO is down 11.1% year-to-date.
"A big part of that transition was removing Samsung from its portfolio," Richard Kang, chief investment officer at Emerging Global Advisors, said in the article. "That selling pressure weighed against technology sector returns in the MSCI index."
EGShares Technology GEMS ETF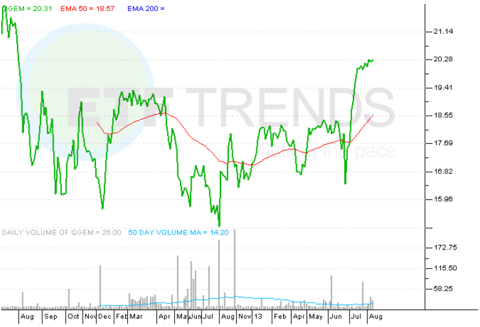 Max Chen contributed to this article.
Disclosure: I have no positions in any stocks mentioned, and no plans to initiate any positions within the next 72 hours. I wrote this article myself, and it expresses my own opinions. I am not receiving compensation for it. I have no business relationship with any company whose stock is mentioned in this article.