Zoltek (NASDAQ:ZOLT) is small US company which supplies advanced carbon fiber composites mainly to the wind turbine industry. The company is involved in design, development and production of carbon and technical fibers which are used in wind turbine blades and aircraft brakes. The company saw sharp stock price appreciation in 2008, as wind energy grew at a rapid pace and the industry faced massive shortages. However, the advent of the Chinese wind energy companies such as Ming Yang (NYSE:MY), Sinovel and Goldwind Energy led to a reversal in the wind industry fortunes. The wind turbine industry went from a shortage situation to an oversupplied situation. The prices of wind turbines have come down drastically and the top players such as Vestas and Suzlon are fighting to survive as independent entities. The wind energy industry growth has also slowed down as China, USA and Europe are all facing headwinds. Zoltek has also been affected by the decline in alternative energy stocks and its stock declined ~70% from its peak. However the stock has risen sharply from a low of $6 reached last year, as an investor has shown interest in taking over the company. I think that the stock remains a good buy for the long term given its technological lead in carbon fibers and growth potential, as it finds new applications for low cost carbon fibers.
What does Zoltek do?
The company is involved in the production of low cost carbon fibers for a wide variety of applications. Though the company's main market is still wind energy blades, it is starting to develop applications for the automobile and oil industry as well. The company has manufacturing facilities in Hungary, Mexico and USA and produces both intermediate and finished products. The company sells carbon fiber composites under the Panex brand name and oxidized acrylic fiber under the Pyron brand name. The company is dependent on the wind energy and aircraft brakes sector for its revenues; and hopes that the revenues from the auto industry match that of wind in the next 3 years.
Why you should buy Zoltek
1. Takeover interest - One of the main reasons for the near doubling of the Zoltek stock in the last one year has been the interest shown by an outside fund Quinpario in buying the company at a substantial premium to its all time low price in 2012. The fund could identify Zoltek as substantially undervalued, leading them to make an offer for the company. Though the current management has not accepted their offer, the takeover interest places a floor price on the stock in the near term.
2. Technology Leadership - Zoltek has been developing the low cost carbon fiber technology for a long time now and the company claims to have a leadership in this segment. The company is leveraging its carbon fiber technology to expand into other markets such as automobiles, oil drilling and CNG equipment. Carbon fibers have a much higher strength than steel and Zoltek should develop more applications for the newer markets.
3. Growth catalyst - Zoltek has substantially expanded its aircraft brake business in the last few years and expects that its automobile business will be as big as the wind energy business in the next 3 years. Though the company's revenues have not showed much growth in the last few years, the company has kept its $500 million annual revenue target with growth in new application areas.
4. Valuation is cheap and stock price is well below its all time high - Zoltek's stock price has corrected substantially from its bubble value and despite the stock rally over the last year, the stock remains cheap. The company currently trades at a P/B of just 1.6x.
5. Alternative Energy stocks are making a comeback - Clean Technology stocks are starting to rally with most sectors such as solar energy, wind energy, energy efficiency etc. showing a sharp increase in price and valuation. The pessimism with clean technology stocks had reached an extreme in 2011 and 2012. The sentiment has changed and the valuations are starting to become more rational in 2013.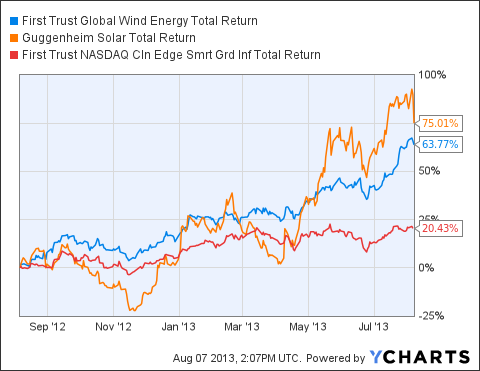 FAN Total Return Price data by YCharts
6. Return to Profitability - Zoltek showed small losses during 2009 to 2011 as the company's cost base increased, even as its revenues remained more or less stagnant. The company reduced costs and returned to profitability in 2012 and continues to show profits in 2013 as well.
7. Low cost player with large capacity - Zoltek is a low cost player in the carbon fiber segment with other players competing in the high end aircraft composite business. The company has one of the largest carbon fiber capacities spread across three countries. The company also claims to have a much lower gestation time in expanding its capacity than the other companies.
Zoltek Risks
a) Balance Sheet is not very strong - I like to see a strong balance sheet for a small company as they are more prone to volatility and could face severe equity dilution if they run into liquidity issues. Though ZOLT does not have too much debt, it does not have a big cash cushion either. However, the management seems confident about its ability to fund capex and operating expenses over the next year. I don't think this is a big risk.
With regards to liquidity, our cash increased to $25.3 million versus $20.5 million in the prior quarter. This was primarily caused by decrease in our receivable levels and the timing of payments. Our cash on hand, our cash flows from operations and our anticipated credit facilities should be sufficient to fund our liquidity needs during the next 12 months.

Source - Seeking Alpha
b) Wind Turbine Blade substitutes - There is a possibility that better materials could be invented for wind energy blades. General Electric (NYSE:GE) is developing a new technique of making long wind energy blades covered with a fabric for multi-megawatt wind turbines which do not require carbon fibers.
c) Wind Energy Market has matured - The days of exponential growth in wind energy capacity has finished and the wind energy capacity added per year has more or less stabilized at 50-60 GW. It looks tough for Zoltek to grow rapidly given that the wind energy market has matured. The company will have to bank on new carbon fiber applications in automobile and oil/gas industry to grow.
d) A long takeover battle could lead to decrease in management focus - The company's top management is currently fighting to stop Quinpario from taking a controlling interest in the company and have appointed JP Morgan (JPM) to advise the company on strategic alternatives. The company's management focus on business has reduced even though the stock price has jumped.
Company has given good returns since its IPO
Zoltek did an IPO during 2004 and since that time the stock has returned 439% which is a good performance. The stock saw its price increase exponentially during 2006 to 2008 when all major wind stocks saw multi-bagger returns. The stock has declined to fall below $10 by 2009. The stock has remained more or less in the same range as the company's topline has remained flat. The stock has seen a lot of action in the last one year after a fund showed interest in buying Zoltek. The stock has jumped up by ~78% YTD and is trading at ~$14, which is ~20% below its 52 week high.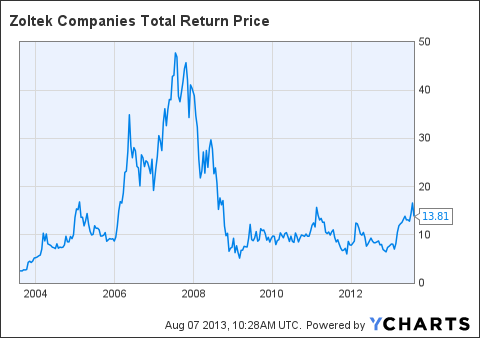 ZOLT Total Return Price data by YCharts
Stock Valuation is cheap despite the sharp run up in 2013
Zoltek is not expensive with a P/B of 1.6x and forward P/E of 21x considering its carbon fiber leadership and expansion into new segments. The company has rationalized costs and capacity after the wind energy industry started to slow down. The company is profitable with a net margin of 10% and has shown a revenue growth of 10% in the last 3 years, despite the headwinds. The company has a total market capitalization of $484 million and has negligible debt.
Summary
Zoltek has faced a tough time post 2008, as the wind energy industry has matured and its leading customer Vestas has lost global market share to the Chinese wind turbine companies. Though the company's topline has not increased much, the potential exists for substantial growth as the company expands carbon fiber applications to automobile and oil/gas industries. The company has returned to profitability after posting losses and is showing growth in the technical fiber segment. The takeover interest by Quinpario should ideally lead to a good outcome either way, as market interest increases in the stock. I remain positively inclined towards Zoltek's stock and would look to buy on pullbacks.
Disclosure: I have no positions in any stocks mentioned, and no plans to initiate any positions within the next 72 hours. I wrote this article myself, and it expresses my own opinions. I am not receiving compensation for it (other than from Seeking Alpha). I have no business relationship with any company whose stock is mentioned in this article.