Some things in life are worth the wait. I analyzed Yongye International (NASDAQ:YONG) in an earlier article and concluded that it was a very undervalued company. This morning Yongye reported a decent quarter and proved that it's worth the wait and the results are better than my already optimistic expectations. Conservatively speaking, the buyout price should be raised to at least $11.50/share, which represents a 100% upside from the current stock price. And without the buyout deal, the company is worth more.
The company generated $188 million of cash from operations over the first 6 months of the year, that's $3.71 per share. The company expects that full-year total shipments will grow about 20% to 25% over 2012. The company is swimming in cash - currently it has $5.02/share of cash + $5.36/share of incoming cash from accounts receivable + $2.02/share of inventory on its balance sheet. That's a total of $12.40/share. The net book value is $10.54/share. In other words, if we liquidate the company right now, shareholders can get $10.54/share. It generated $3.71 per share of cash during the most recent 6 months. How much is the company worth? My new $11.50/share valuation appears to be too conservative.
The buyers group (CEO Zishen Wu, Full Alliance International Limited, MSPEA Agriculture Holding Limited, and Abax Global Capital) is still interested in buying the company. Why wouldn't they? As I wrote in my earlier article, that deal was such a steal, it makes the other buyout deals look too pricey. The original $6.60 buyout price was outdated and should be raised. For any new buyout price that is below $9.00 per share, I URGE shareholders to vote "No".
Currently, my valuation of the company is below. If the buyout deal closes, the cash proceeds will be received several months later. I conservatively estimated the closing date and present value of the proceeds at my required rate of return - 20%. In the case of shareholders rejecting the buyout deal, I added a higher risk premium to compensate for the expected higher stock volatility. But the value is there.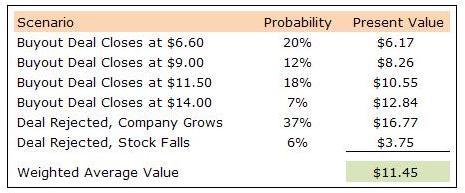 Yongye's special committee should negotiate a much higher price for the buyout deal. One example is the Spreadtrum Communications (NASDAQ:SPRD) deal, in which the original buyout offer price of $28.5 was valuing the company at 14.8x P/E, and still the special committee negotiated with the buyout group and quickly raised the buyout price to $31 per share, despite near-term business deterioration. Similarly, in the Dell (NASDAQ:DELL) deal, as I analyzed previously, CEO Michael Dell was unwillingly pushed to raise his buyout price, despite near-term business deterioration. If the Yongye special committee pushes hard enough (and they ABSOLUTELY should), the buyer group should pay a price in the $11.50 range or higher that is more fair to Yongye's shareholders.
As in most Chinese companies, the CEO is the key. I did a lot of due diligence and Yongye's CEO Zishen Wu appears to be an honest and sincere person. He appeared on TV in one of the most high-end and popular Chinese TV programs (see here) and talked about his personal life and his family. The probability of a successful closing of the buyout deal at a higher price has significantly improved given that the CEO is a high-status local celebrity - there is a potential damage to his reputation damage if shareholders object too loudly. And that's probably why initially in 2011, out of all those undervalued Chinese companies under bear raids, Morgan Stanley bet on Yongye. And I like Yongye because its management has always been responsive. I call them frequently and they have always been patient and would willingly accept shareholders' advice and recommendations. Yongye's management told me that they are working hard on negotiating the terms of the buyout deal and it is reassuring to hear.
The China Development Bank agreed to provide financing for Yongye's privatization deal. No privatization deal has ever failed when CDB agreed to provide financing.
A few takeaways: sometimes as an investor one needs faith and conviction. After thorough due diligence, you need to be sure that the management will do the right thing. And also to have the patience to endure months and months of waiting with little or no update on progress. A lot of investors lose faith along the way, and some hold on to what they believe in. That separates the good ones from the rest of the pack. And just think about the fact that while you are waiting, you are sitting on $10.54/share of net book value, mostly in cash and inventory, and the business is generating $3.71 per share of operating cash every 6 months. That makes the waiting so much more enjoyable.
Disclosure: I am long YONG, XIN. I wrote this article myself, and it expresses my own opinions. I am not receiving compensation for it. I have no business relationship with any company whose stock is mentioned in this article.