I wrote about Canon (NYSE:CAJ) a couple of weeks ago highlighting why issues and challenges in their key camera ('Imaging') market meant that the shares were overvalued. Canon's camera peer Nikon (OTCPK:NINOF) reported its latest update on Friday in Tokyo. Their insights from their Q1 2013-2014 earnings report and accompanying presentation indicate why you should remain cautious on Canon.
Nikon numbers were sequentially lower, on a year-on-year basis across the sales and income lines (-Y17bn or $177m equivalent at the operating line being the stand-out statistic) despite the positive impact of a lower yen (+Y38bn or $396m equivalent).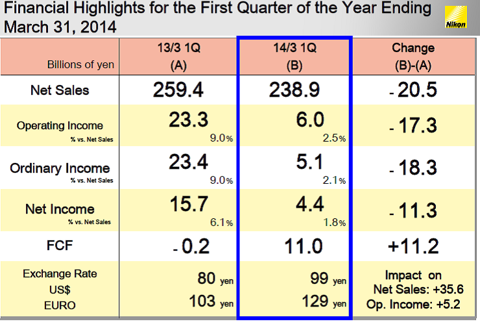 Full year (to March 2014) operating income hopes were cut by Y20bn ($208m equivalent) to Y65bn ($678m equivalent), whilst free cash flow was cut by Y10bn ($104m equivalent) to Y40bn ($417m equivalent) for the same period. And the real negative driver? Just like Canon the imaging/camera business:

Now, Nikon is trying to offset some of these trends by focusing on innovation, new launches and cutting marginal products. Canon is trying the same themes. Of course this makes sense...however, I still believe that the structural negatives from smartphones competition and related, as we mentioned in my last Canon report, overwhelms these initiatives.
Imaging also dominates Nikon's overall profitability and despite hopes being held in the other two divisions, the main driver is the camera business as shown below: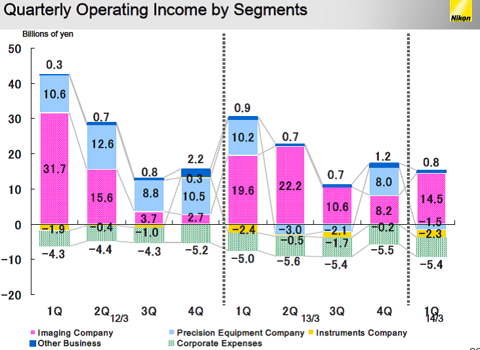 Valuation-wise, in the previous report, we put Canon on a forward x8 EV/ebit ratio in an attempt to take account of these structural disappointments. This generated a US-listed Canon share price target of just below $30. Given the Thursday close was just above $32, downside still exists.
On a similar basis Nikon shares also are overvalued. Imaging-related businesses like Canon and Nikon still remain unattractive to me.
Disclosure: I am short CAJ. I wrote this article myself, and it expresses my own opinions. I am not receiving compensation for it. I have no business relationship with any company whose stock is mentioned in this article.