I believe we have seen the bottom in gold (NYSEARCA:GLD), with the fall under $1200 in June marking the low point. There are several reasons why I have come to this conclusion which I will outline below. I believe now is a great time for investors who are looking to initiate new positions in gold and related securities, or those looking to average down their positions.
Bearish Sentiment Extreme in June
When gold hit $1179 on June 28, it was hard to find anyone on this planet who was bullish on the yellow metal. It felt like every media outlet, newspaper and analyst on TV was calling for gold to drop to be $1,000 or lower.
I saw this overly bearish sentiment and felt it was a great contrarian indicator, so I bought some shares of gold miners which were even more depressed than the actual metal (which is predictable - miners overreact to the price both ways).
Here is a chart from TechnicalWatch.com which shows just how poor sentiment on gold was in June:
High Cost Mines Shut Down
Next, when the price of gold hit those depressed levels in June, it also touched the average all-in sustaining cost of producing an ounce of gold, which sits around $1200-1250 an ounce. The drop in gold has already prompted the shut-down of several high-cost mines, delay or eliminate expansion projects and scale back exploration costs.
For example, in South Africa alone it is reported by ArabianMoney.net that most mines there require a price of $1,400 or higher just to be profitable. South Africa miners also suffer from strikes
I believe several smaller, high cost operations in Canada are also facing mine closure. Companies like Lake Shore Gold (NYSEMKT:LSG), Claude Resources (NYSEMKT:CGR) and Wesdome Gold Mines (TSE-WDO) are just a few which could be in trouble should gold remain at these levels. They all have total all-in cash costs well above the current price of gold.
All these factors are bullish for the metal in the long-term, but I also feel that a lot of investors out there are getting this and will not wait for a further pullback in prices to start accumulating gold.
While it is certainly possible for a commodity to trade below the cost of production for a period of time (Example: Copper in late 90s), I don't think gold will face this predicament as there is still heavy demand from Central Banks such as China. Last year, China consumed 776 tons of gold, and this year that is expected to jump to about 1,000 tons, according to the World Gold Council.
I believe the demand will continue to be there from these banks - but will the supply? I don't think it will.
Why The Fed is Full of It
Next up, Fed officials have hinted that the announcement of tapering is possible at the upcoming FOMC meeting on Sept. 17-18. But the economy is nowhere near where the Fed wants it to be as they have targeted an unemployment rate of 6.5 percent and inflation of 2.5 percent.
The unemployment rate is down to 7.6 percent (with mostly part-time jobs added I might add) and inflation remains under 2 percent.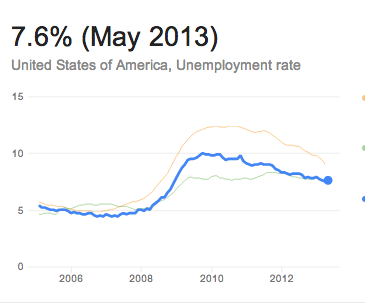 My question to readers is this: Why would the Fed would risk the entire "recovery" by beginning to taper in September? Removing the juice too soon could be disastrous, and I think Bernanke realizes this.
If they announce that it's too early to taper, which I think they will, you could see a fairly quick rise in gold as shorts scramble to cover their positions. Even those bearish on gold need to realize the risk/reward scenario for shorting gold here is pretty awful.
Technicals are Getting Better
Gold continues to flirt with the 50-day moving average of $1312 an ounce. As we speak, we are actually right on the line. If we can break out above $1320 I believe a short-term rally could be in store to $1350-$1400. I also believe it is possible that we get over the 200-day moving average of $1532 at the end of the year.

Seasonal Strength is Approaching
What is the best month to buy gold? It's September and November. Guess what months are the worst? March and June.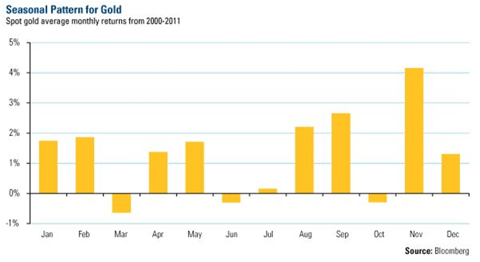 If history repeats, would should see a pretty spectacular finish to 2013.
Gold - The Risk/Reward is Pretty Good

In conclusion I see far more upside in the price of gold in the short-term than I do on the downside. Gold has a number of potential catalysts coming up, including a big FOMC meeting in September. All eyes will be on the Fed and whether or not they announce tapering.
Worst case, gold does not break out above the 50-day moving average and we see another drop down to the $1150-1200 level. The upside still outweighs the downside in the long-term so I believe that any dip to those levels should be bought.
Personally I will continue to buy quality mining companies with low production costs such as Goldcorp (NYSE:GG) and Alamos Gold (NYSE:AGI). For more leverage (but also more risk) investors should consider Allied Nevada (NYSEMKT:ANV), which I believe has substantial upside and could be a takeover candidate. Besides buying the actual physical metal, the safer play would be to invest in the royalty companies - my favorite of the group is Silver Wheaton (SLW) and Sandstorm Gold (NYSEMKT:SAND). Best of luck.
Disclosure: I am long GLD, SAND, ANV, GG. I wrote this article myself, and it expresses my own opinions. I am not receiving compensation for it (other than from Seeking Alpha). I have no business relationship with any company whose stock is mentioned in this article.