On August 8, McDermott International (MDR) CEO Stephen Johnson made an atypically large purchase of company stock. According to the Form 4 filed here, Johnson purchased 74,180 shares of McDermott on the open market at an average price of $6.74. The transaction value of the purchase was approximately $500,000. Altogether, the CEO now directly owns 542,210 shares of company stock along with 596 more shares in his 401K Plan.
Johnson's rather large purchase of company stock marks an event that is somewhat out of the ordinary. The last insider purchase on the open market for McDermott was conducted in June 2012. Indeed, apart from a small $9,486 sale in March 2013, no insider has conducted any open market transactions over the last year.
Over the same time period, it remains clear that McDermott has struggled operationally. As seen in the chart below, McDermott's stock has fallen over 35% in the last year. A similar trend can be noted in the company's steep revenue and net income declines. Over the last year, McDermott's revenues have fallen 37%.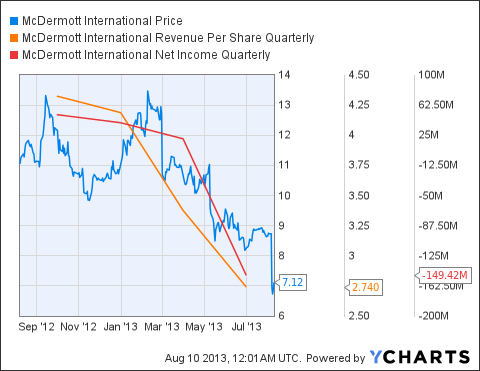 McDermott serves as a leading engineering, procurement, construction and installation company dedicated to the field of offshore oil and gas projects around the world. The company is one of the largest US-based engineering and construction companies focused exclusively on the upstream offshore oil and gas sector. In recent decades, the sector has seen an increase in activity as oil exploration begins to migrate offshore in pursuit of higher flowing oil.
On August 6, McDermott reported its Q2 2013 earnings results, which was quickly met with a negative sentiment from investors. Several analysts were also quick to issue downgrades in light of the company's perceived lack of execution credibility. In its earnings conference call, McDermott reported a much weaker than expected quarter and announced several intense modifications in order to realign itself back onto its core business. This was being done despite a transition to subsea projects which would require several years to complete.
The company also acknowledged its lack of top-tier employees and announced a recruitment effort to meet this need. At the same time, McDermott announced that its Chief Operating Officer, John T McCormack, would be leaving the company in Q4 of this year. It appears as if the company sacked the officer in order to pin the mismanagement of the current situation onto someone accountable.
A look at the financial picture clearly shows a deteriorating situation. Revenues for Q2 2013 fell to $647.25 million from $889.25 million in Q2 2012. Over the same time, a net income of $79.38 million for Q2 2012 swung to a net loss of $149.54 million in Q2 2013. Cash and cash equivalents fell at an alarming rate from $620.14 million in Q4 2012 to $427.71 million as of Q2 2013. Over the same period, the company's receivables actually declined from $503.26 million to $384.35 million.
Conclusion
Overall, the last quarter clearly demonstrates that McDermott is facing a tough time right now. The company is in a dire need to restructure itself even as it undergoes an ongoing transition. It remains to be seen if the worst has come about from this last failed quarter. However, there are clearly some steps being identified to help put the company back on the right course. The latest insider purchase by the company's CEO appears to be one demonstrated out of the officer's confidence in these improvement efforts.
McDermott now trades with a price-to-book ratio of 0.85 and a rather low price-to-sales ratio of 0.44. At a $1.68 billion market capitalization as of August 9, this engineering company remains far from expensive considering its $3.20 billion in total assets. Nevertheless, the company has given very little for investors to hang their hat on. Until more positive operational indicators emerge from McDermott, it remains hard to believe that investors can feel comfortable investing in this company.
Disclosure: I have no positions in any stocks mentioned, and no plans to initiate any positions within the next 72 hours. I wrote this article myself, and it expresses my own opinions. I am not receiving compensation for it (other than from Seeking Alpha). I have no business relationship with any company whose stock is mentioned in this article.