Over the last two years, the seemingly meteoric rise in popularity of 3D printing has remained a dominant story in the world of investing. However, with a rise in popularity comes the inevitable increase in headline risk and subsequent volatility. Proto Labs, Inc. (NYSE:PRLB), a producer of CNC machined/injection molded parts for prototype and low-moderate volume tooling, is often lumped in with the 3D printing stocks despite the fact that it operates a business that is quite different. The company, which remains more of a quick turn-around machining producer, is best thought of as an alternative investment to the 3D printer manufacturers, not a competitor by any means.
Much of the confusion among investors surely comes from the fact that shares of PRLB have flown high in unison with the majority of 3D printing-related stocks but not necessarily because of them. Proto Labs has an easy-to-understand, relatively stable and proven business model with a loyal and growing consumer base. Therefore, Proto Labs looks to be the more appealing long-term investment, as it is projected to grow at robust levels but is not totally dependent upon the increased adoption and advancement of 3D printing, which subsequently lessens the company's headline risk.
With revenue and earnings per share growth for the company projected to be well above 20% on average over the next two years, Proto Labs remains one of the best trading stocks in the equity markets today. However, the fundamental aspects of Proto Labs are what truly set it apart. With significantly higher net profit margins, return on equity/assets and a relative lack of debt, Proto Labs is financially stronger than most of the other, more popular companies in the 3D-related space.
The Company and Its Advantage:
Proto Labs Inc. operates primarily as a producer of CNC (computer numerical control) machined and injection molded plastic parts, which are crafted based on customer supplied 3D CAD models. The company offers its molds to clients in hundreds of engineering-grade resins including Polycarbonate, Nylon, Acetal and Polypropylene. Founded in 1999 as The Protomold Company, the Minnesota-based Proto Labs currently offers its products/services in The United States, United Kingdom, Germany, Japan, Italy, France and Spain.
Since the company does not make 3D printers like 3D Systems Corporation (NYSE:DDD) and ExOne Co (NASDAQ:XONE) do, Proto Labs remains relatively unique in the investment world in terms of its business model. The basic premise behind the work that Proto Labs does is to provide customers with a fast and relatively less expensive way to obtain low volumes of any necessary prototype design models. The company takes the customer's 3D CAD, computer aided design, model, analyzes the manufacturability data and inputs it into a custom, automated injection mold tooling system to rapidly create the desired mold from a broad range of resins/metals, all of which is done in-house. The Proto Labs edge is two-fold; first, the company boasts the quickest turnaround time in the business and second, the company's methods provide a substantial cost advantage depending on volume.
Proto Labs' ability to meet the demands of its customers with regards to projects of all sizes means it has the infrastructure necessary to operate on a scale that is beyond anything smaller machine shops can accomplish. Furthermore, the company's recent improvements to mill capacity have and will continue to increase production capacity of parts and help to ensure that Proto Labs can stay ahead of its competitors by handling larger orders and more volume. Additionally, management is currently in the process of looking to expand its factory space, which would further improve the company's output and enhance efficiency.
Another significant advantage is the company's relatively stable business. In the company's recently reported earnings call, management highlighted the dependable nature of Proto Labs' existing customer base, which accounts for approximately 90% of Proto Labs' total revenue. On a year-over-year basis, in the six months through June 30, the company's existing customer base grew by 786, or 20.37%. These existing customers accounted for $69.1 million of the company's $77.06 million total revenue through the first six months of 2013, or 89.68%.
In the most recent earnings call, CFO John R. Rudd explained the company's ability to further penetrate its existing consumer base, "This group comes back sooner and with larger value purchase orders, demonstrating the success of digging deeper and wider with our current customers."
The Stock:
One of the biggest strengths for PRLB is the stock's trading pattern. Since the company's initial public offering of stock in February of 2012, shares of PRLB have appreciated over 120%, which easily bests the return of the S&P 500 (NYSEARCA:SPY) index over the same time period. The following is a breakdown of the equity's performance since 2/24/12 compared to that of the major index:
| | | |
| --- | --- | --- |
| Company/Equity | PRLB | SPY |
| Return Since 2/24/12 | 123% | 28.34% |
| 1-Yr. Return | 78.69% | 23.82% |
| YTD Return | 66.31% | 20.55% |
(Numbers from YCharts.com, as of 8/09/13, numbers include dividends reinvested where applicable)
As the data above indicates, PRLB has had little difficulty besting the performance of the major indices since its IPO early last year. In the case of PRLB, the stock's trading pattern is even more impressive than its robust returns. The following is a one-year chart of PRLB (included are 50-day, 100-day and 200-day moving averages, as well as MACD and slow stochastic indicators):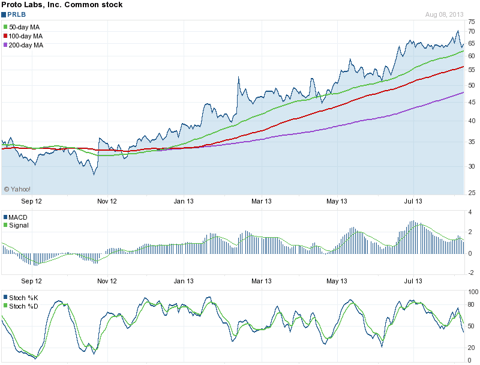 (Chart courtesy of Yahoo! Finance, as of 8/08/13)
Most evident is that shares of PRLB have been on an overall uptrend for the last year, which indicates that a positive growth story is intact. Although the stock's relatively new listing makes it difficult to discern much from moving average support at this time, shares of PRLB are currently trading above all major support lines. Additionally, PRLB has been accumulated heavily over the last year as the MACD shows consistent and strong buying pressure amidst relatively weak selling pressure.
Perhaps most important of all is that every significant dip in share price is bought up with fervor by investors. In growth stock terms, PRLB's one-year chart is very strong and indicates that higher pricing is very likely.
Growth and Valuation:
The following is a breakdown of Proto Labs' projected revenue and earnings per share growth rates for fiscal 2013-2014 as well as the stock's current and future valuation multiples:
| | |
| --- | --- |
| Company | PRLB |
| Revenue Growth (2013) | 27.6% |
| Revenue Growth (2014) | 22.2% |
| Revenue Growth (2-Yr. Avg.) | 24.9% |
| EPS Growth (2013) | 33.6% |
| EPS Growth (2014) | 21% |
| EPS Growth (2-Yr. Avg.) | 27.3% |
(Numbers from Yahoo! Finance, as of 8/09/13)
As the data above indicates, PRLB is set to experience rather substantial growth in 2013-2014. With revenue and earnings per share both projected to grow significantly above 20% on average over the next two years, shares of PRLB look set to continue offering aggressive growth to investors.
However, the stock's growth does not come cheap. The following is a breakdown of PRLB's current and future price/earnings multiples:
| | |
| --- | --- |
| Company | PRLB |
| Trailing P/E | 54.08 |
| Forward P/E | 38.04 |
(Numbers from Yahoo! Finance, as of 8/09/13)
Unfortunately, to acquire the above-average growth that PRLB offers, investors are currently being asked to accept above-average valuation multiples. While the company's growth is robust, it is hard to justify P/E ratios that are so extremely elevated.
Fundamentals:
The following is a breakdown of some of the key fundamental aspects of equities that I consider very important. Although the comparison to stocks that operate largely in different fields is not ideal, I feel it is important to show PRLB's strengths compared to the more popular 3D printing stocks:
| | | | |
| --- | --- | --- | --- |
| Company | DDD | PRLB | XONE |
| Market Cap | 4.83B | 1.67B | 883.19M |
| Total Debt | 32.34M | 421K | 5.03M |
| Net Profit Margin | 9.56% | 21.66% | -31.16% |
| Operating Margin | 18.72% | 30.65% | -24.52% |
| Return on Assets | 5.93% | 15.95% | N/A |
| Return on Equity | 6.43% | 19.81% | N/A |
(Numbers from Yahoo! Finance, as of 8/09/13)
As I alluded to earlier, Proto Labs leads the 3D printing stocks in all listed fundamental categories. Firstly, PRLB has the least amount of debt in both absolute terms and in relation to market capitalization. The company's $421,000 in debt is equal to just 0.025% of the company's current market cap.
Also, PRLB's net margin of 21.66% is more than double that of the closest listed stock, DDD. However, the data also indicates that management at PRLB is very efficient, generating solid returns off of both assets and equity, significantly more so than management at both DDD and XONE.
Growth Catalysts:
Proto Labs recently reported second quarter earnings results that came in below consensus estimates but that nonetheless remained impressive. Revenue for Q2 came in at $39.7 million, which although below the consensus estimate of $40.3 million was still up 33% from Q2 2012's revenue of $30 million. This quarter marked Proto Labs' 14th straight quarter of revenue growth above 10%. Diluted EPS for Q2 came in at $0.36, which beat the consensus estimate of $0.35 and rose 67% year-over-year.
Even though a majority of this growth in the quarter came from the aforementioned growth in the company's existing customer base, there remains further room to broaden Proto Labs' reach in the prototype and short run injection molding/CNC production markets. In 2013, management at Proto Labs sponsored a study with Orc International and the IDSA, Industrial Designers Society of America, with the intent of gaining a better understanding of the current global prototyping market. Chief Technology officer at Proto Labs Robert Bodor explained, "ORC conducted approximately two dozen interviews and together they surveyed an additional 563 engineers and product designers across the major manufacturing industries to understand the volume of products they make, their demand for contract manufacturing and how they outsource prototyping and small volume production of their products."
The study, which focused only on the specific product and geographic markets that Proto Labs currently operates in, yielded some interesting results. The prototype/injection mold/CNC market is estimated to be $6 billion globally and $2 billion domestically. When viewed against Proto Labs' total revenue for fiscal 2012 of $125.9 million and even fiscal 2013's projected revenue of $160.82 million, it is obvious that the company has significant room for expansion via the acquisition of new customers in the markets in which it operates.
Outside of targeting new customers, another area of growth is management's ability to successfully increase the amount of revenue the company garners from each customer. The average revenue per individual product developer increased 8% in the second quarter and indicates that management is having success marketing additional services to new and existing customers alike.
Risks:
Unfortunately, while there is potential for new customer growth in current markets, management has yet to display the ability to capture it and this is directly reflected in Proto Labs' declining new customer growth. Although the company still achieved a 13% year-over-year gain in total customers served in the first six months of fiscal 2013 as well as a 22% gain in customers served in the second quarter alone, the results were driven by robust growth in Proto Labs' existing consumer base and masks management's recent inability to market and engage new customers effectively. Proto Labs' new customer total dropped by 72 in the first six months of fiscal 2013 to 1,435 from 1,507 in the same time period of fiscal 2012, which is equal to a decline of 4.7%.
While existing customer growth is being penetrated more deeply and driving repeat and more substantial business, there will come a time when Proto Labs cannot rely solely on growth of its existing clientele and it is at this time when the company's growth could be significantly challenged. Potential investors and current shareholders need to monitor new customer growth closely going forward as it will remain crucial for Proto Labs' continued success.
Another major risk factor is the stock's valuation, which was mentioned above. On both a trailing 12-month basis and a future 12-month basis, shares of PRLB are very expensive. Although PRLB's valuation is comparable to that of DDD and XONE, this in no way means that the stock's price/earnings multiples are attractive. In fact, they are very much a concern and warrant extreme caution going forward.
Conclusion:
Proto Labs Inc. has to be thought of as a machining company first and foremost and not a 3D printing company. To gauge the company any other way is simply wrong. The fact that PRLB always seems to be grouped with traditional printing stocks like DDD and XONE does not help investors to differentiate between the two groups. In reality, Proto Labs operates a business that is more stable and less dependent on the overall acceptance of 3D printing technology than the actual manufacturers of 3D printers.
The company is now showing an ability to retain and grow its existing customer base while still possessing massive potential to grow among new customers. As long as management is up to the task and can reverse the worrying decline in total new customers, continued growth for Proto Labs seems highly likely.
When viewed in contrast to the popular printing companies, Proto Labs is financially stronger with more robust net profit margins, better return on equity/assets and almost no debt whatsoever. Although the stock is priced incredibly high at current levels and is not suitable for investors averse to risk, the chart is one of the best that I've seen among growth stocks. When combined with the heavy accumulation in recent months, this indicates to me that shares of PRLB will continue to break the mold and breakout to new highs.
Disclosure: I have no positions in any stocks mentioned, but may initiate a long position in PRLB over the next 72 hours. I wrote this article myself, and it expresses my own opinions. I am not receiving compensation for it (other than from Seeking Alpha). I have no business relationship with any company whose stock is mentioned in this article.