Actionable Items:
Highest Positive Spread: BlackRock MuniHoldings Quality II (NYSE:MUE)
Focus Stock: First Trust Energy Infrastructure (NYSE:FIF)
Last Week's Focus Stock: JH Financial Opportunities (NYSE:BTO)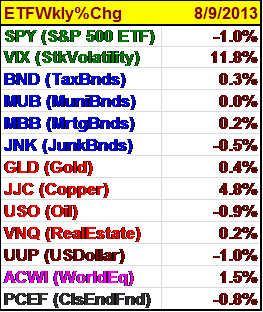 Economy Follows: While the stock market leads, the economy follows. The U.S., Europe, Japan and China will lead the industrial nations from this malaise of recession to a smidgen of economic growth. However, how much is the growth?
Stocks in the "Nose Bleed" Area: The S&P 500 is up 18.6% so far this year. Meanwhile, second-quarter corporate profits are on track to rise just 2.1% from the previous year-that is down from a 3.4% increase in the first quarter. Have valuations trumped fundamentals?
As a result, stocks in the S&P 500 are at their highest price/earnings ratio in nearly four years, and above their average multiple of the past 10 years. The S&P 500 is trading at 14.5 times its expected earnings for the next 12 months, according to FactSet. That is above the index's average P/E of 14.2 for the past 10 years, and the highest monthly reading since September 2009. The S&P 500's forward P/E hasn't crossed above 15 since October 2007.
The "Bottom Up" for the 2013 estimates versus 2012, is $108.50 versus $96.82, or a 12.1% advance. The "Top Down" estimate for the same period is $100.94 versus $86.51 is 16.6%.
What Concerns Us?
The order of concerns:
1. Federal Reserve tapering off the $85 billion in monthly mortgages;
2. The Budget deficit and debt will be part of the partial government shutdown this fall;
3. Sequester;
4. ObamaCare (disruptions of job growth);
5. Lack of earnings growth;
6. Bonds busts;
7. Terrorism.
Saving Grace: It is unlikely that the Federal Reserve will "play" with the tapering-off the mortgage commitment. The thing to watch for is the partial government shut down and the Sequester.
ETFs' % Change Week-to-Week: Natural Resrc (+1.3%), Commodities (+1.0%) and Foreign (+0.7%) were the leaders this week over the previous week. AssetAlloc (-3.1%), Financial (-2.2%) and Pacific/Asia (-1.7%) were laggards for the week.
Natural Resrc and Commodities were leaders in the ETF weekly space. This may seem like a change of order.
U.S. Dollar (NYSEARCA:UUP) ended up on the downside (-1.0%). Gold (NYSEARCA:GLD) was up +0.4% and Copper (NYSEARCA:JJC) was a positive +4.8%. Bonds were slightly mixed (See Chart 1).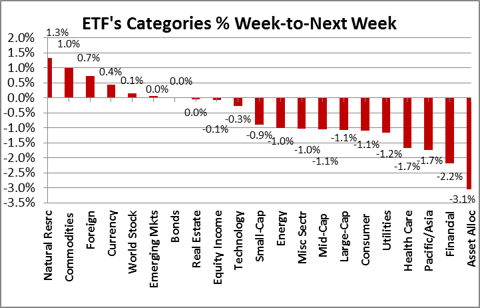 CEF Weekly Fund Type Performance: This week saw price rises for OtherFnds (-0.2%), USMrtgBndFnds (-0.2%) and WrldEqFnds (-0.4%). The laggards were ConvtSecFnds (-1.4%), PrefStkFnds (-1.4%) and InvGrdBndFnds (-1.3%). WrldEqFnds were three of the funds that were in the top six gainers. OtherFnds (+0.1%) and WrldIncFnds (+0.3%) were marginally ahead in the NAV's values.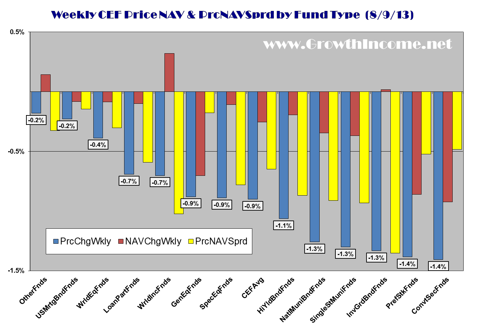 "Highest Spread" for the Week: Our "Highest Spread" for the week was BlackRock MuniHoldings Quality II. MUE had a positive share price of +4.3% and a negative NAV of -0.2%. The PrcNAVSprd was +4.5% (A positive number may mean a future decline in share price).
MUE, a NatlMuniBndFnds, has a discount of 4.0% which is below its 52 week premium of 0.7%. The total assets were $425.7 million with a Variable Rate MuniFund Term Preferred of 27.5% and a structural leverage of 14.4% for an effective leverage of 38.9%. The annualized monthly dividend is 6.9%. Its ex-dividend date is 8/13/13. The average share price in July was $13.10, while it was $12.64 per share in August, a total of 3.5% loss.
Lowest Spread and "Focus Stock" for the Week: First Trust Energy Infrastructure was our "Focus" Stock" for the week. FIF's share price was negative -7.6% and its NAV per share was a negative -0.5%. Its PrcNAVSprd decline was -7.1%. (Stock prices typically go up.)
This FIF's stock is about energy MLP. Energy infrastructure companies principally include publicly-traded master limited partnerships and limited liability companies taxed as partnerships ("MLPs"). The infrastructure was assets such as pipelines, power transmission and petroleum and natural gas storage in the petroleum, natural gas and power generation industries.
The assets are $589.7 million with $142 million (26.2%) of total U.S. debt. The discount to share price to NAV is 5.3% and below the 52 weekly averages of 3.7%. The annual monthly distribution is 5.7% and there is a tax advantage of return of capital distribution that comes from depletion.
Focus Stock & High Price for Last Week: Last week's "Focus Stock" for the week was JH Financial Opportunities. BTO shares were down -0.6% this week from last week. The "Highest Spread" for the week is Aberdeen Chile Fund (NYSEMKT:CH) ("Highest Spread" seems to go down) where it went down a negative -1.8%.
Disclosure: I have no positions in any stocks mentioned, and no plans to initiate any positions within the next 72 hours. I wrote this article myself, and it expresses my own opinions. I am not receiving compensation for it. I have no business relationship with any company whose stock is mentioned in this article.