HealthSpring Inc. (NYSE:HS) is fighting the battle of rising health care costs. The company operates affordable healthcare plans for individuals on Medicare in Alabama, Florida, Illinois, Mississippi, Tennessee and Texas. As the nation's attention turns to healthcare reform measures, HealthSpring is building its market share and is likely to emerge as a strong competitor in the regions where it has established a presence.
Analysts were expecting a rough second quarter for HS due to the rising costs of medical coverage. Despite positive demographics and an aggressive cost cutting program, HS did in fact see earnings drop 19% compared to the levels it saw last year. But looking at a larger picture, the firm actually should see earnings growth this year with the consensus expecting earnings of $2.17 per share. A growing customer base has led to a predictable stream of increasing revenue, and management expects margins to stabilize over the next year.
Currently it appears that investors have a much more negative impression of the company. The stock is currently trading below $15 which represents a multiple of less than 7. The stock is significantly higher than the $4.27 logged during the market panic in March, but a multiple of 7 is still extremely conservative for this growing company.
HealthSpring currently has a debt balance of $251.3 million, but also has a hefty cash balance of $295 million. The debt does not appear to be an issue for the company, and investors will likely begin to pressure management to do something productive with the large cash balance. It would likely make sense for the company to initiate a stock buyback program in order to reduce the number of shares, which would boost earnings per share. Alternatively, the company could use the cash to open or purchase additional offices and expand its geographical footprint.
Looking to the quarters ahead, management is increasing its guidance for revenue, earnings, and enrollment. The guidance for earnings has been revised higher to a range of $2.10 to $2.25. Revenue is expected to come in at $2.6 to $2.65 billion and enrollment for the Medicare Advantage membership is estimated to be 186,000 to 188,000 at year end. The prescription drug plan is the only area that was revised lower with expectation of 310,000 to 320,000.
Wachovia has the stock listed at outperform with a price target of $16 to $18. The research report noted that HealthSpring's focus on HMO products and their strong relationships with doctors and hospitals should give the company a competitive edge over others in the field.
The company has submitted its bids to Medicare for 2010 and expects that profitability margins will be relatively stable over the coming year. Assuming flat physician fees over the next 12 months, and relatively conservative enrollment levels, the company should maintain stable profitability in 2010. It seems that the expectations are a bit overly conservative and any pleasant surprises could quickly lead to margin expansion. I think that at some point over the next 12 months, we should see the stock reach a multiple of 12 which would represent a price of $26. This would be a significant increase from the current stock price and offer great returns for investors.
So currently HS appears to be pricing in the most conservative outcome possible. Healthcare reform has met enough resistance that it is unlikely Congress will destroy the free market approach to medical care. This is good news for HS and I expect patient investors to be rewarded.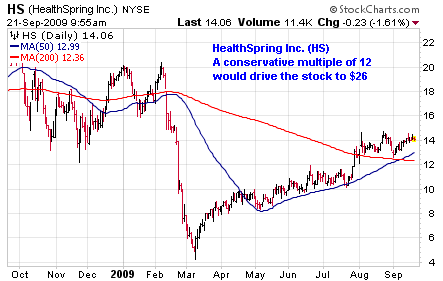 Disclosure: Author does not have a position in HS.