Overview
Founded in 1993 and headquartered in Berwyn, Pennsylvania, Triumph Group (NYSE:TGI) is an organization on the rise. The company employs nearly 14,000 people that work together to design, engineer, manufacture, repair, overhaul, and distribute aerospace structures, systems, and components. The company is made up of 46 specialized manufacturing companies that are divided into three operating segments, which are aerostructure, aerospace systems, and aftermarket services. According to its website, the massive company's operations touch nearly all of the major players in the aviation field.
In the last ten years, the company has experienced rapid growth in terms of both revenue and profit, as depicted by the chart below.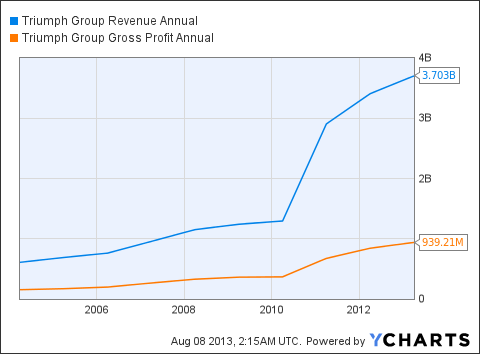 TGI Revenue Annual data by YCharts
Recent Performance
Triumph released a 10-Q earlier this month that contained very impressive results for the first quarter of fiscal 2014. Net sales increased 6% year-over-year to $943.7 million. Diluted EPS increased from $1.46 to $1.50. This year's EPS would have been even higher, at $1.54, if the costs from the Jefferson Street facility move ($2.3 million after tax) were not included. The aerostructures segment was lagging, as revenue went from $669.9 million to $651.9 million. This was largely due to $20.7 million decline in non-recurring revenue. The aerospace systems segment, on the other hand, increased sales by 56% to $219.5 million. This reflected the fiscal 2013 acquisitions of both Triumph Processing-Embee Division and Triumph Engine Control Systems. Organic sales growth was 6%. The aftermarket services segment has a decrease in sales of $5.6 million as a result of divestitures of the Instrument Companies while organic sales increased by one percent.
The company's last 10-K was also encouraging. Revenue was up almost 9% and net income was up about 6%. Operating income increased 16.6% for the aerostructure segment, which shows that it is not declining like the last quarterly report would make one believe. Also, the aerospace systems segment increased operating income by 14.4%, and the aftermarket services segment had a jump of 40%. Organic sales for fiscal 2013 increased 8% as a result of increased commercial production rates of many customers' programs. Acquisitions contributed $22.2 million in increased net sales. Gross margin for the year went from 24.7% to 25.4%, as it was favorably impacted by a decrease in pension payments as well as product mix.
Insight On Strategies And The Future
One of the company's main strategies to achieve growth has been through acquisitions, which Triumph has a long string of. The company aims to acquire businesses that enhance and improve each operating segment. In 2010, for example, Triumph made its largest acquisition ever when it bought Vought Aircraft Industries. With this addition, Triumph more than doubled revenues and became a top tier competitor at each level of the aerospace supply chain. As the company grows internally, it will raise more cash and be better suited, financially, to make additional acquisitions. With the company already having more than 40 under their belt, there is no sign that the external growth will stop anytime soon, especially with $32 million in cash and cash equivalents as well as a debt to equity ratio of .66. Large industrial companies like this tend to have a lot of debt, and so it is acceptable for the company to make more acquisitions in the near future, as they make more money and are able to keep their debt level under control. These statistics, as well as historical trends, indicate that the company will make more acquisitions in the near future. As the company increases revenues and earnings with these acquisitions, quarterly and annual reports will act as catalysts to drive the stock price higher.
The role that 10-Q's and 10-K's play as catalysts to drive the stock price are often understated, as if they are too obvious to hold any weight. Many people incorrectly believe that these don't necessarily qualify as catalysts because every company has to report earnings, and they are always somewhat predictable. They fall back on the efficient market hypothesis, saying that everything is already worked into the stock price. This, in reality, is not the case. When a company increases earnings by 10%, each share has become 10% more valuable to shareholders (maybe not in terms of price, but in terms of value). A 5% surprise, for example, on a report of earnings per share would indicate that value truly surpassed price, and shareholders got even more than what they paid for. When it comes down to it, earnings are not only a catalyst, but they are the most important catalyst of all. The correlation between earnings per share and share price can be seen below. One might fall or rise slightly before the other because of fluctuations in the market, but the correlation is clear and undeniable.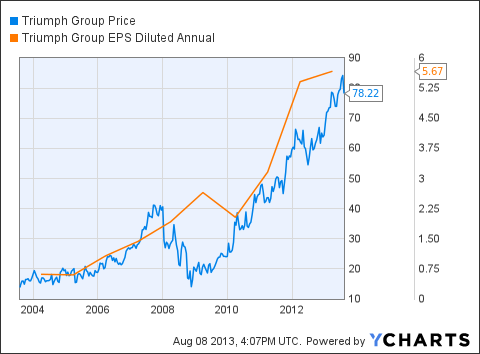 With financial reports acting as strong catalysts to drive stocks higher, I believe that Triumph is in good shape to benefit from its reports. The company has historically been raising revenues and earnings on a consistent basis, and I look for it to accelerate growth even further in the future. What I think analysts don't consider in their estimates is how well Triumph has been able to integrate acquired companies so that the business grows as a whole. It's not just like Triumph has added a new factory and a few new employees, this is a whole new business being brought into Triumph's business model. For example, the company acquired Goodrich Pump and Engine Control Systems (GPECS) in fiscal 2013. It is estimated that this added $323 million in assets to Triumph. But this just didn't make Triumph a larger company, it opened up new doors. GPECS is a fuel systems supplier to the military, commercial, helicopter, and business jet markets. This is a field of work that Triumph has not been engaged in, so they have acquired a whole new base of customers and have plenty of room to grow in this area. With the fantastic leadership that Triumph has, along with the millions of dollars of assets and resources that can be put to use for the growth of GPECS, growth in this area should accelerate in the near future.
In summary, an acquisition is just a simple expansion of the company. It can offer a wide variety of benefits that even analysts often can't predict. It's all in the synergy that Triumph is able to produce from acquisitions. And this is one of Triumph's greatest intangible assets. A company that has made over 40 acquisitions will be able to integrate a lot more effectively than a company going on their first. Even when the company acquires a business engaged in a field that Triumph already works in, there are multitudinous benefits. For example, Triumph acquired Embee, Inc. in fiscal 2013, which is a leader in the metal finishing industry. The obvious benefit of this is that their revenues are now redirected toward Triumph. But also, Triumph has gained many more customers, and also has expanded their market share in this industry. As the industry grows with time, Triumph is able to capture more of that growth as revenues and profits. With each acquisition that the company makes, Triumph isn't just getting assets. They are getting future growth and market share, which are key parts of building a successful business. For example, when Triumph acquired Vought Aircraft Industries, they more than doubled revenues. Acquisitions like these make Triumph a whole new and improved company. Although I can't tell you what companies will be acquired next, you can be confident that there will be acquisitions. This is because of the facts that I stated earlier about having cash on hand and a decent debt to equity ratio. Also, the company has $1.63 billion in current assets and only $616 million in current liabilities. So next time Triumph finds a great company with a clean balance sheet and that is able to give Triumph more market share, chances are high that they will pull the trigger.
Also, I have made mention of expenses from a Jefferson Street facility relocation that I would like to elaborate on the details and significance of. After years of successful operations, Triumph Group decided to relocate one of its facilities to a new spot because it no longer served their needs in accordance with the price they paid to uphold it, as it was a very large and costly factory to operate. Management believes that the company will be saving about $72 million in deferred capital that would have to go to the upholding of this inefficient space in the future. More can be read about the facility and its history, along with why the company elected to leave, in this earnings call transcript. The company will be moving operations from that facility to its Red Oak facility, thus saving money on the long term. This move is significant not only in that it saves the company money, but that management has the initiative and analytical skills to make this happen. This may only improve margins by a fraction of a percent, but that is a whole lot of money when we are speaking in terms of millions. As the company continues to grow internally as well as through acquisitions, management will play a key role in ensuring that the company is able to continue operating in the most efficient and effective manner possible.
In terms of each individual segment, we can expect organic growth rates in the high single digits that are driven to even more impressive levels by acquisitions. There is no way to predict what segment will acquire which companies next, but so far it looks like Triumph is putting the most effort into its aerostructure segment, then aerospace systems, and finally aftermarket services. All of the segments have grown a considerable amount in the past few years, though, and there are no indications that they won't continue to, especially with the company's effective strategies for growth that I've already addressed. And as they acquire more and more companies, each operating segment will become more dominant throughout the supply chain of the field of work they are in, which provides Triumph with a huge competitive advantage.
Risks
There are a few obstacles that Triumph might have to face in the future. One of these obstacles is the competition. Three of Triumph's main competitors are Lockheed Martin (NYSE:LMT), Northrop Grumman Corporation (NYSE:NOC), and Spirit AeroSystems (NYSE:SPR). Let's examine the four companies (statistics from Yahoo! Finance):
| | | | | |
| --- | --- | --- | --- | --- |
| | TGI | LMT | NOC | SPR |
| Revenue | $3.76 billion | $46.45 billion | $25.14 billion | $5.57 billion |
| Net Income | 300.06 million | $2.92 billion | $1.97 billion | $42.40 million |
| Gross Margin | 25% | 9% | 22% | 4% |
| Operating Margin | 15% | 9% | 12% | -0.14% |
As you can see, Triumph's competitors have a significant amount of size on the company. But Triumph has impressive margins, a diversified product line that spreads throughout the supply chain, and adequate management to continue growth. With these competitive advantages, Triumph shouldn't be slowed down by these rivals.
Also, the other companies' sizes are downplayed by the fact that they don't compete directly with Triumph in all fields of work. Lockheed Martin, for example, is primarily a threat to Triumph because of their successful operations in the military aerospace market. But Triumph still has a number of products and customers that Lockheed really has nothing to do with. Northrop Grumman is very strong in the military aerospace industry as well, but they focus more on systems and electronics rather than whole structure like Lockheed. Triumph is competing with Northrop Grumman in their systems segment, but they have comparatively little trouble dealing with them in a segment such as their aftermarket services. And finally, Spirit AeroSystems competes with Triumph most effectively in the aerostructure field, as Spirit's three segments are fuselage systems, wing systems, and propulsion systems.
This, by the way, is yet another benefit of Triumph's expertise and dominance in acquisitions. The company can hedge against risks from competition by expanding the size and scope of their business through acquisitions.
Another risk is the cyclical nature of the commercial aerospace market. In times of struggle for this sector, the demand for Triumph's products lags and earnings tend to decrease as commercial airplane companies cannot afford to expand their assets, such as by building new planes. If we hit some of these tough times in the near future, the growth of Triumph could be severely slowed. Also, Triumph has credit exposure to a number of airlines, some of which have had histories of financial troubles.
Just like commercial sales are dependent upon commercial spending, military aerospace sales are dependent upon government spending. If the US hits a recession and the government chooses to respond with military spending cuts, demand for Triumph could sink, once again, resulting in decreased earnings. Even if spending increases or remains constant, the money might not be put toward programs that would benefit Triumph. With the sequestration that began on March 1, 2013, many of Triumph's customers will have an extreme lack of contracts awarded to them, and thus spending will decrease and Triumph will not bring in as much sales. As the US economy recovers, though, so does military spending and Triumph's sales to defense organizations.
Another risk is a downside to the company's fantastic strategy of acquisition, which is a failure to integrate newly acquired companies. Also, there is the risk that one of the companies could fail, or that management and other resources would have to be redirected too strongly away from the original business.
And the most serious risk that the company faces is the fact that they rely on Boeing (NYSE:BA) for a major portion of their sales. In fiscal 2013, Boeing was responsible for 49% of Triumph's revenues. Triumph sells to nearly every Boeing plant and for nearly every Boeing product, and if this ever changes, the company would be affected in an extremely negative way. But, luckily, the chances of this happening appear to be slim at the moment. Triumph has been supplying Boeing with high quality products for years. Triumph is a strong company that has been giving Boeing what it needs, and there are no indications that this will stop anytime soon. On a year-over-year quarterly basis, sales to Boeing dropped about 0.4%, which shows that Triumph is currently maintaining its relationship with Boeing. Despite this, though, sales to Boeing as a percentage of total sales dropped 3%. This shows that Triumph is finding other customers to fall back on, and they are very gradually becoming less dependent on Boeing. Do not mistake this, though, for an exiting of the customer relationship with Boeing, which is still healthy and intact.
Valuation
Despite the risks, it should be clear that the future seems more bright for Triumph than it is daunting. And to make things even better, Triumph is trading at quite a cheap price right now. The price to earnings is only 13.54. The price/sales is 1.05 and the price/book is 1.86. Let's compare these ratios to some of Triumph's competitors:
Lockheed has a PE of 13.91, a price/book of 57.28, and a price/sales of 0.86.
Northrop Grumman has a PE of 11.87, a price/book of 2.31, and a price/sales of 0.88.
Spirit AeroSystems has a PE of 84.18, a price/sales of 0.64, and a price/book of 1.73.
As you can see, Triumph stacks up well, valuation wise, against its competitors. It might not be severely undervalued, but there is surely a margin of safety.
With this attractive valuation accompanied by strong strategies for growth, Triumph seems like it could be a very effective investment.
Disclosure: I have no positions in any stocks mentioned, and no plans to initiate any positions within the next 72 hours. I wrote this article myself, and it expresses my own opinions. I am not receiving compensation for it (other than from Seeking Alpha). I have no business relationship with any company whose stock is mentioned in this article.