On July 31st it was announced that Qualcomm (NASDAQ:QCOM) had made a very significant investment in Alcatel-Lucent (ALU) to the tune of €100 million ($133 million). The deal would allow both companies "to plan and jointly develop products for the small cell base station market, where Alcatel has already struck deals with a number of other major carriers and Qualcomm's small cell baseband processors would almost always be included in any finished product." In the wake of Qualcomm's significant investment in Alcatel-Lucent, I wanted to not only take a closer look at how a number of Qualcomm's small cell technologies are being integrated alongside Alcatel-Lucent's lightRadioTM technology, but also demonstrate how such utilization may have the ability to enhance both Qualcomm and Alcatel-Lucent's growth over the course of the next 12-24 months.
What exactly is Small cell technology, and how is it best being utilized? The term "small cell" refers to cells that are low-powered radio access nodes that operate in licensed and unlicensed spectrums and have a perceived range of 10 meters to about 1.5 kilometers, compared to a mobile macro cell, which might have a range of 15-20 kilometers or more. One of the best ways these "small cells" are being utilized is through a technology currently being developed by LGS Innovations.
LGS Innovations (a subsidiary of Alcatel-Lucent) is currently addressing the development of a basic small cell technology called "lightRadioTM," which breaks down the typical components of a cell tower and consolidates them in a device roughly the size of a baseball. In addition, larger cell tower antennas are combined and shrunk into powerful, less visible antennas that can address multiple frequencies and adapt to multiple sets of standards. This type of multifaceted functionality can be best utilized in a number of different scenarios ranging from your typical everyday home-based user to assisting in the deployment of strategic weaponry during a high-level military operation.
Three Small Cell Technologies Currently Being Developed By Qualcomm
Before we get into how Qualcomm will benefit, we must first understand where the company stands in terms of its current technology. According to its website, Qualcomm is making key strides when it comes to small cell networks better known as HetNets, a specific type of small cell better known as a Femtocell and a simple plug-and-play technology known as a Neighborhood Small Cell or NSC. In the breakdown below, I've highlighted each of the three of technologies and noted how each technology can be further utilized.
| | |
| --- | --- |
| Small Cell Technology | Utilization Summary |
| | The HetNets (heterogeneous networks) that incorporate different kinds of small cells such as micro, pico, femto, metro cells, relays, and others, all integrate with Wi-Fi and are instrumental in meeting the anticipated 1000x increase in data demand. HetNet optimizations such as Range Expansion can provide significant performance enhancements much more than what can be achieved by merely adding additional small cells. |
| | A Femtocell is a low cost solution that increases indoor coverage as well as capacity. With existing devices it has the ability to improve voice capabilities, the macro offloading of various entities such as large amounts of data, and most importantly it can transfer data at a higher rate of speed especially when compared to one's traditional exterior cell tower. |
| | Qualcomm Research is driving innovation in small cell technology that allows simple plug-and-play deployment while increasing overall network capacity beyond 1000x of today's macro networks. This new deployment concept, called "Neighborhood Small Cells" or NSCs, uses densely deployed open-access small cells and leverages existing premises and backhaul to greatly reduce Capital Expenditure (CapEx) and Operational Expenditure (OpEx). |
A Look at How Both Companies Plan on Joining Forces
The benefit to Qualcomm comes not only in the form of how well each HetNet, Femtocell or NSC will perform, but rather how successful each subsequent integration would be when combined with Alcatel-Lucent's lightRadioTM technology.
The benefits, as referenced in a recent quote by Alcatel-Lucent's CEO Michel Combes, seem very promising for both Alcatel-Lucent and its industry-based partner, Qualcomm. Mr. Combes recently noted that:
"This initiative perfectly illustrates The Shift Plan which we announced in Mid-June, and will see Alcatel-Lucent focus on a number of growth-driven technologies, including those facilitating ultra-broadband access. We also said we would actively seek collaboration with key industry players...In working together with Qualcomm Technologies -- a world leader in advanced wireless platform solutions such as its small cell chipsets -- Alcatel-Lucent will continue to be positioned at the forefront of innovation within the small cell market."
When it comes to Alcatel-Lucent's Shift Plan, the company is anticipating it will meet two very important and fundamentally- driven goals by the end of 2015. First and foremost is the fact that Alcatel-Lucent sees IP Networking and Ultra-Broadband Access representing at least 85% of its overall R&D, and second is the fact that the company anticipates a fixed cost savings of €1 billion by the end of 2015. Although I strongly believe both of the moves are a bit of a stretch, they bring me to my next point and that is to showcase the attractiveness both compaies' fundamentals.
Qualcomm: Fundamentals and Trend Status
Qualcomm currently trades at a trailing 12-month P/E ratio of 17.62, which makes that stock quite affordable at present levels and even cheaper when we take into consideration that fact that shares also carry a forward P/E ratio of 13.45. Next year's estimated earnings are $4.93/share and I'd consider the stock cheap until at least $76.50/share. Qualcomm's margins have demonstrated significant strength over the past several months as the company carries a gross margin of 61.80% and an operating margin of 30.60%. It should be noted that Qualcomm has roughly $12 billion in cash on its books ($30-$32 billion if you consider off-shore positions) and next to nothing in terms of debt.
Based on Friday's closing price of 66.27/share, shares of QCOM are trading 4.11% above their 20-day simple moving average, 6.16% above their 50-day simple moving average, and 4.84% above their 200-day simple moving average. These numbers indicate a short-term, mid-term and long-term uptrend for the stock, which translates into a buying mode for most traders.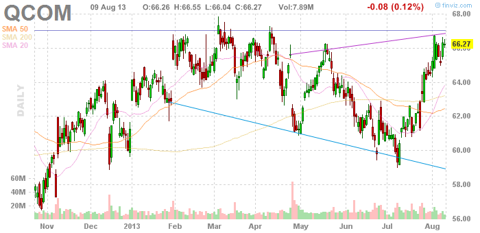 Alcatel-Lucent: Fundamentals and Trend Status
Alcatel-Lucent does not currently possess a trailing 12-month P/E ratio or carry a forward P/E ratio since the company has failed to turn a profit over the last several quarters. Next year's estimated earnings are calling for Alcatel-Lucent to post a loss of $0.06/share on revenue of $18.91 billion, and I'd consider the stock fairly cheap until at least the $2.60-$2.80/share price range. That being said, one of the more notable fundamentals actually comes in the form of the company's price-to-cash-per-share ratio, which currently stands at 0.94 and for those of you at home trying to figure out specifics, it means each share of Alcatel-Lucent currently carries about $2.81 in cash. Speaking of cash, it should be noted that Alcatel-Lucent has roughly $6.3 billion in cash and an estimated $7.4 billion of debt on its books.
Based on Friday's closing price of 2.70/share, shares of ALU are trading 19.57% above their 20-day simple moving average, 35.75% above their 50-day simple moving average, and 75.96% above their 200-day simple moving average. These numbers indicate a double-digit short-term, mid-term and long-term uptrend for the stock, which translates into a strong buying mode for most traders.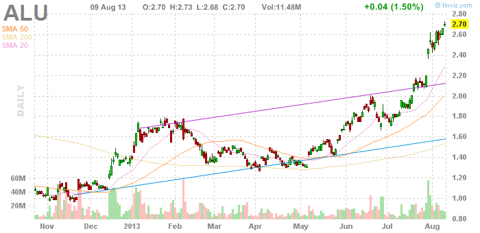 Conclusion
Although small cell technology is still in its adolescent stages, both Qualcomm and Alcatel-Lucent are making considerable strides in terms of development and integration. With that said, I strongly believe that Qualcomm (from a processor perspective) and Alcatel-Lucent (from a signal capability perspective) have the tools and technology in place to create a solution that will not only change the way we as users communicate over various types of networks, but change the way we as investors think with regard to each company's growth over the next 3-5 years.
Disclosure: I am long QCOM, ALU. I wrote this article myself, and it expresses my own opinions. I am not receiving compensation for it (other than from Seeking Alpha). I have no business relationship with any company whose stock is mentioned in this article.