This article is about Semafo (OTCPK:SEMFF). Semafo has a market capitalization of just under $500 million. It currently owns the Mana gold mine in Burkina Faso. It also owns two smaller gold mines--Samira Hill in Niger, and Kiniero in Guinea--which are not profitable at the current gold price, and are in the process of being discontinued, and potentially sold. In addition to owning these properties the company has $116 million in cash (as of the end of June), and no debt.
Thus Semafo essentially has one property, but it is a valuable one. The Mana property in Burkina Faso is a large gold mine with over 150,000 ounces of annual production. The property is profitable at the current gold price, although it probably cannot withstand a price below $1,200/ounce. While production here has been declining the company has done a lot of exploration, and has ultimately found new resources that will enable it to significantly increase production. Furthermore, the property is enormous, and it consequently has virtually unlimited exploration potential for a company the size of Semafo.
Given the current production figures at Mana there is nothing particularly noteworthy about Semafo at the current valuation, other than the leverage to the upside in gold it provides. But Semafo is enticing as an investment because of the exploration potential at Mana, and the company's ability to fund exploration internally. Thus, if management sheds its two underperforming properties and puts more capital towards exploration, then the shares potentially offer enormous upside.
Semafo's Properties
Semafo has three properties, all of which are located in West Africa.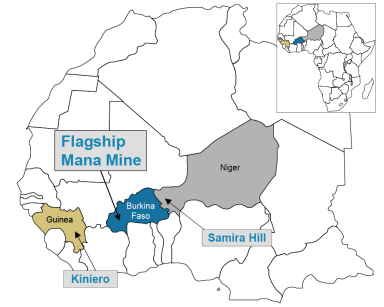 A: Mana
Mana is Semafo's core property, accounting for more than two thirds of the company's resources and production, and all of the company's exploration efforts. It is a huge property of over 2,100 square kilometers located in Burkina Faso.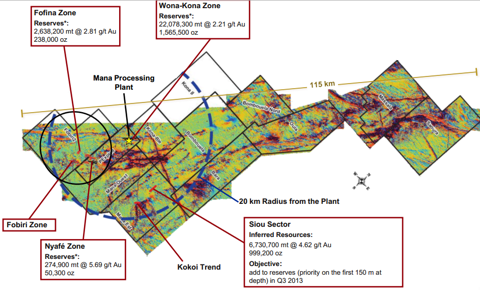 From the above map there are several sections of Mana. The Wona-Kona Zone contains the largest amount of reserves and is the mine's primary source of production; hence it is located near the processing plant. Other areas have recently yielded positive exploration results, although nothing as big as Wona-Kona. Still, a lot of the property remains unexplored.
Mana has an estimated 6.7 million ounces of gold, with 1.9 million of these ounces classified as proven and probable reserves. Due to exploration success at Fofina, Fobiri, and Siou, the company has been able to rapidly increase these figures over the past several years.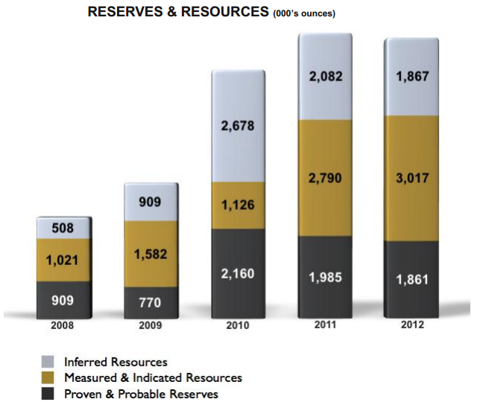 Despite this growth in resources Mana is seeing declining production. In 2012 it produced over 170,000 ounces of gold. This figure is expected to decline to 153,000 - 168,000 ounces in 2013. This decline is already manifest in the first two quarters, in which it produced 42,700, and 41,500 ounces of gold versus 48,000 and 42,500 ounces of gold a year earlier.
Furthermore, Mana is seeing rising costs. Cash costs rose from $650/ounce to $709/ounce in the first quarter, and they rose again to $752/ounce in the second quarter. This figure is expected to be $805/ounce to $855/ounce, which puts the mine's "all in" cost (including administration, taxes, and exploration) at roughly $1,200 - $1,250/ounce. Thus the mine is barely profitable at the current gold price.
Despite these disappointments Mana has enormous exploration potential given its size. The company has already proven this, as is evidenced by the aforementioned increases in the company's estimated resources. It has also dedicated its entire $22 million 2013 exploration budget to Mana. In particular it is focusing on developing its newest discovery at Siou. Furthermore, it should be able to achieve small, yet meaningful production increases from Fofina, at which it has an estimated 238,000 ounces of reserves. Yet Siou is the company's most promising area for exploration and development.
A' Siou
Siou is a recent discovery of high grade ore going about 250 meters deep over two kilometers.

The company has discovered nearly a million inferred ounces of gold at around 4.5 grams per tonne, or about twice the grade of the ore the company currently mines. Thus, presuming that it can get the ore out of the ground at Siou at roughly the same price it does throughout Mana, the gold at Siou should be very inexpensive to mine once the company better understand the area's geology. Once the company does this and builds the necessary infrastructure it should be able to add probably 60,000 - 100,000 ounces of production per year from Siou.
B: Samira Hill
Samira Hill is a small mine in Niger that the company is planning on selling this year, according to the company's second quarter earnings call. It has an estimated 1.3 million ounces of gold, with 317,000 defined as reserves at 1.25 grams per tonne.
In the first half of 2013 the mine produced 24,500 ounces of gold, compared to 26,700 ounces in the first half of 2012. Furthermore, cash costs have risen to over $1,000/ounce in the most recent quarter, which means that Samira Hill is operating at a loss at the current gold price. In addition to Samira Hill being cash flow negative, the company took a $14.7 million impairment charge in the second quarter of 2013.
Given these statistics it is no wonder the company has decided to sell the mine.
C: Kiniero
Kiniero is a small mine located in Guinea. Like with Samira Hill Kiniero is a high cost mine with little production, and so the company is reviewing its future.
The property has roughly 1.55 million ounces of gold, of which 270,000 at 2.27 grams per tonne are reserves. In the most recent quarter it produced just 4,800 ounces of gold, which is far higher than the 420 ounces produced in the second quarter last year. But cash costs rose dramatically to $910/ounce from $760/ounce. Thus at the current gold price the mine is barely profitable.
Like with Samira Hill, the company is ultimately winding down operations at Kiniero and it took a $32.8 million impairment charge in the most recent quarter.
Semafo's Total Resources
Semafo has roughly 9.6 million ounces of gold:
2.4 million ounces of reserves at 2.08 grams per tonne
4.2 million ounces of measured and indicated resources at 1.89 grams per tonne
3 million ounces of inferred resources at 2.57 grams per tonne
The following charts detail this data.



Given the state of Samira Hill and Kiniero, and the possibility that Semafo will not own these assets by the end of the year, it is probably reasonable to just assume that the company's resource data is equivalent to Mana's resource data. However, Samira Hill and Kiniero have nearly 3 million ounces of gold, and this will play into how an acquirer values them, especially if the gold price rises between now and sale of these properties. Furthermore, if the price of gold rises substantially before the company can reach an agreement to sell these properties, it may decide against a sale.
Semafo's Production
While production has risen longer-term, over the past couple of years it has been declining.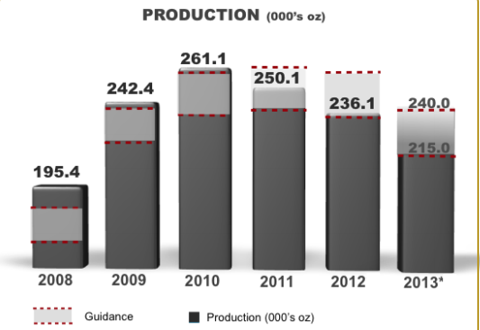 In 2013 the company expects to produce roughly 215,000 - 240,000 ounces of gold at its three properties. In the first two quarters of 2013 the company produced 59,700 ounces, and 58,600 ounces, respectively, which is down year over year.
When estimating the company's future production, there are two opposing forces: on the one hand there is the potential for increased production at Mana given the aforementioned exploration success and the consequent growth of mineral resources and reserves, and on the other hand there is the possibility that Mana will be the company's only producing mine for the foreseeable future.
For the sake of this article I will interpret management's desire to sell Samira Hill and Kiniero, and its focus on Mana (especially regarding its exploration budget) to mean that Mana will be Semafo's sole property going forward. While it is difficult to say with any certainty how much the company will be producing at Mana over the next several years, it will likely increase substantially given that estimated gold there has nearly doubled recently. Furthermore, the Siou zone has a lot of potential to add production ounces in the next couple of years. Above i estimated that it can produce between 60,000 and 100,000 ounces annually. Given the low end of Mana's 2013 production is just above 150,000 ounces, estimating 210,000 - 250,000 is reasonable. However none of the production at Siou is confirmed by a feasibility study, and so I will reduce my estimates for the sake of this article significantly to between 180,000 ounces and 220,000 ounces, with the possibility that these are very conservative estimates (although keep in mind that 220,000 is more than the low-ball estimate for 2013 of 153,000 ounces plus my low-ball estimate for Siou of 60,000 ounces).
Production costs have been rising at Mana, but the company has been able to keep the mine profitable at $1,300 gold. The company's cash costs have been around $760/ounce recently, which means that its all in cost is probably around $1,150/ounce. Given that costs are rising, and given the company's cash cost estimates of $800 - $855/ounce I will estimate that the company will have costs of $1,250/ounce. However investors should keep in mind that future production at Siou has the potential to lower the company's overall costs given the high grade of the deposit.
The following table calculates the company's cash flow assuming only production at Mana, with costs of $1,250 per ounce. I use both 180,000 ounces and 220,000 ounces as possible production figures.
| | | |
| --- | --- | --- |
| Gold Price in U. S. Dollars per Ounce | 180,000 ounces | 220,000 ounces |
| $1,300 | $9 million | $11 million |
| $1,500 | $45 million | $55 million |
| $1,750 | $90 million | $110 million |
| $2,000 | $135 million | $165 million |
| $2,500 | $225 million | $275 million |
Thus at the current gold price the company is barely profitable, and appears to be over-valued based on its price relative to its cash flow. Yet given the size of Mana, the company's cash position, and its potential cash flow at higher gold prices I don't believe that Semafo is over-valued.
Risks
A: The Possibility of Lower Gold Prices
The price of gold has fallen precipitously recently, and Semafo's share price will be highly correlated to the gold price. Thus so long as this downtrend remains intact, there is a reasonable possibility that the gold price will continue to fall in the short term.
(click to enlarge)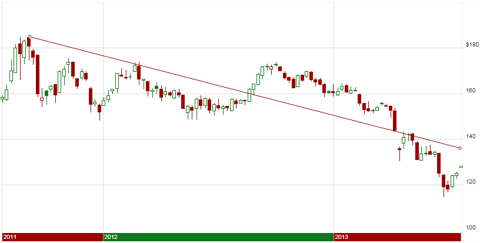 The price seems to have found a bottom around $1,200, which suggests that the downtrend in gold may come to an end. Still, it is intact, and lower gold prices will be reflected in Semafo's share price.
B: Mining in Burkina Faso
Investors tend to shy away from mining companies that operate in Africa, fearing government coups and workers protesting abhorrent labor conditions. Investors are always prudent to fear the former when investing in mining operations in third world countries such as Burkina Faso, and were the mine located in Mexico or Sweden it would be worth more than it is.
Furthermore, I should note that Mana is an open pit mine that does not require workers to go thousands of meters underground in order to find gold, as is the case in many South African mines that have had recent labor issues. This mitigates the political risk of mining in Burkina Faso.
C: Semafo's Size
The vast majority of Semafo's value is at Mana. If for whatever reason it cannot mine here it is worth the cash on its balance sheet ($116 million) plus the value of its two smaller properties (and given that they are small producers with high costs, this isn't much). This would be about $150 million, or 30% of the current valuation.
Conclusion
Semafo appears to be somewhat overvalued at $500 million based upon its estimated cash flow at the current gold price. However I do make very conservative assumptions regarding the company's future production costs, given that its costs are rising. i also make conservative assumptions for the company's future production given that the area that is being developed--Siou--only has inferred resources, which is the lowest level category of certainty that geologists assign to mineral estimates.
But this is not a reason to shy away from Semafo shares. The company offers a lot of leverage to the gold price, and its shares would be undervalued at a gold price that is just 15% - 20% higher.
Furthermore, the company has a huge property at Mana, which has a lot of exploration potential. It also has the cash and the cash flow to fund such efforts. The company has already located gold at several regions, and given Mana's size it could potentially find several mines and become a much larger producer--perhaps 500,000 ounces or more.
Ultimately I would become much more interested in the company if two things were to happen. First, it needs to sell its minor properties. True, it is a lousy market to make such a transaction, and the buyer(s) would be beneficiaries, but these properties simply do not add value to Semafo, and they are consuming intellectual capital that should be devoted to Mana. Second, the company needs to announce a large exploration program, say, $40 million a year, which it can easily afford.
If it does these two things I would buy the shares. Otherwise, investing in Semafo is a somewhat risky way to gain leverage to the price of gold, and little more.
Disclosure: I have no positions in any stocks mentioned, and no plans to initiate any positions within the next 72 hours. I wrote this article myself, and it expresses my own opinions. I am not receiving compensation for it (other than from Seeking Alpha). I have no business relationship with any company whose stock is mentioned in this article.