Exclusive news from Reuters that BlackBerry (BBRY) could privatize may be nothing more than speculation, because it raises more questions than it does provide any concrete facts. Worries for shareholders still persist due to weakness in its last quarter. Still, the rumors affirm that investors think BlackBerry shares are deeply undervalued. It sets the stage for shares to move higher. There are 3 things that have changed since BlackBerry was last written as a stock to buy.
1) Speculation for privatization holds merit
BlackBerry needs many things to happen, to survive in the fiercely competitive mobile market. Two things needed are (1) time, and (2) relevance. Private equity firms like Silver Lake Partners would be motivated only in profits. When the cash is deducted from the market value, BlackBerry is worth just $2 billion. The PE firm could leverage BlackBerry's balance sheet, giving BlackBerry more cash to carry out its transition strategy. For BlackBerry, being taken private would remove the distraction of reporting quarterly and give BlackBerry the time it needs to carry out its comeback.
BlackBerry would also need more than just time to succeed. It needs to gain relevance in the marketplace. A leveraged balance sheet would give BlackBerry more money, which is needed in the areas of both marketing and in research and development. BlackBerry already said it would spend a billion in advertising, but so far, the marketing efforts are showing little initial success. Despite positive reception for advertising at the Super Bowl this year, current ads appear to have failed to accentuate the BB10 operating system is entirely new, and is a departure from BBOS7.
R&D spending is adequate in supporting the new operating system, but does not go far enough. BlackBerry already has a beta version of BlackBerry 10.2 developed, which improves the hub and flow mantra and improves the messaging user interface. Yet, the company needs to spend more to develop its enterprise device management software and high profile "apps" like Netflix (NASDAQ:NFLX). BBM Channels offer users something new, but is still in beta. So far, uptake of the BlackBerry 10 server is slow as firms take time in adopting it.
A private equity firm might deduce that BlackBerry is worth more if it specialized in secure and reliable devices and exited the consumer market. That means BlackBerry would focus only the private sector. To extract the most value from BlackBerry, the PE firm might sell or license the consumer hardware division and license the BlackBerry BB10 operating system, but retain the enterprise mobile division and server software divisions of the company. If Google's purchase of Motorola is any indication, valuing BlackBerry using the sum of the parts analysis would suggest a stock price of at least double (more below).
2) Q5 release could sustain margins
BlackBerry released a less expensive version of the BlackBerry 10. The device is priced as low as CDN $350 in Canada. The device is not priced competitively, since a Google Nexus 4 is USD $299, but this should sustain healthy margins for BlackBerry. Once a premium 5-inch A10/Z30 model is released, BlackBerry could lower Q5 pricing to gain market share.
3) Federal DOD certification
BlackBerry said last week it was awarded the "authority to operate" on US Department of Defense ("DoD") networks. This would translate sales of up to 10,000 smartphones for the US Defense Information Systems Agency ("DISA") by the fall, and 30,000 devices on the DoD by the end of this year. The win could set a precedent for corporations and state governments to adopt BlackBerry devices, instead of implementing the policy of BYOD (bring your own device).
What BlackBerry is worth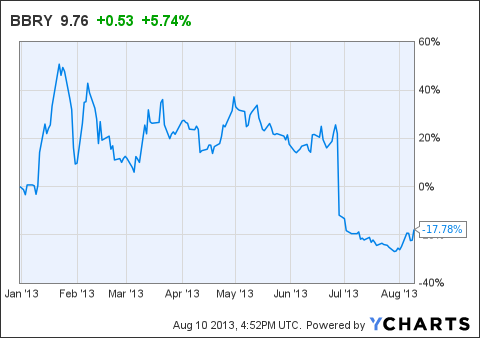 BlackBerry has $3.1 billion in cash, so the company is only worth $2.1 billion at a current share price of $9.76. The company is worth less than the $3.1 billion in revenue it generated in the first quarter.
Takeover valuation - It is a far stretch to compare Google's $12.5 billion purchase of Motorola as a guide. After all, Google valued Motorola's patent at $5.5 billion, but by after a ruling in April 2013, the patents were determined to be far lower than that. A judge ruled that the patents against Microsoft would generate only $1.7 million in royalties annually. Still, Google paid a 73% premium in 2011 for the company. If the same premium is applied for BlackBerry, shares would be worth $16.88, a price still below its 52-week high of $18.32.
Fair value - BlackBerry could be valued at a similar price / book to that of Nokia, but with a discount. Nokia has a price/book of 1.57. Applying a 50% discount would imply BlackBerry is worth at least $14.19.
Bottom Line
The risk that BlackBerry could be taken over could squeeze out the short-sellers, giving shares a boost in the near-term. Looking longer out, the company needs more time to promote the merits of its new phone to grow sales. Based on the last quarter, it hardly looks likely the company will be successful. However, the company will gain awareness by opening up BlackBerry Messenger to other devices this summer and higher-end phones planned. If and when a premium BB10 (rumored to be called A10 or Z30) is released, consumers demanding the best phone and a secure one will have a BlackBerry device to consider.
Disclosure: I am long BBRY. I wrote this article myself, and it expresses my own opinions. I am not receiving compensation for it (other than from Seeking Alpha). I have no business relationship with any company whose stock is mentioned in this article.