Albany International (NYSE:AIN) has been doing a lot of things right, highlighted by its stable Machine Clothing business, and complemented by its Engineered Composites, which is it current and future growth segment.
Although recently appearing to be fully priced, after gross margin and operating margin declined in the latest quarter, along with a drop in earnings per share, the share price fell to the level of it looking like a good entry point.
There is no doubt Albany International is just taking a temporary breather, as it will continue to have a solid base segment in Machine Clothing, and a dynamic growth unit in Engineered Composites, which is projected to grow from $67 million in 2012 to $300-$500 million by 2020. Recently the company said that may accelerate by 12 months, potentially achieving the goals of the company a year earlier than planned.
Assuming its Machine Clothing business continues to run flat but still generates solid revenue, the Engineered Composites will drive the share price of Albany International significantly higher over the next several years. It could happen sooner than that if the LEAP program moves forward quicker than anticipated.
source: StockCharts.com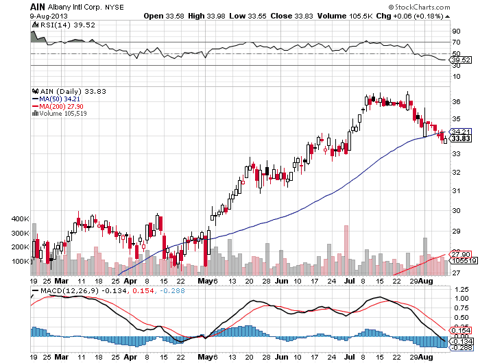 Latest Earnings Report
Albany International generated earnings of $198 million the second quarter, beating estimates by several million. The revenue estimate for the next quarter is virtually the same as the $198 million generated last quarter.
What I wanted to focus primarily on in the earnings report though is adjusted EBITDA. That dropped from $40 million in the second quarter of 2012 to $36 million in the second quarter of 2013. That was attributed solely to the small drop in gross margin from 44.2% last year in the same quarter to 43.8% in the second quarter of 2013. Albany says that is in the target range it's looking for, and in line with the gross margin for 2012.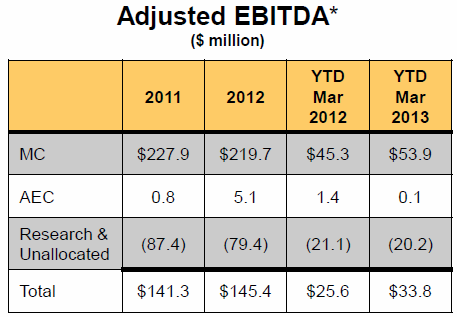 source: investor presentation
In the Machine Clothing division there has to be some caution employed because its adjusted EBITDA is $8 million, or approximately 7.5% ahead of first half of 2012. The assumption can't be made that this is a positive, as adjusted EBITDA in the unit is expected to drop in the second half of 2013 in comparison to 2012, ending up being flat for the year.
The major reason for the poor adjusted EBITDA in the second quarter is a change in the way the company treats inventory away from consignment with the largest customer it serves. "This had the effect of accelerating about $8 million of revenue in Q3 of 2012. We will see the reserve effect in the second half of this year as our customer works off the inventory that we recognized as revenue last year. It is this reverse effect that is holding us back from upgrading our outlook for the year in Machine Clothing," said CEO Joseph G. Morone.
Adjusted EBITDA in Machine Clothing isn't ever expected to change on the growth side, as its a mature business that will do well to remain flat in the years ahead. On a quarterly basis, expectations are for it to be in a range of $54 million to $55 million, and annually to be in a range of $218 million-$220 million adjusted EBITDA per year. Other than small fluctuations, these numbers should be considered where the company will be in this segment going forward. This is a confirmation of the stability factor mentioned earlier.
In the Engineered Composites segment, adjusted EBITDA was flat in the first half of 2013, but will gradually improve over the second half. That is expected to continually improve through 2020.
Changes in its Legacy programs in Texas is one of the catalysts for the short-term improvement in the division's adjusted EBITDA because of the boost in profitability. Long-term improvement in adjusted EBITDA will come from the LEAP program, which will grow incrementally in the short term, and should really get going in the second half of 2015.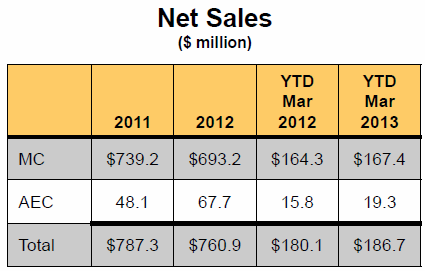 source: investor presentation
Machine Clothing
In this segment of the company, products used in the manufacturing of paper and paperboard are designed, manufactured, and marketed.
To understand the performance of Machine Clothing, it needs to be known that mature markets and growth markets it serves counteract one another. That is the reason for the flat adjusted EBITDA results mentioned above. That means new markets are in need of products that have already saturated mature markets; the reason why some are stable, others declining, and others growing.
For example, the declining markets have been Canada and Europe. In Europe overcapacity has been the main culprit, along with the weak economy. The United States is saturated, and will continue to perform at current levels. Growth in South America and Asia offset the decline in Europe and Canada. Europe will continue to decline, but it's showing signs of slowing down in the rate of its decline.
The outlook by Albany International for Machine Clothing should continue on unless the secular trend is interrupted. At this time there is nothing to suggest there will be a disruptive catalyst to upend the assumption. One issue that could have some effect, although not in a large, disruptive manner, would be if inflation jumps to a level the company can't raise prices high enough to offset the rising costs.
One other factor impacting the company in Machine Clothing is the ebb and flow in demand for specific products. This is important because some of the products are of the type that are slowing and permanently losing demand. Those include newsprint, writing grades and printing. Some of that loss is offset by growing demand for tissue and packaging. Added together it reveals the reasons Machine Clothing will remain a flat business for many years.
Albany International will have to effectively manage the segment to retain its current performance and outlook. In that regard it will have to continue to retain market share and sales while accurately matching capacity to the existing market conditions. If it can do that, it'll be able to keep its margin close to current levels.
On a global level, Albany is the leader in the segment, with close to 30% market share. Its closest competitor, Xerium, has only about 15% market share.
source: investor presentation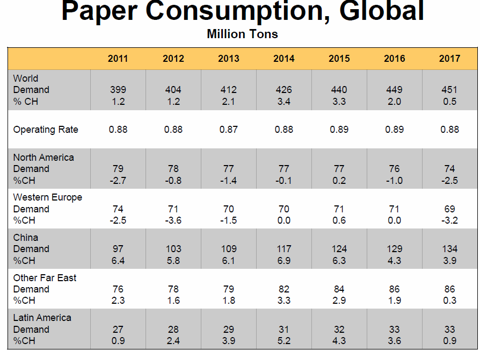 Engineered Composites
Albany Engineered Composites had adjusted EBITDA fall $900,000 from the same quarter in 2012. That was attributed to inventory write-offs in connection to the closing out of its Legacy program in its Texas operations.
The first half adjusted EBITDA will be about breakeven, while the second half of 2013 will begin what the company projects will be growth in the metric for the next seven years or so.
Over the long term the major driver will be the LEAP (Leading Edge Aviation Propulsion) program. This is the future growth engine for Albany, and has tremendous potential going forward. As mentioned earlier, it is helping now and will continue to grow in the near term. But when it really takes off in the latter part of 2015, Albany and its shareholders will benefit from it at much higher levels.
LEAP is the next-generation aircraft engine, a product of CFM International, which is a 50/50 joint venture between General Electric and Snecma. It is the largest supplier of commercial aircraft engines in the world. Albany manufactures and supplies the fan module and other components for the engine.
With the overall goal and expectation being to reach sales in the range of $300 million to $500 million by 2020, the company has said it could reach $120 million in revenue by as early as 2016. From there sales are projected to soar from 2016 to 2019. With the probability of acceleration, Engineered Composites could reach that revenue level by 2015. At this time if the acceleration schedule holds, revenue would jump sometime between 2015 and 2018. That would also accelerate capital spending in the unit. That would pull the peak spending years on the project from 2014 to 2016, back to 2013 to 2015.
The potentially big play for Albany over the long term is an expected upgrade of the LEAP engines in the latter part of this decade. With that in mind, the company could land only one additional part of the upgrade and bring its revenue from about $150 million to $200 million in the unit. That is specifically related to the gear turbo fan.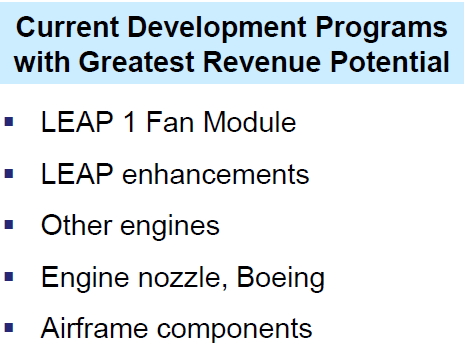 source: investor presentation
To reach the high end of the estimate, the company would need to get more parts on the original LEAP engine and on the upgraded version. The company would also need to land some business on other platforms. Just getting more products on the original LEAP and upgraded engines should bring it above the $300 million mark, and close to the $400 million in revenue mark by 2020. That could happen by 2019 if the accelerated schedule holds.
This products from Albany are in high demand because they eliminate up to 1,000 lbs. in weight from an aircraft; increasing fuel efficiency and lowering costs.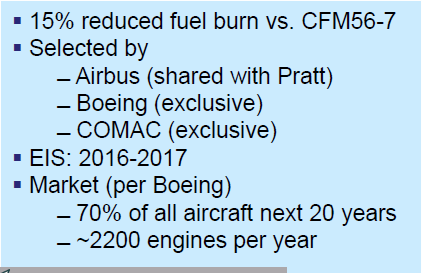 source: investor presentation
To give an idea of the demand for LEAP engines, recently at the 50th international Paris Air Show in Le Bourget, France, TUI Travel make a commitment for 120 LEAP-1B engines; CIT Group placed an order for 30 Boeing 737 MAX 8 airplanes; and International Lease Finance Corp., a subsidiary of American International Group, boosted its order from CFM LEAP-1A engines from 40 to 60.
source: investor presentation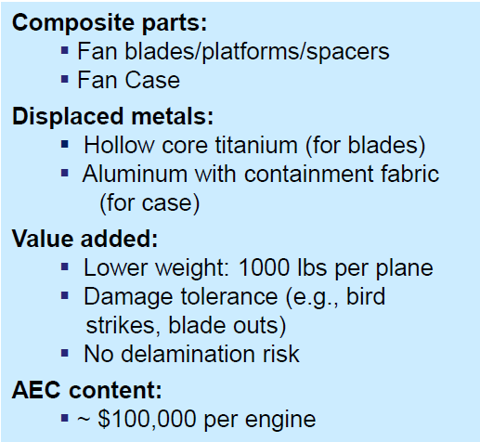 The number of engines related to the LEAP program at this time come in at about 1,800. At that level one more part generates extraordinary revenue, which is why the company believes it can reach its revenue goals. If new engines come earlier or more demand comes into the market, Albany International would have no trouble meeting and surpassing those goals.
Conclusion
Albany International has a terrific asset in its Machine Clothing segment. While it won't grow over the years, it generates tons of cash year after year, providing cash flow to fund its growth strategy in the Engineered Composites segment. There is no foreseen negative catalyst that will change the narrative for this unit of the company. That will provide stability for the company while it pursues its extraordinary growth opportunities in the LEAP engine program.
Essentially what Albany offers is the benefit of generating cash over the long term, which is associated with a value stock and the long-term revenue potential via its products made for the LEAP program, which results in it performing like a growth stock. It's a terrific combination that should reward long-term value and growth investors for many years.
Starting now the Engineered Composites segment will begin to generate significant earnings for the company, which coupled with its steady Machine Clothing division will push the share price of Albany International up for a long time.
At a little under $34.00 per share as I write, I think this is a good entry point, as it looks like the growth business of the company is about to have a bigger role and impact, and assuming the Machine Clothing division continues to perform flat, this company has nowhere to go but up.
With a trailing P/E (TTM) of 49.82 and forward P/E of 19.11 (fye Dec. 31, 2014), it looks like the stock is ready to resume it upward trajectory.
Disclosure: I have no positions in any stocks mentioned, and no plans to initiate any positions within the next 72 hours. I wrote this article myself, and it expresses my own opinions. I am not receiving compensation for it (other than from Seeking Alpha). I have no business relationship with any company whose stock is mentioned in this article.