I can't believe that I'm taking my oldest daughter to college this week. It seems like yesterday that my first child was born and now I'm taking her to The University of North Carolina to begin a new chapter in her life and one that I hope is an amazing learning experience and a lot of fun.
Growing up is part of life and although I wish I could stop time long enough to reflect on it, I can't. It just seems that all of my kids are growing up way too fast and as I reflect on my oldest daughter's new life, I think about the words that Ferris Buehler said in the namesake movie, Ferris Buehler's Day Off:
Life moves pretty fast

If you don't stop and look around

Once in a while, you could miss it.
That's also true for this REIT that I'm writing about today...
American Realty Capital Properties Is Growing Up Fast
American Realty Capital Properties (ARCP), listed shares on September 6, 2011 and in less than two years, the New York-based REIT is growing "like a weed." From its legacy portfolio of 63 individual "free-standing" properties aggregated at the IPO, ARCP has grown "like kudzu" into a dominate Triple Net REIT.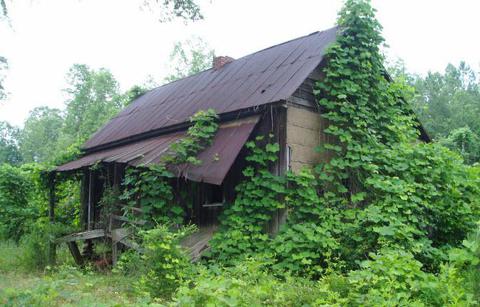 Looking back at the history of ARCP, we can see that I was not excited about the prospects of ARCP's shares when the IPO launched. Back then, just 23 months ago, ARCP listed on NASDAQ with a modest equity raise of around $70 million that consisted of 5,580,000 shares priced at $12.50 a share.
My concern was not the size of the offering, as much as the portfolio of assets. My biggest issue with ARCP deal was the fact that the new REIT had a portfolio of 63 assets; 60 leased to a super regional bank (Citizens Bank), 2 vacant bank branches, and 1 property leased to Home Depot (NYSE:HD). By having a net-lease portfolio with just two tenant, I felt as though the IPO had substantial risk based solely on the highly concentrated portfolio of bank assets. As I explained in my first article on ARCP:
The biggest issue that I have with the IPO is that the assets are highly concentrated with just two tenants, and one of the two tenants is a troubled bank with minimum lease term remaining.
When ARCP became a REIT, the management team opted to pursue an investment strategy based on what they described as "vintage" leases. So as I described in a follow up article regarding ARCP's IPO, I was increasingly concerned that ARCP was a risky bet since it lacked the "diversification model that sophisticated investors are most sensitive to." I went on to explain that the highly concentrated ARCP REIT could be a gamble on a speculative portfolio of properties. As I explained:
Diversification is more than playing roulette where small bets are waged with a broad brush investment strategy. If that were the case, you could have diversified between Enron, Worldcom, and Global Crossing and gone broke. I believe investors would be better off considering REITs with more diverse, risk-adjusted lease terms and greater geographic balance.
A Super-Sized Triple Net REIT
I remember watching the 2004 American documentary film Super Size Me. In this film directed and starring Morgan Spurlock, the 32-year-old actor ate only McDonald's food for a 30-day period in order to document the effect of fast food and the physical and psychological impact of eating lots of junk food.
Spurlock ate at McDonald's restaurants three times per day, eating every item on the chain's menu at least once. The results of the experiment were amazing as the "super sized" menu drove Spurlock to add over 24 lbs and increased body mass of over 13%. Now that's what I call a "Super Size" menu.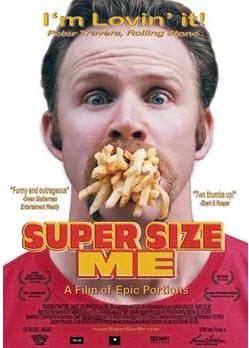 Similarly, ARCP has seen an incredibly "super sized" appetite fueled in large part by the success of the company's related non-traded REITs all known by the acronym ARCT (American Realty Capital Trust). Known for his unquestionable talent for aggregating assets, Nicholas Schorsch has become a legendary consolidator for building net lease portfolios and monetizing them in a very, very short time frame.
Back in February, just even months ago, I wrote an article detailing the roll-up of ARCP and American Realty Capital Trust III (ARCT3). By acquiring a robust 16.5 million square foot net lease portfolio (ARCT3), ARCP was able to scale the once less diverse platform and, for Schorsch "create another full-cycle trophy." I was warming up to ARCP as I explained in that article:
ARCP is no longer a "Mickey Mouse" REIT and the discipline of the experienced management team will determine the company's destiny: to become a durable sleep well at night REIT. The growing high-quality tenant composition and continued revenue diversification will have an enduring impact that should allow the triple-net REIT to replicate the success of the stalwart peer group (O, NNN, and WPC).
On February 23rd (2013), ARCP closed on the $2.3 billion ARCT3 deal, and in July, the company announced yet another related non-traded REIT merger, this time with American Realty Capital Trust IV (ARCT4). It seems that biting off large portfolios is just a "day at McDonald's" for ARCP as Schorsch and his team announced (on July 2nd) another "super size" deal, this one with ARCT4 has a price tag of $3.1 billion with ARCT4 shareholders receiving 2.05 shares of ARCP common stock.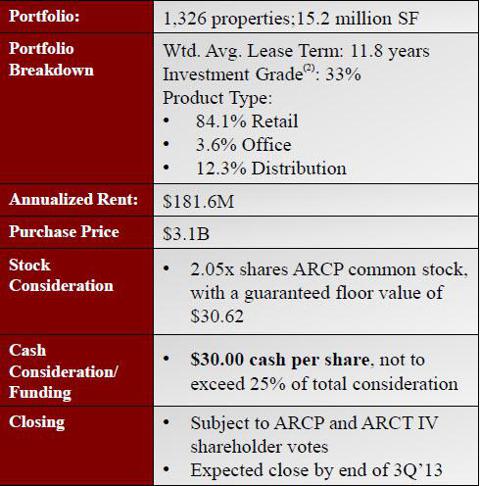 Oh yeah. I can't forget the first non-traded REIT launched by Schorsch & company; that one, American Realty Capital Trust (NASDAQ:ARCT-OLD) was around $3.050 billion and on January 16th (2013) the company merged with Realty Income (NYSE:O) where Schorsch (and four other insiders) took over one million Realty Income shares to the bank, worth approximately $50 million.
As the title suggests and in a recent article (in Investor News), it's just "Another day and another deal for Schorsch," the author (of that article), Bruce Kelly explains:
Mr. Schorsch has been turning heads in the $10 billion-per-year non-traded REIY industry by rapidly creating liquidity for investors. This (ARCT4)is the fourth non-traded REIT sponsored by American Realty Capital that has had a liquidity event in the past two years.
In that same article, Schorsch replied:
We've done this four times in a row now. When is everybody going to accept that we're good at making money for investors? Our investors are very pleased.
There is no question that Schorsch has become the king of REIT roll-ups and he isn't finished. Both ARCP and ARCT5 are continuing to gain scale as evidenced by another portfolio deal that was announced on Friday.
ARCT5 and ARCP both announced the two REITs were planning to acquire net-leased properties in a portfolio owned by Inland American Real Estate Trust Inc. As part of a $2.3 billion deal, ARCT5 will purchase 247 properties at a price of $1.45 billion and ARCP will buy 40 properties at a price of $416.5 million. The combined deals were approved by both boards and they are expected to close at an 8.8% average capitalization rate.
Inland American, also a non-traded REIT, expects to realize around $1 billion in net proceeds (after debt) and the transaction will be completed through multiple closings, with the initial closing expected to occur in the third quarter, the second closing expected to occur at the end of the fourth quarter and the final closing expected to occur in the first half of 2014.
The portfolio ARCT V is set to purchase contains roughly 10 million rentable square feet and is 68% leased to tenants including SunTrust Bank (NYSE:STI), Sanofi SA (NYSE:SNY), C&S Wholesale Grocers, Ahold, American Express Travel and Home Depot . The portfolio has a weighted average remaining lease term of 11.7 years. The $1.45 billion purchase price is exclusive of closing costs and includes the assumption of $488.0 million of debt. The company intends to fund the remaining purchase price of the portfolio with cash on hand from its ongoing IPO, and it may seek financing on the portfolio at or post-closing from a lender yet to be identified.
Inclusive of this potential acquisition, ARCT V has assembled a $2.11 billion portfolio to be purchased at an average capitalization rate "exceeding 7.5%," consisting of properties that are either already owned by ARCT V or subject to executed purchase agreements or letters of intent. The portfolio includes $29.5 million of owned properties, $1.96 billion of properties under executed purchase and sale agreements and $121.9 million of properties under executed letters of intent.
When fully assembled, the portfolio is expected to be approximately 70% net leased to investment-grade tenants, by revenue; span 23 distinct industries; include 40 distinct tenants; and contain a weighted average remaining lease term of 12.2 years.
Also, ARCP recently announced its acquisition of CapLease (NYSE:LSE) for $2.2 billion. With more of a focus on larger box deals, CapLease will bring 71 properties to the ARCP feeding frenzy and add another $157 million a year (in annualized rent) to ARCP's coffers. The CapLease portfolio has over 12 million square feet with over 85% investment grade tenants. This deal is expected to close in the third quarter of this year.
Here's a snapshot of ARCP's timeline and amazing growth that began less than two years ago with a $70 million IPO and is soon to likely be the largest Triple Net REIT in the nation: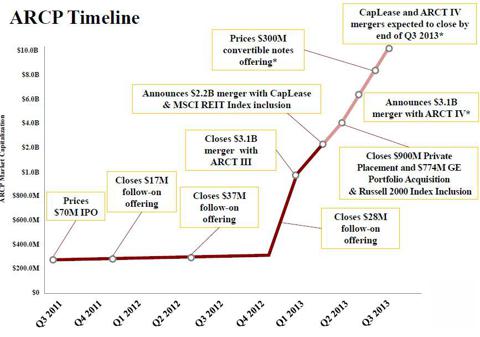 A REIT Summed Up in One Word
ARCP is REIT on fire and there is only word that describes the value proposition of the New York-based REIT and that is GROWTH. Here is a snapshot of the growth in assets from the IPO through the latest quarter (Q2-13):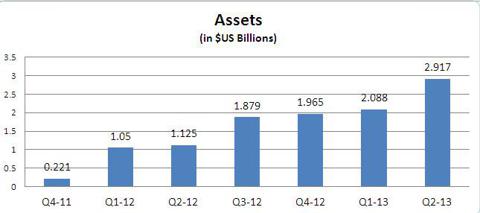 Based on market capitalization, ARCP is the seventh largest net lease REIT, much smaller than the larger peers Realty Income, W.P. Carey (NYSE:WPC), National Retail Properties (NYSE:NNN), and Cole Real Estate Investments (NYSE:COLE):

Also, based on asset size, ARCP is the 8th largest net lease REIT:

However, I prepared a conceptual chart to illustrate the amount of assets that ARCP and the related peers will have by year-end. As you can see, after closing on ARCT4, the Inland portfolio, and the likely ARCT5 portfolio, ARCP will be one heck of a "super-sized" REIT. By my estimates, ARCP will have a portfolio of assets exceeding $11.5 billion and a market cap of over $13 billion (based on 380 million shares at $16.00 a share).

Let's Break Down the Big Mac-Daddy of REIT-dom
Not only has ARCP been a "super-sized" REIT but the company is also differentiated by its unique investment strategy of acquiring both long-term and "vintage" (lease terms below 10 years) assets. As noted above, ARCP started (IPO'd) with "vintage" leases and the company has evolved (in 23 months) into a company that targets 70% of long-duration leases and 30% mid-duration leases. This unique model provides both stability and growth, and most importantly, the key ingredient that was lacking 23 months ago: diversification.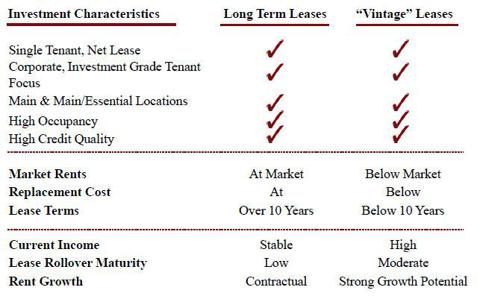 ARCP has evolved by sourcing a tremendous volume of deals. The single tenant acquisitions closed so far this year (through June 30, 2012) totaled $367 million at an average cap rate of 8.1% (81 properties and 1.9 million square feet). The company expects to close another $350 million this year (source: Investor Day presentation).

Also, as referenced above, ARCP intends to close on a $416 million with Inland and around a month ago, ARCP closed on an acquisition of a GE-owned portfolio of around $774 million (447 properties).

The bulk of ARCP's growth has been with corporate mergers and after successfully closing on deals with ARCT3, CapLease, and ARCT4, ARCP will have consolidated around $8.4 billion of M&A deals. That's like a few Big Macs in one bite.

As of March 31st, ARCP's portfolio consists of 702 properties and 16.7 million square feet. This includes 52 tenants representing 20 different industries.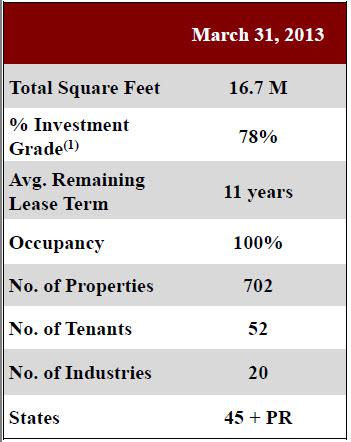 As of June 30th, ARCP added another 700,000 square feet including five new tenants. The occupancy is still 100% with an average lease term of 11 years.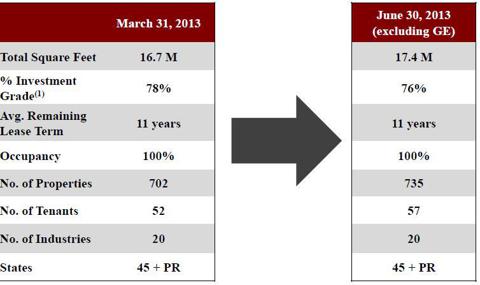 After adding the GE portfolio, ARCP now has around 19.4 million square feet that consists of a more diverse tenant base, 180 tenants. In addition, since the GE portfolio consists of mostly franchises fast food tenants, ARCP's percentage of investment grade tenants dropped from 78% to 59%. The number of properties increased from 702 (pre GE rollup) to 1,182.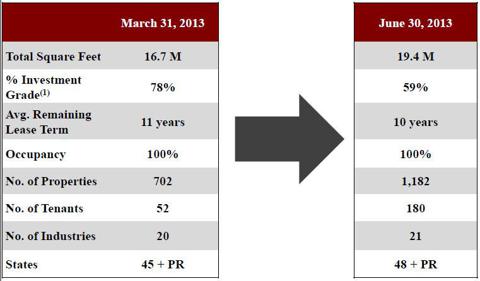 As mentioned above, ARCT4 and CapLease are expected to close in the third quarter. Once these two deals close, ARCP will have over 43.4 million square feet and 2,574 properties. The number of tenants will increase from 180 to 457. This will be a much more diverse REIT with the number of industries going from 21 to 34. Occupancy remains 100%.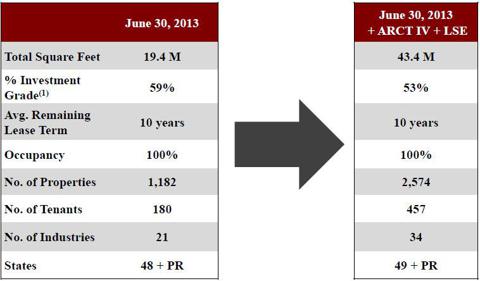 Here is a snapshot of ARCP's Top Ten Tenants (as of March 31, 2012):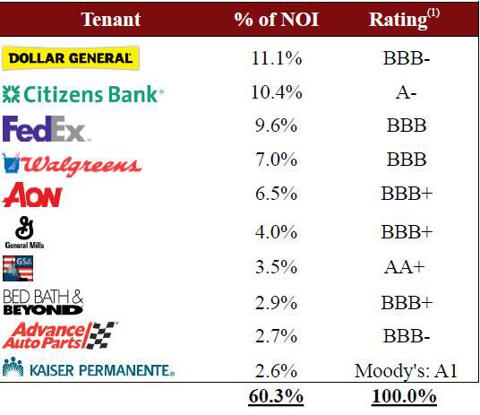 As of June 30th, ARCP's exposure to Dollar General (NYSE:DG), the largest tenant, went from 11.1% to 8%. Also, exposure to Citizens Bank (remember, Citizens was the legacy tenant in the IPO) fell from 10.4% (in March) to 7.7%.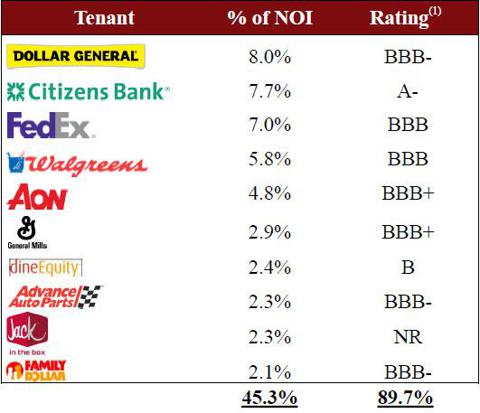 Upon closing on the ATCT4 and CapLease deals, exposure with Dollar General will drop to 5.3% and exposure to Citizens Bank will fall to 4%. Also, the Top 10 Tenants will now make up only 30.1% of the portfolio (as opposed to 60% in March 2013).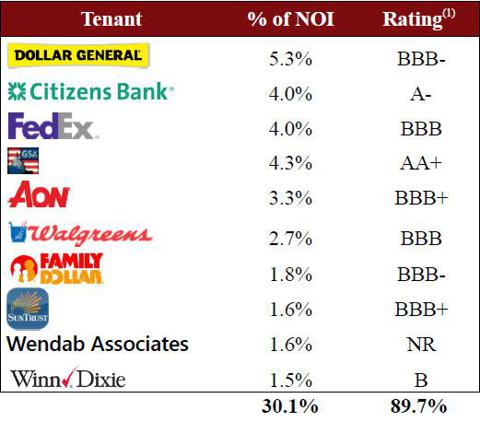 Here is ARCP's Industry diversification as of March 31, 2013: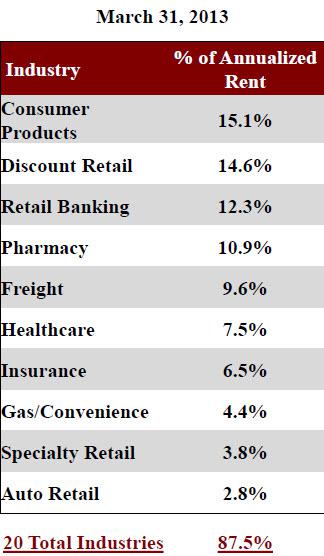 As you can see below, ARCP's Industry diversification has become more diverse and after the GE deal, ARCP now has "quick service restaurants" (or QSR) as the leading industry with 12.1% reported.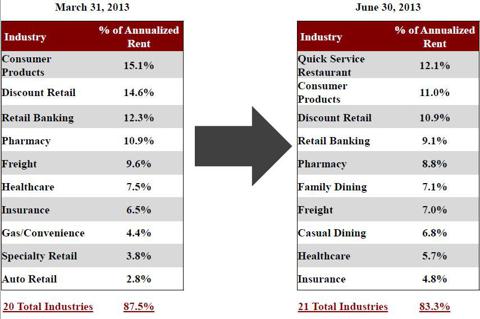 Once the ARCT4 and CapLease deals close, ARCP will have more exposure to QSR; remember that ARCT4 acquired a large portfolio of deals from GE, so QSR will represent over 15% of ARCP's industry group. All of the other industries will shrink. Also note that ARCP will have 34 Industry categories after the ARCT and CapLease closings.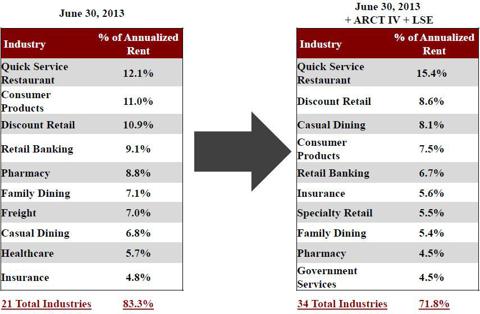 I find it amusing that my biggest gripe with ARCP over 23 months ago was lack of diversification and now I'm seeing it being "super-sized" before me. It's kind of like going out to eat and because of a large appetite; I order everything on the menu. Simply said, I ordered up "diversification" and I guess that's what ARCP is delivering now.
Let's take a look at ARCP's geographic diversification. As of March 31st, the company owned properties in 45 States and Puerto Rico. The top 5 States were Illinois, California, Michigan, Ohio, and Missouri - all representing 33.4% of the portfolio.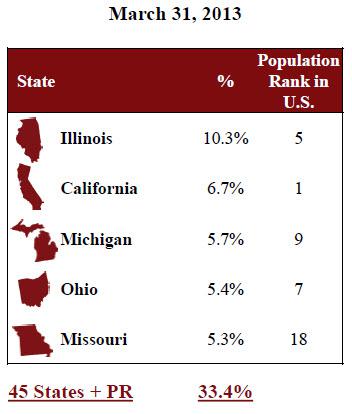 As of June 30th, ARCP was in 48 States and the top 5 States represented 31% of the total portfolio.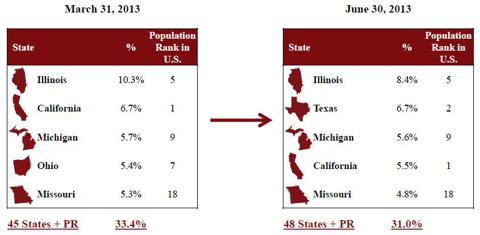 Upon closing on ARCT4 and CapLease, ARCP will own properties in 49 States (and Puerto Rico) and the top 5 States represented will be 33% of the total portfolio.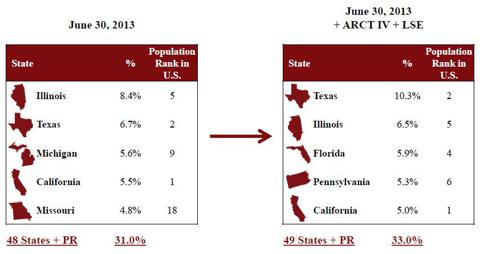 It's clear to see that ARCP has evolved into a "super-sized" REIT that gobbles up net-leased properties as fast as Morgan Spurlock did when he filmed the "Super Size Me" film. After the ARCT4 and CapLease closings, ARCP will own 57.5% of retail properties, 17.4% of distribution properties, and 25.1% of office assets.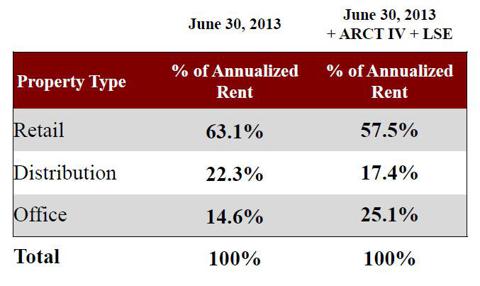 A $2 Trillion Sector that's Exploding
In a recent Seeking Alpha article I wrote:
Investors should recognize that the Triple Net sector is not an industry made up of just three of four REIT players, but instead this $2 trillion industry is made up of hundreds of operating businesses like Wal-Mart (NYSE:WMT), Target (NYSE:TGT), and Safeway (NYSE:SWY), who own significant free-standing products. Unlike many of the fragmented real estate sectors, the Triple Net REITs are in a position to "move the needle" much quicker by taking down large portfolios where the "law of large numbers" generate considerable external growth.

Unlike the other sectors, the Triple Net category provides ongoing capital solutions - much like a bank - and while most sectors rely on "supply and demand" the Triple Net REITs provide market solutions all of the time (so supply and demand is not the driving force).
ARCP is not a "pure play" Triple Net REIT focused one specific discipline. As evidenced by the "super-sized" growth, ARCP is being fueled by an appetite to own almost every type of stand-alone property. The business model is more of a finance model than a real estate model and that's why I explained it like this:
Think of it like this… Realty Income, American Realty Capital Properties, National Retail Properties , W.P. Carey, and EPR Properties (NYSE:EPR) are like banks, except, instead of lending money for consumers and companies, they are renting money to companies secured by net-leased real estate. The Triple Net REITs are also able to generate internal growth by efficiently managing risk and even without any external growth, the Triple Net REITs can grow rent by around 4% annually.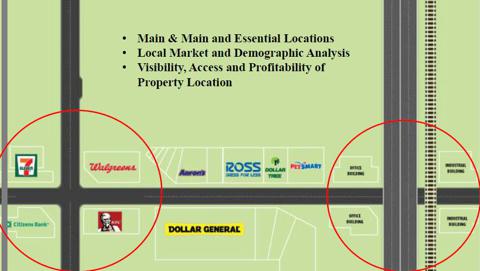 Much like a bank underwrites its customers based upon credit scores, the Triple Net REITs also strive to balance the risk and return profiles of its corporate tenants. Realty Income has been increasing its percentage of investment grade tenant exposure (now at 34%) and although ARCP has grown significantly, the investment grade tenancy has narrowed to 53%.

Here's a snapshot that illustrates ARCP's tenant credit history and future prospects: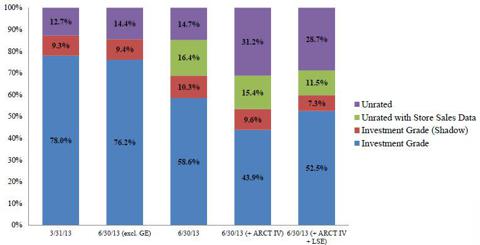 Much of the decline of ARCP's investment grade tenancy is the significant exposure to QSR (related to the GE acquisition). Much of the credit risk for the QSR portfolio is muted based upon the fact that ARCP has a healthy rent-to-sales ratio of 7.5%. Here is a snapshot that illustrates the well-covered QSR rent-to-sales analysis: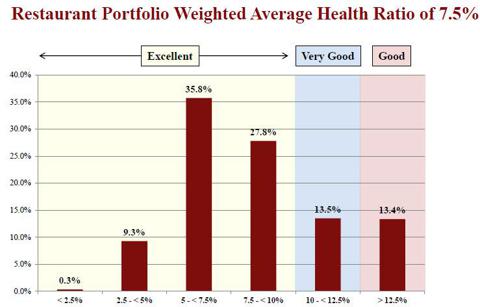 Remember that ARCP's differentiated platform consists of both long-term and "vintage" leases and much of the value of the ARCP model is based upon the above-referenced "banking model" that revolves around tenant strength, purchase price, cap rate, rental increases, and lease durations. Here's an illustration of ARCP's targeted investment model:

Perhaps the biggest risk associated with ARCP will be the company's ability to manage and mitigate risk with future lease rollovers. Although the company now has 100% occupancy, there will be a time when a tenant won't renew or possibly go bankrupt. Here is a snapshot of ARCP's lease maturity schedule (15% of lease maturities in the next 5 years):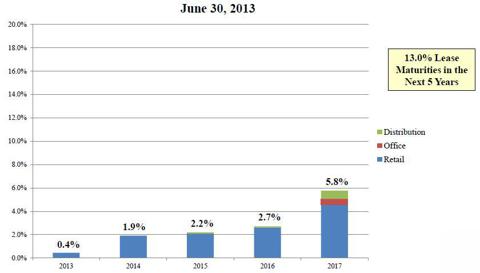 As illustrated below, ARCP's risk profile is enhanced when the ARCT4 and CapLease deals close. Lease maturities (in the next 5 years) jump from 15% to 21.4%.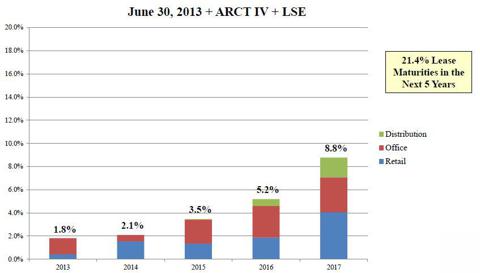 Is There Value in the Super-Sized REIT?
ARCP reported that in its most recent earnings period (Q2-13), the company recorded record operating results and $0.19 AFFO per Share ($32.8 million), or $0.23 Normalized AFFO per Share. Second quarter revenue was $45.0 million and Net operating income was $37.9 million. On May 28th, ARCP increased its annual dividend rate from $0.910 per share to $0.940 per share, contingent upon and effective with the earlier of the close of the ARCT IV merger and the CapLease merger. Here is a snapshot of ARCP's dividend history:

Here is a snapshot of ARCP's annual dividend history (assuming that the ARCT4 and CapLease deals close):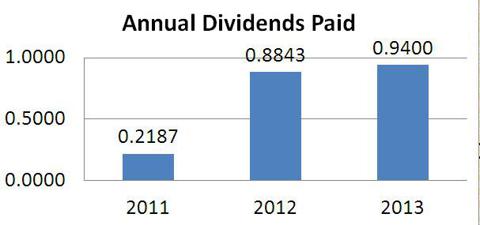 As a result of the extraordinary growth, ARCP's revised earnings guidance has increased from a mid-point FFO per share of $1.16 and a mid-point AFFP per share range of $1.15, a 25% increase in earnings. In addition to the aforementioned acquisitions, ARCP has stated the company will acquire $1.0 billion in 2014 at an average cap rate of 8.25%. In addition, ARCP plans to maintain a conservative balance sheet of around 65% in equity and 35% in debt.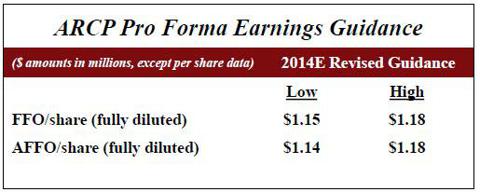 As of June 30th, ARCP had Net Debt/EBITDA of 4.1x and Net Debt/Real Estate (at Cost) of 28.9%. Here's a snapshot of the company's Pro Forma Balance Sheet Metrics and Capital Structure: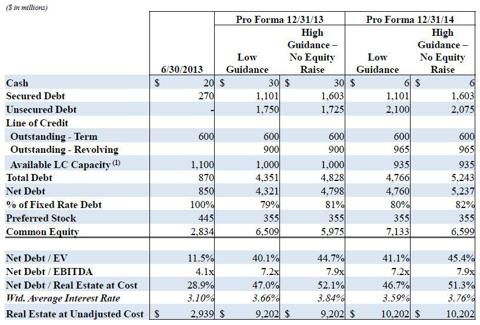 ARCP's current dividend yield is 6.58%, one of the highest yields in the Triple Net sector (average yield of the peer group is 5.73%):

It's interesting to see that the spread between ARCP's dividend yield and Realty Income's dividend yield has narrowed and although ARCP has a higher yield, the two REITs are looking more similar (relative to the risk-adjusted yields).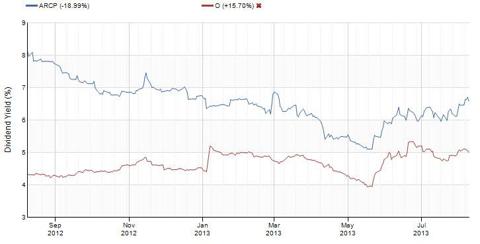 Like most Triple Net REITs, ARCP has become a better buy since the REIT sell-off (that started in late May). ARCP shares are trading at $13.82 with a P/FFO of 15.5x, making the shares cheaper than Realty Income (18.1x), W.P. Carey (23.8x), and National Retail Properties (18.1x).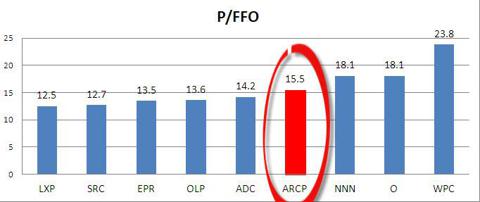 Even after the more recent round of REIT sell-offs, ARCP has remained an attractive REIT based upon the year-over-year total return of 34.68%.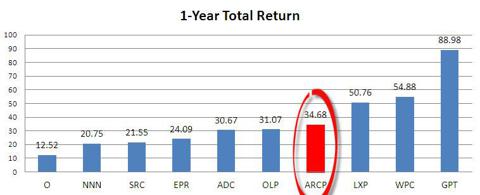 Of course, the last ninety days has leveled the playing field for most Triple Net REITs; as seen below: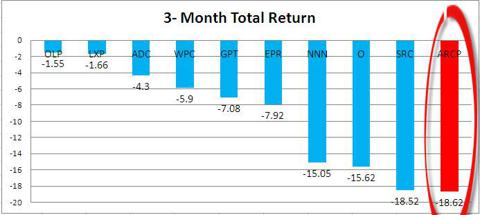 The Secret Sauce
This is one of the longest articles that I have written in a while but I couldn't write a short article on such a "super-sized" REIT. In fact, I had to edit some of the content so that I could keep this article under 4,000 words.
Finally, and before I wrap this up, let me tell you about the secret sauce. As you know, I write a newsletter called The Intelligent REIT Investor, and in my famously described SALSA portfolio I have included ARCP. The SALSA portfolio is not the same as my SWAN (sleep well at night) portfolio. The primary differentiator is that my SALSA portfolio is more of a growth portfolio and before a company is upgraded to "SWAN" status, it has to prove itself as a durable dividend payer, not just a growth stock.
As that relates to ARCP, I am not ready to upgrade the "super-sized" REIT to SWAN status, yet. There are a few very important things missing:
(1) Investment Grade Rating: ARCP is not investment grade rated. The other 3 Triple Net REITs (with SWAN credentials) include Realty Income, National Retail Properties, and W.P. Carey.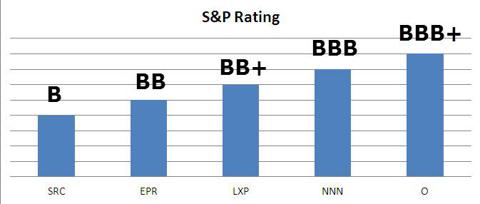 The snapshot below provides insight into the correlation between secured debt and Investment grade ratings. It does appear that ARCP could be close to obtaining an investment grade debt rating.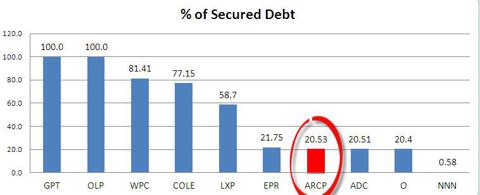 (2) Sustainable Dividend History: Although ARCP is off to a good start, the company does not have the track record of dividend repeatability that Realty Income, National Retail Properties, and W.P. Carey enjoy. There is no doubt that ARCP has the potential to become a "dividend champion;" however, I need to see a few more quarters before I can determine whether ARCP is a "sleep well at night" REIT.

In closing, I like ARCP and clearly the "super-sized" growth will contribute to strong returns ahead. In fact, I intend to increase my allocation in my SALSA portfolio as I believe that ARCP will be one of the top performers in 2013. As I mentioned above, ARCT5 will soon be fully-invested and in all likelihood, ARCP will be the buyer and that should make Schorsch the "crowned king" of Big MacDaddy REIT-dom.
Also, when ARCP internalizes its management platform, there will be fewer conflicts of interest (with ARCP and other non-traded REITs affiliated with Schorsch) and that will give me more confidence that shareholder interests are fully-aligned.
At $13.82 a share and with a 6.58% dividend yield, I believe ARCP is an attractive BUY. I commend Schorsch and his management team for building an immensely diverse portfolio in such a short period of time (23 months). Given the continued improvement in fundamentals, I find ARCP's dividend yield (of 6.58%) to be very attractive and given the other (private or public) options, I am compelled to increase my concentration to my ever-popular SALSA portfolio. ARCP's success as the king of consolidation has earned the super-sized brand the honor of being the Big Mac-Daddy of REIT-dom. Now let's compound the dividends and enjoy our Happy Meal. Oh yeah, can you super-size the dividend for us Nick?
Source: ARCP Investor Presentation, SNL Financial
Other REITs mentioned: (NYSE:SRC), (NYSE:ADC), (NYSE:OLP), (NYSE:GPT),and (NYSE:LXP).
Note: This article is intended to provide information to interested parties. As I have no knowledge of individual investor circumstances, goals, and/or portfolio concentration or diversification, readers are expected to complete their own due diligence before purchasing any stocks mentioned or recommended.
Special Thanks to my oldest daughter who has helped me proofread many of my articles and newsletters. I will miss her but there's much bigger and better things ahead. Go Tar Heels!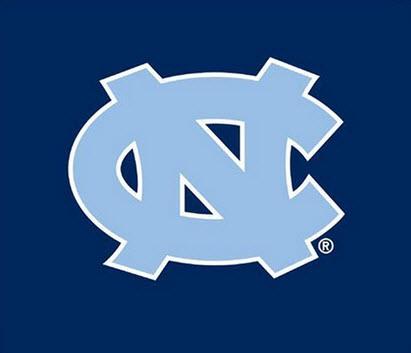 Disclosure: I am long O. I wrote this article myself, and it expresses my own opinions. I am not receiving compensation for it (other than from Seeking Alpha). I have no business relationship with any company whose stock is mentioned in this article.