Halcón (NYSE:HK) is a company of great promise. It is an aggressive growth story with the stated intention of cashing out in 2-3 years time at a stock price expected to be several times higher than today's $5.40 level.
Halcón's Chairman and CEO, Floyd Wilson, was previously Chairman and CEO of Petrohawk before he sold it in 2011 to BHP Billiton (NYSE:BHP) and in the process made outsized profits for shareholders. Wilson is working to repeat the process with Halcón but on a larger scale. For more about Wilson, his achievements at Petrohawk and his goals at Halcón read this Oil & Gas Financial Journal article and watch this interview on CNBC.
Having traded as high as $8.50 earlier this year, Halcón stock has recently lost some of its shine as the company trimmed its previously excessively optimistic production guidance.
From production of 18,348 boed in Q4 2012, output was reported as hitting 35,000 boed on August 1, 2013 and Halcón is now forecasting full-year 2013 output of 30,000-34,000 boed (ref Q2 2013 results). This translates to a year-end 2013 exit rate of near 40,000 boed, excluding 4,500 boed non-core output due to be sold. Operationally the company is performing well and they should meet or exceed their revised guidance numbers. For a detailed review of HK's recent operating performance here is a link to an excellent in-depth report by Michael Filloon.
If the company is to be truly saleable I would contend that production should be in the region of 100,000 boed. Bearing in mind Halcón's aggressive growth trajectory over the coming 2-3 years it should be feasible for Halcón to hit the magical 100,000 boed figure within a reasonable timeframe, possibly by late 2015 or early 2016, thus enabling the big cash-out to occur.
Continental Resources (NYSE:CLR) may serve as a proxy for Halcón shareholders. Like Halcón it is an independent oil shale operator, its output recently passed the 100,000 boed threshold and it has 1.3 million total acres. Halcón's asset base, already about 1 million acres, should be about 1.5 million acres within the next 2 years and its production is seen as reaching 6 digits in late 2015 or early 2016 - largely similar to Continental recently. The current market capitalization of Continental is $17.5 billion. In Halcón-speak, with over 500 million fully convertible shares including the current offering, a market cap of $17.5 billion equates to over $30 a share without considering a sale premium. This is the magnitude of the prize that Halcón shareholders are watching.
Liquidity
For many investors, including myself, one of the biggest concerns is liquidity. Specifically, does the company have sufficient liquidity to fund itself for 2013 and 2014 without having to substantially dilute existing shareholders?
Halcón ended Q2 2013 with $500 million undrawn availability on its bank line (ref Q2 results). The company will generate cash from operations during H2 2013 of about $400 million and a further $950 million in 2014. Right now the company is raising $400 million from an unsecured notes offering and over $200 million via 43.7 million shares priced at $5.10. For the remainder of 2013, capex is estimated at under $600 million (ref Q2 earnings conference call) and for 2014 it may be $1.4 billion. Net-net this leaves Halcón with excess liquidity approaching $0.5 billion by the end of 2014. This figure will be boosted by regular redeterminations to the bank line and, given the growth in production and reserves, these will be significant. Also to be considered is the sale proceeds from the 4,500 boed non-core asset disposal and any outgoings for any cash acquisitions. Overall, the liquidity position to the end of 2014 looks entirely comfortable.
Attractive stock price
On valuation metrics such as EV/Production Halcón is pricey. However, because of the strong growth, such measures will quickly shrink. On earnings valuation, the stock represents value at the current price of $5.40. Assuming that analysts slightly trim their 2014 EPS estimates to say 40 cents, this would equate to a forward p/e of 13.50. For a company with top-drawer growth prospects, with comfortable liquidity and with an appealing cash-out prospect in the wings, the shares are certainly attractive.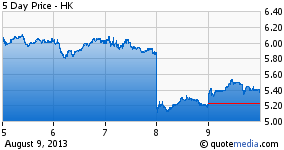 Whilst the current stock price of $5.40 is a good entry point for the long-term, it should also appeal to short-term traders. Immediately prior to the ongoing stock and notes offerings the shares traded at about $6.00. Pre these two current offerings the stock carried some negative liquidity concerns, post the offerings there is comfortable liquidity and a modest dilution. On balance, the shares are more attractive now and gravity should quickly take them back up to the $6.00 level.
Insider Buying
Whilst insider buying isn't a guarantee of success it is reassuring to see insiders buy with conviction. And conviction is certainly being shown by the insiders at Halcón, as evidenced by their recent actions - see here.
Debt and Share offerings
The $400 million debt offering and the 43.7 million share offering were announced at 4pm EDT on August 7 and are due to close on or before August 13. This is a tight window, effectively 3 or 4 working days, and suggests a high degree of confidence. Separately, Halcón is presenting at the Enercom Oil & Gas Conference on August 13 at 3.30pm EDT. Most likely both offerings will have closed by then and an upbeat presentation will follow.
Verdict
The stock price of $5.40 is an attractive entry point. Buy for short term trading gains and/or for long-term profit appeal.
Disclosure: I am long HK. I wrote this article myself, and it expresses my own opinions. I am not receiving compensation for it (other than from Seeking Alpha). I have no business relationship with any company whose stock is mentioned in this article.