Some myths just won't die! A year ago, I warned about a massive lie being perpetrated against the investing public. Specifically, that higher GDP growth translates into higher stock market returns. And, conversely, that lower GDP growth translates into lower stock market returns.
Try as I did to debunk those beliefs for good, they're rearing their ugly heads again. Albeit in a slightly different manner. Nevertheless, they're still false.
In honor of Myth-Busting Mondays, it's time we usher in new (graphic) evidence to prove that this is the most dangerous assumption an investor can make about stocks and GDP growth rates.
Divorced: U.S. Stocks and the Economy
With a rash of U.S. economic reports - like The Institute for Supply Management (ISM) services and manufacturing indices - coming in stronger than expected, investors have been treating it as a signal to jump into stocks.
Forget that they're four years late to the profit party. What troubles me most is the faulty logic behind their actions. Namely, that since the U.S. economy is strengthening, then it automatically means stocks are going to do better.
Please, people! Stop thinking that. The U.S. stock market is not the same thing as the U.S. economy. And this chart, recently tweeted by Bloomberg Chief Economist, Michael McDonough, proves it.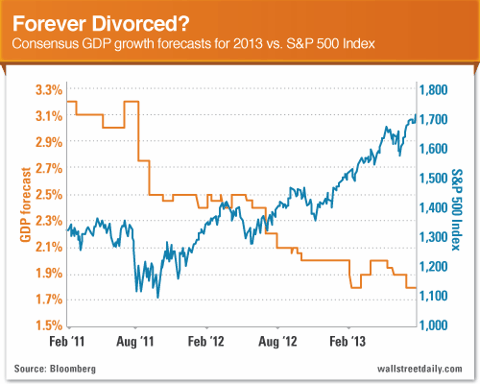 It shows the consensus forecast for U.S. GDP growth versus the performance of the S&P 500 Index. Unless you're blind, you can see that practically the entire time GDP forecasts for 2013 have been falling - from 3.2% in 2011 to 1.8% currently - stocks have been rising. Put another way - as economists told us the economy is getting worse, stocks did better.
Still think stocks and GDP growth rates are inextricably linked? I didn't think so. What's important now is that you understand why.
It's a Small Global World After All
Although the U.S. economy represents the biggest source of business for the companies in the S&P 500, it's not the only source. Roughly 40% of profits at S&P 500 companies come from overseas - about 17% from Europe, 15% from emerging markets and 8% from other developed markets.
So, at best, we're talking about a 60% overlap between the U.S. economy and U.S. stock market. But even that's stretching it, because the economy and the stock market aren't the same thing.
As Deutsche Bank's Chief U.S. Equity Strategist, David Bianco, likes to regularly point out, there are eight major differences between U.S. GDP and the S&P 500.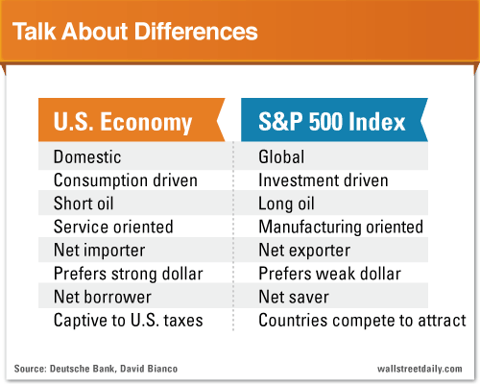 Another major difference is that GDP growth rates are historical measurements, whereas the stock market is forward-looking by design.
Bottom line: Economic growth rates are terrible proxies for predicting stock market returns. So if you're interested in consistently making money, stop using them as a basis for your investment decisions.