Gold miner Newmont Mining (NYSE:NEM) reported mediocre second quarter results. Revenue declined 11% year-over-year to $2 billion, slightly below consensus estimates. Earnings per share, adjusted for an impairment charge related to lower gold prices, swung to a loss of $0.10 compared to a profit of $0.59 during the same period a year ago. The company generated negative free cash flow of $317 million as capital expenditures remained too high relative to operating cash flow. Newmont also cut its dividend to $0.25 per share, down 29% sequentially.
Newmont's second quarter highlighted the challenges we continue to witness in the gold-mining industry, especially with respect to the weak price of gold. Over the past several years, elevated gold prices have led to higher-cost projects getting approved, leading to a higher overall cost structure for Newmont and the industry, in general.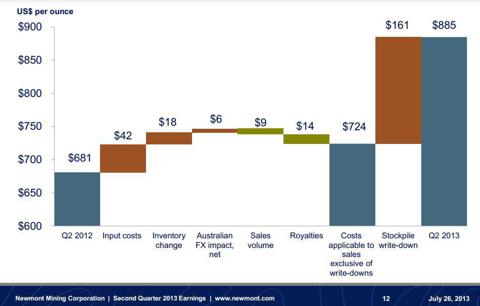 Image Source: NEM 2Q 2013 Investor Presentation
As we can see from the above chart, cash-costs-applicable-to-sales per ounce advanced 6% year-over-year to $724 (excludes stockpile write-down), but average realized gold prices declined 12% year-over-year $1,415 per ounce. Obviously, fundamentals are moving in the wrong direction. Luckily for Newmont, the majority of its gold comes from low-cost mines in North America so we shouldn't see the company become as unprofitable as its higher-cost peers.
Mining costs don't only comprise the efforts to remove it from the earth. Rather, mining requires high amounts of sustaining capital expenditures to keep production up to snuff. As we can see from the below chart, Newmont's all-in sustaining costs are materially higher than the above cash-costs-applicable-to-sales per ounce, coming in at $1,136 per ounce ('Q2 2013 without impairment'). That cost declined 10% year-over-year as the firm lowered its capital expenditures, which is a much more welcome trend.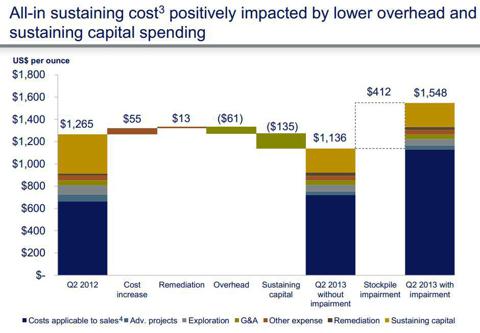 Image Source: NEM 2Q 2013 Investor Presentation
Although most companies like to maintain a predictable dividend to provide stable returns to shareholders, Newmont acknowledges the reality of being a commodity producer with fortunes inextricably tied to the volatile price of the yellow metal. Thus, the firm continues to adjust its quarterly dividend based on the average realized price. From an operating and fundamental standpoint, we're big fans of the strategy, as we think it is good for shareholders that management isn't afraid to cut cash payouts when times are tough.However, this may make Newmont less-attractive as a long-term dividend growth holding, given the expected volatility in the underlying payout.
Looking ahead, Newmont is dedicated to reducing its overall cost structure while maintaining the ability to produce high levels of output. Newmont will reduce its corporate workforce by one third, and we anticipate continued capital spending discipline. The firm also showed no interest in hedging gold prices, with CEO Gary Goldberg saying on the conference call:
"I think we have got strong business fundamentals underlying and sure there are cycles happening in price, but looking to hedge our gold or copper positions is not something we are considering taking on at this time."
With gold prices looking weak, it probably makes sense for Newmont to remain unhedged; however, if we see a strong price increase well above the sustainable cost of production, we wouldn't mind to see the company reduce its exposure to spot prices. Every miner is afraid to be left behind in the event of big price increases, especially after watching AngloGold miss out on considerable upside during the past decade by having its book hedged.
Regardless, production (shown below) looks to remain relatively strong, even as the firm reduces capital expenditures.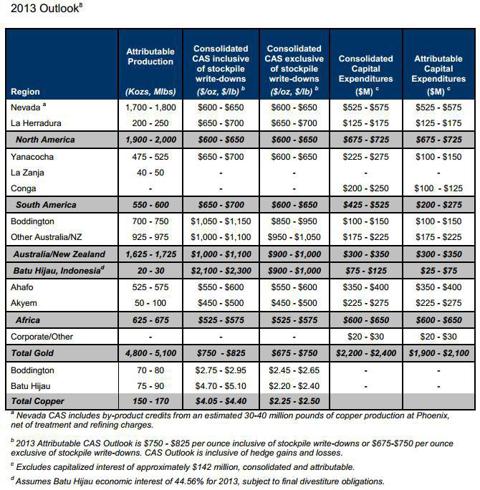 Image Source: NEM 2Q 2013 Investor Presentation
Valuentum's Take
Overall, Newmont's second quarter wasn't great, and as with all gold miners, its fortunes are tied at the hip with the price of gold. We plan to make a few tweaks to our valuation models across the gold-mining industry, but we do not anticipate adding any constituent to either of our actively-managed portfolios in the near term.
Disclosure: I have no positions in any stocks mentioned, and no plans to initiate any positions within the next 72 hours. I wrote this article myself, and it expresses my own opinions. I am not receiving compensation for it (other than from Seeking Alpha). I have no business relationship with any company whose stock is mentioned in this article.