Pfizer's (NYSE:PFE) and Merck's (NYSE:MRK) second-quarter performances revealed ongoing revenue weakness due to key patent expirations, but we like the progress they are making in their respective drug pipelines.
In Pfizer's second quarter, revenue fell 4% from the same period a year ago, after adjusting for currency. Strength in 'Oncology' (up 28%) from Inlyta and Xalkori and a couple key products (namely Lyrica and Celebrex) did little to offset the slide in operational revenues at its 'Primary Care' and 'Established Products' segments, where revenue dropped 15% and 7%, respectively. We point to the loss of exclusivity of Lipitor and heightened generic competition for the difficult revenue performance.
In Merck's second quarter, sales fell 8% from last year's period, after adjusting for unfavorable currency movements, as the patent expiry of Singulair drove the slide in pharmaceutical sales (Singulair sales dropped nearly 80% in the quarter). Strength in Janumet, Gardasil, and Nasonex wasn't enough to offset the massive decline in the firm's once-a-day oral medicine for asthma.
Adjusted income at Pfizer dropped 10%, while non-GAAP net income, excluding special items, fell 21.5% at Merck. The decline in adjusted earnings per share at both companies was less severe due to a lower share count. Pfizer, for example, expects to buy back stock worth in the "mid-teens billions of dollars" in 2013, with roughly $8.7 billion repurchased thus far.
Pfizer reaffirmed its 2013 financial guidance and continues to target revenue in the range of $50.8-$52.8 billion and adjusted diluted earnings per share in the range of $2.10-$2.20 for the year (adjusted earnings per share at Pfizer excludes the large gain it posted after divesting Zoetis). Merck reiterated its 2013 non-GAAP earnings per share guidance in the range of $3.45-$3.55 but now expects revenue to drop 5%-6%. We wouldn't be surprised if Merck sheds its 'Animal Health' and 'Consumer Care' businesses in coming periods, should the right buyer come along. Both firms are expecting continued strength in emerging markets, particularly China.
Though Pfizer and Merck both faced pressures from patent expiry on key blockbuster drugs, we continue to be enthralled by opportunities in their respective pipelines. Pfizer's palbociclib received Breakthrough Therapy designation by the FDA for the potential treatment of patients with breast cancer, and the company has 18 programs in Phase III development (shown below).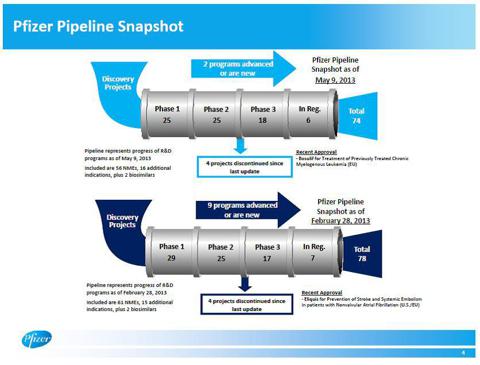 Image Source: Pfizer Pipeline, May 9
As Merck outlined at ASCO, the ongoing expansion study evaluating the safety and efficacy of lambrolizumab (MK-3475) is quite encouraging. The company's Phase III opportunities, shown below, also are robust, and we're expecting Merck to deliver on a number of them in coming years.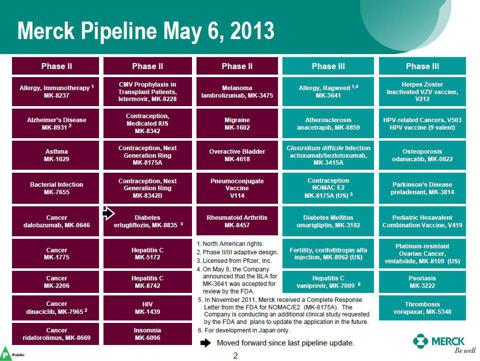 Image Source: Merck Pipeline, May 6
Valuentum's Take
All things considered, Pfizer and Merck will continue to feel top-line pressure from patent expirations over the near term, but their respective pipelines put them in a very attractive position over the long haul. Both post relatively high dividend yields, while their respective Valuentum Dividend Cushion scores are also very healthy. We're keeping a close eye on both for a potential entry point.
Disclosure: I have no positions in any stocks mentioned, and no plans to initiate any positions within the next 72 hours. I wrote this article myself, and it expresses my own opinions. I am not receiving compensation for it (other than from Seeking Alpha). I have no business relationship with any company whose stock is mentioned in this article.