Introduction
If you're looking for growth in the computer systems industry, should you invest in 3D Systems Corporation (NYSE:DDD) to reap solid benefits in the future? In this article I aim to deliver a clearer picture on where 3D Systems currently stands.
With the DDD stock expected to rise or fall after the Q2 2013 financial report, the current price may be a small window of opportunity to purchase DDD shares before the stock continues its upward ascent. Our argument makes a largely fundamental case for suggesting whether these days DDD stock is a smart bet for your future profits.
Potential for Growth
The largest US based 3D printing company is 3D Systems Corporation with a current market cap of about $5 billion. Here is one year share price movement chart for this company from YCharts: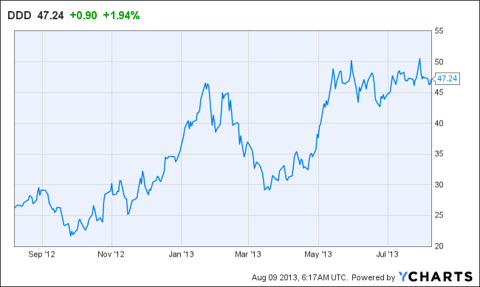 Latecomers to the game might wonder if this is real or just another over-hyped technology that will not live up to its promise in the long run.
On 6 August, 2013 3D Systems acquired TeamPlatform that allows product design, engineering services and manufacturing companies to easily manage hundreds of small or large projects with data massive being shared and used concurrently. It delivers simple-to-use task management tools, project meta-data structuring capabilities and reusable workspace templates for effective, productive and affordable collaboration.
3D Printing manufacturing technology is already having a major impact in the manufacturing and health care sectors. Wide spread use of 3D printing in the consumer sector may come sooner than many investors think.
Research firm McKinsey Global Initiative (NYSE:MGI) lists 3D printing as one of 12 disruptive technologies emerging over the next decade. MGI suggests by 2025 the economic impact of 3D printing technology could beat $550 billion yearly with the greatest impact on consumer uses.
Factoring the significant increase of inbound interest, 3D Systems made the strategic decision to step up certain discretionary expenses to accelerate the adoption of the company's products and services. The company almost doubled its R&D expenditures and accelerated its marketing spending over Q2 2012 in support of its opportunities and expanding product portfolio and sales channels. The company also increased its manufacturing capacity amidst heavier demand for its products and services.
Tracking Financials
On July 30, 2013 3D Systems reported Q2 earnings amidst a healthy run-up in the share price in anticipation. Investors did not like what they heard and the shares dropped 6% before the opening bell rang and have continued in a upward trend since 7 August, 2013. The following chart tells the story: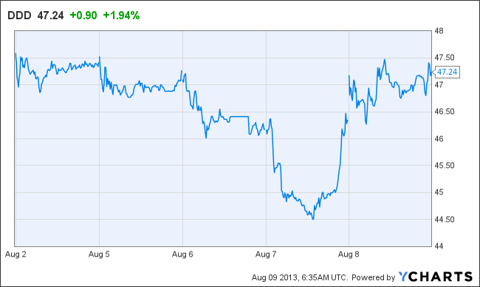 The company actually saw an impressive 44.5% increase in revenue, largely due to new product introductions ranging from enhanced printing materials to professional printers and new design software packages. However, earnings per share came in at $0.10 per share versus the year ago number of $0.11 despite an increase in net income from $8.3 million to $9.3 million.
During Q2 2013, 3D Systems introduced significant new products including professional 3D printers, advanced 3D print materials and powerful new designer software packages.
3D printers and other products' revenue for Q2 2013 more than doubled to $54.2 million on higher professional printer units. Print materials revenue grew $3.1 million over the 2012 quarter to $29.3 million and services revenue rose $6.0 million from 2012 to $37.3 million. Healthcare revenue grew 55% and contributed $18.9 million to our total revenue.
For the six months 2013, revenue increased 38%, on an 85% printers and other products revenue increase and 26% organic growth. Gross profit soared by 42% and gross profit margin expanded to 52.1%.
Obviously, the company's effective advanced manufacturing and consumer growth initiatives are fueling 3D Systems's growth.
3D Systems vs. Key Competition
Right now 3D Printing Systems has one major US based competitor, Stratasys (NASDAQ:SSYS), and one new player in the game, ExOne (NASDAQ:XONE), which went public in February of 2013. All three companies have had banner years for shareholders with DDD up close to 88% year over year, despite the recent dip in share price. SSYS is up over 40% year over year and XONE's share price is up 156% since it began trading.
The following table compares some key performance metrics for the three companies:
| | | | |
| --- | --- | --- | --- |
| Indicators | | | |
| Trailing Twelve Month P/E | 73.0 | N/A | N/A |
| P/B Ratio | 5.5 | 2.1 | 9.9 |
| P/S Ratio | 7.1 | 9.1 | 20.1 |
| Forward P/E | 36.7 | 37.2 | 130.7 |
| Net Income Growth (3 Year Avg) | 231.8% | 27.3% | -- |
| Return on Equity (NYSE:TTM) | 6.4% | -1.3% | -12.3 |
| Current Price | $47.24 | $98.26 | $66.58 |
Data from Morningstar on August 9, 2013
ExOne caters to the extreme high end of the business market with printers with astronomical prices. It seems the company sold a grand total of five printers in Q1 2013; generating $4.2 million in revenue and for 2012 sold only 13 profits and failed to show a profit. Apparently investors are focusing on the potential should the company increase its sales volume.
Compared to the market cap at XONE of $800 million, DDD and SYSS are giants at $4.7 billion and $3.4 billion respectively. If the hype about the potential of 3D Printing as a major disruptive technology is true, both Stratasys and #D Printing Systems should have bright futures.
In the past Stratasys has primarily catered to the business enterprise sector but they are attempting to catch up on DDD's lead with consumers. 3D Printing Systems has a consumer oriented printer, the Cube 3D, now on sale at Staples outlets throughout the country for $1299.
On August 1st 2013 Stratasys posted that its printers would be available in UPS stores in a test program. In addition, the company announced in July it was acquiring MakerBot, manufacturer of the Replicator 2, a desktop 3D Printer now available on Amazon (NASDAQ:AMZN). Amazon is now offering the Replicator 2 for $2199.
Over the past three years DDD has crushed SYSS in net income growth as well as a positive ROE.
What Does the Future Hold?
A recent study at Michigan Technological University calculated the total cost of 20 common household items and found a minimum/maximum price range of $312 to $1,944. With a 3D printer, a consumer could make those items over a weekend at a total cost of $20. Competition between DDD and SYSS should drive down the price of both consumer and industrial 3D printers, increasing market penetration.
Industrial and medical apps are probably to continue to increase, to the benefit of all three of these companies. The battle will be for the wallet of the consumer. Now that Stratasys is making a serious bet in this space, the competition is likely to drive the price of a home 3D printer under $1,000. In addition, watch for expansion in available materials from which objects can be made. For 3D printers to go mainstream as did high priced 2D printers and other electronic gadgets, price and flexibility in materials and color processing are a must. Today, consumer printers are limited to one color and polymer plastics.
Final Verdict
The growth potential for the above-mentioned companies is massive and lower prices are a key to the future, and not just in the consumer, industrial, and healthcare sectors. Many small businesses cannot afford the high price tag of today's costly printers. At more affordable levels, this is another play with explosive growth potential. Both 3D Printing Systems and Stratasys appear to be worthy investments, although perhaps not at present prices. Give the edge on the consumer market to DDD and should they come to rule that space, their investors will be very, very happy.
Disclosure: I have no positions in any stocks mentioned, and no plans to initiate any positions within the next 72 hours. I wrote this article myself, and it expresses my own opinions. I am not receiving compensation for it (other than from Seeking Alpha). I have no business relationship with any company whose stock is mentioned in this article.