The first article of the series introduced the Carbonate Triangle of the renowned Canadian oil sands. The region is the world's third largest oil reserve with its rich carbonate-hosted bitumen deposit located in northern Alberta's deep underground. Precisely, the Carbonate Triangle is situated between three major bitumen areas - Athabasca, Cold Lake and Peace River.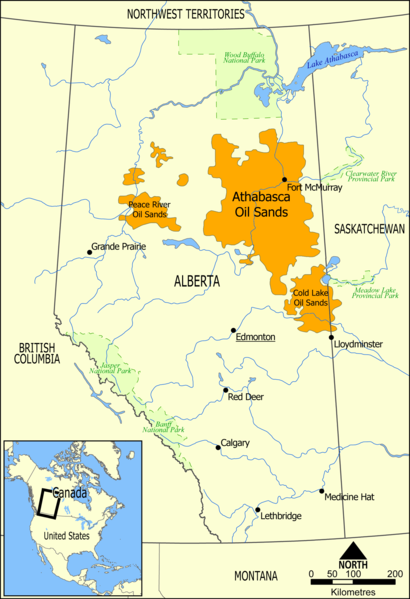 In today's investment guide on the Carbonate Triangle, I will present the main characteristics of the Athabasca area to have a better assessment of its potential. Then, I will review one oil producer that owns quality assets in Athabasca. So far, I looked into several producers involved in Peace River and Cold Lake regions of the Carbonate Triangle:
Peace River's most notable producers:
Cold Lake's most notable producers:
Athabasca's most notable producers:
An analysis of the current operations of the company will be examined with the objective to provide the most complete information available to potential investors before deciding to seize the opportunity that the 54,132 square miles of the Carbonate Triangle has to offer. Let's start by introducing Athabasca, a famous and most prolific region in the Canadian oil sands as well as one of the largest reserves in the world.
Athabasca Region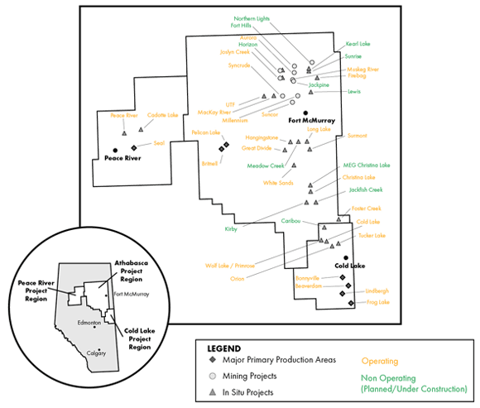 Source: NEB
The Athabasca oil sands are named after the Athabasca River which cuts through the heart of the deposit and traces of the heavy oil are readily observed on the river banks. Commercial production of oil from the Athabasca oil sands began in 1967 when Great Canadian Oil Sands Limited, now incorporated into an independent company known as Suncor Energy, opened its first mine, producing 30,000Bls/d of synthetic crude oil.
The Athabasca region can be defined with two major oil sands deposits: the Grosmont Formation and the Wabiskaw-McMurray Formation. The Grosmont Formation is a late-Devonian shallow marine to peritidal platform carbonate consisting of four recognizable units within the deposit. All of the hydrocarbons are located in an updip position, structurally trapped along the erosional edge and contained by the overlying Clearwater Formation.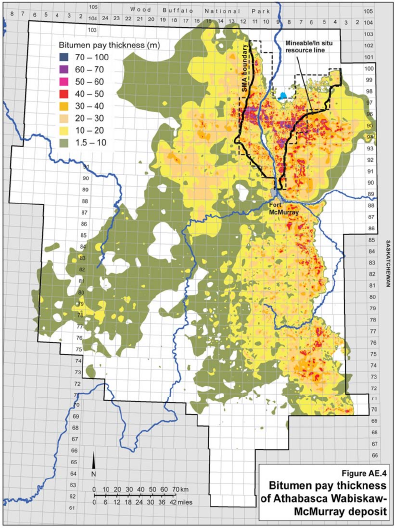 Source: ERCB
The McMurray Formation was deposited on an exposed karstic landscape of ridges and valleys and varies in thickness from being absent over Devonian highs to over 426 feet thick in the Bitumont Basin. Bitumen-rich reservoirs formed within estuarine valleys stacked above the Lower McMurray channel sands and are assigned to the Upper McMurray Formation.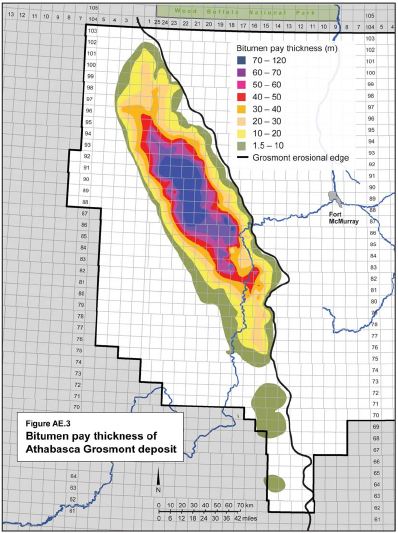 Source: ERCB
The Athabasca region is estimated to hold total reserves of 1.34 trillion barrels of oil. Approximately 8-10% would be recoverable with current technology, which would represent a total reserve of 134 billion barrels. Compared to the estimated 7 billion barrels contained in Peace River and approximately 16 billion barrels in Cold Lake, the Athabasca region is the most prolific and the most promising of the three, located in the Carbonate Triangle.
Cenovus Energy (NYSE:CVE)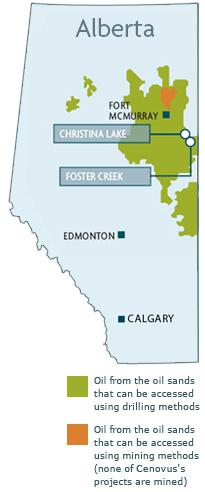 Source: Cenovus Energy
Cenovus began independent operations in December 2009 when Encana Corporation (NYSE:ECA), a major North American energy producer, split into two distinct companies, Cenovus, focusing on oil while Encana would focus on natural gas.
Cenovus, headquartered in Calgary, Alberta, has retained assets from both PanCanadian Energy and Alberta Energy Company, the two Canadian oil and natural gas companies that merged to form Encana in 2002. It's through those two companies that Cenovus can trace its roots.
The company's strategy is centered on developing its top-quality oil resources, building on its track record of strong project execution, progressing its environmental performance, expanding its markets and maintaining its financial strength.
In 2010, the company commercialized its Wedge Well technology, which is used to improve efficiency while producing more oil at its oil sands operations. In its SAGD operations, it drilled horizontal wells in pairs, one well above the other, enabling the producer to drill multiple well pairs from a single well pad. Over time, a pocket of unrecovered bitumen is formed in the space between two well pairs.
The Wedge Well technology allows Cenovus to access the wedge of bitumen by drilling a single horizontal well between two SAGD well pairs and pumping the oil to the surface through this additional well. The technology assists working toward increasing total recovery of oil while lowering the environmental impact.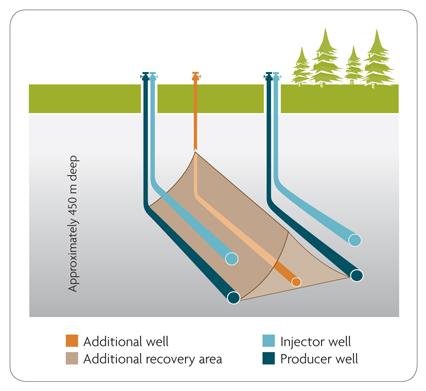 Source: Cenovus Energy
Because the pocket formation is surrounded by steam chambers created by the existing well pairs, it requires less water turned into steam to soften it and pump it to the surface. Thus, less steam means less water is used and less fuel gas is required to create steam, meaning a reduction in steam generator emissions intensity.
Athabasca Operations
The producer currently has two producing SAGD assets operating in the oil sands, Foster Creek and Christina Lake. The oil deposit at Foster Creek and Christina Lake is located about 1148 to 1476 feet below the surface and requires specialized methods to drill and pump the oil to the surface. The primary technology used for these two operations is the SAGD process which injects steam into the reservoir to soften the oil so it can be pumped.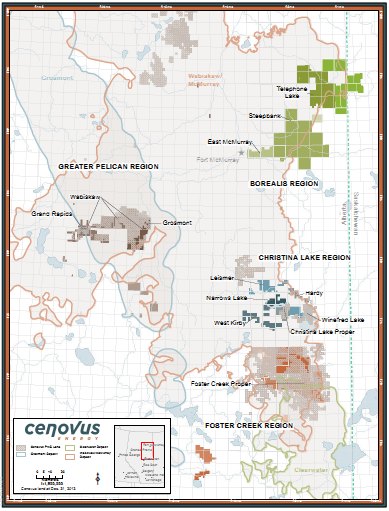 Source: Cenovus Energy
These operations are joint ventures in which Cenovus owns 50% in interests and is the operator while the other 50% are owned by ConocoPhillips (NYSE:COP).
Foster Creek

Source: Cenovus Energy
Foster Creek is the producer's largest project, considered among the best commercial and technical SAGD projects in the industry. As a matter of fact, in 2010, Foster Creek achieved a significant milestone in becoming the largest commercial SAGD project in Alberta to reach royalty payout status. When a project reaches payout, its cumulative revenues exceed cumulative allowable costs, showing a sign of success.
Located about 205 miles northeast of Edmonton, Alberta, Cenovus started a pilot project at Foster Creek in 1996 and commercial production began in 2002.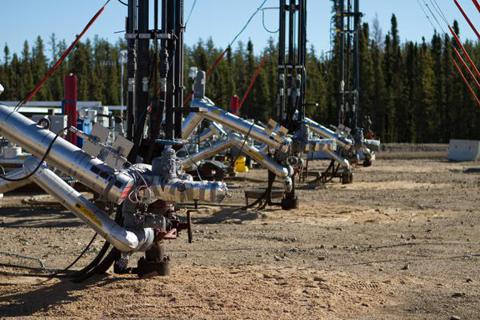 Source: Cenovus Energy
There are five phases currently producing at Foster Creek, with about 120,000Bls/d (barrels per day) capacity, and with three more phases under construction. As a matter of fact, phases F, G and H are expected to be achieved by 2016, more than doubling the operating capacity by adding 125,000Bls/d. Overall progress on the combined three phases expansion is about 60% complete, while Phase F central plant is about 78% complete. Module assembly and piling work continues on Phase G, while site preparation, piling work and major equipment procurement are underway for Phase H.
A public consultation process is under way for its phase J expansion to add 50,000Bls/d by 2019. Ultimately, Cenovus expects Foster Creek may have the capacity to produce 295,000 barrels per day by 2019 and as much as 310,000 barrels per day with optimization.
According to its Q2 of 2013 earnings release, Cenovus reported operating costs at Foster Creek of about $16.19/Bbl, compared with $12.49/Bbl a year earlier, as Cenovus incurred higher workover costs and higher prices for fuel and electricity. While operating costs are expected to decrease over the remainder of the year compared with the current quarter, Cenovus has updated its guidance to reflect a higher annual average of between $14.90/Bbl and $15.90/Bbl for Foster Creek's operating costs.
Christina Lake

Source: Cenovus Energy
Christina Lake, a top-tier reservoir with huge potential for growth, is located about 75 miles South of Fort McMurray, Alberta. Cenovus started Christina Lake in 2000, achieving commercial production in 2002 with an initial capacity of 10,000Bls/d.
This asset is at an earlier stage of development than Foster Creek. Christina Lake has seven phases planned so far. Phases A, B, C and D are in operation, producing about 98,800Bls/d. Cenovus said that Phase D demonstrated full production capacity in January 2013, approximately six months after first production. Phase E is under construction and is about 90% complete. It is expected to be commissioned later this year with the adding capacity of 40,000Bls/d.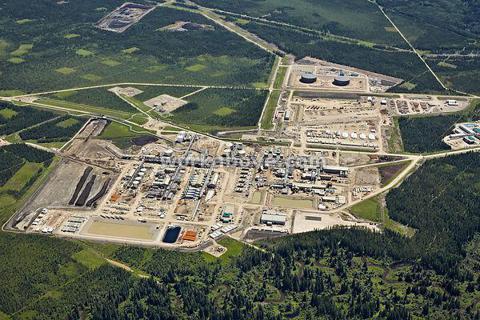 Source: Workabove.com
Plans for phases F and G have received regulatory approval, and procurement, plant construction and major equipment fabrication continued for Phase F, while engineering work continues for Phase G. An application for Phase H is expected to be submitted for regulatory review in 2013, which phases F, G and H are expected to increase production capacity to 288,000 gross barrels per day when completed in 2019. With additional expansion phases and optimization work, the company believes that total gross production capacity has the potential to reach 300,000 barrels per day.
Operating costs at Christina Lake were $16.83/Bbl in Q2 of 2013, an increase from $12.52/Bbl in the same period a year ago due to higher repairs and maintenance associated with the turnaround. Other factors included increased costs for waste fluid handling and trucking, and higher prices for fuel and electricity. Cenovus has updated its guidance to reflect a slightly higher annual average of between $12.80/Bbl and $13.60/Bbl for Christina Lake's operating costs.
Emerging Oil Projects
Emerging projects will play a significant part in Cenovus' growth plan. During the analysis stage of these projects, it conducts seismic and drill stratigraphic wells to assess the geology and quality of the reservoirs. After the analysis stage, the producer is submitting regulatory applications for approval to begin construction on its most promising locations.
Narrows Lake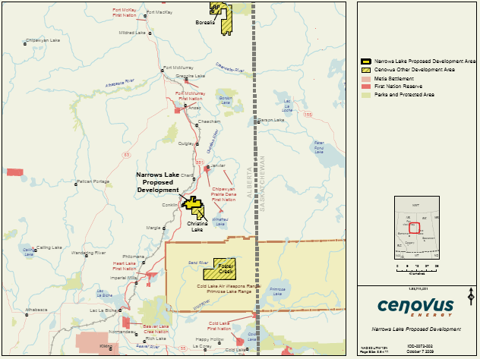 Source: Cenovus' Narrows Lake Plain Language Document
Narrows Lake is a joint venture between Cenovus with 50% interest and operator of the project and ConocoPhillips with the other 50%. It is located near one of Cenovus' operating asset, Christina Lake. The project is expected to have a total gross production capacity of 130,000 barrels per day with three phases and a project life of up to 40 years.
Ground work for the initial phase of 45,000Bls/d began in the fall of 2012, as well as the engineering and procurement. Construction of Phase A is scheduled to start up in Q3 of 2013 and is estimated to be commissioned in 2017. Cenovus invested $25 million to advance the project in Q2 of this year compared with $9 million in the same period in 2012. This included spending on site preparation, engineering and procurement.
Grand Rapids
Grand Rapids is located in northeast Alberta, approximately 187 miles north of Edmonton, close to populated areas of the hamlet of Wabasca and the Bigstone Cree Nation. According to its PLD (Plain Language Document), the central processing site is expected to cover about 0.58 square miles, with up to 200 well pads over the life of the project, each covering approximately 0.03 square miles.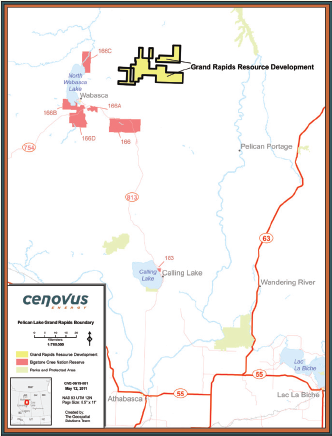 Source: Cenovus' Grand Rapids Plain Language Document
In December 2010, the company drilled its first pilot SAGD well pair in the Grand Rapids Formation of the Greater Pelican Region. The pilot evaluated thermal recovery of this large oil resource and in 2011 it achieved first production at the Grand Rapids pilot.
Cenovus said that first production from a second well pair at the Grand Rapids pilot was achieved in February 2013, and that the regulatory application for the commercial project is proceeding on schedule. Grand Rapids is scheduled for three 60,000Bls/d phases where Phase A is expected to start up in 2017.
This project is estimated to have a maximum production capacity of approximately 180,000Bls/d, constructed in phases over the estimated 40-year life of the project. Capital investment at Grand Rapids was $8 million in Q2 of 2013, up from $5 million a year earlier.
Telephone Lake
Telephone Lake (formerly Borealis), is located in northern Alberta about 56 miles northeast of Fort McMurray and is expected to have an initial production capacity, with two phases, of 90,000 barrels per day and an operational life of approximately 40 years.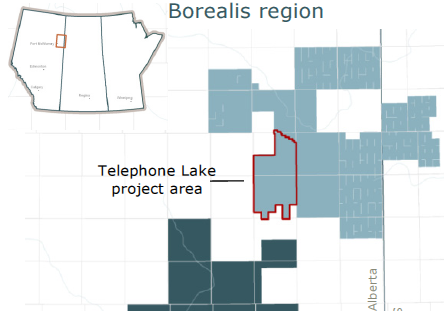 Source: Cenovus Energy
The Telephone Lake reservoir has a layer of groundwater above the oil that's not suitable for human consumption without treatment. In order for the oil recovery process to be efficient, Cenovus must first move this water through a process called dewatering. If regulatory approval for this project is received, the company may begin dewatering on a commercial scale as early as 2017.
In December 2011, it submitted a revised joint regulatory application and environmental impact assessment to the Energy Resources Conservation Board. If approval for this project is received, Cenovus may begin construction as early as 2014. Capital spending in Q2 of 2013 was $17 million, up from $13 million a year earlier.
Other Valuable Assets
Conventional Oil: Cenovus has extensive oil operations in Alberta and Saskatchewan. These include conventional and tight oil assets in Alberta and developing tight oil assets in southern Saskatchewan, as well as the established Weyburn operation that uses carbon dioxide injection to enhance oil recovery.
Natural Gas: The majority of the natural gas production comes from the shallow gas play that covers more than three million acres in southeast Alberta, including parts of Canadian Forces Base Suffield. The producer has operated for more than 50 years in the area and in that time produced in excess of two trillion cubic feet of natural gas. Shallow natural gas is drilled with lighter equipment and has a small environmental footprint.
Wood River Refinery: Located in Roxana, Illinois, this refinery has a processing capacity of approximately 311,000 barrels per day. It refines crude oils to produce gasoline, diesel and jet fuel, petrochemical feedstocks and asphalts. In November 2011, the completed coker construction and start up of the coker and refinery expansion project was realized. The project's completion has increased total Canadian heavy crude oil processing capacity to between 200,000 barrels per day and 220,000 barrels per day. The project is 50% owned by Phillips 66 (NYSE:PSX).
Borger Refinery: Located in Borger, Texas, this refinery has a processing capacity of approximately 146,000 barrels per day of crude oil and approximately 45,000 barrels per day of NGLs. It produces gasoline, diesel and jet fuel along with NGLs and solvents. In July 2007, a new coker, with a capacity of approximately 25,000 barrels per day, was brought into service, enabling the refinery to process heavy oil blends. The project is also 50% owned by Phillips 66.
Financials At A Glance
According to Cenovus' Q2 of 2013 earnings release, the combined production from the company's oil sands projects, Christina Lake and Foster Creek, averaged nearly 94,000Bls/d net in the quarter, a 17% increase from the same period a year earlier. This was primarily driven by the start up of Christina Lake phase D in Q3 of 2012 and subsequent ramp up in the first half of 2013. Average daily oil production at Christina Lake was more than 38,000Bls/d net in the quarter, a 35% increase when compared with the same period in 2012.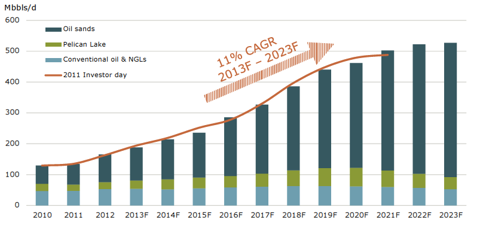 Source: Cenovus Investor Day, June 2013
The chart above shows the company's CAGR (compound annual growth rate) forecast in production by the management, focusing on more than 10% in CAGR for a decade.
Volumes at Christina Lake were reduced during the quarter by the company's first full planned turnaround at the facility. Cenovus started injecting steam for Phase E in late June and achieved first production in the third week of July. The company expects the ramp up to take place over the next six to nine months, similar to the ramp up experienced at Christina Lake Phase D.
Foster Creek production averaged more than 55,000Bls/d net in the quarter, 7% higher than the year before. This increase is due, according to the company, to volumes being reduced in Q2 0f 2012 as the result of a full turnaround at the facility. The 2013 turnaround at Foster Creek is planned to start in late September.
Operating cash flow was $1.1 billion in the quarter, an increase of 4% when compared with the same period a year earlier. Operating cash flow from the company's upstream assets benefited from the WTI (West Texas Intermediate) to WCS (Western Canadian Select) differential narrowing in Q2, to an average of $19.16 per barrel, a 16% decrease from the same period in 2012. The chart below shows the cash flow per share realized in past years and expectations for this year.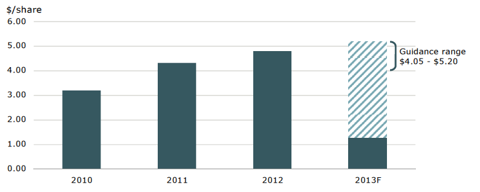 Source: Cenovus Investor Day, June 2013
Climbing oil production and increased natural gas prices also contributed to higher operating cash flow. Those benefits were partially offset by higher operating costs, lower realized risk management gains and a decline in operating cash flow generated by the company's refining operations. The chart below illustrates Cenovus' capex supported by the generated cash flow.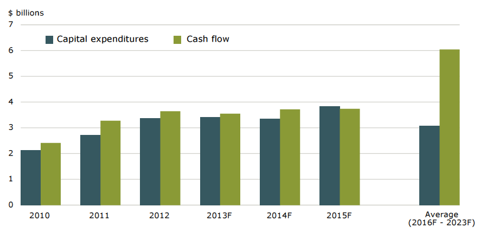 Source: Cenovus Investor Day, June 2013
Notably, operating earnings were $255 million in the quarter, a 10% decrease compared with Q2 of 2012, mainly because of lower cash flow and increased depreciation, depletion and amortization, which reflected an impairment of $57 million from the sale of the company's Shaunavon asset. Cenovus also incurred a $46 million exploration expense related to another tight oil play in Saskatchewan.
Cenovus' net earnings for Q2 were $179 million compared with $397
million in the same period a year earlier, primarily as a result of lower unrealized risk management gains and higher unrealized foreign exchange losses in 2013, partially offset by a decline in deferred tax expense.
Cenovus had a realized after-tax hedging gain of $16 million in Q2 of 2013. The company received an average realized price, including hedging, of $70.33/Bbl for its oil in Q2, compared with $65.56/Bbl during the same period in 2012. Cenovus manages its exposure to the fluctuating price by hedging contracts, transportation commitments and marketing arrangements as well as protecting itself against exposure to wider heavy differentials.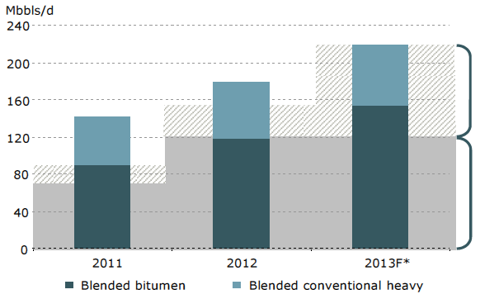 Source: Cenovus Investor Day, June 2013
Regarding its capital investment during Q2, Cenovus spent $706 million. That was a 7% increase from $660 million in Q2 of 2012 as the company continues to expand its oil sands assets. The company's return on equity is at 7,4%, compared to the industry's average of 13.7%, suggesting that an improvement should be made to increase the profitability with its shareholders money.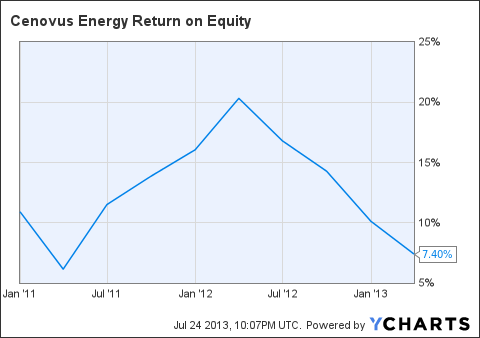 Furthermore, Cenovus invested a significant amount of cash in the last few years to develop its current projects, as stated by its long-term debt to equity ratio of 62.37 compared to its industry's average of 16.99.
That said, it does not mean that the company is in a difficult financial position but the significant use of its financing capital could become a cause of concern over the long term. Hopefully, the improved output at Christina Lake should help mitigate the debt by generating some cash flow. The following chart illustrates the company's capex guidance for 2013 as it expects to spend between $3.2-$3.6 billion of its capital throughout the year.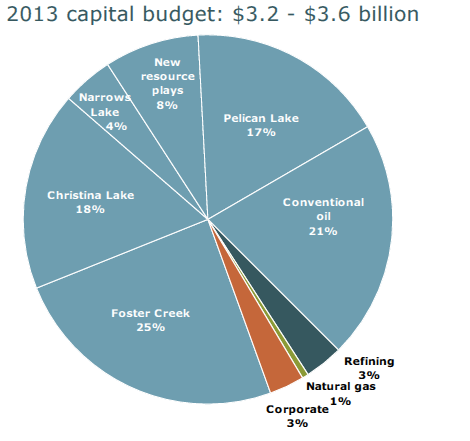 Source: Cenovus Investor Day, June 2013
Another fact worth mentioning, Cenovus Energy said it has developed a drilling rig that can be flown by helicopter to remote areas, cutting out the need to build access roads and generating cost savings of about 25%, or around $100 million per year.
The company has been working on the technology for two years and plans to submit its research to Canada's Oil Sands Innovation Alliance as its contribution to furthering the reduction of the oil sands industry's environmental footprint.
Bottom Line
I believe Cenovus has tremendous potential with its Christina Lake and Foster Creek assets. As a matter of fact, the company expects its oil production from these assets to reach an average of 600,000Bls/d capacity, a whopping 538% increase from its current production of 94,000Bls/d achieved in Q2 of 2013.
Cenovus shares are currently undervalued, trading in the $31-$32 per share, Morningstar assessing the value at $42/share. Therefore, the current share price sell-off is an excellent opportunity to add a position in the stock.
Upsides are:
Cenovus' in-situ world-class oil sands assets
Wedge Well technology is increasing the oil recovery and reduces operating costs
Great potential of oil reserves within its leased lands in the oil sands
Downsides are:
Over $6 billion in long-term debt could turn into a heavy burden in the long run
Concentrating all its assets in western Canada could expose the company to rampant inflation currently occurring in the region
Disclosure: I have no positions in any stocks mentioned, and no plans to initiate any positions within the next 72 hours. I wrote this article myself, and it expresses my own opinions. I am not receiving compensation for it (other than from Seeking Alpha). I have no business relationship with any company whose stock is mentioned in this article.