Stock Price : €68.9 (US$101.8)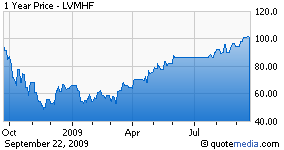 Conclusion: Fully priced. Lack of visibility prevents us from turning positive on the stock. H1 release led us to further downgrade our EPS for 2009, while positive forex should fade away.
H1 Results: sales flat (reported) and down 7% like for like. EPS down 22% in H1, no guidance given for the rest of the year.
A turnaround in sales looks unlikely in the next 6-12 months:
Moet Hennessy's (OTCPK:LVMUY) premium positioning makes it more cyclical than its peers in spirits and more vulnerable to the downturn. Nevertheless, following the expected end of destocking, we expect sales in H2 to be more in line with sell out figures (according to management, sales in H1 went down 13% adjusted for destocking vs. 22% reported). As to watches, their decline is more or less in line with the exports of the Swiss watch industry, which kept struggling in July-August. We expect both Louis Vuitton and Sephora to post positive growth in H2 and market share gains helped by the good resistance of their distribution network and strong innovation. Last, LVMH perfumes should also continue to gain share in a depressed prestige market.
Positive forex impact could fade away in H2 vs +6% in H1, and turn negative in 2010 (-2.5%) based on current spot rates.
Consequently we are looking for a slight decline in sales this year (-1.5%) and limited increase next year (+2.5%).
LVMH's cost structure leaves little room for maneuver to cope with slower revenue growth:
180bp deterioration of the gross margin seems to indicate that LVMH did not benefit from the strengthening of the dollar and the yen in H1, which we find surprising.
In spite of a 5% reduction in operating costs, personnel costs (20.7% of sales) and renting costs (6.6% of sales) rose in H1 by 14% and 12% respectively , which seems high, especially compared with flat reported sales.
Advertising costs are more flexible; they went down 12% in H1 to represent 10.7% of sales, down 160bp vs. last year. However, we do not expect this trend to be durable given the premium positioning of the group and the focus on innovation.
Positive forex impact on margins (+70bp in H1) should fade away in the second half of the year, offset by further cost reductions at Moet Hennessy, Sephora and in watches. Consequently, we are looking for a 12% decline in operating earnings in 2009, and 13% fall in EPS.
We expect the free cash flow to increase to €1.57 (US$2.32)bn (+18%), helped by improved working capital and lower capex.
The stock trades at 18.5x and 16.9x our 2009 and 2010 estimates. We estimate the FCF yield at 4.8%. P/E valuation looks compelling from a historical standpoint. However, we feel that a further rerating would require a better visibility in short term earnings, and also improved long term outlook. We do not underestimate the influence of booming sales in emerging markets (roughly 30% of sales), but we are not sure that this should be enough to compensate for subdued sales in Japan, the US and in Europe. A return to 20x P/E would require to resume almost double digit growth in sales, which seems very ambitious in light of the new "austerity".