Beazer Homes (NYSE:BZH), that flea-infested, bedraggled home builder dog of a stock, has not only learned to run but has left its peers in the dust since I recommended the stock on August 10 at $4 a share (article).
Less than 6 weeks later, it stands at $5.97, a fifty percent climb.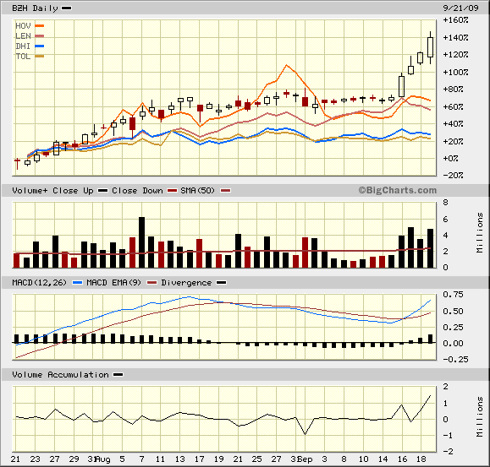 Does this company continue to rise from the dead?
1. Technically, the stock price held firm despite a negative MACD cross and now has showed extraordinary outperformance on large volume. The startling four day run is tremendous when you take into account how badly Toll and Lennar plummeted over the same period.
2. BZH has learned to thrive as a junk yard dog. It's been able to take down its high priced debt for cash and lower its total debt burden. When I first presented BZH, debt was trading at 60 cents on the dollar for bonds trading out 4 years. Now, through BZH's actions, that same debt goes for 78.5 cents, pulling the junk down from 20% to 13%. How? Last quarter, it took out $55 million in debt:
"During the quarter, the Company repurchased $115.5 million of senior notes in open market transactions for an aggregate purchase price of $58.2 million, or an average price of 50.4%, plus accrued and unpaid interest. These repurchases resulted in a gain on the extinguishment of debt of $55.2 million."

Recently, Beazer went to the junk yard again, purchasing another $255 million for $177 million, expected to extinguish $73 million in debt. Its floated $250 million in new bonds (albeit at 12% interest). That new bond covers their purchases and sets them up for perhaps more junk bond buying.
I see a virtuous circle here. Buy back higher priced junk. Find new lenders at more favorable rates. Go back to the junk market. Each time, BZH takes down debt, lowers its total interest costs, and adds equity.
3. This stock was priced for bankruptcy. It has managed to find ways to rebuild. There are whiffs of hope in housing. BZH used to trade at $80 in its heyday. We've seen this play in other sectors: Chico's and ANN in apparel, Lazy Boy in furniture, Thompson Creek in mining. Once the market realizes you're not dead, it makes you leader of the pack. This junk yard dog goes much higher. See you at $15.