By Jason Napodano, CFA
We continue to be positive on Neuralstem Inc. (NYSEMKT:CUR). We believe the company's dual-technology platform focused on cell therapy and traditional pharmaceutical products provides investors with the best of both worlds -- an early-stage investment in a potentially revolutionary pipeline in regenerative medicine and an attractive and under-valued small molecule candidate we think is sure to attract interest from larger pharmaceutical partners given the novel mechanism of action and broad application potential into multiple indications. Below we provide an update on the recent financial results and the company's ambitious clinical trial program planned for the next six months.
Financial Update
On August 9, 2013, Neuralstem Inc. reported financial results for the second quarter 2013. The company reported negligible revenues in the quarter of $2,500, recognized from third party licensing of the floating cannula to Cedars-Sinai Medical Center in February 2013. The majority of this licensing revenue was recognized in the first quarter 2013 totaling $102,500. We remind investors this was the second such technology licensing deal for Neuralstem, the first taking place back in September 2012 to Q Therapeutics netting $173,000.
Net loss in the second quarter totaled $6.25 million, or $0.09 per share. Net loss for the quarter was driven by $1.9 million in R&D, $1.3 million in G&A, $0.1 million in D&A, and $2.6 million in warrant modification expense and derivative adjustments. Cash operating expenses were roughly in-line with our expectations. Despite the $6.25 million loss, operating cash burn in the quarter totaled only $3.5 million, as the D&A and warrant/derivative liability adjustments are non-cash. Actual net cash burn in the quarter totaled only $1.5 million in the quarter as the company has over $2.0 million in warrants exercised by holders between April 2013 and June 2013.
Neuralstem exited the second quarter 2013 with $11.2 million in cash and investments. We remind investors back on March 25, 2013, the company entered into an $8 million debt financing with Hercules Technology Growth Capital. The secured note is repayable in installments over 42 months following an interest-only period of nine months and up to 12 months upon funding of a second $2 million tranche (option expires September 30, 2013).
Neuralstem continues to burn around $2-3 million per quarter on an operating basis, although with over 20 million warrants and stock options current in-the-money, we would not be surprised to see additional exercises in the coming quarter, thus reducing overall net cash burn substantially. We believe the company will draw down on the second $2 million tranche with Hercules in September 2013.
We expect some acceleration in the R&D spend over the next few quarters as the company ramps up its development with NSI-566 in phase 2 ALS, phase 1 SCI, and phase 1/2 stroke, but view the existing cash balance as sufficient to fund operations to late 2014. We see the pending phase 1b MDD study with NSI-189 as the best option to raise non-dilutive cash in 2013 or 2014 through the signing of a development and commercialization partnership. Full data from the phase 1b study should be available in October 2013. If the data are positive, we believe Neuralstem will be in position to partner NSI-189 for a handsome upfront payment sufficient to fund operations for the next several years.
NSI-566 For ALS - Update
Analysis of the phase 1 trial from all 15 patients and 18 procedures with ALS has been completed. The preliminary data was previously presented and published in Stem Cells (2012; 30:1144-1151) in March 2012. Principal investigator, Dr. Eva Feldman, has been very active over the past few months presenting the data at various medical conferences. These include: the Romanian Neurological Society Congress in May 2013, the Neuro Diabetes Medical Symposium in May 2013, and the Canadian Neurological Sciences Federation in June 2013.
The full data was presented at the American Association of Neurological Surgeons Annual Meeting in April 2013. The data show the method of intraspinal cell delivery was found to be safe, well-tolerated, and promising for other spinal cord conditions. Additionally, although the phase 1 trial was not powered to demonstrate efficacy, there were clear signs of disease stabilization the ambulatory subgroup of patients, along with long-term NSI-566 cell survival in patients through DNA fingerprinting technology.
In April 2013, Neuralstem announced the U.S. FDA had granted the company approval to commence a phase 2 study with NSI-566 in patients with ALS. This phase 2 dose escalation and safety trial will expand to two clinical centers, Emory University Hospital in Atlanta, Georgia, where the phase 1 was recently completed, and the ALS Clinic at the University of Michigan Health System, in Ann Arbor, Michigan. We note that Dr. Feldman has mentioned publicly that Neuralstem is speaking with the Massachusetts General Hospital as a potential third site, but this has yet to be announced by the company.
The trial is designed to treat up to 15 patients in five different dosing cohorts. All of the patients will be ambulatory and reside within close geographic proximity to the research center where they will participate. The first 12 patients will receive injections in the cervical region of the spinal cord only, where the stem cells could help preserve breathing function. The final three patients will receive both cervical and lumbar injections.
In the phase 1 study, all patients received 10-15 total injections of 100,000 cells per injection, for a dosing range of up to 1.5 million cells. Injections took place in the lumbar and cervical spine. For example, Patient #11, Ted Harada, received 10 bilateral lumbar and 5 bilateral cervical spine injections at around 100,000 cells per injection. The plan for the phase 2 study is to increase both the number of injections and concentration of cells per injection. Neuralstem believes it can increase the concentration of the injection to 300,000 or 400,000 cells. In the planned phase 2 trial, the final patient might receive 20 lumbar spinal cord injections followed by 20 cervical spinal cord injections, with each injection at 400,000 cells. If one patient can show dramatic improvement in motor and lung function after only 1.5 million cells, management is clearly excited about seeing what 16 million cells can do.
Current guidance is for the phase 2 study to begin in September 2013. Neuralstem has secured a $3.0 million grant from the National Institutes of Health (NIH) for this study. Management believes this grant will cover the majority of the cost for the program. The primary endpoint of the study is assessment at 6 months post-surgery, so the top-line clinical data should be available late 2014.
With the U.S. phase 2 study set to begin soon, management is already thinking about the regulatory process and how to accelerate development. The company is looking to conduct a small feasibility trial in Mexico City, Mexico to add to the safety database for U.S. regulatory filings. This initial study will be followed by a larger pivotal study (n~100 patients) in Mexico perhaps in 2014. Neuralstem is seeking a development partner for Mexico. Management tells us they have identified a partner and hope to sign a deal and file the IND in the next few months.
In April 2013, Neuralstem announced that it received a notice of allowance for patent application 12/404,841. This patent covers methods for treating ALS with expanded spinal cord stem cells, including NSI-566. In July 2012, Neuralstem received a notice of issuance for patent application number 12/710,097 (subsequently issued patent number 8,236,299) titled: "Transplantation of Human Neural Cells for Treatment of Neurodegenerative Conditions." This patent, which will expire in the first quarter of 2030, covers both the culturing of central nervous system (NYSE:CNS) cells as well as their transplantation into spinal cord tissue to treat neurodegenerative conditions, including ALS, ischemic stroke, and chronic and acute spinal cord injury.
NSI-566 For SCI - Update
In January 2013, Neuralstem received FDA approval to commence a phase 1 safety trial of NSI-566 in chronic spinal cord injury patients. The open-label, multi-site study will enroll up to eight patients with complete thoracic spinal cord injuries (T2-T12), designated American Spinal Injury Association (AIS-A) level of impairment, between one and two years after injury. All patients will receive six injections in, or around, the injury site; the first four patients will receive 100,000 cells per injection, and the second four patients will receive 200,000 cells per injection.
Initiation of human clinical studies with NSI-566 in chronic spinal cord injury is driven by impressive preclinical data demonstrating substantial improvement in rodent SCI models. For example, In September 2012, preclinical data was published in Cell. The study, "Long-Distance Growth and Connectivity of Neural Stem Cells After Severe Spinal Cord Injury: Cell-Intrinsic Mechanisms Overcome Spinal Inhibition," demonstrated that NSI-566 can induce regeneration of injured spinal cord axons into the graft and serve as a bridge to reconnect to gray matter motor neurons for many spinal cord injuries. In the study, rats with surgically transected spinal cords, which rendered them permanently and completely paraplegic, were transplanted with Neuralstem's NSI-566. The study reports that the animals recovered significant locomotor function, regaining movement in all lower extremity joints.
The results also show that the transplanted neural stem cells turned into neurons, which grew a "remarkable" number of axons that extended for "very long distances" over 17 spinal segments, making connections both above and below the point of severance (from C4 to L1). They also appeared to make reciprocal synaptic connectivity with the host rat spinal cord neurons in the gray matter for several segments below the injury. Re-transecting the spinal cord immediately above the graft abolished the functional gain, indicating that the regeneration of host axons into the human stem cell graft was responsible for the functional recovery. The majority (57%) of neural stem cells grafted into neurons, and also sent out new human axons, which made new synaptic connections with the host motor neurons in the gray matter below the injury.
The phase 1 study is expected to take place at four centers all in the U.S., located in Miami, Atlanta, Philadelphia, and Milwaukee. IRB approvals are expected in the third quarter 2013. All patients will also receive physical therapy post-surgery, as well as immunosuppressive therapy, which will be for three months, as tolerated. We are expecting the trial to start in the third quarter 2013. The trial study period will end 6 months post-surgery for each patient, with a stated goal of trial completion within a one-year timeframe. If positive, we suspect that Neuralstem will seek to reproduce the results in chronic spinal cord injury patients with cervical injuries in 2014.
Neuralstem is also seeking to study NSI-566 is patients with acute spinal cord injury. The company is working with CJ CheilJedang to begin a phase 1 study at four sites in South Korea. The trial will be similar in design to the chronic spinal cord injury trial noted above, only enrolling 8-10 patients with acute injury hours after the traumatic event. We expect the trial to start sometime during fall 2013. CJ CheilJedang's pharma division has 1,200 employees and $400 million in annual revenue from a wide breadth of products. IN return for conducting the trial, Neuralstem has granted CJ CheilJedang an exclusive option agreement for cell therapy products in six South Asian countries: South Korea, Indonesia, Malaysia, Philippines, Singapore and Vietnam
Similar to chronic SCI, optimism in acute SCI is driven by impressive preclinical data. For example, in May 2013, Neuralstem published a paper in Stem Cell Research and Therapy demonstrating rats transplanted with NSI-566 three days after a spinal cord injury at L3 showed improvement along several measures of motor function and a reduction of spasticity. The study, "Amelioration of Motor/Sensory Dysfunction and Spasticity in a Rat Model of Acute Lumbar Spinal Cord Injury by Human Neural Stem Cell Transplantation," was led by principal investigator, Martin Marsala, MD, of the University of California, San Diego School of Medicine.
The study demonstrated that intraspinal grafting of NSI-566 cells during the acute phase of a spinal cord injury could represent a safe and effective treatment that ameliorates post-injury motor and sensory deficits. Based on the rat data, such cell therapy in humans may provide both qualitative and quantitative benefits and lead to significant long-term improvement of the structural integrity of a trauma-injured spinal cord.
NSI-566 For Ischemic Stroke - Update
In October 2012, the company presented data from rodent studies at the Society for Neurosciences annual meeting (Neuroscience 2012) in poster form entitled, "Histopathological Assessment of Adult Ischemic Rat Brains after 4 Weeks of Intracerebral Transplantation of NSI-566RSC Cell Line." Rats that suffered ischemic stroke by middle cerebral artery occlusion were transplanted 7 days post-stroke with increasing doses of NSI-566 into the stroke area. Results show a significant and dose-dependent improvement in both motor and neurological tests in the stem cell-treated rats.
A separate poster, "Survival and Differentiation of Human Neural Stem Cells After Grafting into Ischemia-Injured Porcine Brain," was also presented at Neuroscience 2012. In the study, NSI-566 was transplanted into the brains of pigs that received an ischemic stroke on one side of the brain. Feasibility and safety data was assessed 8 to 9 weeks after the event. Results show that at 6 weeks post-transplantation, there were no complications from the cell transplantation method or the cells. All treated animals showed effective engraftment and neuronal maturation with extensive axonal projections. These data support the application of NSI-566 to be transplanted into a chronic stage of previously ischemia-injured brain for treatment of motor deficits resulting from stroke.
In September 2012, Neuralstem announced it has been approved to commence a clinical trial to treat motor deficits due to ischemic stroke with NSI-566 at BaYi Brain Hospital, in Beijing, China, through its subsidiary, Neuralstem China (神脑生物医药公司 - Suzhou Neuralstem Biopharmaceutical Company, Ltd.).
The trial will be a combined phase 1/2 design, with a goal to enroll up to 118 patients who have suffered an ischemic stroke with chronic residual motor disorder 4-24 months post-stroke. NSI-566 will be injected directly into the brain (intracerebral injections) and patients will be assessed in two parts. Part one will be an open-label study seeking to enroll up to 18 patients in three cohorts. Each of these will receive ascending doses of NSI-566 to define the maximal safe dose. This should start before the end of the year. Part two will be a multi-site, randomized, controlled, single-blind study and enroll up to 100 randomized subjects 1:1 to receive either NSI-566 and physical therapy or physical therapy alone. The primary outcome measures during the follow-up period in part two of the study will be conducted in single-blinded manner. The combined study, including patient monitoring and data collection, is expected to take approximately two years.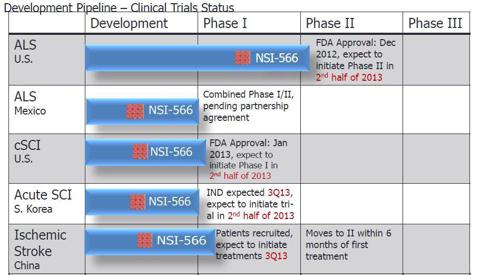 NSI-189 For MDD - Update
Neuralstem's advances in human hippocampal neural stem cells have spring-boarded the company into the development of small molecule drugs for the treatment of various central nervous system disorders. The hippocampus is the part of the brain involved in memory and the generation of new neurons. The company's creation of stable neural stem cell lines from the human hippocampus, the world's only such cell lines, allows for the screening of vast libraries of chemical compounds that protect hippocampal neurons against various toxins. The disease modeling platform offers the ability to test small molecules on living human neurons in vitro, enhancing early-stage drug discovery.
Based on encouraging preclinical data with NSI-189, Neuralstem filed an investigation new drug (IND) application with the U.S. FDA in November 2010. The FDA approved the application in December 2010, allowing the commencement of a phase 1a study. The phase Ia study (NCT01310881) began in February 2011 and completed in October 2011. Because the phase Ia study tested only healthy volunteers, the only data that was released noted all doses to be well-tolerated with no drug-related serious adverse events. We note that this was a relatively large study (n=52) for a phase 1a, but management at Neuralstem wanted to generate enough safety data so that all future indications beyond MDD can proceed directly into phase 2. It may have cost a little more upfront, but in the long run we think this was very prudent, as it will save time and accelerate partnership milestones in the future.
In December 2011, the FDA allowed Neuralstem to advance into a Phase Ib trial (NCT01520649). The trial is a randomized, double-blind, placebo-controlled, multiple-dose escalating trial evaluating the safety, tolerability, pharmacokinetics and pharmacodynamic effect of three escalating doses of NSI-189 over 28 days per dose in the treatment of MDD. The trial initiated in December 2011. The three NSI-189 dosing cohorts are: 40mg QD (once-daily), 40mg BID (twice-daily), and 40mg TID (three-times-daily). Patients will receive an MRI at baseline, during the trial, at completion of the trial (28 days), and 1 month post-trial. Neuralstem will be looking for signs of stabilization or growth in the hippocampus.Dosing in the second cohort commenced in October 2012. Dosing in the third cohort commenced in April 2013. We are expecting the trial to complete in September 2013. Data should be available by late October/early November 2013. We note the efficacy endpoints are all blinded until the conclusion of the trial, but management has noted the safety and tolerability of the compound, through the increased dosage in the first two cohorts, remains excellent. We find it highly encouraging that management has been able to proceed so smoothly between the dosing cohorts with no hold up from the FDA's data safety monitoring board.
If successful, we think the outcome of this phase 1b study will be highly intriguing to larger pharmaceutical partners that have previously funneled billions of dollars in research and development of drugs to treat depression and mood disorders. It's been decades since we have seen a true new mechanism of action to treat depression. New novel CNS candidates to treat tricky diseases like depression and schizophrenia are highly coveted assets in the pharmaceutical industry. Take for example the massive revaluation in shares of Acadia Pharmaceuticals (NASDAQ:ACAD) based on the success of its novel phase 3 candidate for psychosis, pimavanserin. Acadia's market value has soared from $73 million in June 2012 to $1.65 billion today. Based on the mechanism of action, besides MDD, we believe that NSI-189 has significant potential to treat other CNS diseases and conditions where hippocampal atrophy may be the underlying cause of the disease. These include: Alzheimer's disease, anxiety, bipolar disorder, schizophrenia, post-traumatic stress disorder, and chronic traumatic encephalopathy.
Following results of the phase 1b study, if successful, we expect partnership talks to heat up between Neuralstem and a potential larger pharmaceutical company for future development and commercialization of NSI-189. We believe that management will be looking for a partner that can both fund NSI-189 through registration trials in multiple indications and bring the drug to commercialization. The market opportunity for MDD is large, estimated at over $5 billion in 2012. Most patients are under-treated, and bounce between both branded and generic SSRI and SNRI molecules. A novel compound with a new mechanism of action could gain significant market share in the right hands. Plus, we fully expect partnering discussions to include upside to the above listed CNS diseases.
Conclusion
We continue to be optimistic on the Neuralstem story. NSI-566 is currently being studied in ALS, SCI, and ischemic stroke -- all significant unmet medical needs and enormous market opportunities. The company is well-funded, with several clinical catalysts on the horizon for NSI-566 and NSI-189. We believe the shares are worth $2.50 based on discounted cash flow analysis.
Disclosure: I have no positions in any stocks mentioned, and no plans to initiate any positions within the next 72 hours. I wrote this article myself, and it expresses my own opinions. I am not receiving compensation for it. I have no business relationship with any company whose stock is mentioned in this article.
Additional disclosure: PropThink is a team of editors, analysts, and writers. This article was written by Jason Napodano, CFA. We did not receive compensation for this article, and we have no business relationship with any company whose stock is mentioned in this article. Use of PropThink's research is at your own risk. You should do your own research and due diligence before making any investment decision with respect to securities covered herein. You should assume that as of the publication date of any report or letter, PropThink, LLC and persons or entities with whom it has relationships (collectively referred to as "PropThink") has a position in all stocks (and/or options of the stock) covered herein that is consistent with the position set forth in our research report. Following publication of any report or letter, PropThink intends to continue transacting in the securities covered herein, and we may be long, short, or neutral at any time hereafter regardless of our initial recommendation. To the best of our knowledge and belief, all information contained herein is accurate and reliable, and has been obtained from public sources we believe to be accurate and reliable, and not from company insiders or persons who have a relationship with company insiders. Our full disclaimer is available at www.propthink.com/disclaimer.