"FABulously Universal"- FAB Universal Looks to Become China's Leading Digital Media Distributor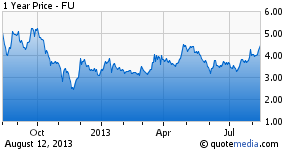 FAB Universal Corp. (FU), a global distributor of digital entertainment content offered through such mediums as Netflix (NASDAQ:NFLX)-like subscription models, standalone flagship locations, retail shops and standalone kiosks has had a very strong and busy 2013, especially in China. The company is the result of a brilliant transaction completed in the last quarter of 2012, whereby Wizard Software acquired FAB Universal Corp. and now the tail wags the dog.
FAB Universal generates revenues from these mediums and through continuing media content downloads, media membership cards, and kiosk based advertising. Customers can purchase and download copyrighted content directly to their mobile devices, giving Chinese consumers the one-two punch of a Netflix, Redbox or even an Amazon (NASDAQ:AMZN).
According to a report from a leading audit firm, China's digital entertainment spending is over $90 billion (RMB 627 billion) a year. With a projected 11.6 percent compounding increase annually, spending is likely to reach $148 billion (RMB 959billion) by 2025.
FAB Universal's Key Distribution Partnerships
FAB Universal recently announced that it has increased its Intelligent Media kiosk business by 2,311 kiosks in the second quarter of this year, compared to 1,728 kiosks in the first quarter. This translates to an increase of 33.7% quarterly and 81% on a year-on-year basis.
The growth of the kiosk network alone has been tremendous over the last few years. Its network has grown to reach over 40 cities in China such as Beijing, Shenzhen, Chengdu and Guangzhou with some 16,000 kiosks installed. This resulted in the company selling 162,869 new membership cards in the second quarter, representing an increase in membership of 89% year over year .
On top of that, FAB Universal has also entered into agreements that will promote advertising revenue and further exposure and growth. FAB Universal signed a five year advertising agreement with Shanghai Qiujia Culture Media to provide advertising on menu screens of the FAB Intelligent Media Kiosk Network. The non-exclusive agreement is expected to yield $1.6 million for the company annually.
These developments are complemented by the company's expansion agreements with Time Antaeus Cinema and Shouhang Supermarkets to open multiple FAB branded media and entertainment retail locations. Based on their agreement, the partners will provide space for the company to operate their branded digital media stores and intelligent kiosks in key cities such as Beijing, Chengdu, and Guangzhou.
However this pales in comparison to the comparatively blockbuster deal that was signed with China Unicom (NYSE:CHU) for FAB Universal to sell its products through authorized distributors Beijing Baifu Hongtai Technology Co., Ltd. (Beijing Baifu Hongtai) and Beijing Berlin Information Service co. Ltd. (Berlin Information Service).
Initially, Beijing Baifu Hongtai and Berlin Information Service will sell FAB Universal's copyright protected audio-video products in 37 China-Unicom Business Stores in Beijing.
Strong, Undervalued Fundamentals and Under-Reported Potential
FAB Universal 's growth and potential is also compounded by the presence of one of the legendary co-founders of the Quantum Fund, Jim Rogers. FAB Universal Chairman Zhang Hongcheng issued a statement saying that "We look forward to working with Mr. Rogers to represent the interests of FAB shareholders worldwide and help the company realize its tremendous potential. With Mr. Rogers' position and experience in the international financial community FAB has strengthened its leadership for our global expansion plans."
Currently no analyst coverage exists on FAB Universal. A curious uptick in average daily volume on August 13th, 2013 of 185,792 shares versus an average of 83,257 shares means that smaller investors can profit due to the lack of analyst coverage and institutional interest in FAB Universal as a lot of information. As these current developments have not been discounted into the stock price, any positive news is also buoyed by a staggering figure; sales have grown by an average of 40% a year over the past five years.
While the company was still in the red for the year ending Dec.31,2012, it has put out earnings guidance estimates of $0.60 for this year. Since the merger the most recent two quarters have been substantially in the black. At the current price of $4.44 at the time of this writing, this translates to FAB Universal trading at roughly six times earnings.
Currently digital media technology companies are trading at least 8 times earnings. For instance, communications solutions provider BCE Inc. (NYSE:BCE) is trading at 13 times earnings and Apple Inc. (NASDAQ:AAPL) is trading at 10 times earnings. If we assume that it would trade in line with its peers, FAB Universal would be valued at $6-$7 per share.
Given the current growth trends that range from intelligent media kiosks to streaming media, it would come as no surprise that the gap between price and value will close over the long run, especially as the Chinese digital media market continues to grow and more consumers in China start to see how "Fab" the digital world can be.
Disclosure: I have no positions in any stocks mentioned, but may initiate a long position in FU over the next 72 hours. I wrote this article myself, and it expresses my own opinions. I am not receiving compensation for it (other than from Seeking Alpha). I have no business relationship with any company whose stock is mentioned in this article. My associate Anthony Orbanic assisted me with this article.