It's hard to believe it but there is actually an investment sector that has suffered more damage than gold mining companies over the past year or so. While the HUI Gold Bugs Mining Index has dropped a little under 40 percent on the year, coal miner Walter Energy (NYSE:WLT) is down 71 percent, Arch Coal (ACI) is down nearly 40 percent, and Yanzhou Coal Mining Co. Ltd. (NYSE:YZC) is down over 50 percent!
However, I believe there is strong reason to believe that we've seen the worst in this beaten down sector.
Why Coal?
Coking coal or metallurgical coal is used to make steel. Approximately 70 percent of the steel produced today uses coal, according to WorldCoal.org. Steel itself is used in the construction of roads, railroads, agriculture, automobiles, appliances, buildings, etc. It's a crucial energy source in this world, period!
Demand in steel is growing primarily due to an increase in consumption by China and India. Both these countries are expected to import nearly 655 million tons of thermal and Met coal by 2017 - that's an increase of 175 million tons from 2013.
(Source: Peabody Energy Corporate Presentation)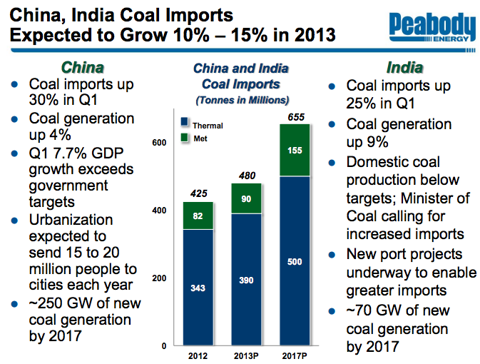 In addition, total world coal demand is expected to hit 9,050 million tons in 2017, up from a total of about 7.9 million in 2013.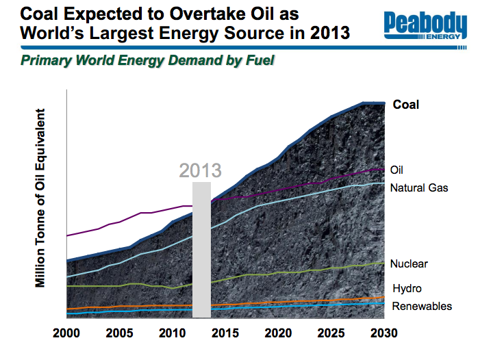 The Coal Market Has Bottomed, Moody's Says
The price of Metallurgical coal suffered big after hitting a high of $201 in Q3 of 2011 due to oversupply and slowing growth in China. However, after dropping as low as $140, the price has since rebounded back, with Moody's raising the coal industry outlook to stable from negative:
"Moody's said it "does not expect industry fundamentals to deteriorate further over the next 12 to 18 months, though business conditions remain very weak.

Sustained natural gas prices will prop up demand for the thermal coal used in power production through mid-2014 to early 2015, while supply rationalization should help stabilize prices for metallurgical coal, which is used in steelmaking. …

The stable outlook reflects our expectation that over the next year or so coal-fired power plants will capture roughly 40% of US electricity generation, up from 37% in 2012 … Coal inventories had fallen to roughly 164 million short tons by July this year, so we expect modest improvements in thermal coal production and pricing next year," Moody's Senior Analyst Anna Zubets-Anderson said.
Coal stocks jumped on this news, with Peabody, Arch Coal and Alpha Natural Resources all up over 10 percent. I believe the gains to come in the following months and years will be far, far greater, and I urge investors to take a longer term stance on coal stocks. While we may see more weakness ahead in the short-term, I believe the long term picture for coal remains very bullish.
How to Play the Rebound
My favorite play in this sector is Peabody Energy (NYSE:BTU). I believe that Peabody is in a healthy financial position, pays a steady dividend, and has the best assets and the top management team in the sector.
| | |
| --- | --- |
| Current Price | $17.77 |
| Market Cap | $4.76 billion |
| Forward P/E | 27 |
| Dividend Yield | 1.9 percent |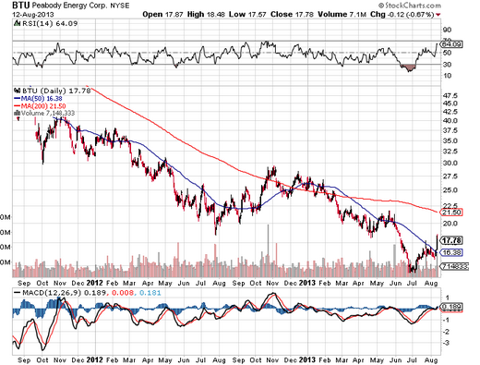 This 2-year chart shows that the bottom in Peabody could have been on July 1. The price $14.34 but has since rebounded over the 50-day moving average.
Peabody Q2 2013 Earnings
The company reported revenue of $1.73 billion with an adjusted EBITDA of $254 million, reporting adjusted diluted EPS of .33, which was much better than analysts estimates of -.05.
The company is focused on improving costs and margins and has been successful thus far:
"Peabody continues to be focused on cost containment and tight capital discipline. Peabody is reducing 2013 Australian cost targets to the mid-$70 per ton range, with 2013 U.S. costs per ton expected to be 2 to 3 percent lower than last year," the company said in the Q2 earnings release.
The Peabody dividend has also been very steady as the company has paid out a dividend each quarter since its initial public offering in May 2001. They have paid out the exact same dividend amount quarterly since late 2010: $.085 per share. With a coal market rebound and increased earnings, I expect this dividend to increase over the years.
My Advice for Investing in Coal Stocks
If you don't want to pick stocks here and just want some exposure to the sector, I would recommend the Market Vector Coal ETF (NYSEARCA:KOL), which contains a number of coal miners including CONSOL Energy Inc. (7.56 percent of assets), Joy Global Inc. (7.19 percent), Peabody Energy (6.13 percent), among others. At $19, this ETF currently has a P/E ratio of 13 and yields 2.39 percent.
Other advice? Don't buy on margin and don't buy call options trying to call a bottom. I made the mistake myself of trying to call the low point in coal earlier this year and got burned. Lesson learned. A better strategy is to accumulate shares each month and have the dividends automatically re-invested in a DRIP. Buy on weakness and sell on strength.
It will be interested to see where coal stocks finish 2013. They could continue to rebound or they could cool off. However, I am convinced that greater returns lie ahead in the coming years and patience will be greatly rewarded in this sector.
Disclosure: I have no positions in any stocks mentioned, and no plans to initiate any positions within the next 72 hours. I wrote this article myself, and it expresses my own opinions. I am not receiving compensation for it (other than from Seeking Alpha). I have no business relationship with any company whose stock is mentioned in this article.