Some stocks get constant coverage everywhere from CNBC to SeekingAlpha.com while others tend to get swept under the rug. The three stocks I want to cover have, unfortunately, been overlooked by investors despite their fundamental strength. Bridgepoint Education Inc., for example has not been covered by a SeekingAlpha author since mid-July. Green Dot has not been covered since the beginning of May and Spectrum Pharmaceuticals since April! It's time investors took a look at these companies, whether it be for your retirement or for your child's college fund. These are my long-term picks for investors seeking alpha (which is likely, all of us).
Bridgepoint Education Inc:
ITT Educational Services (NYSE:ESI) is currently one of the most shorted stocks in the market, which may lead investors to shy away from higher education altogether. However, Bridgepoint Education's (NYSE:BPI) rock solid fundamentals along with a great management team will be interesting to long-term investors.
BPI operates the University of the Rockies (Colorado Springs, Colorado) as well as the newly accredited Ashford University (Clinton, Iowa) with a total enrollment of 78,000 students between its campuses (the vast majority of these are distance learners). The company has a staff of 9,000 between all of its campuses as well as its online courses.
The various valuations for BPI all suggest that this is a long-term bullish stock worth taking a look at. A simple Graham valuation shows that the stock is estimated to be worth $20.80 a share (assuming no growth). A Reverse Discounted Cash Flow calculation shows that the stock's price is justified if it shrinks by 1% year over year over 10 years (this means it is currently oversold).
Valuation ratios such as price-to-book also show a relatively bullish stock:
| | | | |
| --- | --- | --- | --- |
| Valuation | BPI | Industry Avg | S&P Avg |
| Price/Earnings | 7.50 | N/A | 17.20 |
| Price/Book | 1.70 | 2.10 | 2.40 |
| Price/Sales | 1.00 | 1.00 | 1.50 |
| Price/Cash Flow | 7.80 | 8.40 | 10.30 |
Institutional ownership is up significantly across the board with Mellon Capital Management Corp as the only major seller. Mellon sold 60% of its position. Insider ownership in this stock is low with only 0.4% of shares outstanding, however there is a 280% increase in ownership in the trailing 12 months.
Even technicals support a bullish expectation for this stock. The Relative Strength Index is moving into simple uptrend territory from previously overbought territory. The 25-day exponential moving average (EMA) is diverging from the 50-day EMA, which is diverging from the 100-day EMA. The MACD is above the signal line, however there is not a clear a divergence yet. The Ultimate oscillator is in uptrend territory.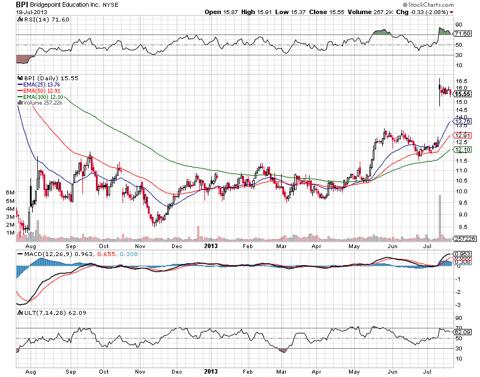 For investors looking to customize their risk/reward trade-offs, this stock is optionable. For example a short strangle (sell a put at a lower strike price and a call with a higher strike price), can provide profits if the stock stays within a given range (though losses can be unlimited if the stock explodes for any reason).

Green Dot:
Green Dot (NYSE:GDOT) provides prepaid credit cards with direct deposit options that employers are beginning to take advantage of. Unlike debit cards, there is no risk of overdraft fees, a key selling point for the service as opposed to traditional checking accounts (though not a replacement, per se). Green Dot's key strength is its large retail presence (according to its most recent investor presentation, the services are available at over 60,000 locations). Increasing fees and minimum balances for traditional checking accounts could make Green Dot very attractive to consumers looking for low-hassle and cheap alternatives.
Green Dot has a large cash position (approximately $12 per share, 40% of the current price). It also has very little long term debt (only $19 million on $550 million in annual revenues). Its revenues per active card has increased 13% over this time last year, while the number of active cards has also increased to 4.5 million. Its closest competitor, netSpend, for comparison, has only 3.2 million active cards. Green Dot also boasts a higher customer retention rate than netSpend, as well as a 12% growth in direct deposits.
Green Dot is valued at $10.60 accord to the Graham valuation method and a Reverse Discounted Cash Flow model expects 8% year-over-year to justify its current price. The valuation ratios are favorable, though not quite as favorable as BPI.
| | | | |
| --- | --- | --- | --- |
| Valuation | GDOT | Industry Avg | S&P Avg |
| Price/Earnings | 25.50 | 27.80 | 17.20 |
| Price/Book | 2.40 | 4.50 | 2.40 |
| Price/Sales | 1.80 | 1.90 | 1.50 |
| Price/Cash Flow | 11.10 | 13.90 | 10.30 |
Despite its overall strength, Green Dot has some weaknesses and threats on the horizon. American Express' (NYSE:AXP) recently released BlueBird program is a direct competitor and its partnership with Wal-Mart (NYSE:WMT) may hurt Green Dot. Conventional credit card companies have taken note of the lucrative market of prepaid cards and with their name recognition, they have a chance to take up market share from Green Dot.
The technical signals presented by Green Dot's chart are similar to BPI. Both the RSI and Ultimate Oscillator are in uptrend territory, while shorter-term EMAs are diverging up from longer-term EMAs. The MACD is above the signal line, though it is not yet diverging.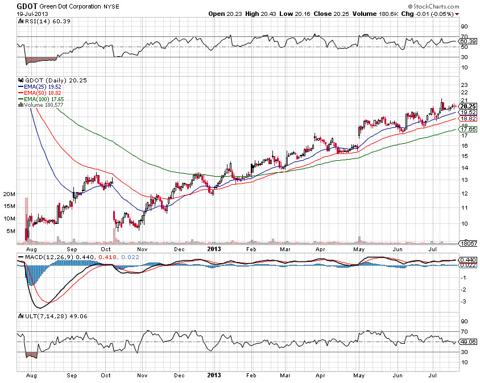 For experienced investors, this stock is also optionable. A favorable configuration could be a bull call spread (long one call, short one call at a higher strike price). This limits risks as well as rewards.

Spectrum Pharmaceuticals:
Spectrum Pharmaceuticals (NASDAQ:SPPI) is a biotechnology stock that relies on FDA approval of new drugs to survive. This leaves this stock more vulnerable to the downside than both BPI and GDOT (in which the products and services are proven and successful). However, this downside risk also creates the opportunity for a larger upside reward.
Spectrum has several key drugs in development for both the short term and long term. The up and coming drug Apaiquone is set to finish Phase III testing in December of 2014. This drug is being developed to treat bladder cancer, which has not seen a new drug approval in the past 30 years. This gives Spectrum a great opportunity to take a large market share in a relatively barren market.
Spectrum has also obtained exclusive rights to market Belinostat in North America and on the Indian sub-continent. This drug treats solid tumors as well as blood and bone marrow cancers and is considered by the FDA as an "orphan drug." Belinostat is on the FDA's Fast Track designation, which allows clinical testing to be carried out and completed on a much tighter schedule.
From Spectrum's Investors Handbook: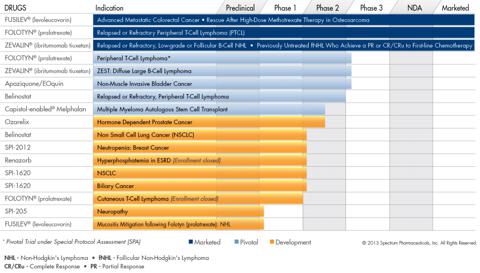 There's no doubt there are a few drugs in Specturn's pipeline that are all capable of becoming the next flagship product, however its current flagship drug, Fusilev, is under heavy pressure from generic drugs. This has led to a shrinking bottom line and, possibly, apprehensive investor sentiment.
However, Spectrum Pharmaceuticals is a company that boasts solid fundamentals and favorable technical signals. The Reverse Discounted Cash Flow, for example, justifies its current price if Spectrum were to shrink by 1% year-over-year.
Spectrum's ratios are also attractive, to say the least.
| | | | |
| --- | --- | --- | --- |
| Valuation | SPPI | Industry Avg | S&P Avg |
| Price/Earnings | 11.50 | 47.20 | 17.20 |
| Price/Book | 1.80 | 8.00 | 2.40 |
| Price/Sales | 2.20 | 8.30 | 1.50 |
| Price/Cash Flow | 8.00 | 40.20 | 10.30 |
The chart shows that the 25-day EMA has just crossed above the 50-day EMA, a bullish signal. The 50-day EMA has yet to cross over the 100-day EMA, which could mean this is the beginning of a swing period. The Ultimate Oscillator as well as the RSI are both in uptrend territory, while the MACD is straddling the signal line.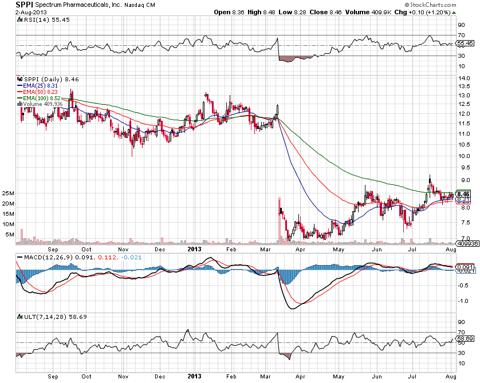 As with the other two stocks mentioned in this article, Spectrum Pharmaceuticals is optionable. Because of the nature of the industry, an FDA approval or disapproval will likely cause the stock to move sharply in one direction. For this reason, investors may look to set up a long straddle (buy a call and a put at the same strike price).

Disclosure: I have no positions in any stocks mentioned, but may initiate a long position in BPI, GDOT, SPPI over the next 72 hours. I wrote this article myself, and it expresses my own opinions. I am not receiving compensation for it (other than from Seeking Alpha). I have no business relationship with any company whose stock is mentioned in this article.
Disclaimer: As with any investment, it's important for each investor to do his or her own research on each stock mentioned in this article. While options are great tools for experienced investors, they are not for everyone and can lead to unlimited losses if used incorrectly. The option strategies I have included in this article are only examples and not recommendations.